15 January 2020
•
Алексей Бондаренко
•
4 min read
Volta One: The Power of
Worksection Is in Flexible
Customization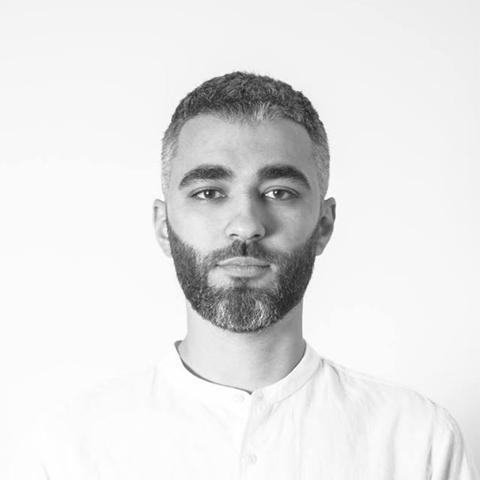 Roman Slipchenko
Digital agency;
30 persons in the team;
3 years in the market;
Worksection has been used since the company's outset.
Clients: Uber, L'Oreal, Garnier, AB InBev, KFC etc.
Why Worksection
Volta
One has
been operating for 3 years already. We provide services in Digital Production and social media marketing. We mainly cooperate with corporate clients —
Uber, AB InBev, L'Oreal
and their brands, such as
Bud, Staropramen, Maybelline New York etc.
We also handle startups spreading their products to the international market.
The problem of most task managers is that they are tailored for IT companies, being badly adjusted for the day-to-day realities of a digital agency.
The issue of arranging the work process arose from the very first day of the company's existence. We tried Trello, Asana and other task managers. The problem of such systems is that they are badly adjusted for the day-to-day realities of a digital agency. Most of them are tailored for IT сompanies with specific internal processes.
Worksection's benefit is the possibility to configure the work for your needs.
How we launched it
Of course, we were assisted in adopting Worksection: we got advice, explanations and training. It is essential that the product developers consult their clients, hear them and help to find answers to questions which may arise in work. Such personal support is very important.
Now Worksection is the basic tool of the company's operational activities. In Worksection, we set tasks, plan projects, calculate the time consumed. Each team member asking «what am I to do today?» finds an answer in Worksection.
Without this system, the company would continue to work, but it would require much more resources for day-to-day management. We would need to employ people to compensate for the function currently fulfilled by Worksection, or hang boards outwritten with tasks round the office.
Now Worksection is the main tool in the company's operational activities
What we use
We use almost all functionality of Worksection, except for storing files. The project managers use the Gantt chart . It enables them to plan the company's resources flexibly, to understand the way projects link up, to make sure they do not overlap.


Gantt chart in Worksection
We had experiments of connecting clients to Worksection, but it did not take roots. In our case, the account manager conveys to the client what is needed.
The main reports used by us cover the time consumed and its distribution by projects. Thus, we
evaluate the performance of the whole company and of each employee.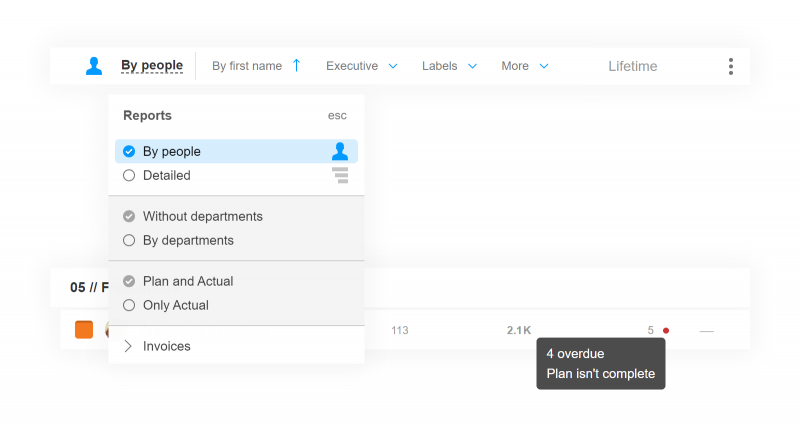 Reports in Worksection
The way we use it
At first, we used Worksection in the way it had been conceived by the developers, pursuant to its authors' advice. Not everything ran smoothly. It was difficult to manage such large range of tasks, and we could handle 20-30 projects simultaneously. We needed to control them continuously at all levels — top management, middle management and executors.
When Worksection kanban was introduced, these problems got solved. We could fully represent the company's management structure, as well as the structure of handling projects. «Kanban» enabled each group to obtain what was needed.
At a certain moment, we realized that the power of this tool is customization, and we decided to modify Worksection to fit our needs.
Custom version
Our first and non-obvious solution was to opt out of handling projects in the «Projects» section. Our typical project takes the form of a task with subtasks.
We divide our projects into external and internal ones. The basic view used by us is «kanban»
with a pre-built workflow, statuses and labels guiding the project. Each board represents a
department consisting of designers, copywriters, developers and marketing managers. There are
also boards related to the project status, such as «documents» and «general register of projects».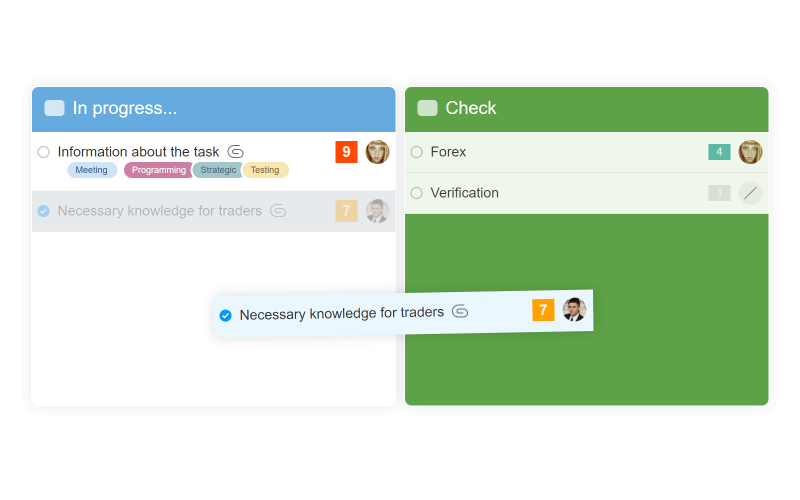 Each our project starts out in the Upcoming section. We plan it and realize the way it is to take off, the way to handle it. Then the project gets into the board of the respective department. The project manager is responsible for everything going on within the project. He views all tasks, their sequence and coherence, as well as deadlines and priorities for end users. The end executors, in turn, see their load and priorities of tasks by simply clicking on their photos. The top management can also monitor all projects.
What is convenient in such system? Each employee of the company understands what he/she is to do now and anytime soon. The executor can obtain tasks from different project managers, and he also coordinates priorities in task execution with the PMs. At our weekly meetings, we set global priorities.
Statuses and labels
We developed statuses for the processes which really take place in our company. For instance, the video production department has its own work processes and labels. They may customize the workflow «for themselves», to fit it into their reality. This is a unique inherent feature of Worksection which we have not seen in other systems.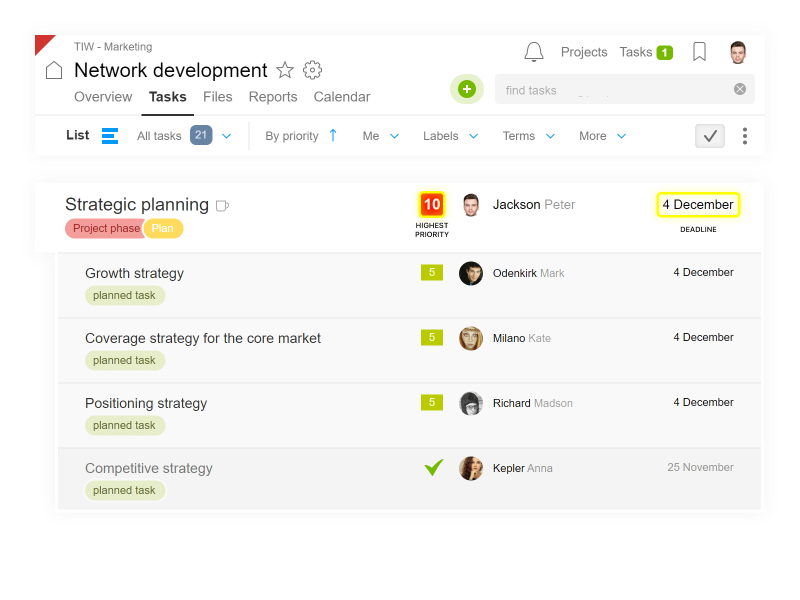 Labels in Worksection
Labels are an important aspect of Worksection's functional possibilities. They help to identify the project type.
You may also use labels to indicate the task status.
Worksection will fit all types of businesses where
people are the main resource


Tailored for Digital
Our work model in Worksection might be used in any digital agency which handles a lot of projects. If several dozens of projects — internal, external, suspended or perhaps pending — it is very difficult to manage them. It is even impossible to evaluate what is going on.
We can handle about 20 projects simultaneously. Due to Worksection, four project managers cope with such scope. Worksection will fit all types of businesses where people are the main resource. These are production companies, digital agencies, architectural bureaus perhaps.
To manage projects and people efficiently, a proper tool is needed. Worksection is just such sort of a tool.