How to Manage Tasks Effectively: 15
Tips for Success
We hear about successful projects quite often. But we have to realize that any project consists of tasks of various scale and complexity. Therefore, taken globally, the successful completion of the project largely depends on how successfully each individual task is completed. 
Here is some information on task management, which will help you make teamwork more efficient. 
What is task management and why is it important?
Sometimes a situation arises in teams when some employees work at maximum capacity and do the great share of the work, while others are minimally loaded. In order to avoid this, it is necessary to implement systematic and smart task management. 
Task management is a multi-level process of working with tasks: from planning and description to acceptance of results, correction of errors and, if necessary, repetition.
Task management involves managing all components of tasks: time, money, human resources, equipment, etc.
Task management is an important part of project management. If the team does not know how to effectively manage tasks, then the question will certainly arise of how to manage effectively, meet deadlines and ultimately complete the project with a decent result.

We can also say that project management is about the ability to see the picture as a whole, while task management is about working at the micro-level, which constitutes global success.
Task management is very important, because many issues depend on it, like:
consistently high level of team productivity due to even workload distribution;
progress of the project according to the schedule, because everything is planned and it is clear how long a task completion takes and whether everything is completed on time;
work coherence even in large teams, also due to so-called cross-team tasks, when employees of different departments work on the same task;
optimization of decision making, this is due to the fact that well-structured work with tasks allows at any moment to understand the current project status and to make decisions based on current data.  
Task management skills and ways to improve them
Essentially, task management skills are what is called soft skills. They may differ for different specialists, but there are also universal ones, for example, time management, which is essential for everyone. Besides, it is very important for a project manager to be able to prioritize, delegate, control several tasks at the same time and communicate well, as well as resolve conflicts if necessary.


Among the not really obvious task management skills are also the following:
The ability to say "no". This will allow you not to do work that in no way brings you closer to the goal, but you do it for yourself and for another person. 
Giving up habits that kill productivity. For example, trying to do the task perfectly where good is also enough. It is very likely that when the result is finally perfect, it will no longer be needed.
Procrastination control. Almost everyone is prone to it to one degree or another, and if procrastination does not happen often, it does not pose a threat. But when it gets out of control, tasks pile up on you like an avalanche.
Understanding that it is impossible to control everything. No matter how conscientiously you plan your work, some force majeure with daily task management will always happen. Therefore, just have some extra time for tasks. 
Decision making and taking responsibility for them. For example, someone suggests a new tool that will increase work efficiency. But it takes time and effort to integrate it. So, the manager must have the courage to say that they will start using the tool. He should explain the benefits of it and deal with the consequences, in case of no expected effect.
15 tips for effective task management
As in project management, there are often five stages in task management: initiation, planning, doing, monitoring and control, and closure. If there is a problem at any of the stages, it will definitely affect the project as a whole.  
If there is no
clearly defined goal,
then the task completion is a big question.
Therefore, it is worth taking time to search and clearly describe what the task is for and how it will affect the project as a whole.
This was also confirmed in 2017 by PMI Global Project Management. The conducted study demonstrated that 37% of executives believe the main reason for project failure is the lack of clearly defined goals and milestones to measure progress.
Among the factors that negatively affect the success of projects is the lack of discipline during strategy implementation. Below are tips to help you avoid these problems. 
Divide your large-scale projects into smaller tasks
Any project, even the most complex one, consists of parts. To achieve success, it is better to break the project into stages from the very beginning, write down global tasks for each of them, and then divide them into smaller, tactical ones.
In this way, you will monitor how tactical tasks are performed. If the problem appears with a particular task, it will be easier to solve it and move on. When there is no list of tasks, but only the project as such, it is almost impossible to notice difficulties in time. And often a small and not very important task, as it may seem, endangers the execution of the project as a whole.
Make to-do lists
A good memory is great. But it also has limits. And you shouldn't overload your brain trying to remember everything, especially when you are managing several projects at the same time. It makes more sence to make a to-do list for different periods: a day, a week, a month. You can check what has already been done. Of course, the list may be not in a notebook, but, for example, in a special application or program.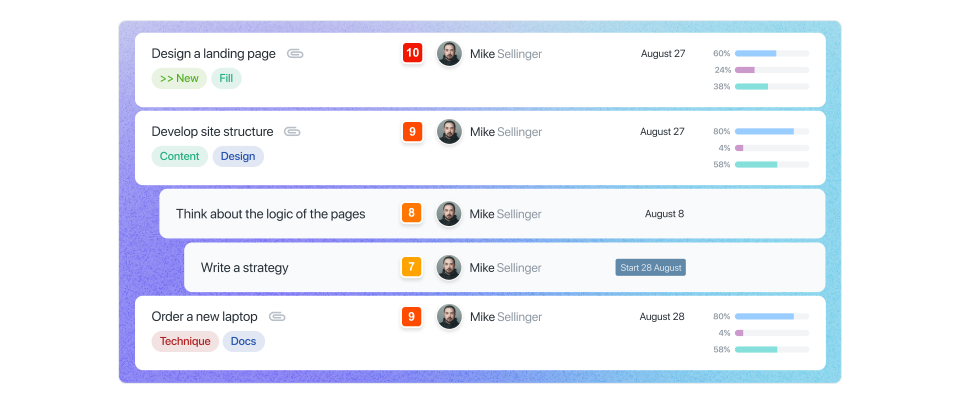 Store your tasks in one place
As mentioned above, project managers often manage several projects. Therefore, there are many problems that they should keep in mind. Constantly switching between different services (or notebooks, if that's more convenient for you) is not the best idea. At the very least, it will be difficult for you to quickly answer the question of a colleague from a certain team. In the worst case, a notebook left at home will turn your day into chaos.
Therefore, it is better to choose a product that will help you manage several projects in one interface and have all the tasks at hand at any time.
Set deadlines
When a person understands the deadline for a particular task he/she plans his/her work schedule more effectively and tries to reduce unproductive time consumption, for example, long coffee breaks or checking a smartphone.

The following actions significantly help to complete tasks in time:
have a detailed plan for a day;
be able to block distractions;
find something or someone who motivates you;
use a time tracker.
Start small tasks
Business coach David Allen, in his Getting Things Done (GTD) method, advises doing tasks that take a couple of minutes as soon as they arise. For example, immediately answer a question from a client in the messenger. So you are less likely to forget about it.
Be involved in teamwork
Sometimes it seems to managers that they have set up all the processes in the team, so  colleagues will manage without them. In fact, this is not the case. You have to stay informed. You don't have to control everyone, but be in touch so that you can be consulted quickly if there are any problems.
Focus on one task at a time 
Even though a project management plan usually has a large number of tasks, many of which must be completed today, do not try to do multiple tasks at once. Research has long shown that this way is not effective when it comes to mental work. It is more productive to do one task or part of it and then move on to another.
Limit a number of tasks for a day
There is a "rule of three", which says that you need to choose three main things for each day and focus on them. If there is time left, you can move on to secondary tasks.

Reward yourself when you get things done
If you are engaged in some kind of mechanical work that does not require creativity or inspiration, then it will be effective to promise yourself some pleasant bonus as soon as the work is completed. For example, you can go for coffee with dessert when the report is ready.
Review and reflect on your progress
When you periodically review the lists of completed tasks and goals that you have achieved, it is as if you are receiving feedback from yourself. This is good for your motivation.


You can also see that some tasks have not been completed for a long time. It is necessary to understand why this happened. You may see a blocker that you have not noticed before.
Set priorities
You should not start doing everything at once. First, it is better to prioritize tasks, for example, using the Eisenhower matrix. So you will see what is important, but not urgent, and what is both important and urgent. Based on this, you will focus on tasks with the highest priority level.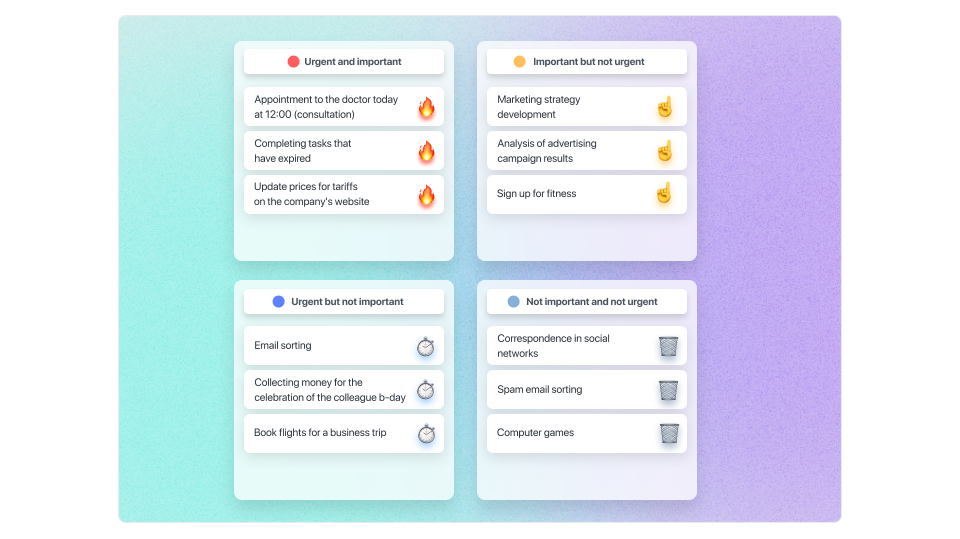 Be flexible
Managing daily tasks sometimes requires changing decisions that have been made before. Not always the same ideas are good. If something has suddenly changed in your market, you will most likely have to react, which means change something in your work. The ability to adjust the action plan is very valuable.
Manage changes 
The worst that can happen is forced changes that are no longer manageable. That is why regular team meetings are important, as well as visual reports on the task status. So you can notice the problem almost at the same moment when it arose. And make the necessary changes in the activity.
Delegate
A person can only be productive up to a certain level. There are only 24 hours in a day, and not all of them can be devoted to work. Therefore, in managing tasks, it is very important to know the strengths of each team member in order to give tasks to those who can handle them best.


This solution has two advantages. Firstly, you will avoid excessive workload and burnout in the team. Secondly, people will do what they like most, increasing the overall productivity and, quite possibly, will allow finding non-trivial ways of solving problems.
Use task management tools 
If you have many employees, areas of work and tasks, a moment will come when everything will get out of control. That is, deadlines will burn, budgets will grow, people will burn out.


This is due to poor task description, the executors do not know their area of ​​responsibility, there are no notifications about deadlines, and the project manager does not have a project overview. All these problems are solved by task management tools. You will get a visual representation of the management task lists and optimized solutions to complete them. 
The advantages of good task managers
As mentioned above, task management products are really important and help to optimize work. These are the most significant advantages of task managers:
Standardized forms of tasks. This makes it easier for the manager and the entire team to work with them, as well as automatically generate reports on the work of the entire team in those products where it is provided by the functionality.
All data in one place. If a lot of storage space is provided in the task tracker, then quite large files can be stored in it. If there is not much space, you can add a link to the task, for example, to the virtual disk where the file is located.
Simple remote work. With a task tracker, you can access the data you need from anywhere without being dependent on an office PC.
Statistics of time spent on typical tasks. This will be useful for planning new projects.
Good workload distribution. When you have an overview of all tasks and executors, it is easier to see that someone has an excessive amount of work, and someone is now almost free.
Time saving due to automation. For example, regular tasks can be assigned automatically without having to complete each one manually. It may seem that it is not difficult, but with a large number of tasks it takes a lot of time.
Easy finances. Some task trackers allow you to calculate salary. And there are companies where payment depends on KPI, for example, the number of tasks closed on time. It turns out that the task manager is useful in both cases.
Best task management software 
Each company chooses the product that is convenient for the team, acceptable in price, with functions which correspond with the needs and features of the business. Here are some examples of task trackers with high Capterra ratings.
Platforms: Web, Windows, iOS and Android
Features:
Worksection
is one of the best services for task management. Many users take advantage of its flexibility, suitability for large and small teams and user-friendly interface. The tool is good for Agile and Waterfall teams.
Users like such
features
as detailed dashboard, time tracker, Kanban boards, integrations with CRM systems, GoogleDocs, Slack, Telegram and Viber.
Technical support is ready to answer your questions within 10 minutes during their working hours, and within 1 hour during non-working hours. 
Drawbacks: the software does not work offline, a mobile app needs improvement.
Pricing: there is a free trial period for 2 users and 5 projects, access for 10 users will cost $29 per month.
Rating at Capterra: 4.9 of 5.
Asana
Platforms: Web, iOS, Android, Windows, Mac
Features: a cloud-based task tracker, with pleasant UI, convenient calendar and good reporting. You can describe tasks, set deadlines, assign responsible persons, attach files  and add comments.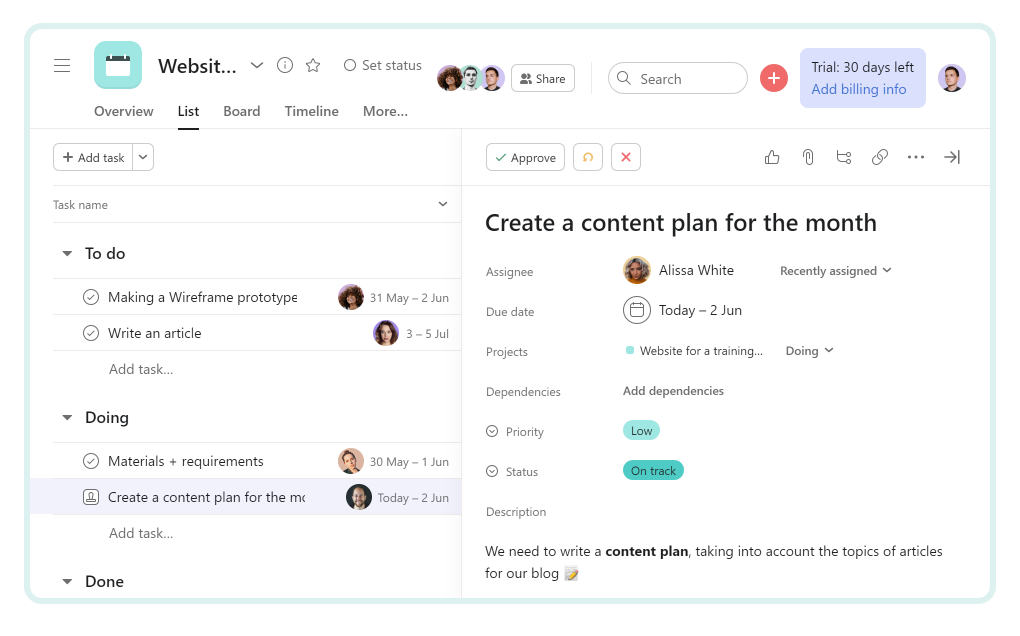 Drawbacks: not all users are satisfied with a high pricing, many features are available only with integrations, notification emails are not always correct. 
Pricing: a free trial with features of Premium tariff plan is available, while a paid version costs between $13.49 and $30.49 per month.
Rating at Capterra: 4.5 of 5.
Trello
Platforms: Web, iOS, Android, Windows, Mac
Features: a simple and clear task tracker with nice visualization, which is often chosen by small teams. Users like that projects and task cards are arranged in the form of columns, there are also workflows, lists, statuses, responsible persons and integration with third-party services.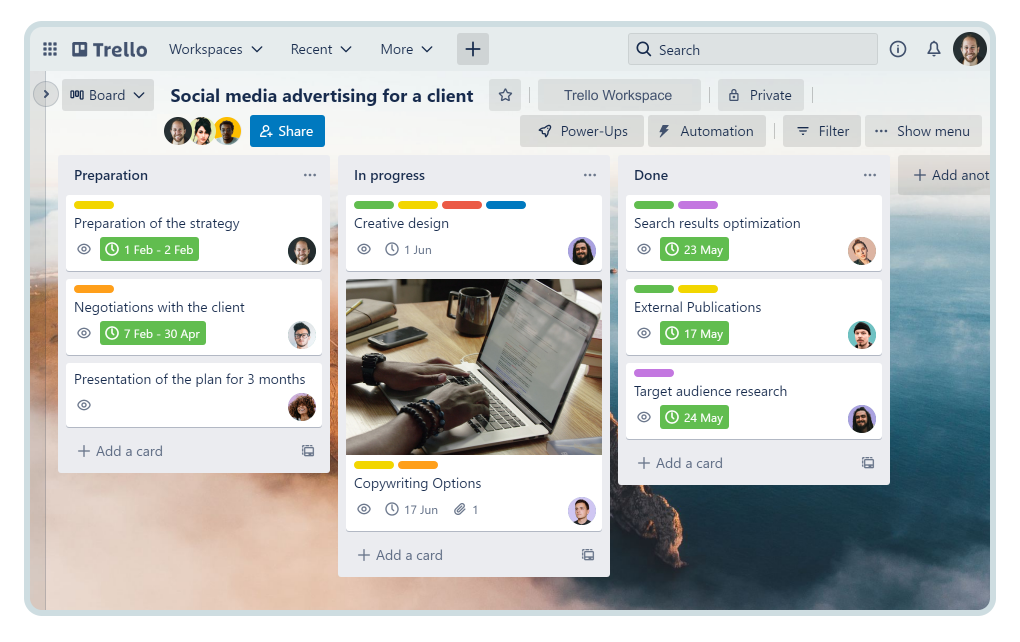 Drawbacks: if the project is large-scale, it will be inconvenient to work with it in this service. 
Pricing: free access to premium features is available to get acquainted with the tool, a paid version costs between $5 and $17.5 per user/month; there is an absolutely free tariff plan without project timeline and calendar.
Rating at Capterra: 4.5 of 5.
Zoho Projects
Platforms: Web, iOS, Android.
Features: a good solution for those who would like to combine a task tracker with a communication platform for clients and team members. Among other advantages are Gantt charts, time tracker, templates, possibility to create subtasks and generate detailed reports.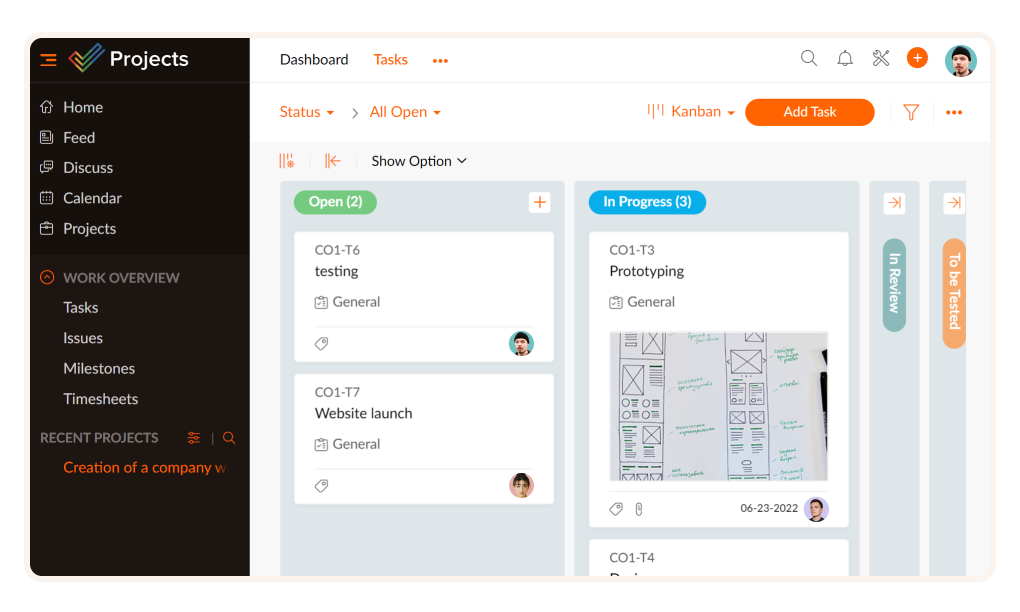 Drawbacks: integrations are not always correct, not easily customizable.
Pricing: you can use a free trial or choose a free version for two users and three projects; a paid version for 50 users starts at €5 per month.
Rating at Capterra: 4.2 of 5.
Wrike
Platforms: Web, iOS, Android, Windows, Mac.
Features: this tool is usually chosen by users who need workflows, forms and real-time analytical reports. Users also like Gantt charts and budgeting functions. Using API  integrations will offer you extended features.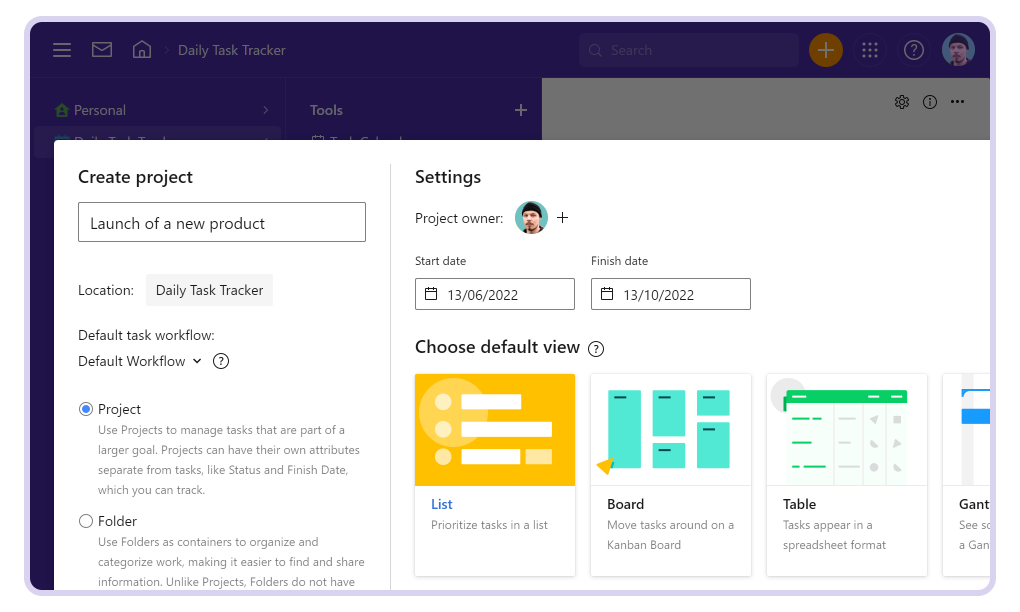 Drawbacks: expensive, difficult to set up, with no prompt technical support.
Pricing: you can test a tool for free, there is also a free version with limited number of active tasks and without integrations; a paid version starts at $9.80 per user/month, offering integrations and 2 Gb data storage capacity.
Rating at Capterra: 4.2 of 5.
---
Many factors affect the efficiency of task management. To achieve success without endless stress, it is worth following the recommendations above. With these, working with the team will be more pleasant, faster and more productive.