30 November 2020
•
Алина Кривенец
•
6 min read
ROMAN.UA:
How did the agency raise the
average check with time tracking?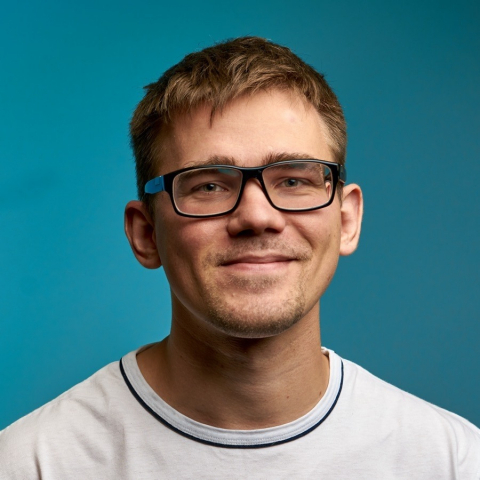 Roman Rybalchenko
Roman Rybalchenko is a founder of Roman UA, a performance marketing agency. The agency assists B2B, IT and E-commerce companies in building marketing on Internet.
At what time did you understand that you needed a project planner?
We have been operating Worksection from the first day. We spied it from another advertising agency. I liked the fact that this time manager enables creating tasks, subtasks and checklists.
Before using it, I had tested various task managers, such as Jira, Trello, Asana. There were a dozen of them approximately. Worksection appeared to be the most convenient and suitable for my tasks. Here you can track the time, delimit information by projects by defining what is to be seen by the client, and what is visible to the employees, contractors and freelancers.
Once our team grew to consist of 3 persons, we decided that we needed to monitor the amount of time consumed for each project. We started from selling hourly work and time tracking.
What is the way most agencies usually operate?
They collect a dozen of projects per employee by charging each client for approximately the same amount of money. But there are different clients. Some of them «tug» us and create new tasks, while other ones do not do it. And not always are the «tugging» clients more capable of paying.
There are clients who pay more without «tugging». Eventually, in standard agencies noone deals with clients who are «tugging» and making pressure, although such clients are more valuable for the agency: they pay more, enhance the growth potential, and prolong the life cycle.
Most of our clients do not «tug» us, thus time tracking turns into an honest process. Depending on the amount of money paid by a client in a month, we allocate the necessary amount of time to handle such client's project.
What is exactly the way you track work hours in your agency?
Everything is ultimately transparent with the time tracking. The employees are interested to track time, because it affects their motivation program. Clients understand that money is paid not just for the sake of it.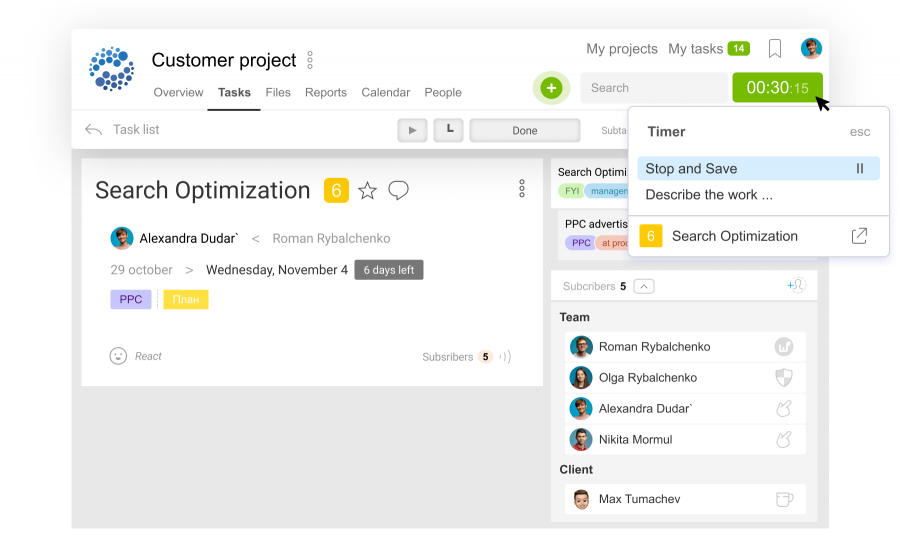 Time tracking
is the most appropriate metric within the agency. You end up selling people's time.
Time tracking makes us understand which projects require involving more employees, which employees have an insufficient task load, and, on the contrary, who of them are overloaded.
We decided to digitize most of the indicators.
What is the way you keep records with Worksection?
We used to do it as follows: once we got paid by our client, we added the project time inside Worksection and made sure we stayed within that time.
By using Worksection API, we obtained the following data: the amount of time and the range of tasks tracked by each employee. We download this information in Google Docs. Based on this information, we made up four managerial reports.
4 reports in Worksection
Worksection's «Report by People» is the first report.
It is a summary table showing the number of hours tracked by each employee every day. This report also reveals the approximate number of hours to be tracked by such employee if he/she works with the same efficiency.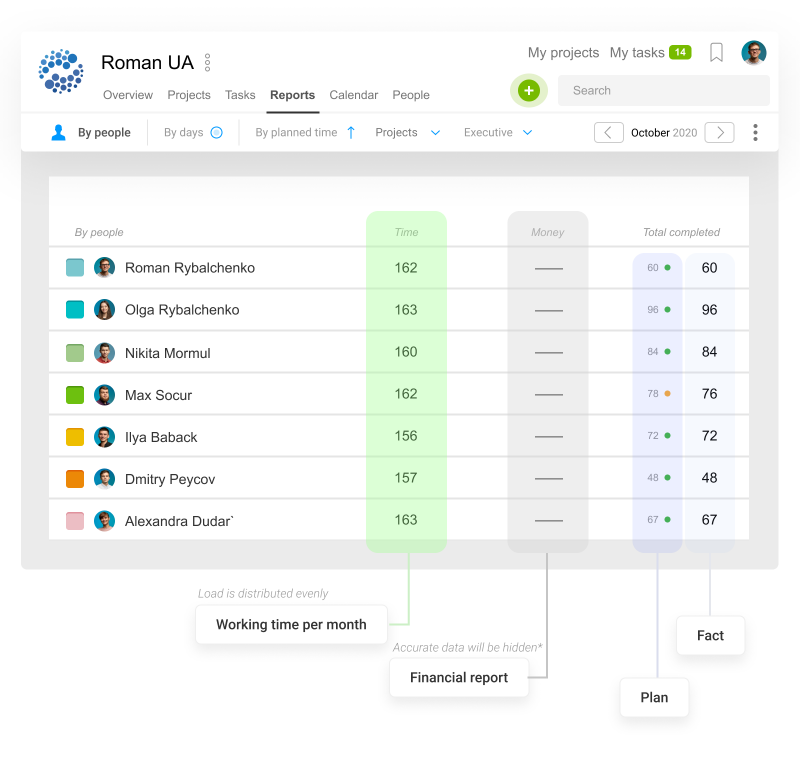 The report shows the amount of hours paid by the client, as well as the number of agent tasks. I can also see the turnover for me to obtain for a day and for a month. Other things the report displays are: which employees, for instance, work more actively as the week begins to get tired by the end of it. On the contrary, another team member may track more hours per day by the end of a month.
Worksection Projects is the second report.
It enables us to monitor the time remaining for a definite project. Based on such report, we notify our client or account manager. The script checks the amount of hours per day we may ultimately spend, the amount of hours spent and how many of them remain.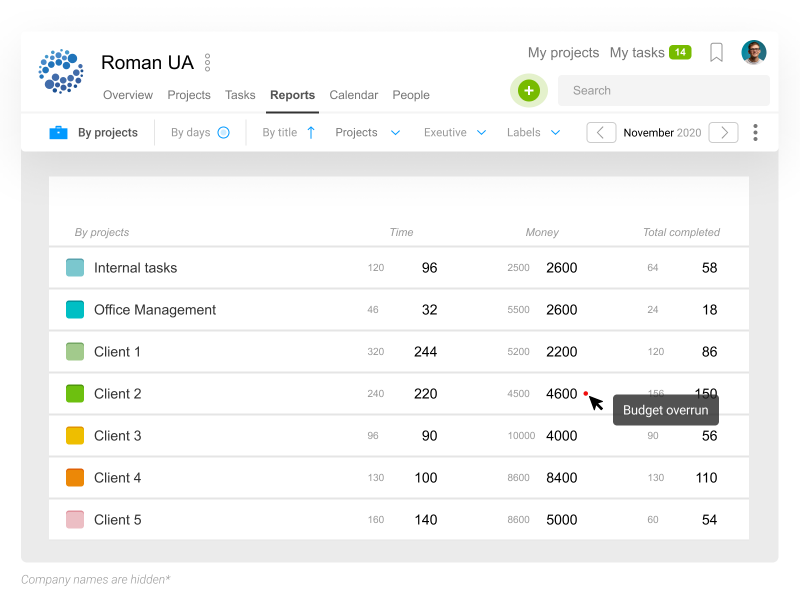 Based on this report, the account manager can transfer employees to another project, to slow down somebody or vice versa — to accelarate someone's work.
Worksection Speed is the third report.
It shows the number of hours currently sold, the amount of hours to be paid by clients (from amongst the post-payment clients), as well as the amount of hours we track for a day.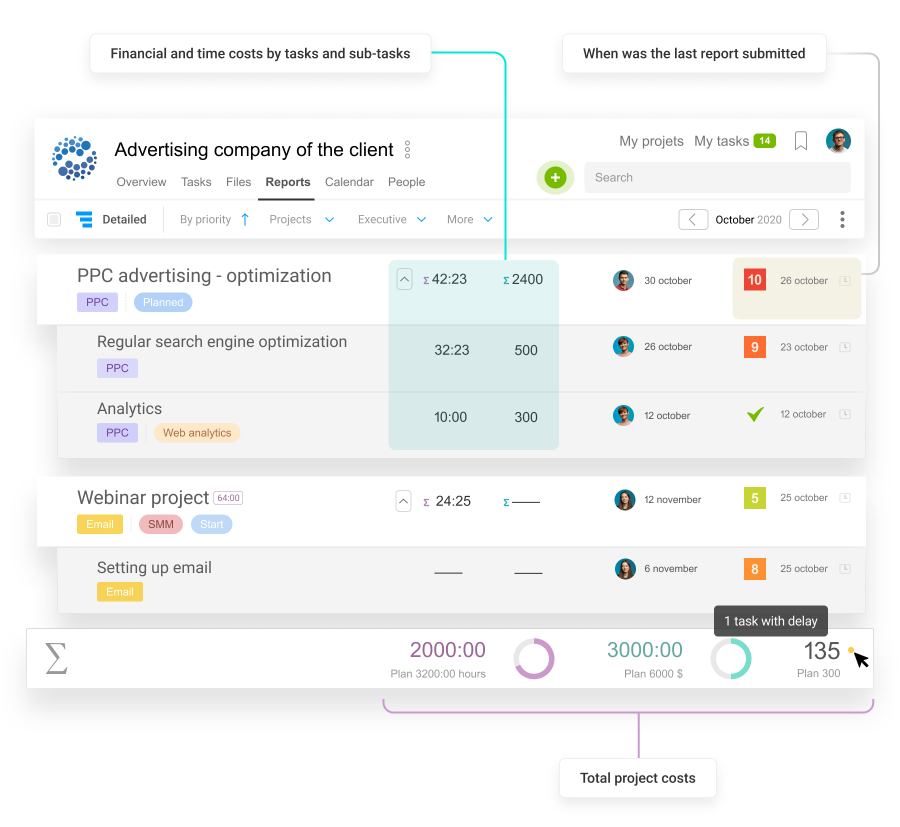 According to the report, I understand if we have collected all post-payment money early in the month, the volume of advance sales and, possibly, additional resources (employees) are to be involved.
Worksection Rate is the fourth and the most sopfisticated report.
Such report takes data from the previous three reports and makes a total calculation. In the report, we have created separate tabs for different contracts. In the work process, the client may switch from one contract to another. For instance, after having a fixed price, he may decide to opt for hourly remuneration.
As a result, we calculate the rate for each project, on a monthly basis, by project managers and by the payment method (hourly, monthly remuneration or a fixed price list).
Reports help us understand the points where resources are deficient, where profitability is in decline, where the project manager fails to sustain the workload, where we have badly sold the service, or where the project includes more work than the client has paid. We have all these on our fingertips.
What project management methodologies do you use in your digital agency?
In SCRUM, only Daily Scrum Meeting is used fo far to synchronize the team. The rest includes tasks, subtasks and checklists. There is a knowledge database on Google resources. Worksection contains project templates in English and Russian.
While starting a new project, we copy tasks and subtasks referring to the knowledge database. There are checklists and repeated tasks inside.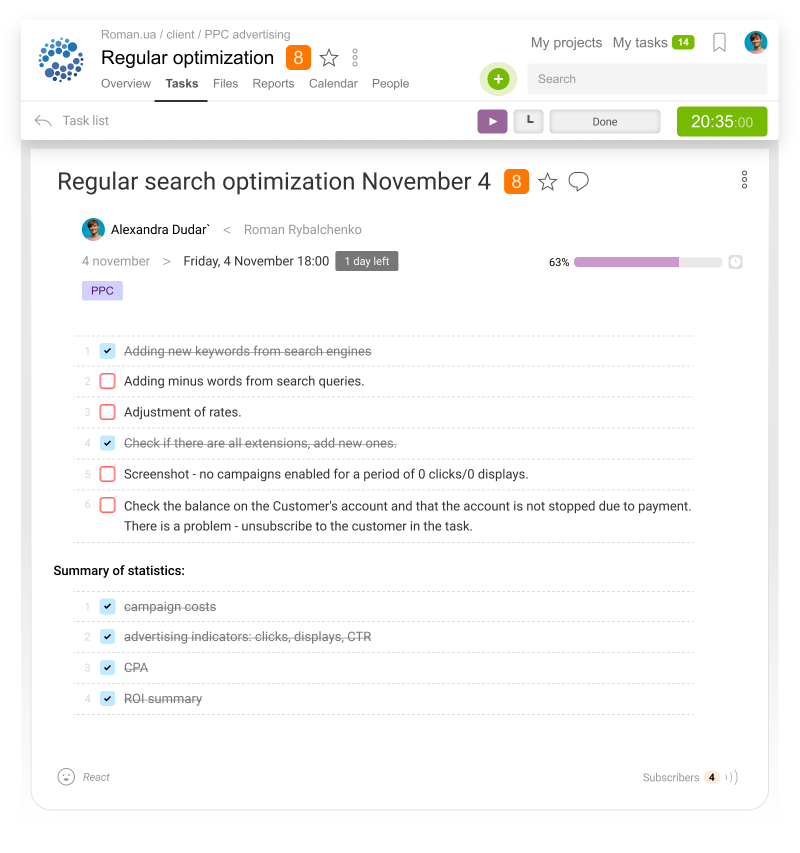 In Daily Scrum Meeting, we discuss the following things from morning: what was done yesterday, what we are planning to do today, which bottlenecks we have overcome and the amount of time tracked.
Every morning, I open reports in Daily Scrum Meeting to understand at once the situation we have. Depending on the data, we can make important micro moves and corrections at once.
If the reports show that some client is not profitable, we politely offer new terms of cooperation (a new package) or terminate our collaboration.
What is the speed of new empoyees' mastering Worksection?
Everyone fills in profiles, adds contacts and profile pictures at ease. The adaptation process takes some time, when employees learn how to view tasks correctly: how to open the task tab, how to review a previous day's report for in Daily Scrum Meeting. The training flows smoothly, without my personal involvement.
If someone has questions about Worksection, the colleagues will always be there to help.
Has your team generated an internal project management culture?
For most of employees, motivation is based on hours. Thus, our system is structured as follows:
If you want to get a monthly motivation in the ultimate amount, you should track a certain number of hours per month, per day. There is no other way but tracking time, logging in tasks and subtasks, commenting the process.
Is it easy to «lead» contractors into the Worksection system?
Some people oppose, once introduced in the system — they express gratitude for years and say that they cannot imagine another way to work.
We have correctly constructed information flows,as well as repeated tasks and checklists. It would be impossible but for a single system to operate in. Everyone should remain in the same information flow, in the same system.
In general, the adaptation is going well. 
There are people who are more into handling cards, for instance, by dragging them in Kanban. They are used to work in Trello or Asana. And here we are, keen on three levels of inserts in Worksection, where we can specify everything.
Do you use Worksection notifications by email or Telegram?
What we use is e-mail. Indeed, our company has a strong e-mail culture.
Personally, I receive about 1000 letters per month from Worksection. I am subscribed to many tasks. I do control and track them. Telegram is convenient if you receive 5-10 notifications per week.
How many people are connected to Worksection now?
We have connected
more than 300 persons
to Worksection. We demand at least one person from every client to log in tasks and do monitoring.
We noticed that if the client is out of the loop, he cannot feel the value of what we do, and our work for him is an underground part of the iceberg.
When the client tracks everything, he understand which tasks have been solved by us, what has been done, how much time has been consumed etc.
Try using the project management system with Worksection. Your projects will immediately become cost-effective and efficient.