Choosing a Task Manager
in 2022
In recent years most companies have significantly changed their working environment. Pandemia, remote work and increased requirements to business efficiency push companies to searching for new solutions, which would facilitate teamwork, manage many projects and increase productivity and profitability.
Almost every business in the digital era needs a Task Manager, for both office and remote work. 
Each year these systems get smarter, with growing functionality, helping to manage tasks and projects. They are easy to integrate with other IT solutions and track time and financial costs for a quick analysis of the current situation.
Daily our team interviews dozens of companies that are looking for a suitable project management system. We decided to structure the main criteria and analyze the most common requirements for Task Managers. 
In this article we compared the functionality of the most popular systems for task and project management. After reading the article you will understand which service is suitable for your company and what factors should be considered while choosing a Task Manager.

Why does the company need a Task Manager?
When the company is not big, you can use a messenger or Excel to assign tasks and communicate on them. But when the number of projects is growing, important messages and files can get lost in intensive correspondence. So the companies need a common working space for task assignment, communications and work analysis.
For example, this was the case with the internet sales department of IBIS. Initially they assigned tasks orally, but as the company and the volume of work were growing the colleagues felt they needed process systematization. Now the IBIS team is using Worksection for task setting, work analysis and planning. 
In architecture and engineering a Task Manager is especially important for big project management. For example, Polyakova Architectural Bureau managed working processes in Google-Docs before introducing a project management system. But the more projects and teams, the less convenient it is to work this way. That is why a decision was made to implement a Task Manager for efficient management of different projects and teams. 
After analyzing our business cases we came to 6 reasons why companies use a Task Manager:
process systematization: divide projects into tasks and subtasks, mark completing particular stages of a task, create a workflow;
work planning: in a calendar, Kanban boards and Gantt Chart;
result tracking: create and analyze reports, track working time, estimate actual costs of the project;
file storage and information collection;
maintain connection between employees and clients;
communication: keep all decisions and comments in one system.
How to choose a Task Manager: 7 evaluation criteria
All Task Managers offer a possibility to assign tasks and track completion. Beyond this common functionality each service has its features: one offers Kanban boards, the other - integration with messengers or VoIP. One service can have a minimum of functions, which could be enough for productive work, while the other can feature many interesting functions requiring more than one month of adjustments. 
We would highlight 7 evaluation criteria for a Task Manager, which we used to analyze the most popular task management solutions:
Usability. This feature effects on how fast the team can adapt to the program and if the colleagues are willing to use it. If you need to check the FAQ every time you assign the task or change deadlines - something is wrong with this Task Manager.
Universal tools. To provide convenient work on projects of various complexity and  duration it is important to have universal tools, such as Kanban and Gantt Chart, as well as different types of task display (for example, List, By People etc.). 
Time tracking (timer). It is a very useful option, helping to track time expenditure and workload of employees and understand how long the average task completion takes. The companies with hourly rate evaluate project time costs using a timer and calculate salary for employees or charge their clients.
Dashboard and reports. These features of a Task Manager allow to quickly and easily track progress of a project using visual indicators, track expenses and collect quick statistics for team meetings. 
Integrations. One of the most important and popular functions. A Task Manager can not always substitute messenger or online calendar completely, but using integrations you can connect the necessary application with a Task Manager. In this way the deadlines for tasks or projects will appear in Google Calendar and a created task can be directly discussed in Telegram, Slack or a Facebook-messenger.
Technical support. A quick 24/7 technical support in your language has a great effect on the team's will to work with a particular service. Prompt and comprehensive answers with examples and screenshots significantly facilitate the implementation of a new system.
Mobile version. To make the employee independent from the computer,  a task management service should offer a possibility to assign and change tasks, as well as communicate and add files using a smartphone. 
TOP-6 Task Managers
Jira — a powerful service for IT-teams
Jira is a service in which projects consist of task-tickets. Jira is cut out for registration and completing service requests, that is why it is often used by IT-teams, like in the Postmen digital agency. In 2015 a Jira Core appeared on the market, with a focus on project management and a simpler interface. 
A monthly price for using Jira depends on a user number and stands at
$7.5-$14.5
per user.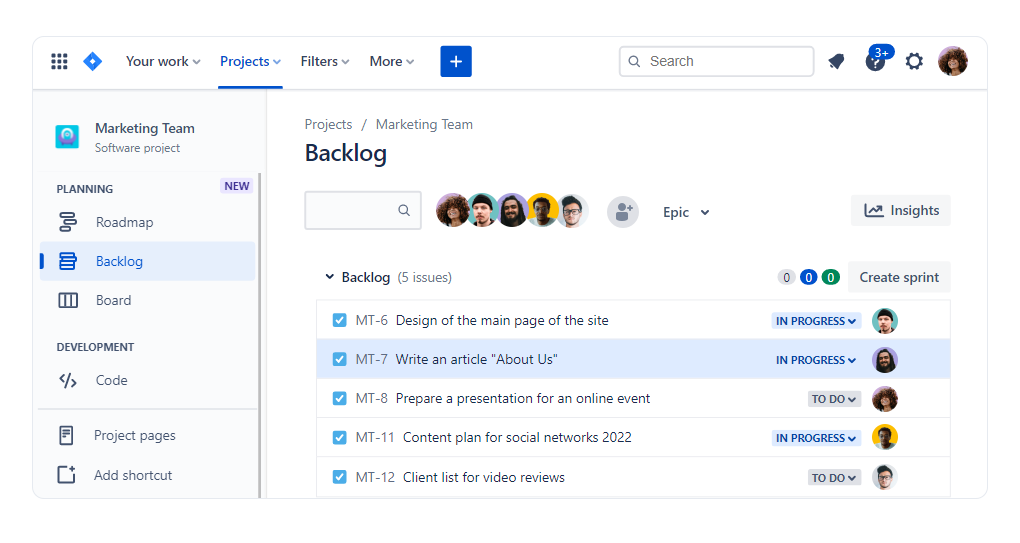 Jira's both advantage and disadvantage is its high level of customization. Based on API and plugins you can set up Jira to send notifications to a corporate chat, hide irrelevant comments and much more, but this would be possible with the assistance of a technical support specialist.
Worksection — an intuitive project management system
Worksection provides easy and fast project management for different teams using popular methodologies such as Agile and Waterfall. The latest update of the system offers a Project Dashboard, a new tool for quick and easy analysis of the current project status.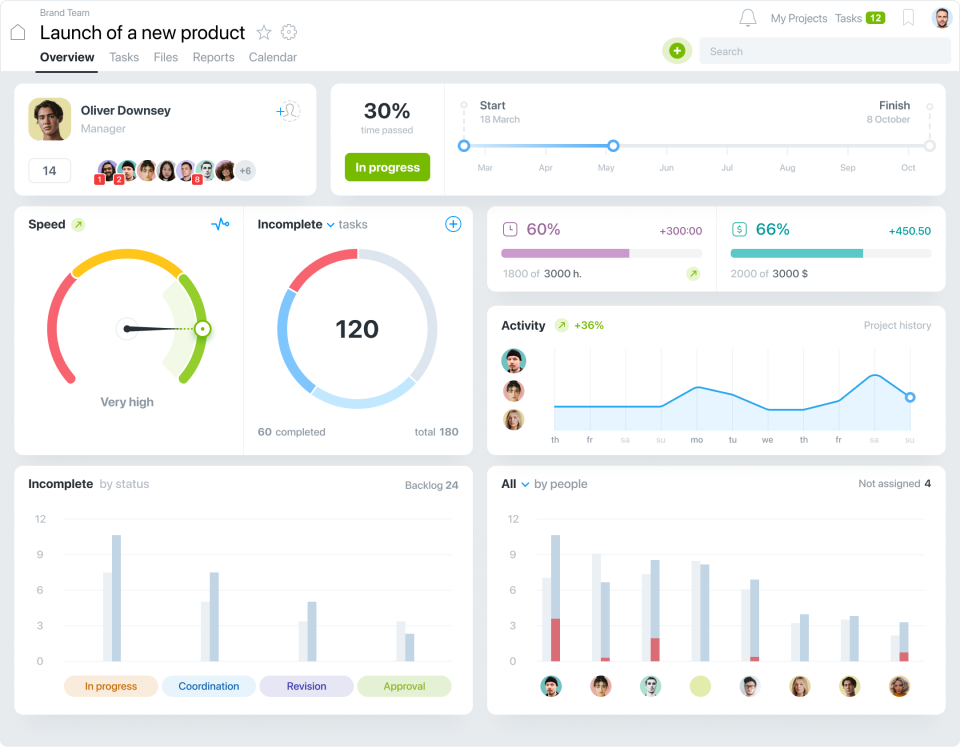 Business processes can be displayed and automated in the form of a Kanban board, showing the task moving through the stages of the preset workflow. Every task has its start and deadline, allowing you not to get confused in a big number of tasks. Furthermore, you can use Gantt Chart and Calendar, which is synchronized with popular online calendars, such as Google, Apple and Outlook.
Before a working day every employee gets an email with a daily digest on tasks with due dates and overdue tasks.
I wonder how it is possible to work without using a product such as Worksection? That's really convenient.
Аnastasia Olshanska, Product owner в GeniusMarketing
Worksection features an intuitive interface and high service stability, with not as many customization opportunities as Jira, for example. However you can set up a script allowing to automatically turn requests on company's website to project tasks. The reports are also created automatically — it's enough to set the necessary parameters, indicate deadlines and choose a team.
If you want to switch to Worksection from another Task Manager, the projects, tasks, comments and other data can be transferred automatically.
Monday.com 
Monday.com is another popular system for task management with a user-friendly interface. This service would be good for middle-size and big teams working on large-scale and long-term projects.
The key feature of Monday.com is an efficient data visualization. You can track your tasks on several boards and manage your workload. The system also offers different types of data display, such as Gantt Chart and Timeline for all tariffs, except basic.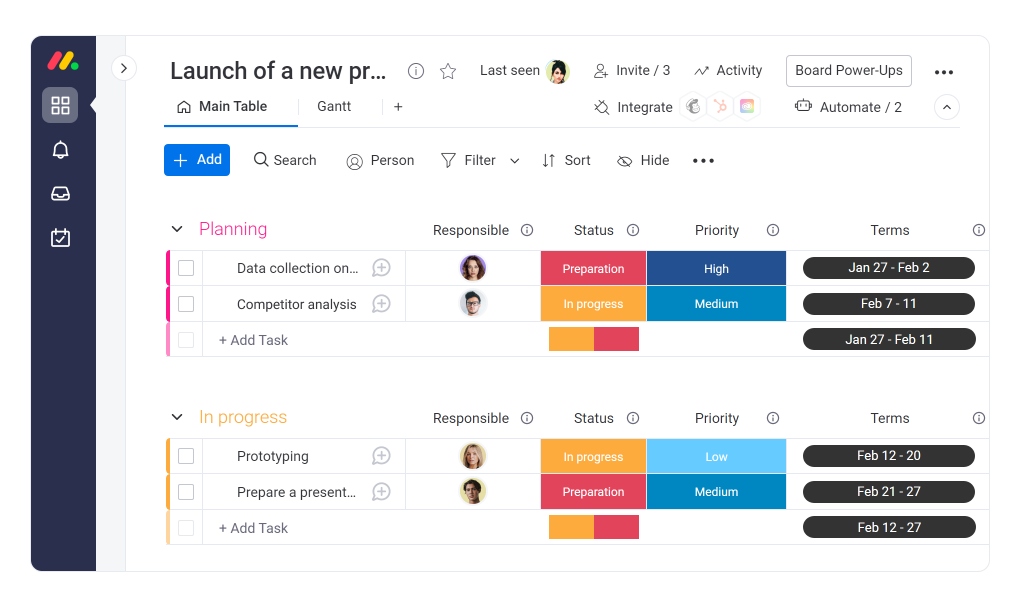 Monday.com offers 4 tariff plans depending on user number. The price varies from $8 to $16 per user. All plans include a 14-day trial period of using the Task Manager with an unlimited number of boards.
Basecamp — checklists and a substitution for a Gantt Chart
Basecamp (Basecamp 3) is a checklist-based Task Manager. This is a product of a former 37signals studio, whose CEO Jason Fried and his partner David Hansson wrote two books about starting a business and its optimisation. Basecamp has an app for a PC, Android and iOs, although it enables working in a browser as well. Instead of Gantt Chart they use a Basecamp own tool — a Hill Chart, dividing a task progress into two parts: the uphill phase (searching for a task solution) and a downhill phase (getting the task done).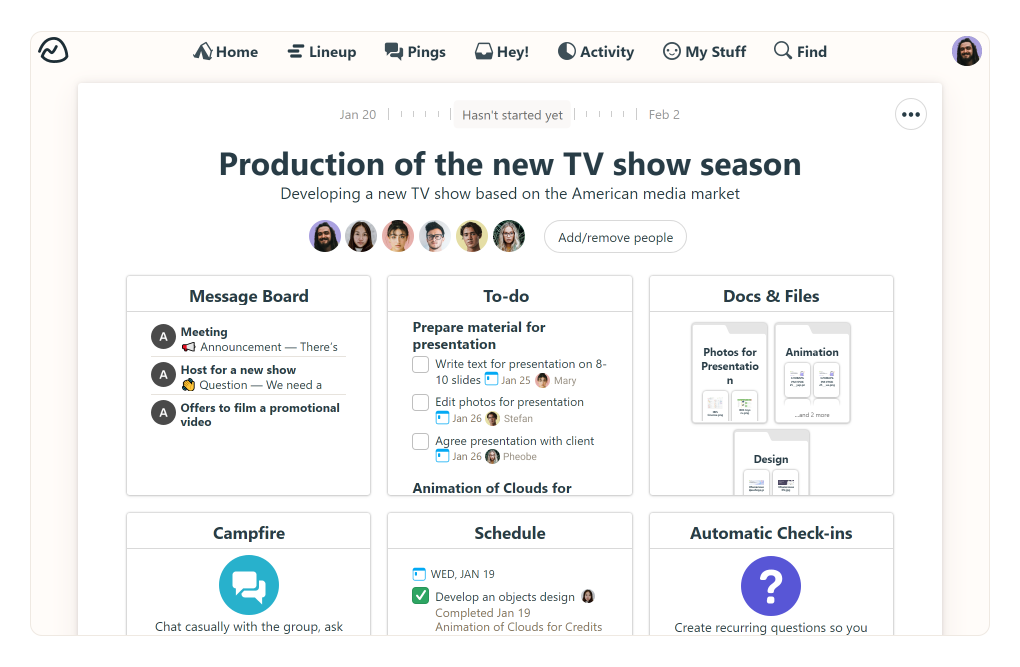 A drawback of Basecamp is its price: a monthly fee is $99. To get the utmost for the price you can use the first free month and then subscribe for a year to get 2 bonus months. Another disadvantage is the absence of Kanban boards and a 24/7 support.
Trello — a task management with Kanban
Trello is a Kanban-based software for project management, owned by Atlassian, the Jira developers. The projects are displayed in the form of boards, with columns added to show the particular stage of task completion. Trello is mostly used by freelancers and small companies.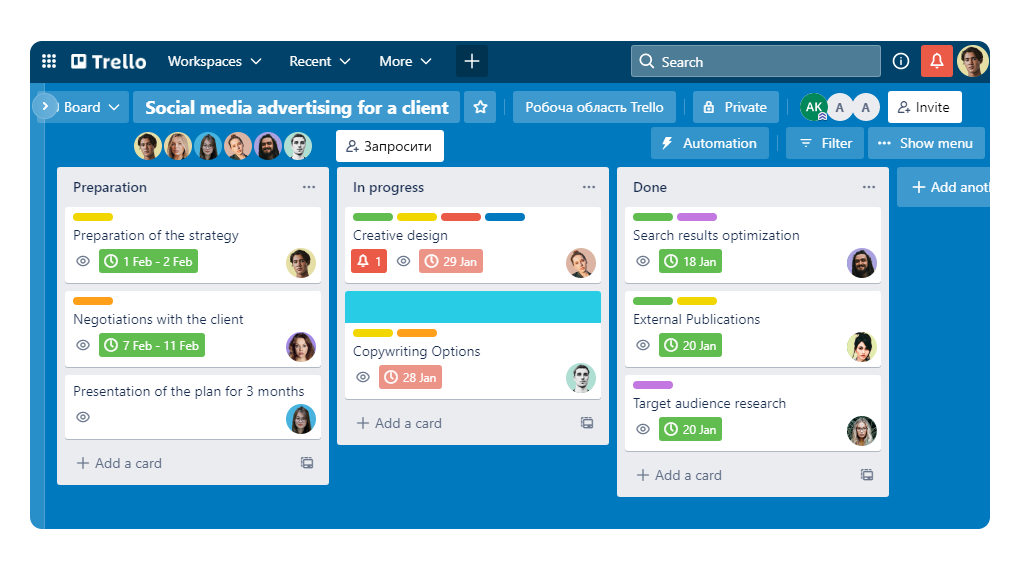 Trello also features a Butler automatization system. It allows you to create teams and rules for team collaboration. With some time and effort you can set Butler so that the system will choose the responsible person, set deadlines or move tasks to another stage of the workflow  automatically.
We started our journey to the world of task trackers with Trello. It is a user-friendly task tracker for a small advertising company.
Yulia Belitska, marketing director of Idea Digital Agency
Free trial version of Trello is often used as the first Task Manager in a company. The integrations are presented as options that are provided separately. These options also include some tools like an overdue tasks filter. Only one option is available in a free version, with the enclosed files limited to 10 Mb. The standard tariff plan starts from $5 per user a month and offers extended functionality compared with a free version. For a Premium-tariff you will be charged a monthly fee of $10 per user.
Asana — a Task Manager with built-in instructions
Asana is a simple Task Manager with a mobile app. You can assign tasks using Kanban boards and manage deadlines using a Gantt Chart. It can be integrated with Google and Adobe services, programs for operating files, reports and time records. Asana Academy is available for a quick team adaptation, allowing employees to figure out more about particular functions of the Task Manager using online courses with tests and exercises.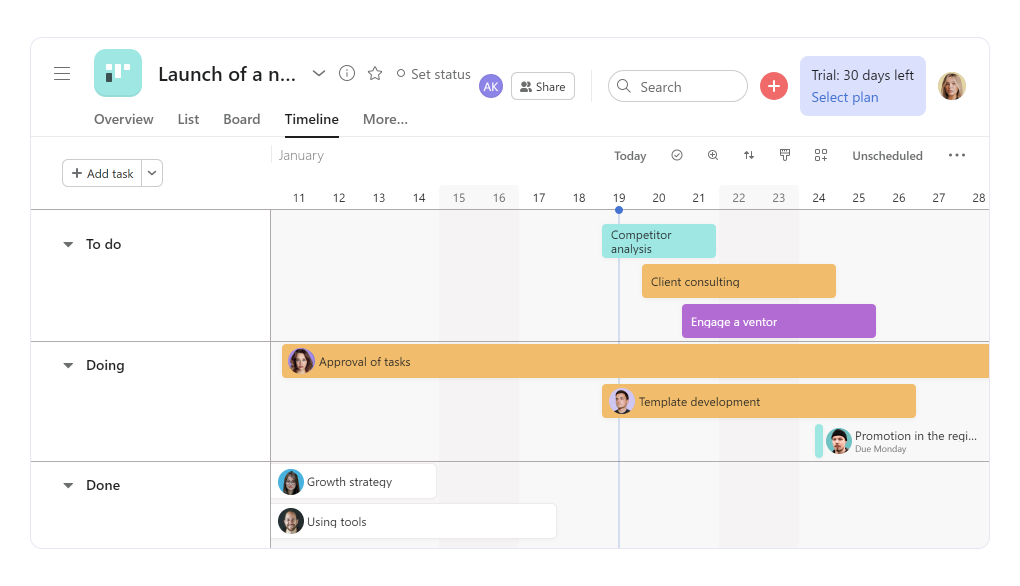 Free trial version of Asana has similar functions as Trello. Using Asana will cost you $11 per employee.
Unfortunately, Asana does not have a built-in time tracker, so you will have to keep record of the time expenditure using a separate service, followed by the manual data input.


---
Have you chosen any Task Manager from the list above? The list is subjective and we understand this. Add some other evaluation criteria taking into account your specific requirements and test your own list of Task Managers.
In the comments below please write down the Task Manager which you use in your company. If you have any beyond our list, please comment on your choice and specify its advantages for your business.