21 Top Collaboration tools for remote
teams
Each year the number of remote teams is increasing. It has its advantages but also brings issues with task management, synchronizing, and communication. Fortunately, there are enough excellent and powerful remote collaboration tools, software and apps that make remote teams' lives easier and positively affect productivity. 
What a remote team is?
A virtual or remote team is a group of geographically dispersed coworkers who can interact only through special tools, like messengers, task managers, etc. There are several types of remote teams, depending on objective lifespan, goals, and roles.
Types of remote teams
Management teams
are managers of the same companies who work in different regions and roll corporate-level strategies.
Action teams
are represented as a group of professionals who work together in a short period to resolve some problems. According to the urgency of the situation, they can perform only remotely.
Production teams
consist of employees with well-defined roles, and their main goal is bringing a product or its parts after repetitive periods.
Parallel teams
are made from members of the same company, who should work together for a short period to give some advice, recommendations, and support.
Service teams
usually consist of employees who work independently in different time zones but do the work according to the same goal. Their working results are complementary and interconnected.
Networked teams
are cross-functional employees who bring fresh ideas and can resolve complex issues. Network teams work constantly, but the membership is fluent, meaning the member can leave the team any time. 
4 strategies for remote teams' collaboration improvement
Create an online platform for communication. Communication is always crucial for each work, but for remote types it is vital. For this purpose, the team must use special tools and software for communication, which allow phone/video calls, chatting, document exchanging, etc.
Use emojis. Because teams often work separately, using emojis while messaging is an excellent idea.  It helps teammates to express their emotions and allows a more friendly team atmosphere. 
Make virtual team building. Team building is a necessary thing not only for office work improvement, but also for remote types. Team members can watch TV series together, play online games, make online parties, etc.
Exploit remote work tools. Remote work is hard, especially for a project manager, who needs to organize and manage the workflow. Using special collaboration tools for remote teams could relieve this challenge. Choosing the best tools for remote workers depends on this team type.

6 best practices for remote teams collaboration
Use document storage. Because of individual work, the remote team needs to use cloud-based storage, where it stores and shares all documents. And everyone from the group having access can get these documents.  
Break down tasks into subtasks. For example, in Scrum, each epic breaks down into user stories and the last to subtasks. The team can use the work breakdown structure for task decomposition and story mapping for task visualization and prioritization. 
Provide feedback and recognition. Working separately does not mean no one will know how employees work and what results they bring. Team leads or project managers should always find a time to give feedback to their teams and not forget about recognition. 
Schedule live meetings. The project manager should provide online check-in for the team. This activity will help understand workflow status, upgrade tasks, introduce new team members, or inform about significant changes. 
Establish an assignment protocol. To be sure that nothing gets lost from the workflow plan, the team should use an assignment protocol. This way, establishing a protocol for incoming requests is a good practice.
Use task management tools. Exploiting remote work collaboration tools is a good thing. It's essential for project management and all teams because everyone needs to know how the project is going, what tasks need to be done, and how much time is left. These could be done by calling and emailing, but it will take too much time. 
7 types of collaboration tools with the best 21 examples
There are a lot of powerful tools, so let's mention the best collaboration tools for remote teams.
Task managing
Remote collaboration software allows workflow managing and time-tracking gives a lot of valuable instruments, such as Kanban board, Gantt chart, Burndown/Burnup charts, Roadmaps & milestones, task timer, and others.
Worksection
Worksection
is a
Ukrainian cloud-based project management and productivity platform
that brings excellent solutions for small and large businesses, including web-studios, digital agencies, manufacturing teams, and others. It is one of the
best tools for remote teams.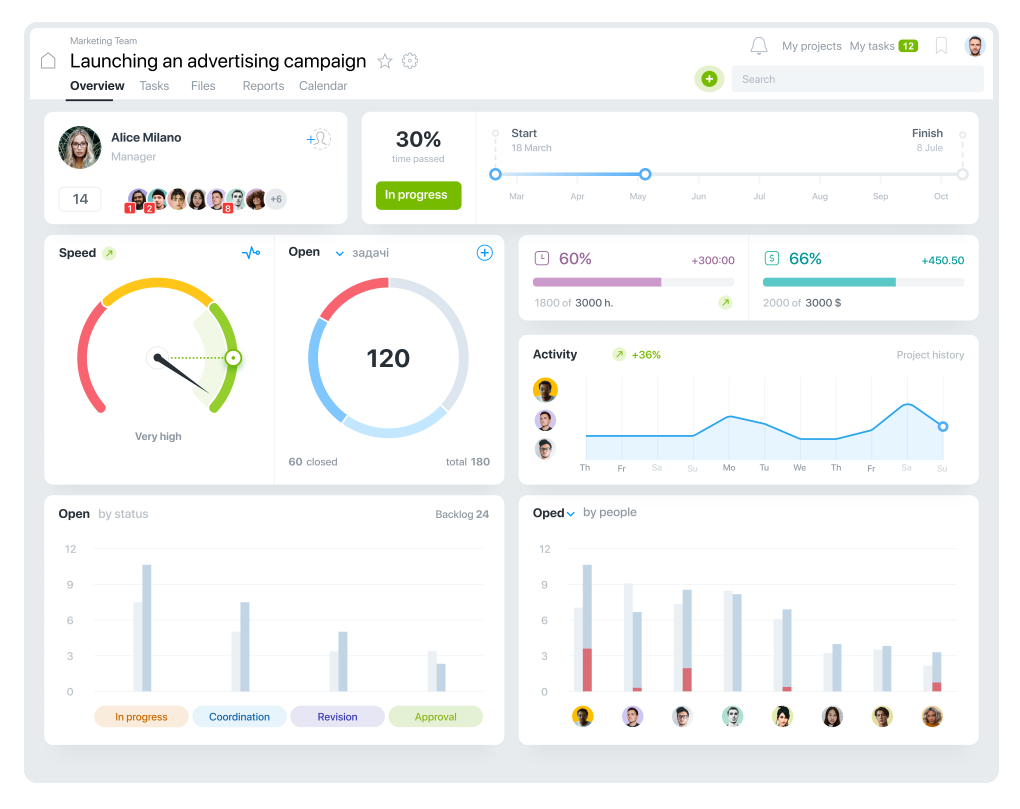 Pros: Worksection gives beneficial and perfect features, such as a great dashboard, pleasing UI, easy time tracking, effective communication & reports, high data security, simple Gantt charts, an understandable Kanban board, and many others. Along with all these valuable features, many users admit helpful and fast tech service support.
Cons: some users want the mobile app to be better and complain about the absence of separate chat. 
Pricing: free trial; basic version costs only $49 per 20 users/month and offers many features, such as 20 projects, 20 Gb cloud storage, time and budget tracking, Gantt chart, and many others.
Worksection's 2022 rating at capterra.com is 4,9.
Asana
Asana is a well-known cloud-based task management tool that is best for small projects/teams.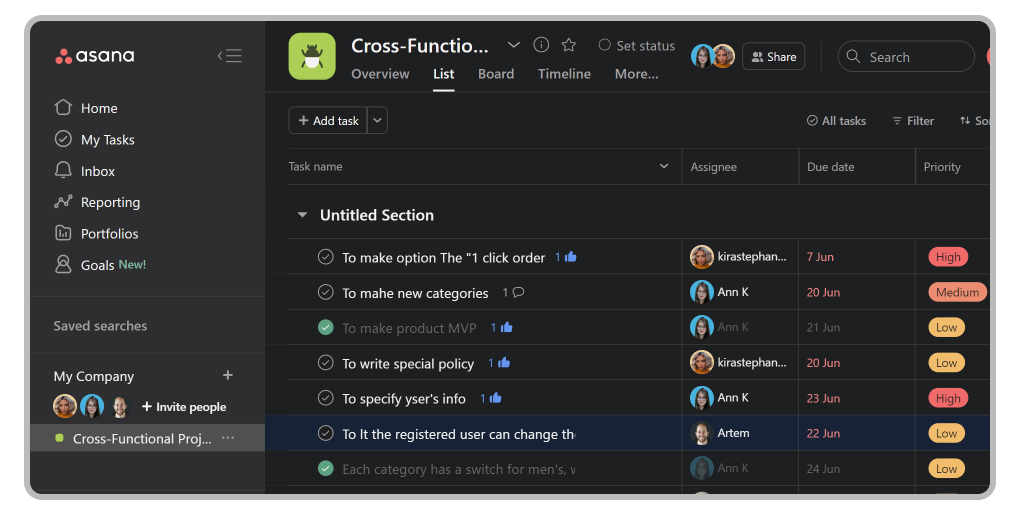 Pros: wide feature range (Gantt chart, workflow constructor, Kanban board, calendar, milestones, etc.), advanced integration with Slack, Gmail, Google Drives, etc., appropriate mobile app.
Cons: some users admit difficulties with user adaptation and want more free features. 
Pricing: free version with limited features; paid version starts at $10,99 per user/month.
Asana's 2022 rating at capterra.com is 4,5.
Jira
It is a good cloud-based tool for task management, with many features that support Agile's approaches (such as Scrum and Kanban), and is suitable for different-size projects.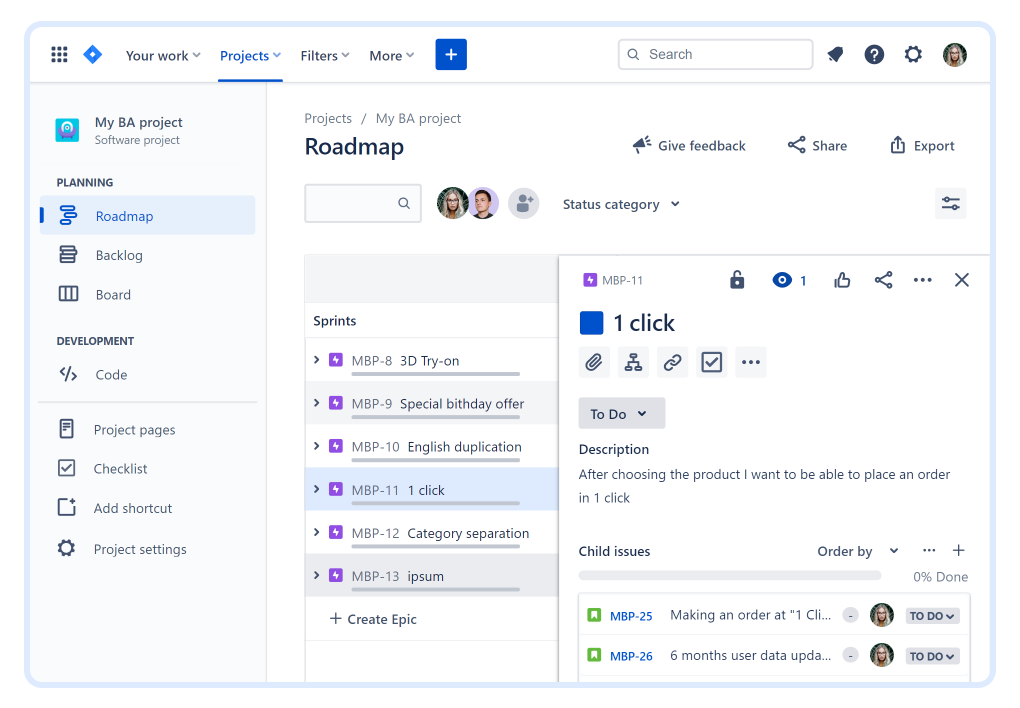 Pros: the compelling set of instruments & features, great Kanban board, Sprint planning & tracking, user stories prioritization, good messengers' integration (for example, Slack, Gmail), documents exchanging, and high protection level.
Cons: due to many features, the UI is too complex and heavy for navigation, and some users admit about mobile app limitations.
Pricing: free plan with usage limits, and payment starts at $7,50 per user/month.
Jira's 2022 rating at capterra.com is 4.4. 
Calendar Sharing
This type of tool allows sharing of calendar facilities and helps to organize meetings, reminders of deadlines, and other time-fixed activities.
Google Calendar
It is a simple and robust solution for different event scheduling. Google Calendar has an address book, calendar management, calendar sync, and remainder system.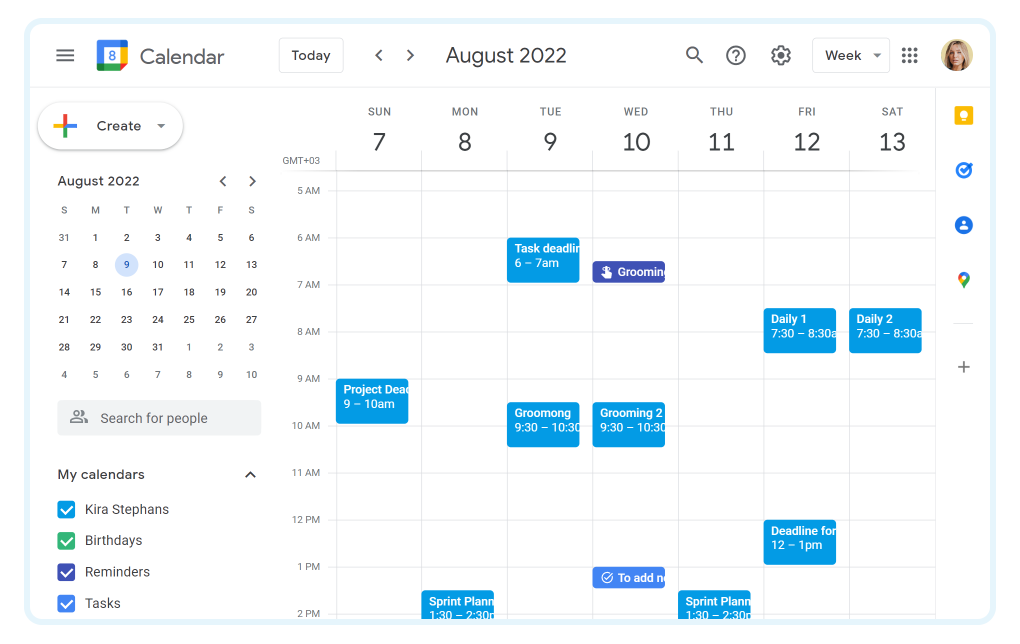 Pros: perfect synchronization & integration with another Google platform, ability to create endless remainders, different calendar views are available, guest invitations, and good mobile app.
Cons: hard to integrate different email addresses and sync with other calendars, a bit non-user-friendly interface, and limited automation.
Pricing: free version for personal use, and the business one starts at $5 per user/month.
Google Calendar rating 2022 at capterra.com is 4,8.
Microsoft Outlook
It is a Microsoft product with many features, such as calendar sharing, response management, archiving & retention, etc.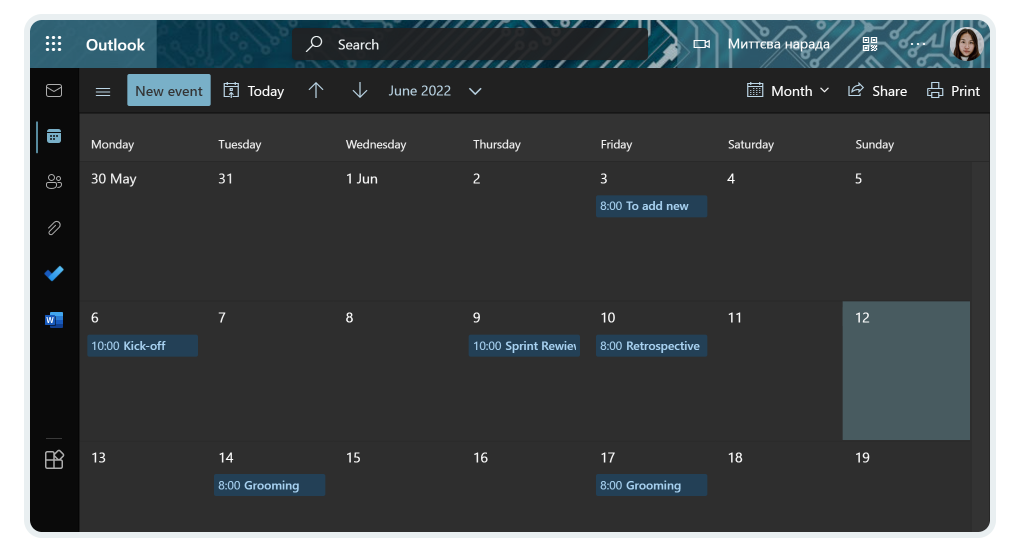 Pros: perfect integration with Microsoft products, easy to set up and use, allowing some additional features, great for time-managing.
Cons: a bit confusing UI, not very user-friendly mobile app and complicated navigation.
Pricing:  Outlook.com accounts are free, but the business version costs $5 per user/month.  
Microsoft Outlook's rating 2022 at capterra.com is 4,5.
Teamup
Teamup is an acceptable calendar solution that rolls scheduling, meetings organization, and information sharing.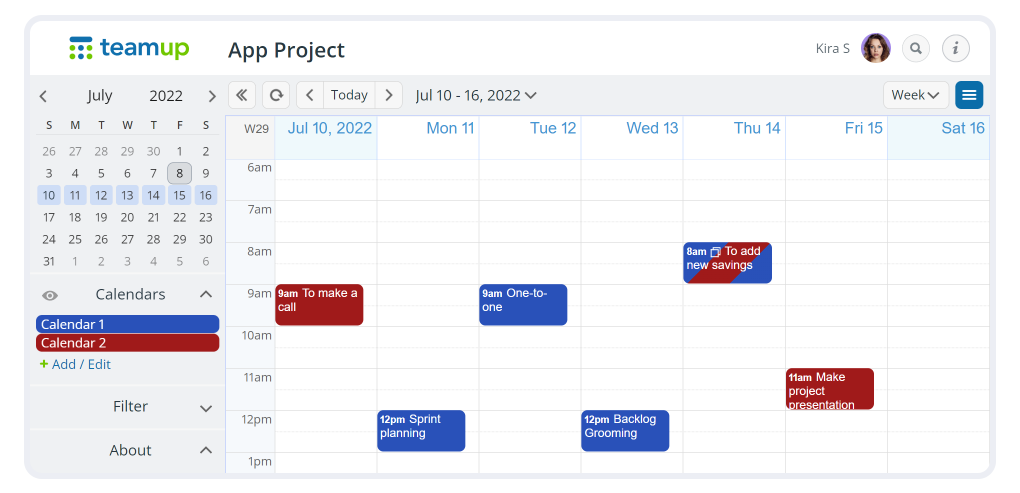 Pros: good calendar syncing, great facility scheduling, helpful real-time scheduling, user-friendly interface.
Cons: imperfect mobile app; some of the color choices are too similar, which makes it hard to identify some events by color.
Pricing: the basic plan is free for up to 8 sub-calendars; the plus plan starts at $8 per user/month.
Teamup's rating 2022 at capterra.com is 4,7.
Instant messaging
Specially designed for messaging, chatting may allow channels and topic groups. Messaging tools provide using emojis to express emotions. 
Slack
Slack is a remote team communication tool which is great for different business segments.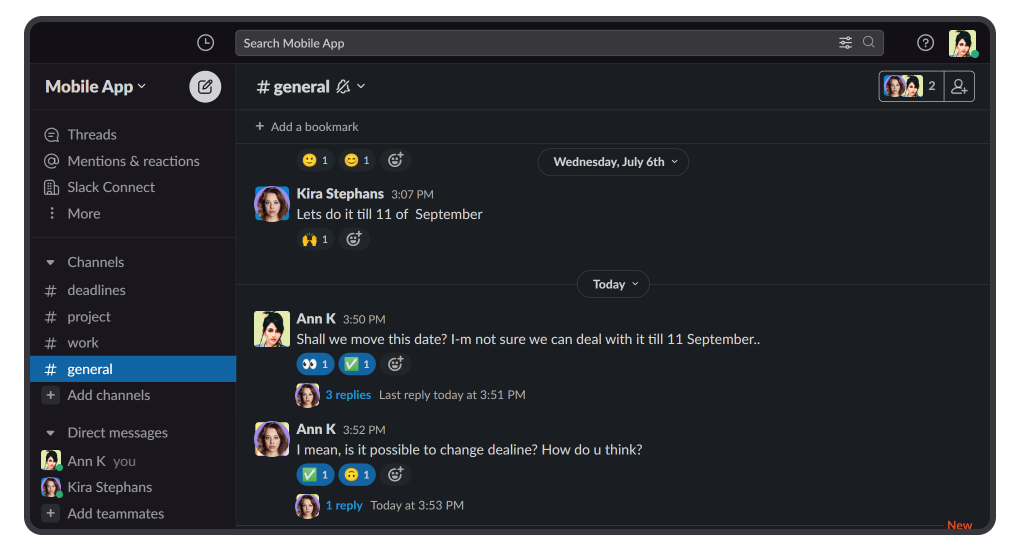 Pros: the ability of channel creation, file exchanging, good integration, and a wide range of members (up to 100). 
Cons: confusing interface and imperfect mobile app.
Pricing: free trial and standard plan, which starts with $6,66 per user/month.
Slack's rating 2022 at capterra.com is 4,7.
Microsoft Teams
Microsoft Teams is a virtual team collaboration tool that allows channel creation, making audio calls, events scheduling, and running correspondence.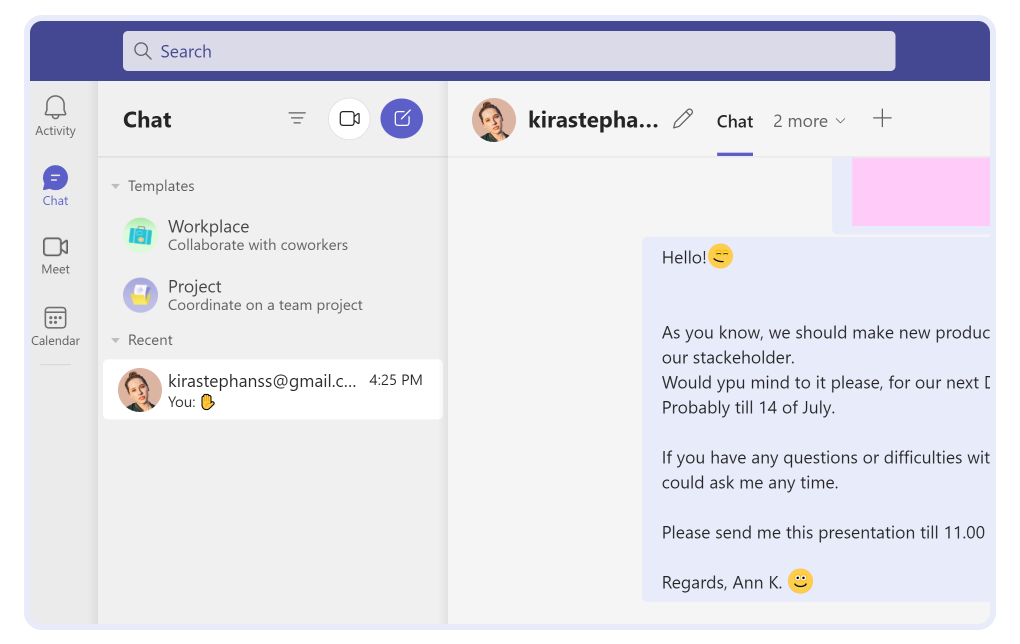 Pros: perfect integration with Microsoft products.
Cons: users complain about its inability to well-connect with not Microsoft's products.
Pricing: Microsoft Teams is free to sign-up, and the premium plan starts at $4 per user/month.
Microsoft Teams rating 2022 at capterra.com is 4,4.
Discord
It allows public/private communications, where users can chat by video, audio, and text.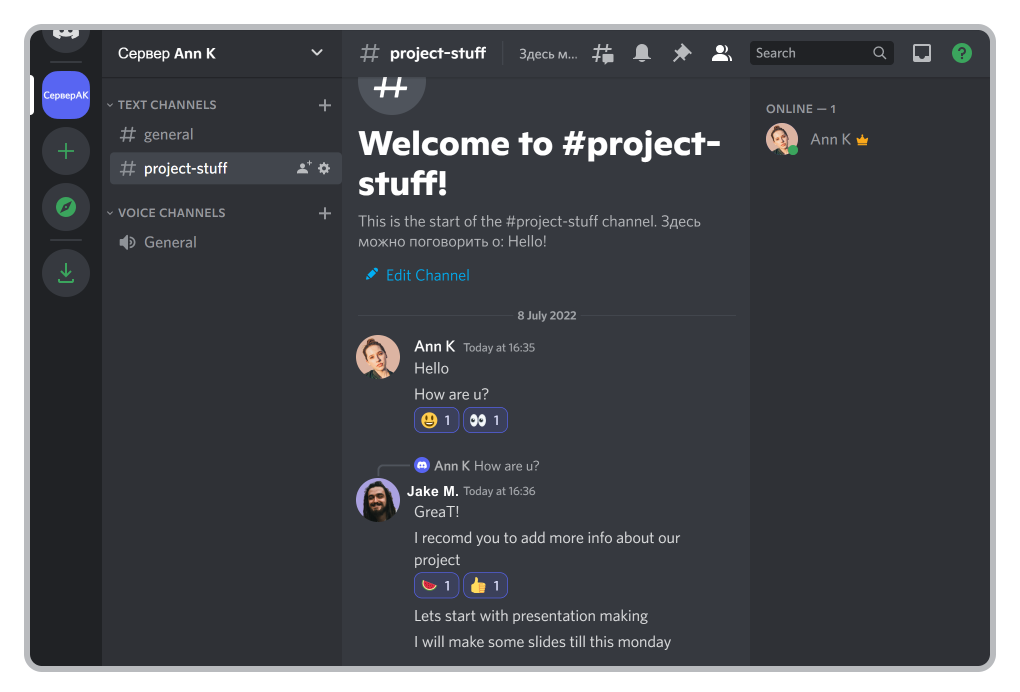 Pros: one-to-one messaging, forums, real-time chat, commenting, file sharing, and group management.
Cons: lack of business features, confusing UI, uploads limitation for the free version.
Pricing: the free version is available; paid one starts at $9,99 per user/month.
Discord's rating 2022 at capterra.com is 4,7.
Document synchronization
These tools make matching between two documents (their present and earlier version). Any modification with a copy from one directory is the same as another.
FreeFileSync
This file syncing solution helps to compare multiple folders and synchronizes them to automate data backup.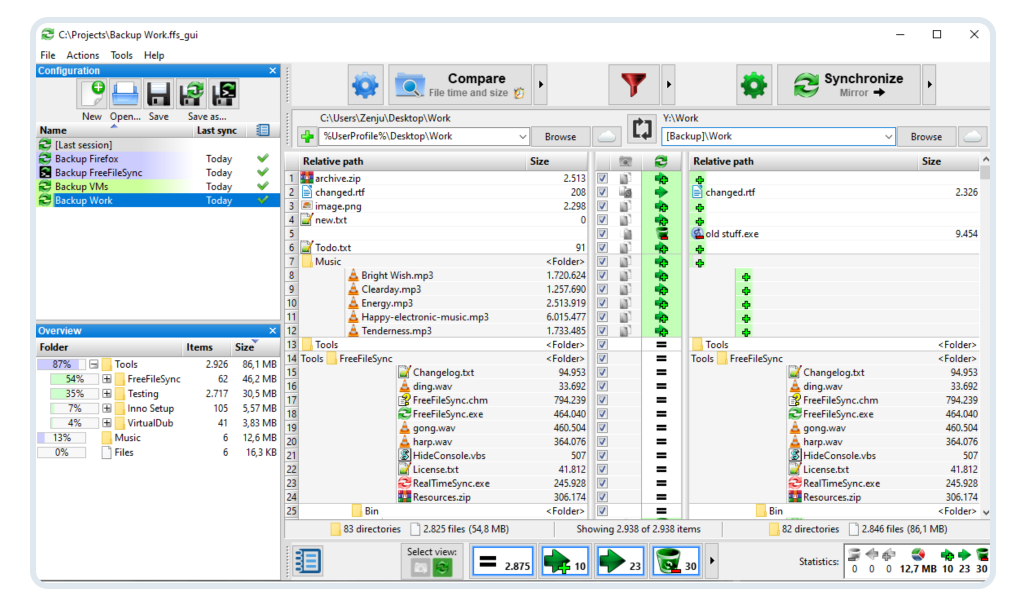 Pros: perfect for moving files, suitable for backing up and cloning projects, open sources, and regularly updated.   
Cons: a confusing interface for new users, tricky navigation, in-build memory feature only remembers the latest sync files.
Pricing: open-source software. 
FreeFileSync's rating 2022 at capterra.com is 4,7.
Cyberduck
Cyberduck is a cloud-based storage facility, which provides file duplication, and synchronization only.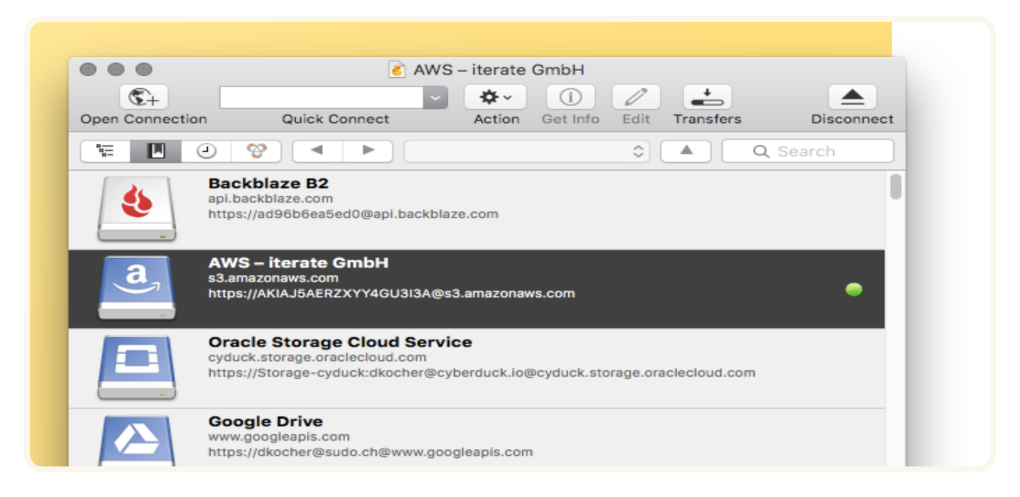 Pros: easy interface, simple file moving, remote editing, fast running, ability to create duplicated copies of files.
Cons: it is difficult to access some WordPress files; sometimes, managing connections is a bit backward. 
Pricing: this is a free resource, but for more features, it asks for some donations.
Cyberduck's rating 2022 at capterra.com is 4,6.
Sync.com
Sync.com gives document storage, file transfer, real-time synchronization, archiving & retention, access control, and many other valuable features.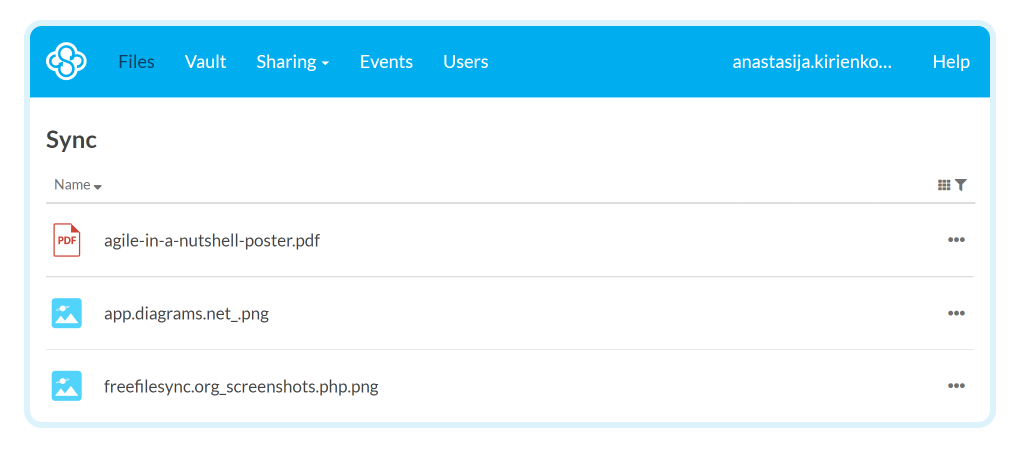 Pros: affordable pricing, supporting multiple platforms, and high security level.
Cons: slow file uploading, imperfect UI & complex navigation, sometimes syncing files between computers takes days.
Pricing: free starter plan with limited features, further tariff plan is $5 per user/month for 1Tb storage.
Sync.com rating 2022 at capterra.com is 4,4.
Cloud storage
It allows everyone with special access to upload, download, and read documents.
Dropbox Business
Dropbox is a cloud-based storage solution, which also allows file exchange, messaging, image editing, file conversion, document classification, etc.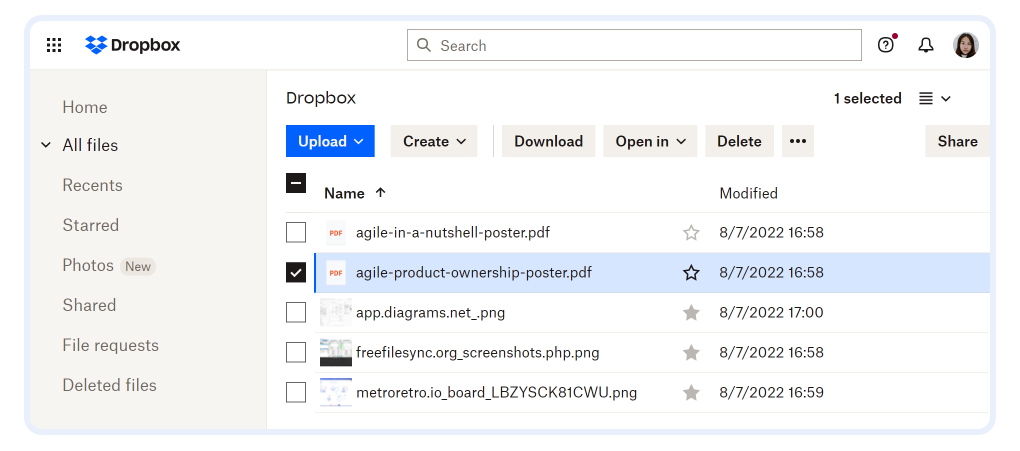 Pros: excellent for managing and sharing files, optimal file synchronization, and good security features.
Cons: free account with minimal storage, not very intuitive navigation and poor integration with the network structure.
Pricing: a free version with limited storage capacity and paid one starts at $12,63 per user/month.
Dropbox Business rating 2022 at capterra.com is 4,5.
Google Cloud Storage
This tool makes it possible to store, archive and analyze data.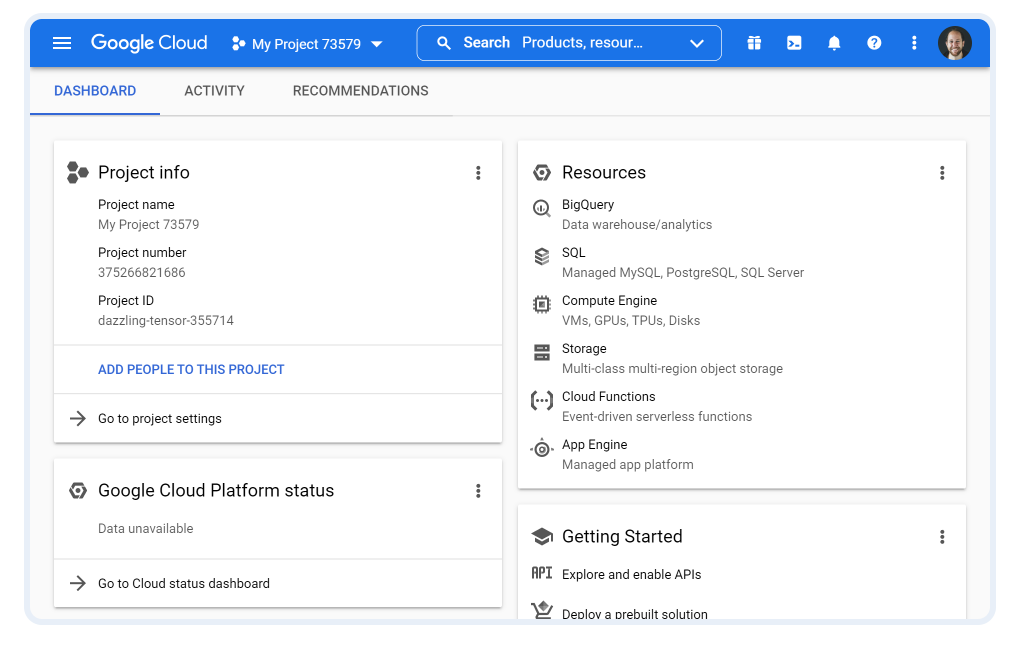 Pros: colossal storage, elementary folders organization, user-friendly interface, reliable security aspects. 
Cons: has integration issues with some task managers.  
Pricing: standard storage starts at $0,020 per Gb per month.
Google's Cloud Storage rating 2022 at capterra.com is 4,8.
Amazon Drive
Amazon Drive is another cloud-based storage, which can be very helpful for file organization, storage, and synchronization.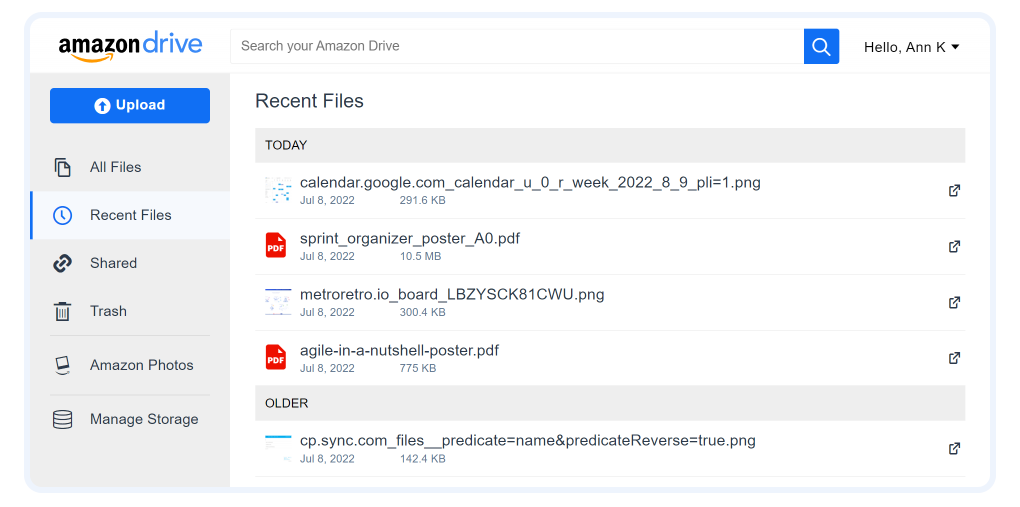 Pros: files sync automatically, data can be accessed from any device, and super-fast file uploading.
Cons: limited free access (only 5 Gb storage), non-intuitive interface.
Pricing: free primary storage up to 5Gb, while 100 Gb storage costs $1,99 per user/month.
Amazon Drive's rating 2022 at capterra.com is 4,0.
Video conferencing
These tools provide video conferences for everyone with granted access. It allows both voice and video, which is very important for remote teams because everyone can see each other, their emotions, and body language, and it could be easier to communicate.
Google Meet
It is a good collaboration tool for virtual teams, which is excellent for communication and allows one to stay in touch with clients and teams globally.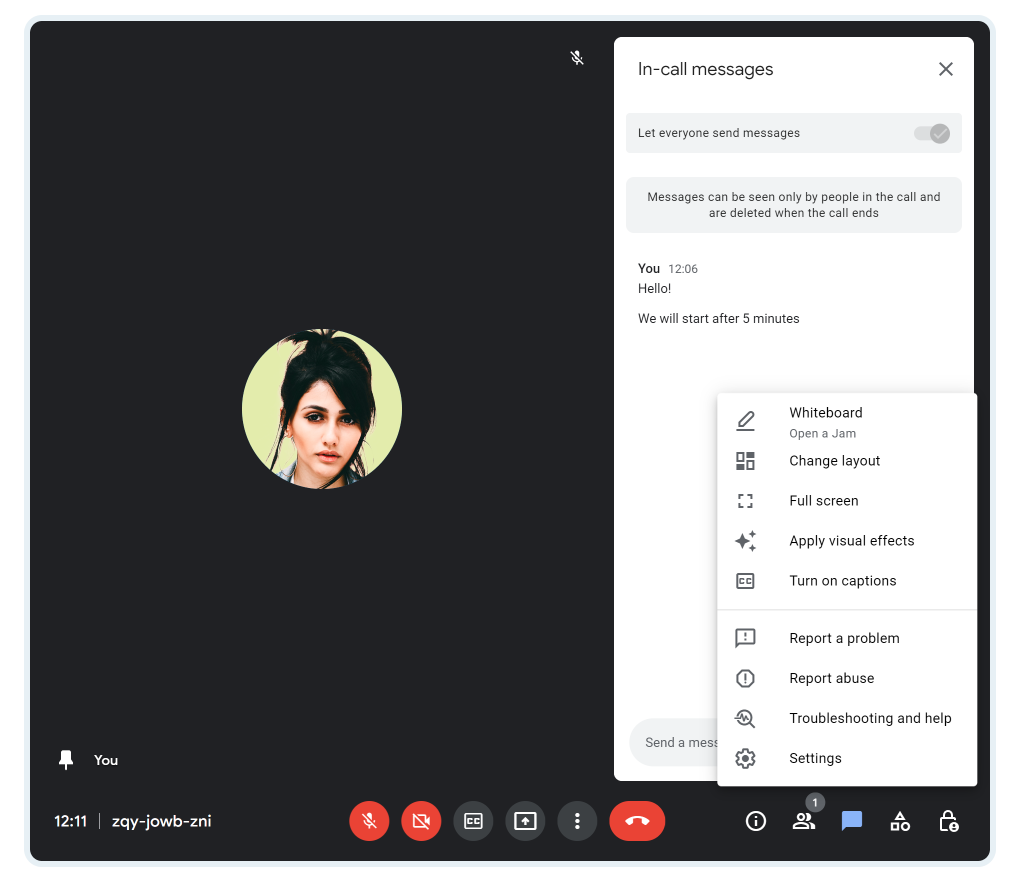 Pros: easy access, completely free, the call duration is unrestricted. 
Cons: some users complain about a bad connection, occasional glitches, and awkward screen share.  
Pricing: completely free.
Google Meet rating 2022 at capterra.com is 4,5.
Big Marker
It is a compelling platform for online webinars and different events. It has many customizable templates and form builders and allows chat, electronic hand-raising, and Q & A management. 
Pros: it has a very intuitive interface, is easy to set up, provides stable work, and has rapid and helpful support. 
Cons: a bit confusing learning curve, longer setup process, sometimes it could lag. 
Pricing: it has a 7-day free trial and starts from $99 per month for up to 100 attendees. 
Big Marker's rating 2022 at capterra.com is 4,8.
Hibox
Hibox is a team collaboration that supports communication and workflow tracking. It helps to stay in contact with your teammates and manage all tasks.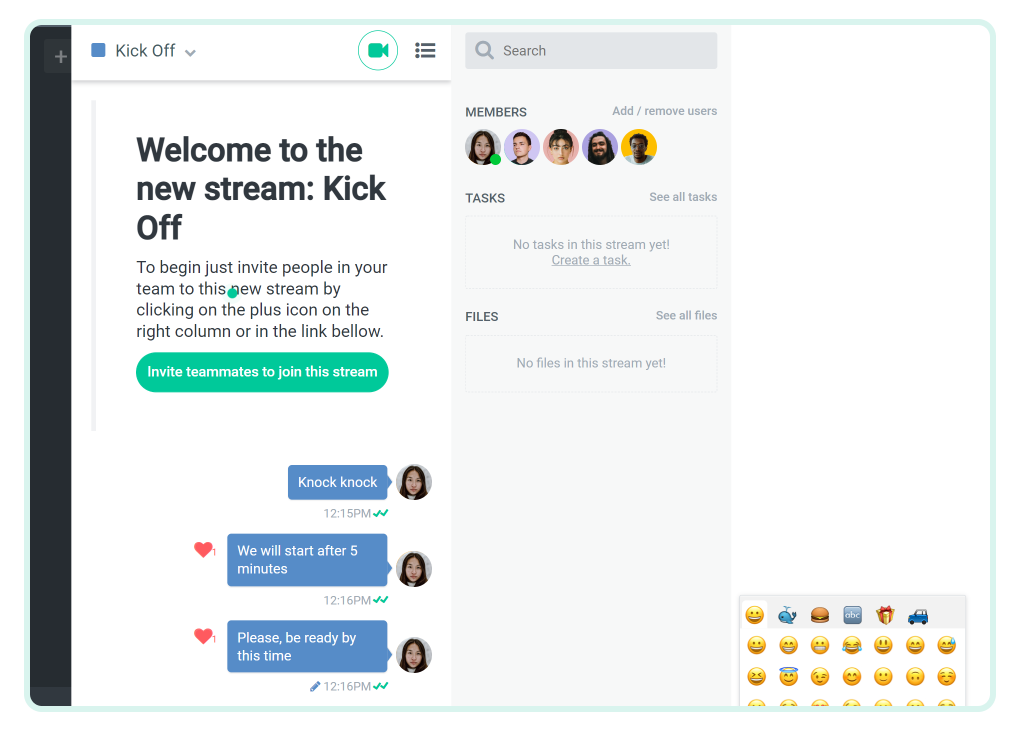 Pros: possibility to upload documents, task assigning, regular reminders, user-friendly, and cheaper than some competitors.
Cons: delay in delivering messages, a little emojis set, a bit buggy.  
Pricing: free trial, ana than $6 per user/month.
Its rating 2022 at capterra.com is 4,5.
Whiteboards
It is like the standard whiteboard, but virtual, where teammates can "stick" their notes, make some graphs, schemes, tables, and paint. 
Metro Retro
Metro Retro is an excellent online platform that can be used as a flipchart and board for stickers. It is beneficial during discussions and allows strong ideas visualization — a handy tool for conducting retrospective meetings.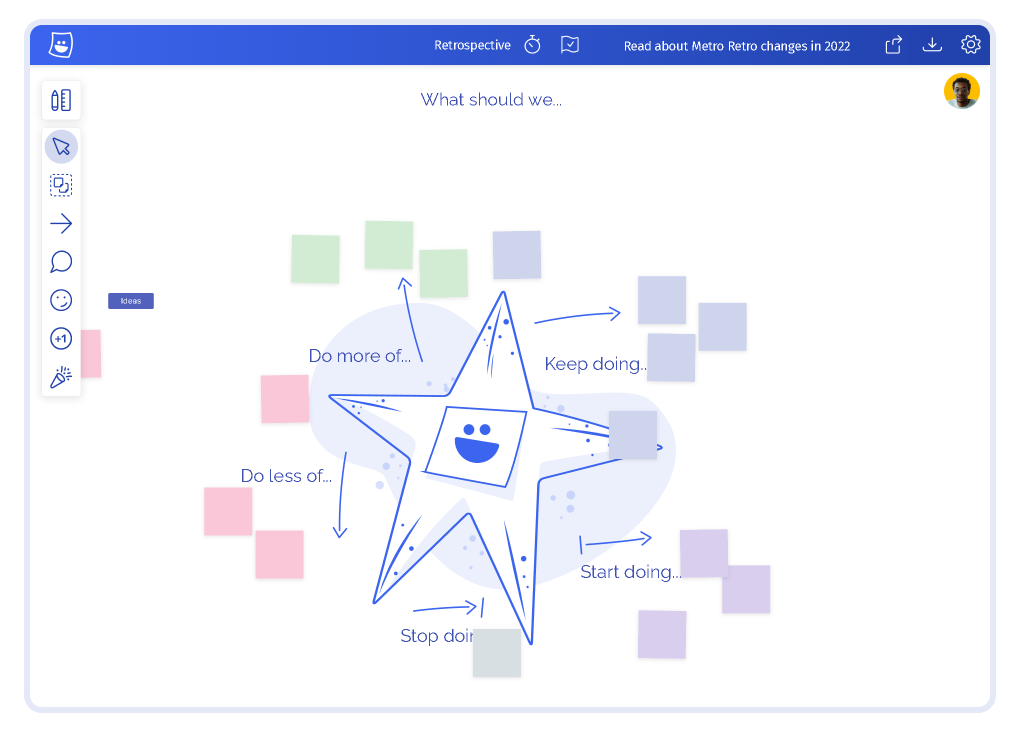 Pros: very user-friendly and intuitive UI, simple navigation.
Cons: inconvenient management of graphic layers when inserting backgrounds and pictures.
Pricing: free trial is available, paid version starts at $6 per user/month.
Metro Retro rating 2022 at capterra.com is 4,0.
Jamboard
Jamboard by Google allows online drawing and making schemes, which are helpful for ideas visualization.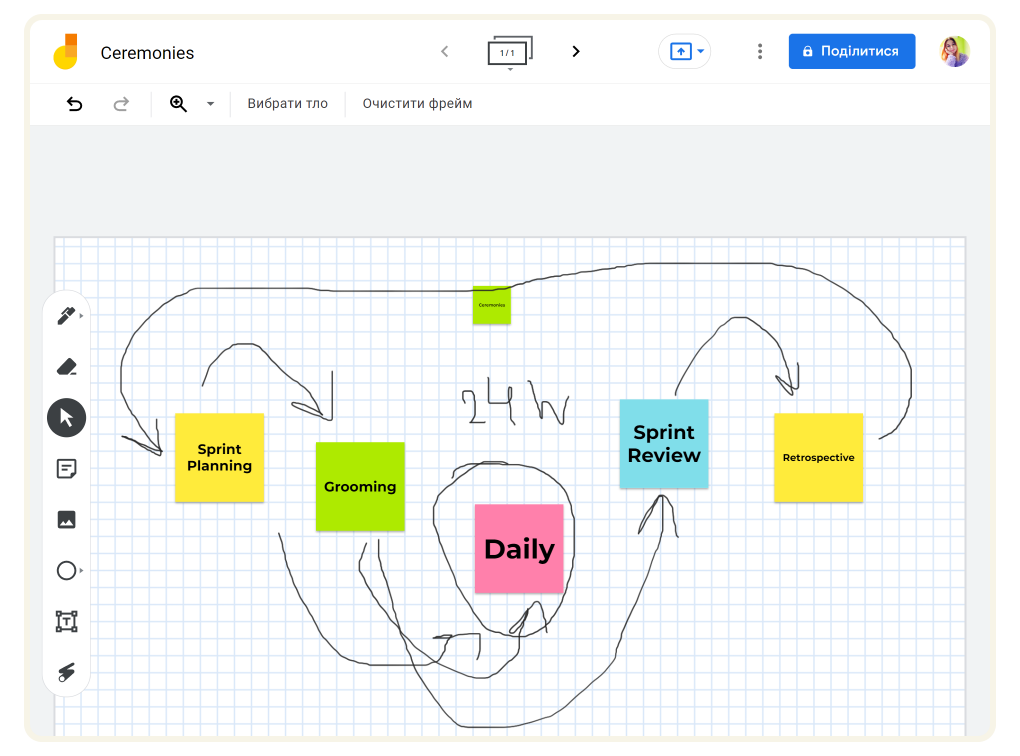 Pros: straightforward and understandable interface & navigation.
Cons: some users complain about glitching and poor sets of instruments.
Pricing: it allows a free version, but for more, it is recommended to contact Google.
Jamboard's rating 2022 at capterra.com is 4,3.
Draw.io (Diagrams.net)
Draw.io is a potent tool for making flowcharts, UML diagrams, schemes, WBS, etc.
Pros: great template set to choose from, a massive set of features, integration with GitHub, Dropbox, and One Drive.
Cons: everyone with access can make any changes at any time, and it does not provide any cloud-based storage.
Pricing: a free version is available, paid version starts at $5,25 per user/month.
Draw.io rating 2022 at capterra.com is 4,6.
---
To be productive remote teams could use a long list of strategies. But, one of the best is exploring modern and powerful tools for remote teams, which provide time & task management, communication, and information sharing. One group could use several different instruments to maintain their workflow; it could only be one powerful tool that allows all features needed.