11 October 2020
•
Саша Могир
•
4 min read
Visotsky Consulting: Task Manager
for a Consulting Company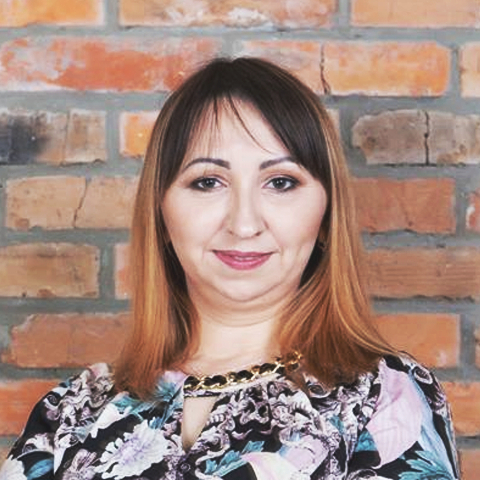 Anastasia Melnikova
About us:
Consulting agency;
120 employees in the CIS sector;
More than 10 years in the market;
More than 500 successful projects;
Clients: Czech Post Print House, BogushTime, Water Energy, Global Security Technologies etc.
Your company should work for you, not you for it
Visotsky Consulting has been operating since 2008. Our purpose is simple — to help small and medium businesses to evolve, and for this purpose, we train entrepreneurs to manage efficiently in the programme-based course in our School for Business Owners. Visotsky Consulting operates in Ukraine, Belarus, Kazakhstan, Russia, America and Taiwan.
/pic/
The school for business owners represents a 12-month consulting project in which we teach business founders how to manage a company. More than 500 companies have already graduated.
Why Worksection?
Hereafter, Anastasia Melnikova will present you the way to select a management system for a consulting company:
The main resources for any company are time, money and people. It is important to plan and track the employees' working hours, to oversee the company's expenses and to plan projects wisely.
To work on projects entirely, and to supervise employees, company managers use project management projects, or, more simply, task trackers.
Task tracker is a program for tracking the company's activities. It enables setting tasks, deadlines, monitoring task statuses and analysing the company's efficiency.
Microsoft Planner is our first task tracker. It is simple and convenient, but we lacked integrations with Google services utilized by the whole company. Then we switched to Bitrix24.
Bitrix represented the greatest complexity, since we needed to hire specialists to have it adapted and introduced. We ended up spending a lot of money, efforts and several months to adjust and rework the system to fit our needs. We obtained a complicated and overloaded tool which was meant by us to cover all requirements of the company, such as project management, marketing and interaction of all employees.
We needed a tool with the following features:
simple interface to enable each employee to figure it out as promptly as possible;
flexible structure of projects with tasks, subtasks and checklists;
task customization: priorities, deadlines, lables and responsible executives;
planning tools: Gantt chart, Kanban boards, calendar and time tracking;
report system — plan/actual on tasks for a week;
Russian, Ukrainian and English interfaces to simplify adaptation of all branches in CIS and other contries;
mobile application for swift feedback from employees directly from the smartphone.
Result
We considered many task trackers, but we found the right tool in the Ukrainian market. For more than a year, we have been using Worksection as the main tool to manage consulting projects. This is a simple and intuitive project management system for an affordable price. Due to the multilingual support, Worksection is integrated in our overseas branches.
Worksection is a Swiss knife in the project management kitchen
Which aids do you use?
We have strategic planning, weekly planning, and daily coordinations at various levels, depending on the department. In Worksection, we handle all projects of the company, and the following aids facilitate it:
For our company's team, integration with Google Calendar was very significant. Worksection's calendar hosts planning of regular activities and coordination of works, and, once synchronized, all data are displayed in the employees' personal Google calendars.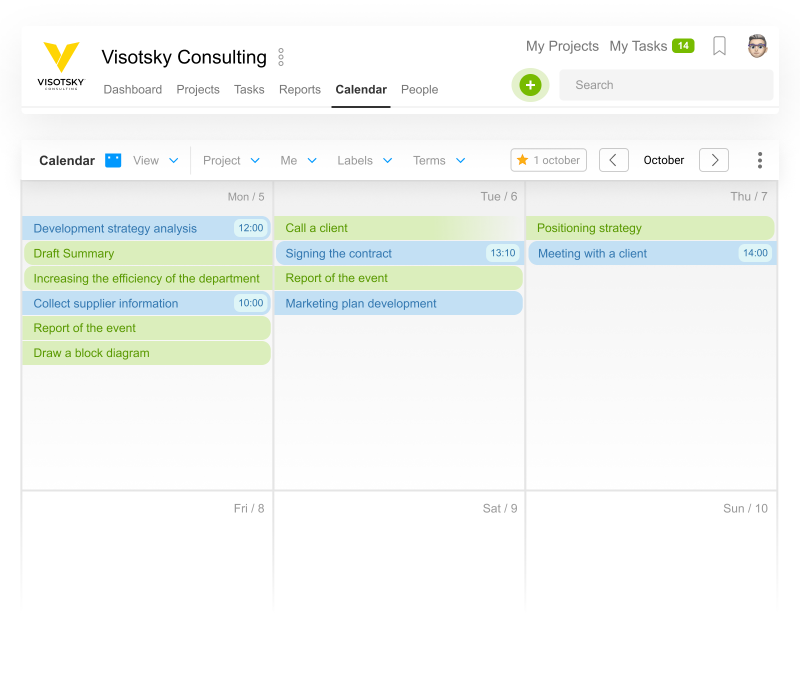 Worksection helps in monitoring a person's workload. Seing the number of tasks in an employee's project, we can estimate the amount of work to be done by them additionally.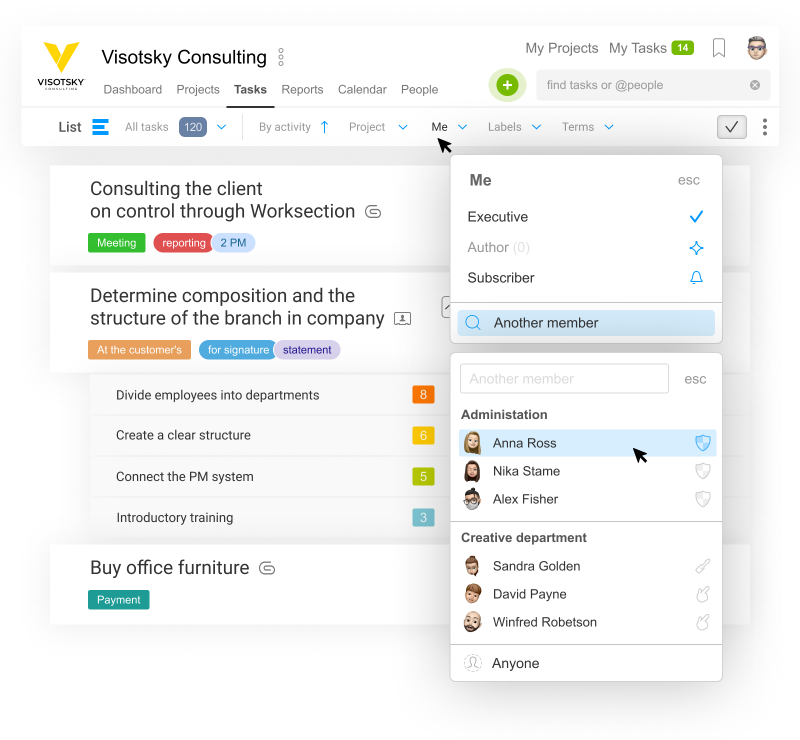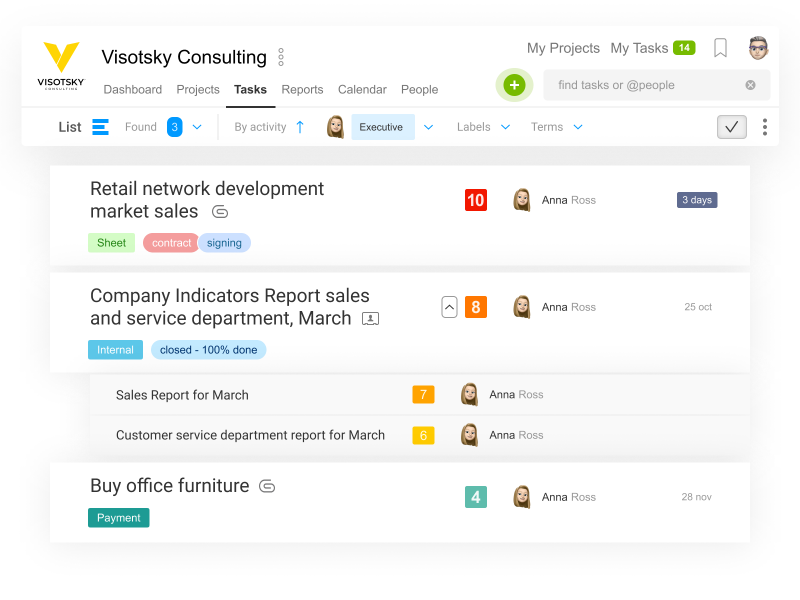 We actively use task priorities. In Worksection, we can set a task priority from 1 to 10, but we have chosen a simple gradation of priorities:
10
— for tasks to be urgently fulfilled.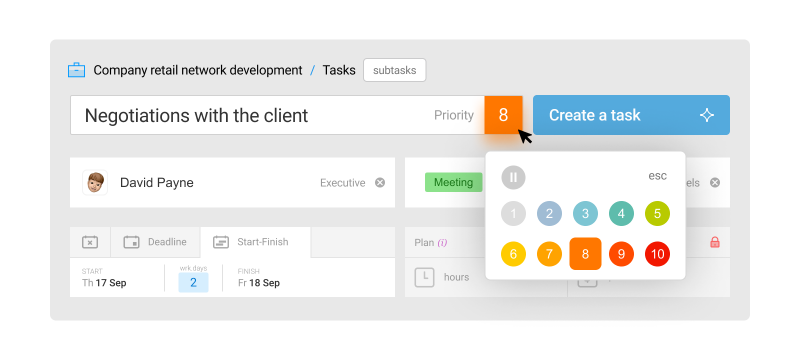 To have demonstrative action plans, we use the Gantt Chart. The table excellently visualizes task deadlines within one project. Along with displaying planned deadlines in the table, the chart makes it possible to manipulate them at ease.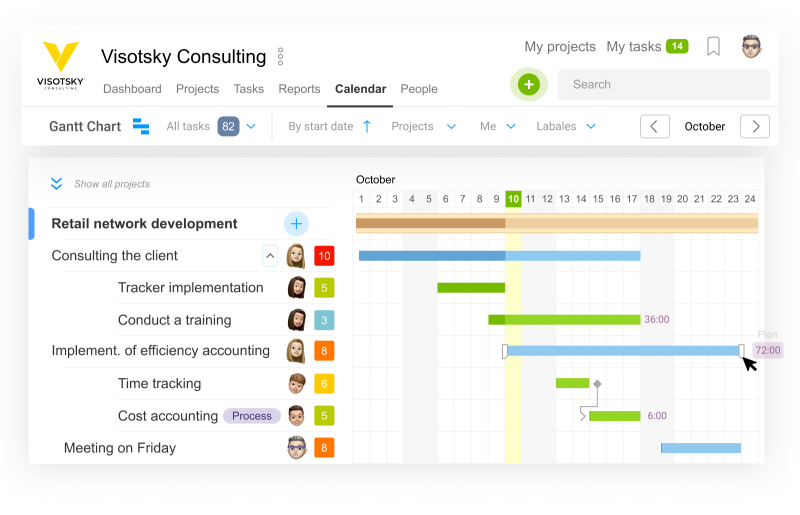 On a weekly basis, we view the same total number of tasks in each project as completed in the previous week, as well as the number of urgent tasks in the project. We take all data from Worksection-based reports.
The number of tasks planned in the project;
The number of tasks completed in the project;
Urgent tasks in the project (marked with a red point).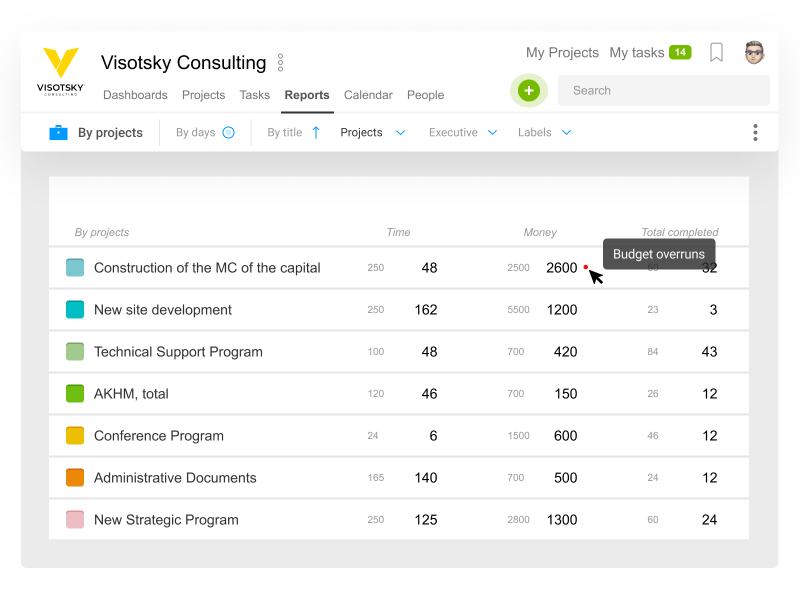 Data privacy and dealing with clients
Primarily, we find out if our clients take advantage of task trackers. If they do, we add such client in Worksection. To make the activities of the client company visible for us, we get connected to their projects. In such way, we can track their development, analyze the client's activities, set tasks for them and participate in discussions.
Worksection ensures privacy, and it really helps. All confidential data and internal projects of our company are invisible for the client by default. The privacy settings are very flexible, and each task may be hidden from a definite number of people.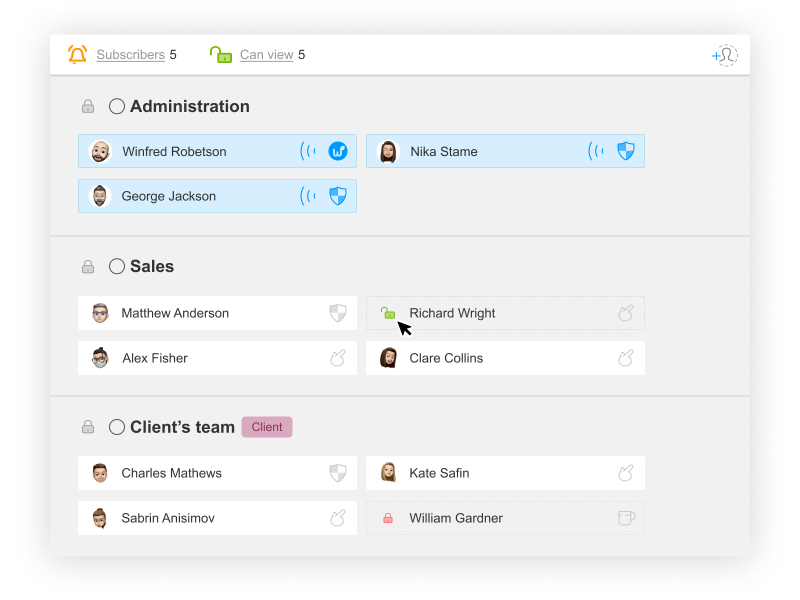 To whom will you recommend Worksection?
I would recommend introducing Worksection to all owners of small and medium businesses. At the stage of having at least 2 managers in charge of the company's evolution, the sequence, deadlines and even tasks tend to be forgotten. Not only does Worksection remember all project-related information, it also makes it possible to analyze the company's performance.
Wise project planning contributes to directing a team to achieving exact target indicators.