18 October 2020
•
Алина Кривенец
•
7 min read
Twiga Digital: about boarding,
teamwork and Worksection
Natalia Sokolik
Natalya Sokolik represents a position in Twiga Digital. The company is part of the TwigaUkraine communication group — TOP-3 by efficiency among all communication groups in Ukraine. Twiga Ukraine includes 6 agencies providing product and sales promotion: Lions, Media First, Twiga Go, Twiga Digital, Lovi Video, MedInform.
What is the activity of Twiga Ukraine
Twiga Ukraine is a single organism comprising 6 agencies. The expertise of our agencies is enough to cover all needs of a client. Twiga Digital is one of the agencies.
The company fosters the values from the giraffe.
(«twiga» means «giraffe» as translated from Swahili)
From amongst all the world's animals, the giraffe has the biggest heart. It can run for a long time without drinking and eating. We joke that our team resembles a giraffe: we are capable of working 24/7 and need nothing more.
Twiga Ukraine usually deals with clients on a long-term basis, for 12-14 years. We believe that only in long-term cooperation, lasting for 2-3 years or more, we can track the efficiency of a certain strategy.
We have both internal and external clients. The external ones are Pepsi, Roshen, ProCredit Bank, Henkel, Royal Canin, etc. These are direct clients, and everything is simple and clear with them. And also, there are internal clients.
For instance, our Twiga Gо agency has won a big tender for realizing a creative idea and strategy of a festival for the PUMB Bank.
The rest of TwigaUkraine agencies are also entrusted with tasks for the work upon this project.
How was the work structured in Twiga Digital?
Two years ago, when I came to work in Twiga Digital, the agency had mail, Telegram and legs for communication (editorial: laughing). It was very difficult. Do you need to ask something? You go to another wing, for example, to coordinate a task with a designer. Having discussed the idea, we recorded everything in the mailbox.
The main thing is when you have 45 persons, and everyone is in the same project, where the trickiest things begin, such as someone's failing to find out about the task on time, forgetting to notify another one from another wing, someone's missing a message in mail etc. So much information was lost, and it was like grape vine. Now we have briefs, and everything is stored in a single place.
Before Twiga Digital, I had operated Worksection for 5 years at my previous job, which was followed by 6 months of work without it.
When you fall into the same trap, you think: 'Had we been operating Worksection from the outset, nothing would have been lost...'. A month later, I said: 'Guys, we need a task manager'.
Why is Worksection our choice?
Native and very easy to explain to people how to work in a luck manager
Alongside with Worksection, I had an experience of dealing with clients in Trello, Bitrix24, and Asana. But Worksection suited us in the best way. Everything is clear, native, and it is very simple to explain to people how to use the task manager.
Worksection does not require creating 45 subtasks for every person. In a single task, you can specify subtasks, tag those concerned, and mark with a bell the project manager who is to view the task. The functionality is circumspect.
Was onboarding quick?
No :(            But, it was very smooth and comfortable.
At first, we used Worksection only in the digital agency. As compared with Asana, I already knew that Worksection makes it easier to select a responsible executive, to set a task, to exclude employees from a team, for instance, if they are distracted by notifications from a task they are not involved in.
There are many functions which differ from other task managers.
As time passed by, our creative people (Lions is also one of the six Twiga Ukraine agencies) also realized that Worksection means convenience. We held an introductory training, and one of the six agencies agreed to have a trial of the task manager.
Our Media First agency was the first one to get involved. It was followed by two more agencies.
As of now, five out of six agencies are Worksection-geared.
We held several Worksection training sessions for our employees, made basic settings, and we are planning to connect our clients to the task manager by giving them access to projects, since it is important for them.
For example, project designers will track the time spent on the project, and the client will be able to see that information for making an hourly calculation, pursuant to a contract.
Worksection clearly displays the following for our clients: the time of setting the task, the time interval allocated for it, time session count and tracking for each individual employee. The client receives reports on a daily basis.
How do you make reports in Worksection?
We make reports by projects and by clients. 
It is very convenient. Internally, our agencies have a documentary report and task report, so as not to forget 'who owes what to whom'.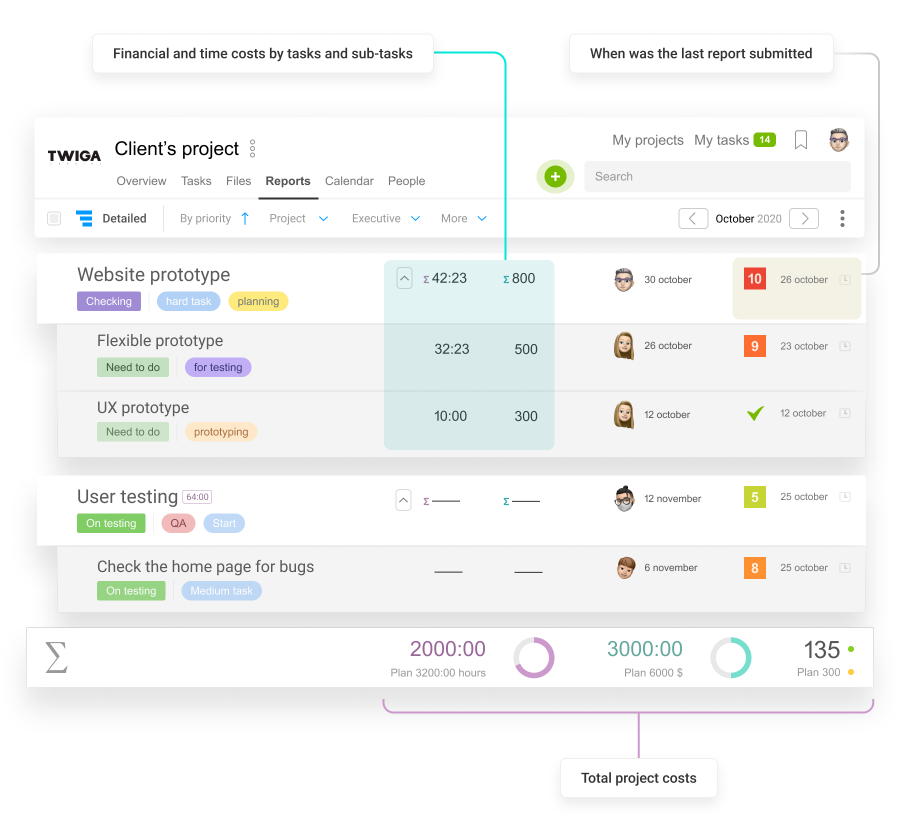 One of our clients asked: 'Can I buy a tool to record reports?' We said that nothing was to be bought. Worksection was already in place. In Worksection, we created an account for the client, added 8 employees on the client's side and created a single profile for them.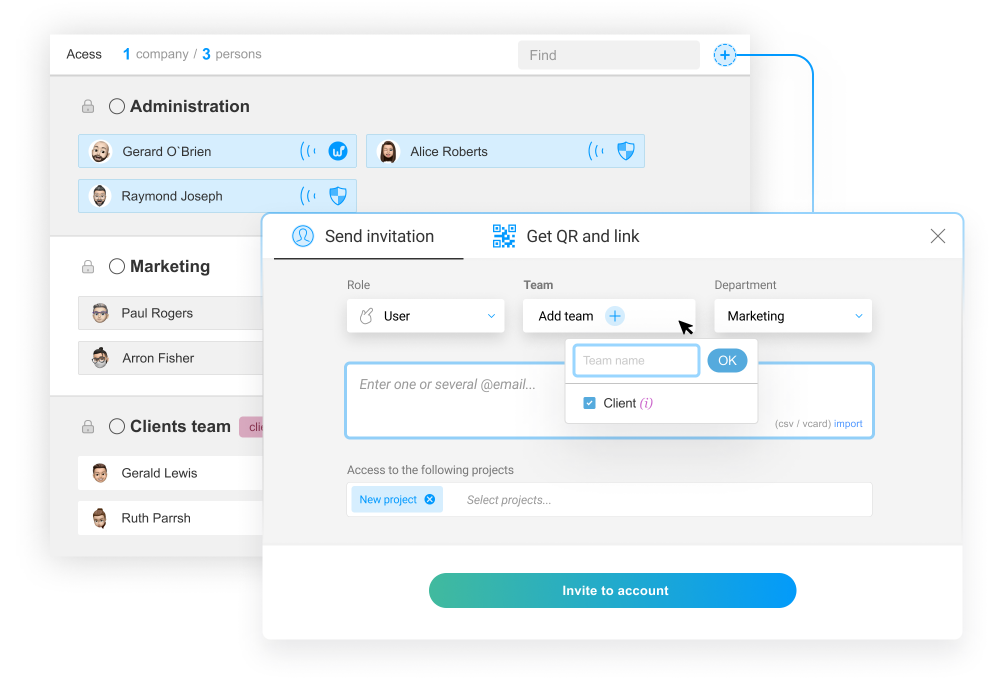 For clients, we transfer reports to clients' Excel tables and send them out. There is a template for it.
What types of Worksection-based projects do you use?
We break down Worksection internally into the agencies handling their own projects.
And we have a common project — «New Business». It unites all employees. If a new project appears, we create a team for it. We send notifications to those who are to be involved in the project.
This is the hierarchy of the most important part of Worksection — work with tasks: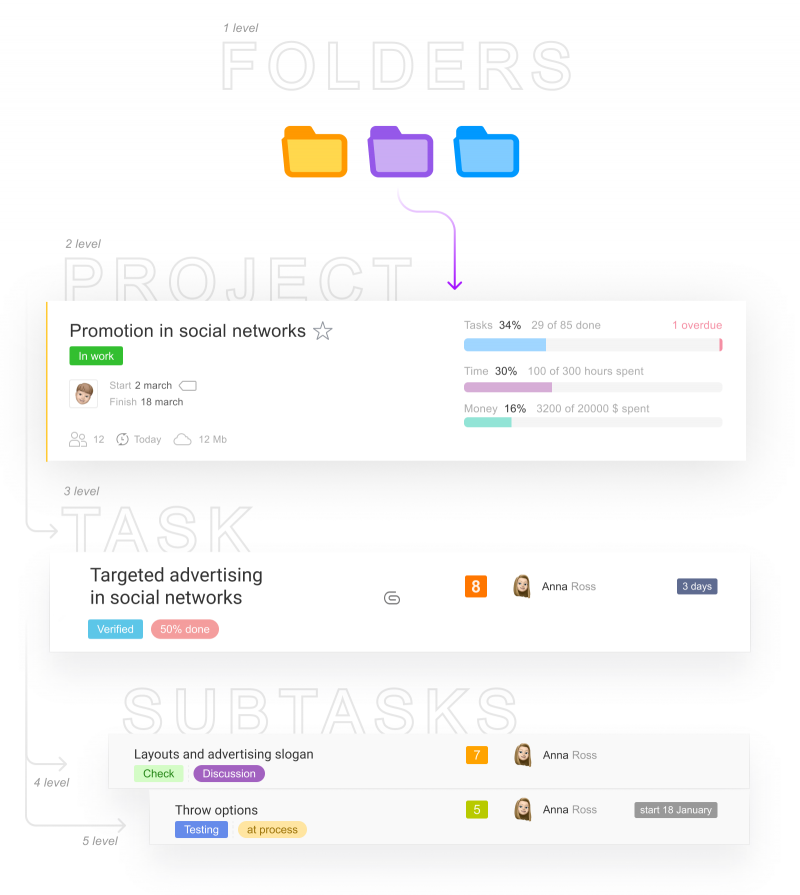 We set labels in projects. It may be done if a client has set a task on hold due to quarantine, or if a budget is reduced with discussions postponed to the next year.
It is very convenient then to view the total number of projects we have done, the number of tasks closed, to measure the benefit and lost, to assess the amount of work held up.
Worksection is a great aid in remote work. Communication is abundant, and it now takes 24/7. Designers, creative team members, copywriters and influencers are working remotely now. They may visit the office once per month if they need to speak with a client.
Worksection houses all our client-related and internal issues. The system folders contain everything concerning administrative affairs. All of them are included in subtasks. All necessary accesses for employes are there.
Do you remunerate your employees on an hourly basis?
No, we don't. 
Unfortunately, the employees' attitude to time tracking is still negative. Of course, we explain that, by using tracking, you help both yourselves and us. It is important to know the amount of time required to fulfill the task both for the client and for us. Our employees perceive tracking as something that restricts their liberty.
What is more, we perform a lot of creative work, and creativity cannot be measured in hours. But we have deadlines in which we need to release a certain creative product. Thus, we cannot count it on an hourly basis.
What is the main value of Worksection as compared with other task managers?
It is absolutely native and comprehensible. For example, it is often said that IOS is clear even for a child. The same is about Worksection: everything is visible, no search needed, no instructions are to be read before using it. There is nothing hidden, all functions are visible at once.
You spend 5 minutes to set a task, notify people, and they come at once to fulfill the task. Here you can also see the number of people having viewed the task. It is like an open chat.
Does your company have any internal rules for Worksection?
Yes, it does. One of the rules is that those having accepted the work should write back. There is one more rule: setting a task does not necessarily mean its acceptance. Thus, it is better to send a link to a task in any messenger.
Task closure and project cleansing are our weak points. It is significant to check deadlines for the task completed. If deadlines have been disrupted because of a particular person, the reason should be clarified.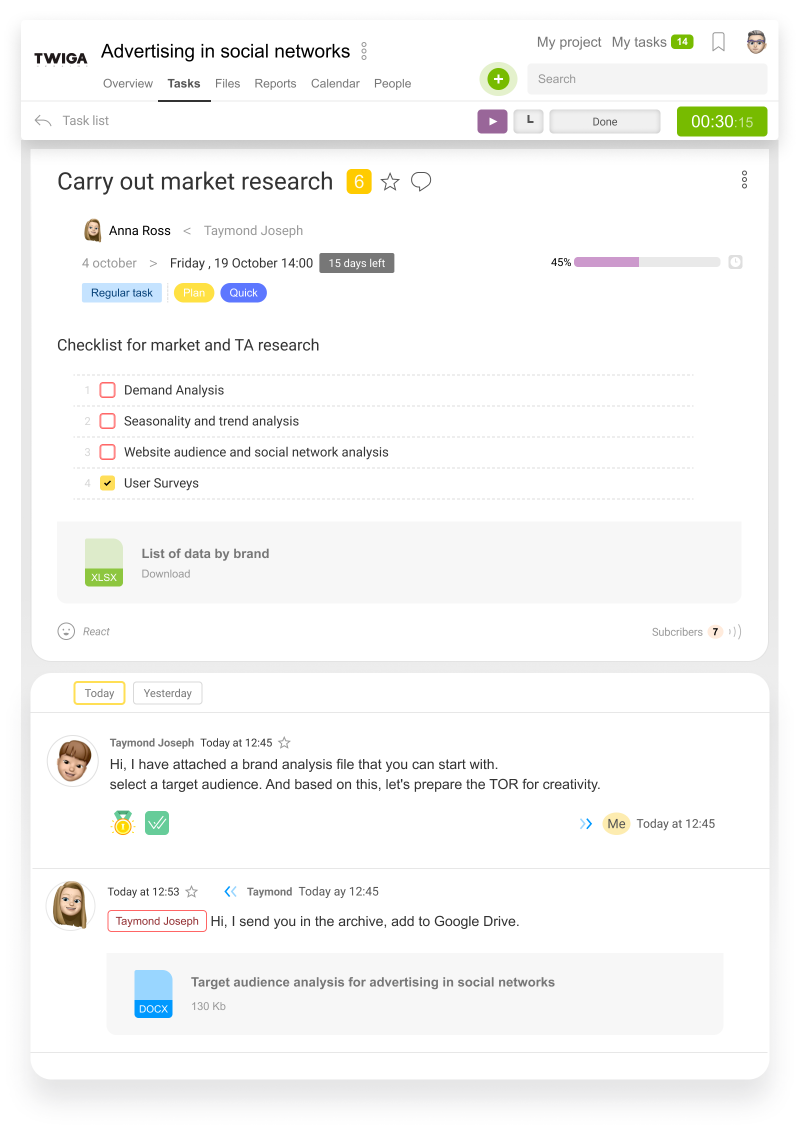 'No task in Worksection means no task being set', - this is our rule.
One more

important rule

is: you close a project in Worksection and then analyse the work done.
Having spent time on task setting, you understand what you lack for the team to complete this task.
What else do you like in using Worksection
This task manager teaches you to work correctly. Correctly is when everything is clear in the task, with no questions from employees remaining. They clearly understand what should be done.
If employees have many questions while completing the task, it means that the project is formalized badly, and you have learnt little information from the client.
Worksection for me is a litmus test. Do we work well or badly? Before Worksection, we lacked a litmus test. Things are lost in mail, and correspondence after 6 pm is horrible.
For example, we have had an awkward situation with a project. I log in Worksection and read comments under a project. It makes me spot the bottleneck. I can view the structure at once: the starting point, the time when the client sent corrections, the time they were done, who and what caused the delay.
I am always well-prepared for a meeting with a client. It is essential, especially if you are a company's senior executive.
If you want to be efficient, if you strive for doing high-quality work by keeping to deadlines — you need Worksection.
Feedback also works quickly. Wherever you log in, you can see the support icon with no need to search for anything. You receive a response in 20 minutes at the latest.