23 March 2022
•
Дмитрий Худенко
•
5 min read
How to replace Russian task
managers
On February 24, 2022, the Russian Federation launched a full-scale war against Ukraine. Russia has already been subjected to multiple sanctions by Europe, the United States and other countries that do not support the actions of the Russian authorities.
Also, many international companies have decided to suspend or completely withdraw their business from Russia. Because of this, many organizations and teams around the world are boycotting services and products of Russian companies. Project management systems are no exception.
Before the war the following well-known Russian solutions were popular in Ukraine:
Bitrix24
is one of the CIS leaders in the area of business management tools. It is a multi-functional system for working with clients, managing projects and a CMS for creating and promoting own websites.
Megaplan
is a project management system for small and medium-sized companies. Megaplan is positioned as a task manager and a CRM system in one product.
PlanFix
is ​​a block-based tool for building a team or company management system. It allows you to tailor business processes that are planned to be used in the system.
AMO CRM
is a cloud-based CRM designed mainly for sales departments of small and medium-sized businesses.
Over the past few days, our support team have received multiple questions about how to better replace the above-mentioned systems. To help you choose a new task-manager, we have compiled a list of services, analyzing their main functionality and the most popular tools.
After reading the article, you will understand which of the task managers will be the most convenient for you and your team to migrate to.
ALTERNATIVES TO
RUSSIAN SERVICES
Trello – managing tasks with Kanban
This project management tool is based on Kanban boards, and is owned by Atlassian (Australia), the developers of Jira. Projects in this system are presented in the form of boards, where each column corresponds to the specific stage of a task execution. Trello is great for individual freelancers and small teams.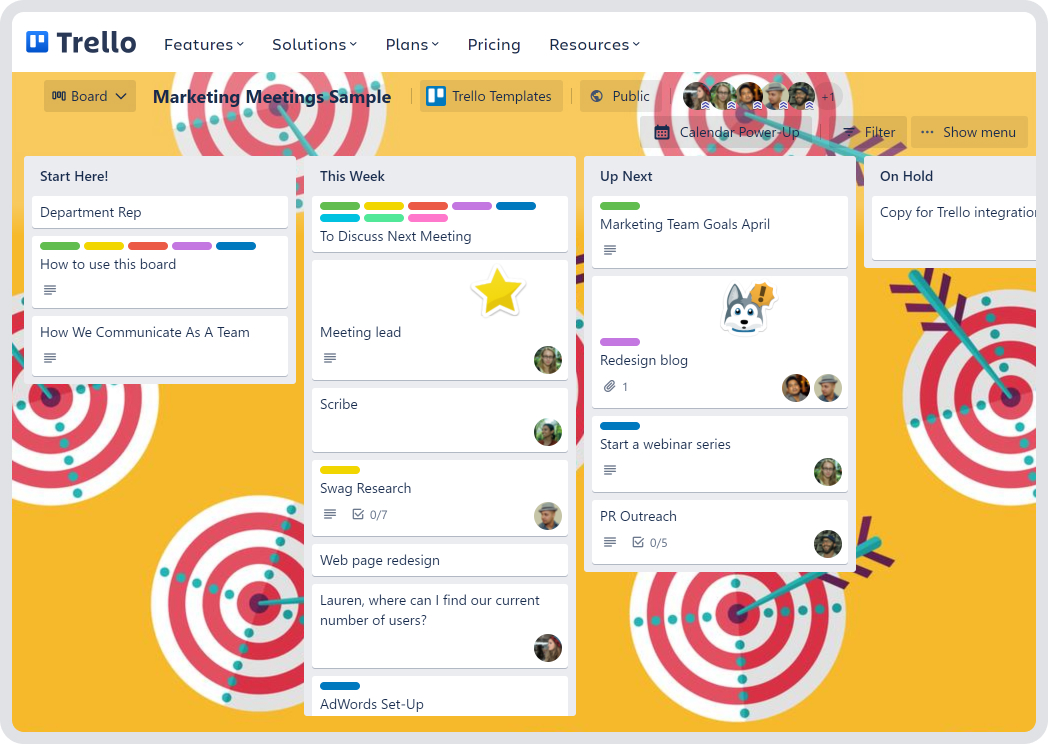 Trello also has an automation system ("Butler"), where you can create commands and set up rules to launch them. After getting acquainted with this system, it will be possible to set up Butler so that the system automatically selects responsible for a task, sets deadlines, or transfers the task to the next stage.
Integrations in Trello exist as add-ons, each of which must be connected separately. Add-ons also include some tools, such as the overdue tasks filter. Free version allows you to connect only one add-on.
The standard subscription plan starts at $5 per user per month, and expands the system's features compared to the free plan. Premium subscription plan will cost $10 per user per month.
Worksection – an intuitive project management system
Worksection is a completely Ukrainian development, with all employees located in Ukraine. The service can be quickly implemented, and it helps easily  manage projects for teams of various sizes and business profiles. The service is flexible and suitable for many popular project management methodologies, such as Agile and Waterfall.
Most recently, the new useful functionality was introduced to the service – the Project Dashboard – which allows quick analysis of a project status.
The dashboard contains many useful indicators, thanks to which you can comprehensively track the project progress, analyze team's engagement, keep track of time and financial expenses, and collect quick project overview for team meetings.
Business processes in Worksection can be automated in the form of a Kanban board, on which the task goes through pre-designated process steps. In order not to get confused in a large number of tasks, each of which has its own start and end date, you can use a Gantt chart and a calendar that is synchronized with popular online products such as Google, Apple, Outlook.
When switching to Worksection from another task manager, projects, tasks, attachments, etc. can be automatically imported from many popular task managers.
During the war, the company provided free service subscription for all Ukrainian companies and all volunteer organizations that need a system to coordinate their efforts.
Pipedrive – a sales management tool
Pipedrive developers (Estonia) position their CRM as a sales management system for small and medium teams. The service is supposed to focus users of their product on the actions that lead to the conclusion of transactions.
In Pipedrive, you can add deals, their value, success rate, and expected close date, and then organize and track them by funnel stage. The system also allows you to customize these stages in accordance with your sales cycle, create funnels for different teams and filter the results by your sales agents or stages.
The service offers a free 14-day trial. The cost of the minimum "Essential" subscription plan is higher than those of competitors – €12.50 per user per month. The maximum "Enterprise" subscription plan will cost the company €99 per user.
For an extra fee, you will be able to add additional settings to your plan, such as lead-generation tools or identification of organizations that have visited your website.
Perfectum — CRM+ERP for the whole company
Perfectum is a comprehensive customer relationship management software suitable for small and medium businesses. Available in two versions: cloud-based and boxed. When choosing a boxed version, you purchase and pay for it once, while the cloud-based version is available as a monthly subscription.
The service provides a choice of 4 solutions with a specific set of functions for different areas: for sales, project management, trade and a comprehensive version with the widest range of features.
If you are looking for a project management software, it is best to purchase the Project version, which has a minimum cost of $680 for 5 users. This version will allow you to create projects, set tasks, and keep track of time. However, such features as task stages and priorities, will only become available after purchasing the additional "Task Management" module for $135.
A cloud-based version of the same type will cost you $35 per month for 5 users. You can also expand the number of users, connect additional modules and integrations to expand the functionality of the system for an additional fee.
---
Of course, a perfect project management tool should have all necessary tools, be easy to implement in a team, and have reasonable cost. Therefore, when choosing a new task manager, we advise you to pay attention to the peculiarities of your organization and the possibility of switching to another system without losing data.