24 November 2020
•
Алина Кривенец
•
6 min read
Postmen:
For 8 years from the beginner to one
of the TOP digital-agency of Ukraine.
Yaroslav Vedmid
Yaroslav Vedmid
is a head and founder of the Postmen digital agency. The agency is basically involved in introducing digital communication, implementing complex marketing tasks and creative strategies.
Over 8 years – from being a complete newbie to one of the TOP agencies of Ukraine 
It is the eighth year that the
Postmen
agency has been operating. We have overcome a great path of establishment, actually starting from an office with 2 people working to a team consisting of 60 people currently. Additionally, we cooperate with a lot of freelancers and contractors. The main value of our agency is efficiency. 
What we appreciate is the link between efforts and the resulting outcome.
When did it come across your mind to adopt hourly labor remuneration? 
It occurred during the third year of our operation. At that time, our team already consisted of 20 persons. As for me, I spent a lot of time as a financial manager.
For a long time, we operated by the "drawer unit" concept. What does it mean? There is a team where the owner is part of it, having all ongoing processes on his fingertips. 
If money is increasingly growing, everything is going well.
When we got more projects, more specialists and departments, and the managers obtained independence, it turned out that such concept no longer worked out. 
At that point, several questions emerged:
What is the way we budget our services?
What is the way we account for our expenditure?
What is the way we are in control of everything going on in the agency?
Such questions seem to be simple when 5 or 10 persons are on board. But when the team is growing bigger, it is no longer the fact. 
---
How did you change the financial accounting system in your agency?
Actually, that happened by accident (as many good things happen by accident). One of my acquaintances came to visit me in my office. Maria was on her maternity leave then. She has MBA, financial education, and she worked as an investment banker. 
She told that she had created a financial accounting system for a parent company of a small entity by noting that she had time and inspiration to build up a better concept also for our agency. At that time, we still had the "drawer unit" concept functioning in our company. 
I said: "Okay, Masha, let's do it together".
The first thing Maria said was: "We are adopting hourly remuneration, because we need a pivot point for calculation of costs. 
Budgeting
should be comprehensive and transparent for you and your clients. But a better financial system may be built up around it". 
At first, "hourly remuneration" was fixed at the end of the business week. Every Friday, we filled in the breakdown and indicated our activities over the week. 
What was our benefit of it?
We saw which clients brought profits, and which ones incurred loss. 
We say which areas and services were profitable, and which ones were lossmaking.
We started transforming our business. We canceled lossmaking clients and areas and started more confident and active operation in the lucrative areas and services.
We understood: time tracking does work. Then a question emerged: "How to reduce faults?"
We started to select a platform which could help in solving this issue. At this stage of development, we adopted Google tables in our work. For some time, we hesitated between resourses already used in our IT department. These were Jira and Asana. 
These platforms hosted our web development. But the platforms were less suitable for the rest of the agency's departments.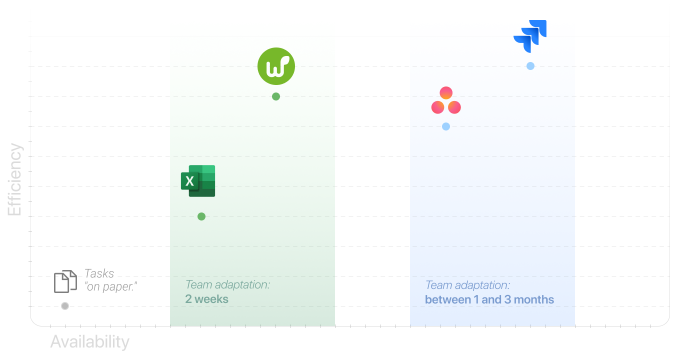 In the end, we opted for Worksection. At that time, it was rather less developed. And it was in the years 2015-2016.
We actually grew up together with Worksection. We transferred our preferences concerning the functionality to the task manager's team.
What changed when Worksection was launched?
The first result with Worksection is to understand the amount of time consumed for definite projects.  
70-80% of expenditure accounts for the employees' salaries, and for us it is ultimately important to understand what our time is consumed for. 
The control of this biggest part enables us to understand the

efficiency of the time

1

 

used for handling projects and tasks.  And also, to display data

on the whole project

2

.

Then you can clearly describe the condition of our affairs in a certain project, service or product.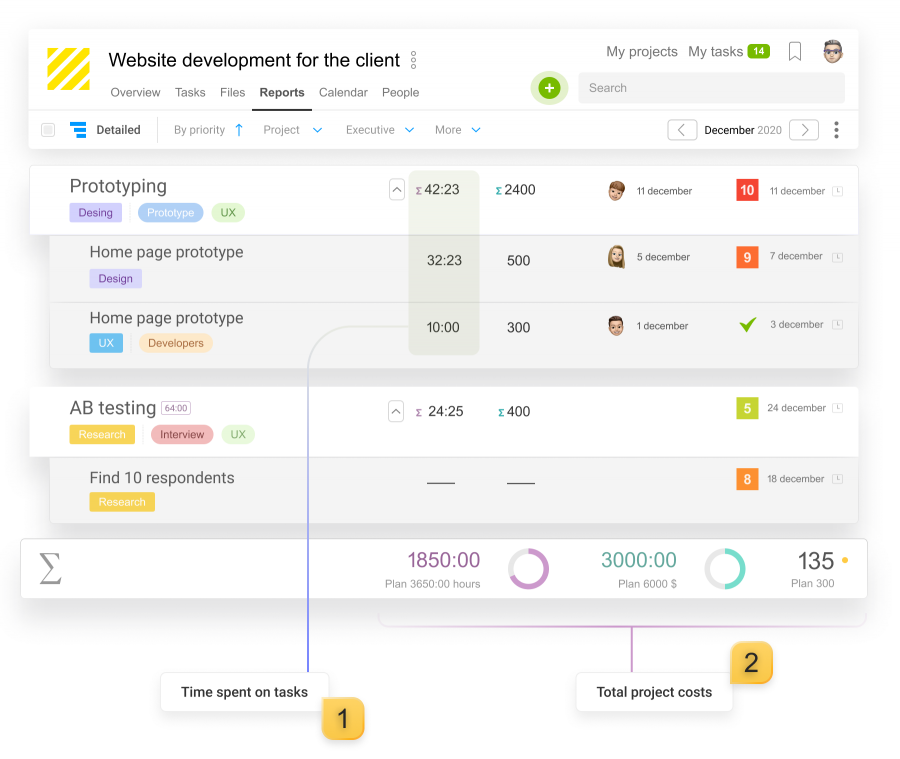 The second result with Worksection is a dialogue with clients. 
Clients see the structure of projects, the cost of separate works, the amount of hours spent on project-related work, as well as salary rates for such work. In particular, our clients see if a specialist's 12 work hours are really needed for the project. Perhaps, more or less of them are needed.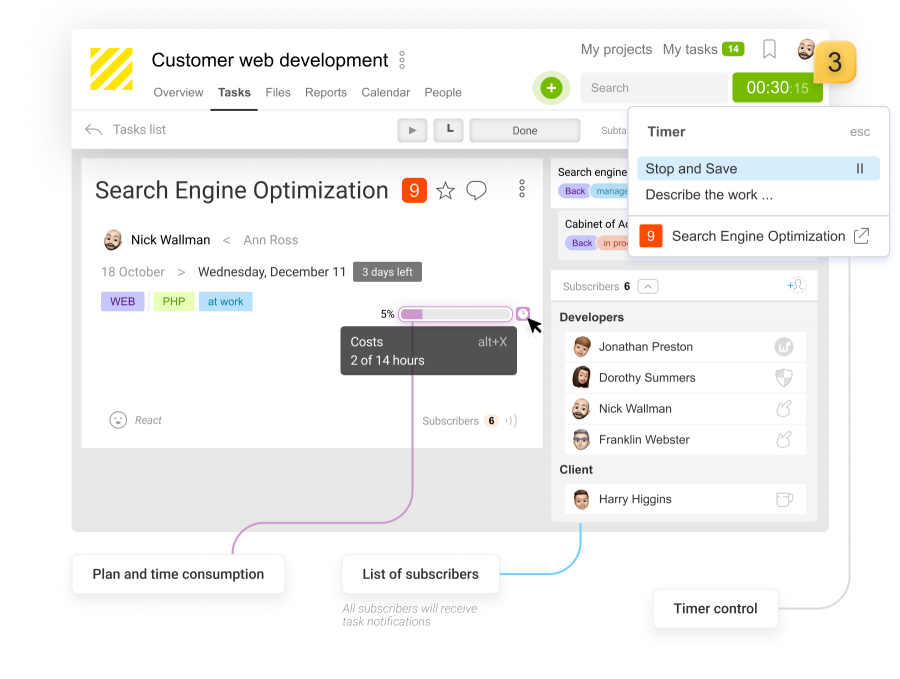 3
Timer
helps to calculate the exact operating time, up to a second.
Based on reporting statements, we may settle with our client some considerable or minor modifications in the project-related activities.
How do you use the time tracker in Worksection?
We count the average number of hours for each employee. But we have departments for which it is difficult to provide hourly accounting.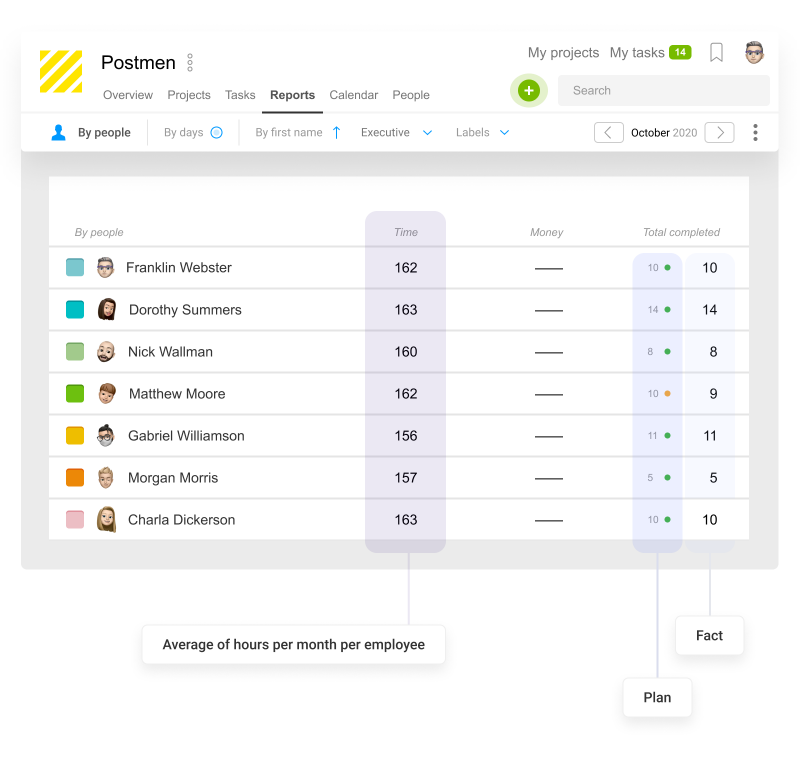 For example, the creative derartment is such one. When the company has various departments, you cannot rely on just one indicator to measure your work efficiency. The creative and IT departments, for instance, have various senses of time allocated for work. 
Do you use any specific project management methodologies in your agency?  
Our Web department operates on the
SCRUM
methodology. The video production also operates in SCRUM. In general, the agency business is associated with various clients. We need to deal with various customers. Some people use SCRUM, other ones don't. There are clients with whom we have been working for long, systematically, by using SCRUM for our joint projects. 

We can see one project continued on the client's side, and the client views the continued part on our agency's side. We are actually becoming a single system.  
Do you have your internal culture of operating Worksection?
In the beginning, we just had a folio generally specifying our company's activity. It contained all internal information necessary for our employees. Now it all has been consolidated into a single wiki system where each employee can familiarize himself, for example, with his job description. Worksection-based work is the main part of training.
We have a rule:
If a task is absent in Worksection, it is nowhere, which means that an employee may not fulfill such task.
Do you have your own experience of operating Worksection?
I don't, not yet (ed .: smiling). As innovations are being introduced, we are trying to reduce my role in the agency to a strategic one. But sometimes I am an active part of the project. 
Year to date, Worksection has been a personal challenge for me. I definitely realize all advantages of the task manager. 
The only thing is that it will require time from me to record tasks and check them. But it will improve my interaction with the colleagues.
What else has Worksection changed in the agency's activity?
Worksection makes it more convenient for us to be able to explain what we are doing to our client. For instance, why project А, for instance, has Х budget, while project B has the Y budget.
Our purpose in several years is to have a fully automated system relying on Worksection:
Each employee should see the result and efforts spent to fulfill the project (time consumption).
Each client should see budgets and outcomes resulting from cooperating with us.
We should see our efficiency. 
This is our vision of automation relying on Worksection in 2-3 years. Let's do it together.