25 March 2019
•
Саша Могир
•
6 min read
KWA Sound Production: The Way
Worksection Helped Us Track
Deadlines and Get Rid of Chaos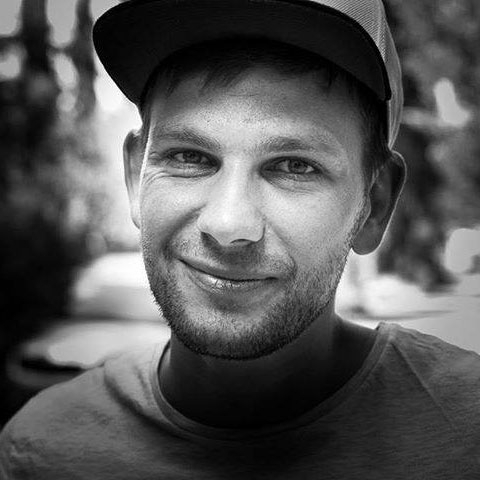 Igor Kazmirchuk
About us
KWA Sound Production is a studio providing a complete sound production cycle for films, series, games and advertising. What is more, we deliver sound equipment to filming locations where our client companies can hire our recording and sound processing specialists. Our work includes primary record and voice-over of characters, special effects and even everyday sounds on the screen.

Over 80% of Ukrainian series and films were produced and recorded with the assistance of our specialists, and the products were released after being re-processed by KWA Sound Production. The studio's work is a continuous conveyor handling constantly more than 50 episodes. Once we complete one project, a new one comes in.
We have a big team divided into 3 main departments.
KWA Sound Production currently involves voicing actors working at sites and in studios, as well as sound engineers and foley artists. The department managed by me is in charge of TV series production. It handles sound post-processing. It is here that the actors' voices acquire that deep cinema-like sound.

The foley department is in charge of what even does not come across the average viewer's mind while watching his/her favorite film or series. While the main character is taking vehicle keys from the table, the key metal hitting the wooden table body will tinkle specifically. In movie filming, such sounds are rather flat since it is the character that is in focus.
To feature such sounds in film production, the microphone should be placed close to the sound source, which is actually impossible. To address such deficiency, similar sounds are recorded by the foley artist at the KWA Sound Production studio. Foley artists specialize in extracting sounds from everyday objects to add them in the post production process.
Optimizing performance
At the outset, we used Excel tables and chats, perhaps, as all companies.
The tables saved us when we had to handle several projects in parallel. Some time later, we had so many projects that the tables failed to contain all information. Moreover, the company got more specialists.
We relocated our communication into the messengers enabling even exchange of files. Everything had been going well until the chats started turning into a mess of discussions. Guys posted film shots onto chat groups and were talking about Internet pictures in working hours. In such course, useful and important information is lost.
We needed a site where we could certainly appoint a specialist for a definite activity so that the rest of the team could see it. It is also essential to be able to share details of tasks and leave comments there.
Thus the idea was born to search for a professional project management tool which could encompass all process discussions and tasks.
The way we selected our task manager
There are many good solutions so far. We considered systems offered by foreign companies, but they had so many unclear functions, plus the Russian and Ukrainian languages were not available.
We watched reviews of various programs, tried something on our own, but it was Worksection that we finally opted for. We got attracted by the simplicity of this system. We did not need to spend a lot of time to figure everything out. The main task of any task manager is to simplify and accelerate routine work for management of processes. That is what Worksection excels in.
Looking further forward, I will say that the functionality also made us feel good. Despite the simplicity, this system helps us to handle a lot of projects, while our team consists of 30+ persons.
Team adaptation
It even saved some people, because the whole to-do list was personally accessible for everyone. It was no longer necessary to hold everything in mind, one could open Worksection instead and see what had to be done.
But there is a slight hitch. We really have neat craftsmen in the field whose processes have automatically been up and running for many years. Such people are not to be strictly controlled, thus they use Worksection only to the extent of watching what has to be done and marking what has been done. It helps us evaluate the overall progress of the project.
Our main instrumentality in the system
It took us no more than 2 weeks to get accustomed to all processes. Some people began to work immediately through Worksection, and someone took a while, but still came to the conclusion that it is useful and convenient.
Even now we do set simple verbal tasks to each other. But all essential things are now fixed in Worksection as tasks. For our work, we take advantage of the following functions of the system:
Projects, tasks and subtasks
The company's main tool is the task list. Worksection's advantage is that the system transforms complex hierarchy of tasks into a simple list with convenient filters.
A project is a folder for tasks. We create a separate project for each client. We need it to unify the team around a client's order.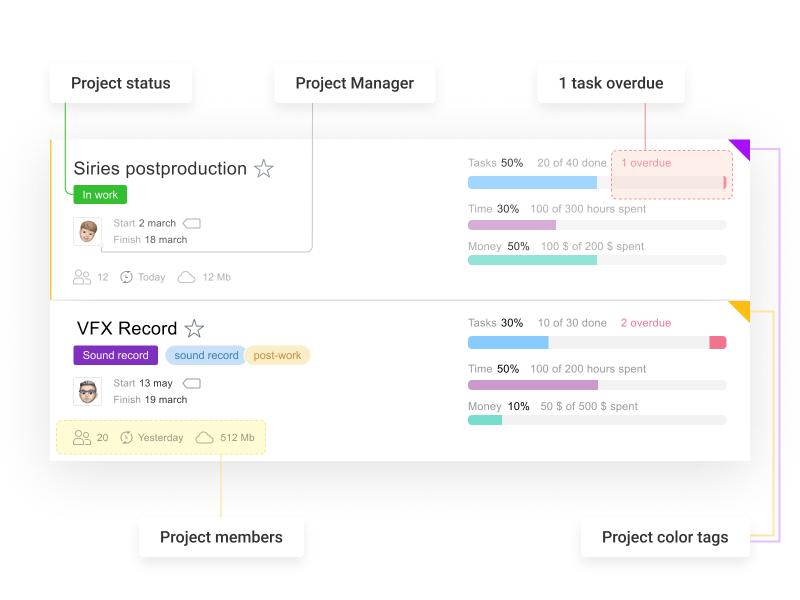 For every task, a responsible executive should be appointed, its deadline and priority are to be set, the task should be labeled, a technical assignment is to be written, and files should be attached. And, what is cool, subtasks and checklists can be attached to the task.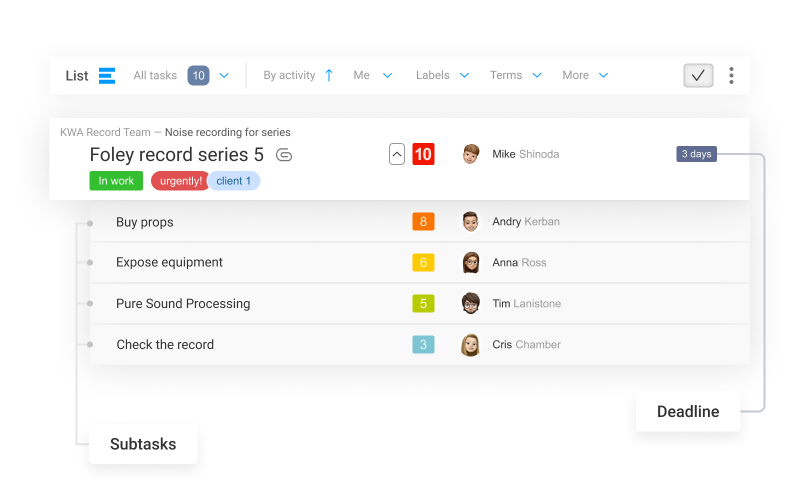 Checklists make up a story of its own. They are similar to a shopping list in which you cross out the items completed. The task list shows to everybody the exact items fulfilled, who fulfilled them and when.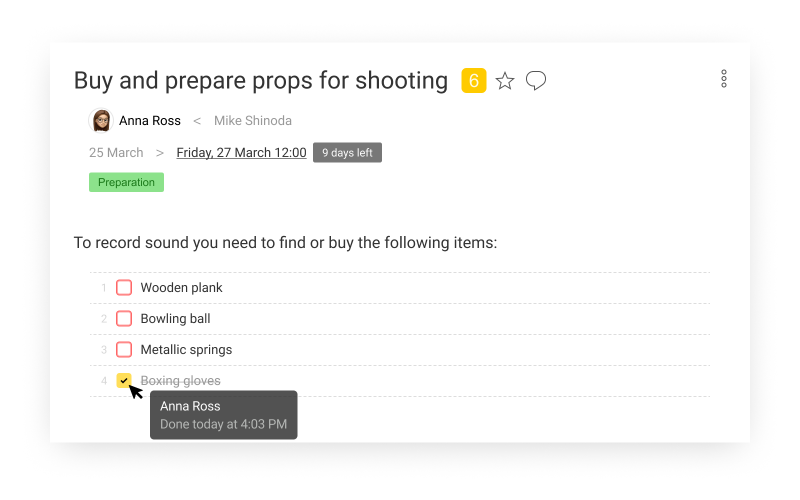 Tracking deadlines is important for us. The customer wants to obtain a finished product and thus sets precise timeframes.
All deadlines are already known at the stage of planning, immediately after a new project is received. At this point, we take advantage of our understanding of how much time each process takes. Voice-over of several episodes can take a week, creating effects and noises — 1-2 weeks. Such task deadlines are indicated in Worksection.
The prject manager can wisely plan work by deadlines, and the employee always knows the timeframes: which task is to be done and when.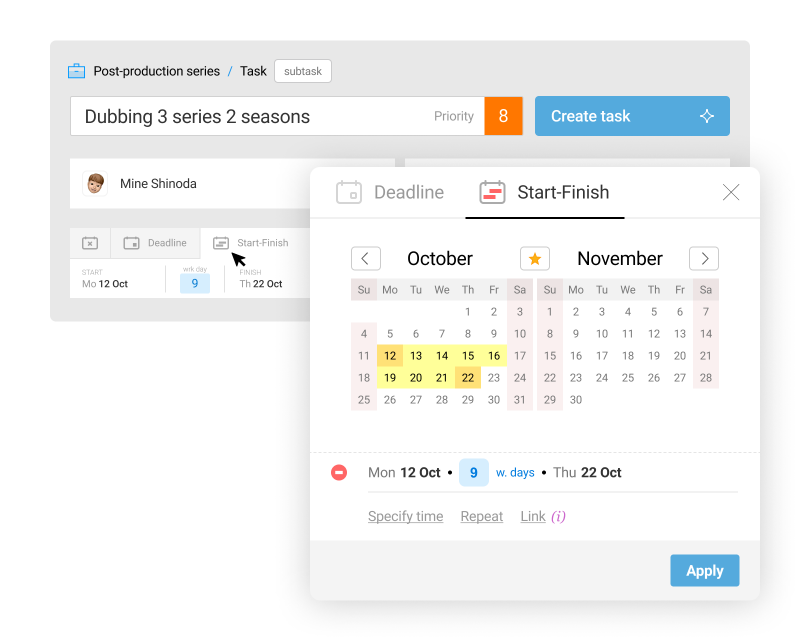 This is the second most important tool which we use to visualize our progress. The chart shows timeframes of each task, its priority and responsible executive. Everything is visible at once.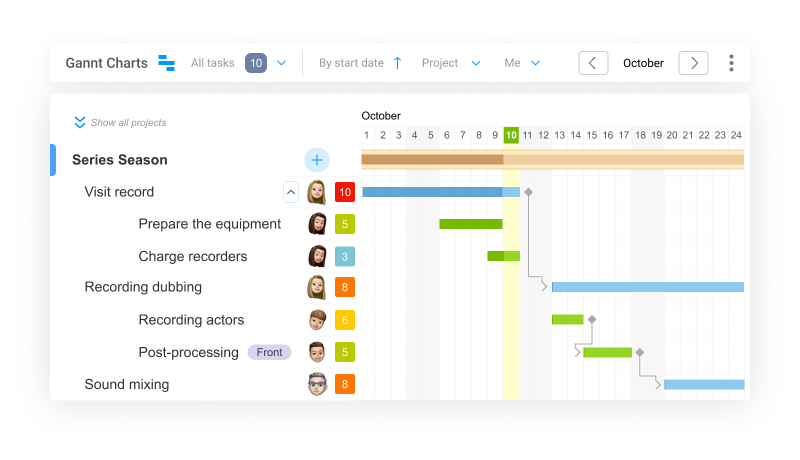 What is more important is that the diagram enables setting dependences between tasks. When you have a cycle of processes handled by the whole team, you may set a sequence of tasks. Thus, once Task
A
«Voice-over record» is completed, Task
B
«Voice-over rerecording» will automatically open.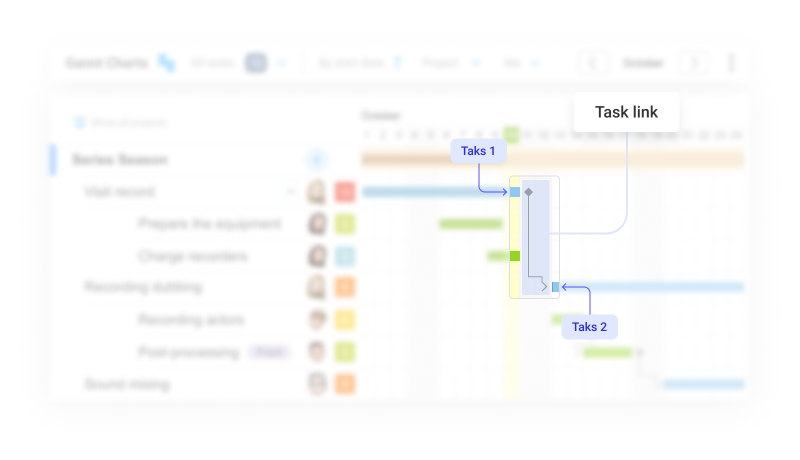 We set priorities to mark primary and secondary tasks. This is a simple function, but it helps us organize a long list of tasks and build up a hierarchy of our actions.

The way Worksection helped us
When we started to receive more projects, and the company was overgrown with new specialists, ambiguity and lack of clarity became a frequent occurrence. Some people forgot to submit reports, while others misunderstood tasks and could even waste a working day.
Worksection helped us improve our communication and restore order. Now nobody makes records in personal notebooks or glues stickers on the desktop. All necessary information is now in the computer.
The messengers have become what they are meant to be — personal applications. Such messengers as Telegram perfectly suit to communicate with relatives, read news or invite a colleague for lunch. But in work routine, tasks messengers lead to chaos. With Worksection, operation processes are discussed immediately in the task: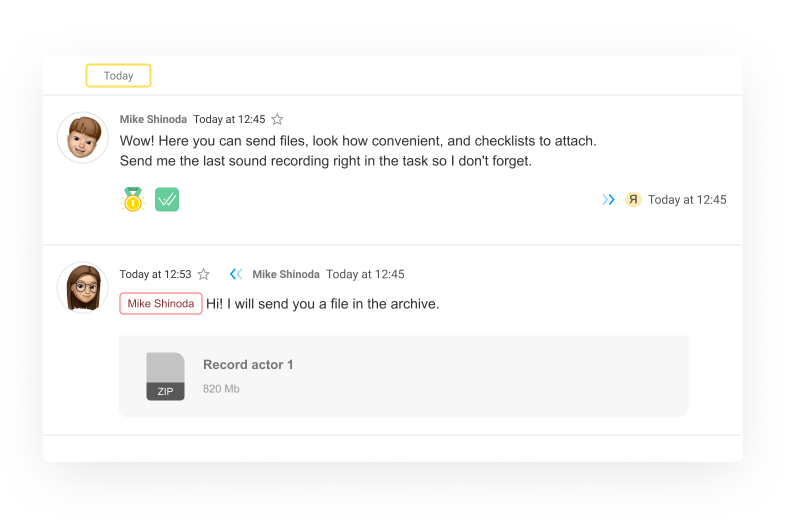 For whom Worksection is cut out
It is cut out for any company consisting of more than 5 persons handling 2-3 projects or more. When simple tables and chats failed to be enough, KWA Sound Production opted for Worksection. So far, we are handling over 80 episodes in production, which we track and oversee through this service.
Worksection is a simple solution not requiring any preparation or other specific project management features to get started.
---
I wish the Worksection team to keep thriving. Keep evolving to help businesses become more productive and to facilitate work for people.
On behalf of KWA Sound Production, we wish all people to watch more good films, enjoy their life and work efficiently.