20 Advantages of Project
Management in Organizations
Do you want to reduce costs, work sta­bly, improve the qual­i­ty and effi­cien­cy of the team's work, and also increase the lev­el of sat­is­fac­tion of cus­tomers and part­ners? Then you def­i­nite­ly real­ize the impor­tance of project man­age­ment and the role of project man­ag­er in the company.
If you are still think­ing about whether it is worth imple­ment­ing such a man­age­ment for­mat in your busi­ness, this infor­ma­tion will help you under­stand the issues in more detail.
Why is Project Man­age­ment Important?
Com­pa­nies that invest time and mon­ey in inte­grat­ing the best project man­age­ment prac­tices into their process­es ulti­mate­ly see mea­sur­able results. These enter­pris­es are actu­al­ly suc­cess­ful. This opin­ion is con­firmed by a num­ber of studies.
For exam­ple, in

2021

,

PMI

and PwC con­duct­ed a

sur­vey

with

4

,

069

respon­dents.

It showed that

80

% of projects

that are rec­og­nized as real­ly effec­tive have a cer­ti­fied project manager.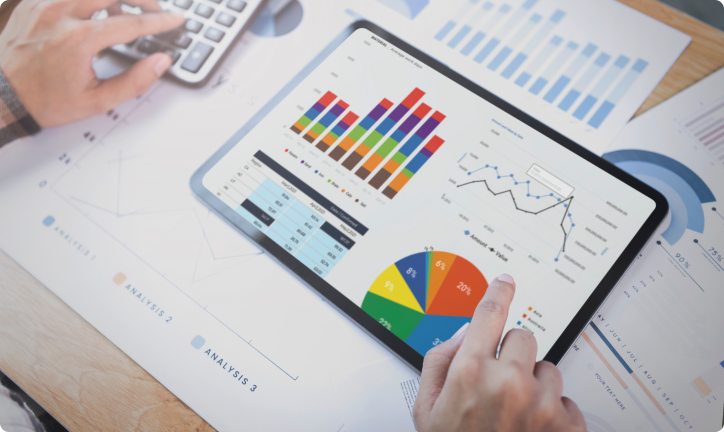 Besides, the use of project man­age­ment method­ol­o­gy increas­es the prob­a­bil­i­ty of suc­cess. Accord­ing to PwC, approx­i­mate­ly

77

% of respon­dents

with suc­cess­ful projects report

doc­u­ment­ed man­age­ment process­es.

At the same time, com­pa­nies that do not use project man­age­ment say that their projects are less successful.
The same

inves­ti­ga­tion

of PwC demon­strates that in orga­ni­za­tions that are mature in terms of build­ing man­age­ment process­es, more than

90

% of project man­agers

are cer­ti­fied. On the oth­er hand, only

61

%

of such employ­ees are in com­pa­nies that are still under­go­ing the process of formation.
Orga­ni­za­tions that do not pay much atten­tion to project man­age­ment waste approx­i­mate­ly

12

% of their resources.
So, com­pa­nies that intend to gain lead­er­ship posi­tions in their mar­ket def­i­nite­ly need project man­age­ment. To final­ly make sure of all the ben­e­fits, let's think of the advan­tages pro­vid­ed by the use of project man­age­ment and why man­age­ment is important.
Busi­ness Grow­ing Advan­tages of Project Management
Below are the ben­e­fits of project man­age­ment implementation.
Mul­ti­ple project management
Prac­tice shows that

85

%

of project man­agers got used to work­ing with sev­er­al projects at the same time, only

15

%

of them man­age only one project. After all, in today's high­ly com­pet­i­tive mar­ket, com­pa­nies can often

remain prof­itable

only in this way.
Some of the man­agers may have five projects in progress, while oth­ers suc­cess­ful­ly man­age ten. Of course, a lot depends on the com­plex­i­ty of the tasks and the size of the team. But in any case, the project man­ag­er needs to keep a lot of tasks in focus.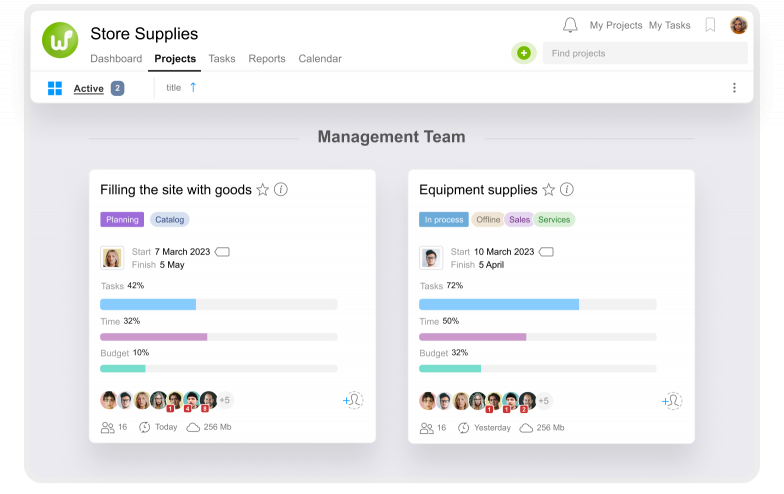 So to avoid burnout and make a min­i­mum of mis­takes, it is worth using not only man­age­ment method­olo­gies, but also a task man­ag­er. It will allow you to keep all the key infor­ma­tion in one place, and quick­ly ana­lyze the cur­rent state of each of the projects.
We wrote more about
effec­tive mul­ti­ple project man­age­ment
here
.
Quick finan­cial growth
Sta­tis­tics

demon­strate that com­pa­nies with agile man­age­ment method­olo­gies increase their rev­enues

37

% faster

than those who refuse such an approach. In addi­tion, agile orga­ni­za­tions are approx­i­mate­ly

30

% more prof­itable

than inflex­i­ble competitors.
To use this ben­e­fit of project man­age­ment it is nec­es­sary to
choose a method­ol­o­gy, which ulti­mate­ly suits your business;
have tools of finan­cial man­age­ment (any spe­cial­ized ser­vice or a mod­ule in a task manager).
Bet­ter qual­i­ty of prod­ucts and services
The goal of each project

is mak­ing a prod­uct. So,

44

%

of com­pa­nies that work using project man­age­ment con­firm that the qual­i­ty of their prod­uct is high­er than those that do with­out this man­age­ment format.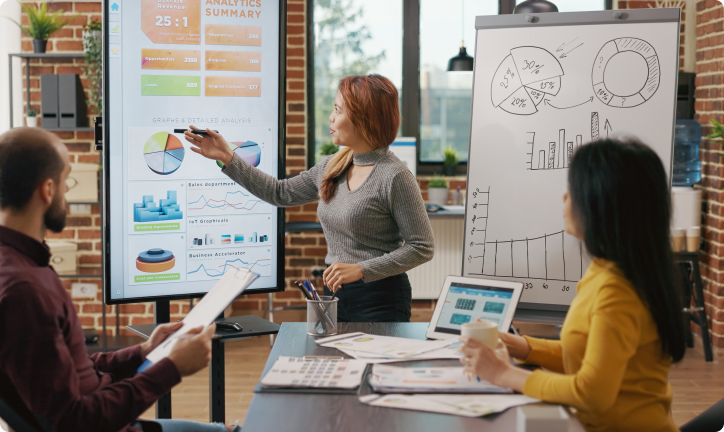 This is large­ly pos­si­ble due to progress and error track­ing sys­tems. After project com­ple­tion the data from these ser­vices are col­lect­ed, sys­tem­atized and ana­lyzed. As a result, you can notice com­mon mis­takes and avoid them in the future. You can also see the best prac­tices at once. There­fore, they become the basis of work on the com­pa­ny's future projects.
Sav­ing time
It is known that the project man­age­ment sys­tem offers man­agers the oppor­tu­ni­ty to work in less time.
On aver­age it is not much, just

ten min­utes a day.

But dur­ing the year it is about

153

hours

or

19

work­ing days

. Not bad, right?
This time is saved because project man­age­ment method­olo­gies tra­di­tion­al­ly pre­scribe the use of ser­vices: task man­agers, time track­ers, etc. These tools offer automa­tion of many rou­tine actions and you get the infor­ma­tion you need faster.
The degree of pre­dictabil­i­ty is increasing
One of the basic things in the project man­age­ment process is plan­ning. When all com­po­nents of work are care­ful­ly worked out, it is pos­si­ble to under­stand at the ini­tial stage whether the project will be successful.
It is also pos­si­ble to pre­dict prob­a­ble risks in advance and decide how to man­age them. There­fore, the prob­a­bil­i­ty of an unpre­dictable event is very small.
In order for every­thing to work as it should, you need to sys­tem­at­i­cal­ly work accord­ing to the prin­ci­ples of the cho­sen method­ol­o­gy and clear­ly per­form all the actions pro­vid­ed for the project life cycle. That is: if in one project every­thing is done accord­ing to the rules from the ini­ti­a­tion phase to the com­ple­tion phase, then in the next one you will have less unpre­dictable items.
Reduc­ing stress and burnout of employees
When employ­ees have to con­stant­ly keep a lot of things in mind, solve tasks with­out rely­ing on a pre­vi­ous expe­ri­ence, and also have prob­lems with com­mu­ni­ca­tions — a con­stant stress, and over time, burnout — is guaranteed.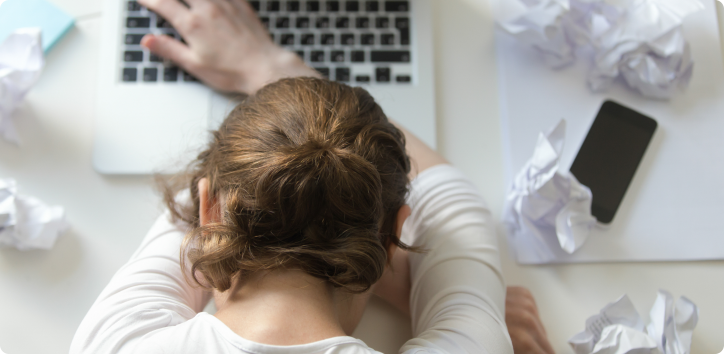 If you fol­low the prin­ci­ples of project man­age­ment and use the appro­pri­ate tools, you can reduce these neg­a­tive phe­nom­e­na. After all, the tasks will be col­lect­ed in the task man­ag­er, the doc­u­men­ta­tion with the team's pre­vi­ous expe­ri­ence can be eas­i­ly found in the cor­po­rate knowl­edge base, and the main com­mu­ni­ca­tions can be con­duct­ed in the mes­sen­ger inte­grat­ed with a task manager.
Opti­miz­ing the use of resources
You have def­i­nite­ly faced the fact that work­ing time is less than tasks that need to be solved. Unfor­tu­nate­ly, almost every­one has this expe­ri­ence. But teams that work with project man­agers and task track­ers usu­al­ly face this less often. Why?


Because all the tasks are
fixed,
they have
pri­or­i­ty lev­els,
and there are also
time stan­dards
for com­plet­ing cer­tain tasks.
Accord­ing­ly, the project man­ag­er, for exam­ple, sees that some­one has an over­loaded list of tasks, and all tasks have a high pri­or­i­ty while some­one else in the same peri­od has only tasks that are not dif­fi­cult and not very urgent. So, he can redis­trib­ute tasks, mak­ing work­load more adequate.
Reduc­ing the risk of bankruptcy
Sta­tis­tics

state, projects with an invest­ment of more than

$

1

,

000

,

000

fail

50

%

more often than those with a bud­get of up to $

350

,

000

. It is clear that such an epic mis­take can end in com­plete finan­cial collapse.
There­fore, project man­age­ment is impor­tant for those who work with expen­sive projects. After all, as we indi­cat­ed above, com­pa­nies in which project man­age­ment is car­ried out by pro­fes­sion­als are gen­er­al­ly more successful.
Bet­ter team communications
Above we men­tioned the impor­tance of com­mu­ni­ca­tions, because it some­times becomes a real chal­lenge in project man­age­ment. In fact, this prob­lem can only be solved by fol­low­ing the prin­ci­ples of the cho­sen methodology.
To improve team com­mu­ni­ca­tion, you can use task track­ers with a built-in chat and/​or inte­gra­tion with pop­u­lar mes­sen­gers. In this way, you avoid the prob­lem of lost mes­sages and unno­ticed tasks.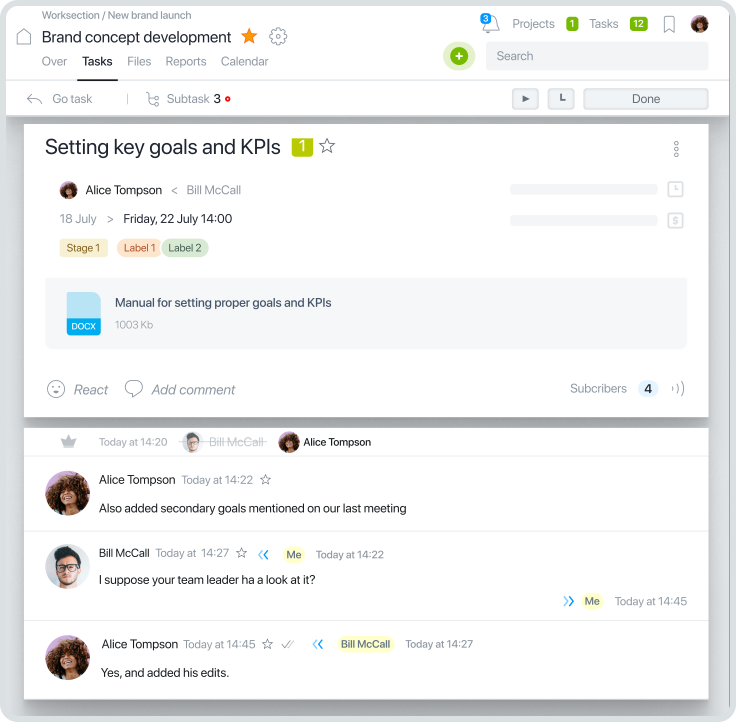 Increas­ing the effec­tive­ness of leaders
A true leader should always be aware of the affairs of the com­pa­ny as a whole, as well as cer­tain projects. When all teams
work with­in the approved stan­dards,
it is eas­i­er for the man­ag­er to get an overview of what is hap­pen­ing. All teams have the same stan­dard of doc­u­men­ta­tion, task set­ting reg­u­la­tions,
KPI
, etc.
Task man­agers, which have Gantt charts, dash­boards, etc., also sim­pli­fy the man­ager's work. That is, tools that allow you to lit­er­al­ly see the main indi­ca­tors for each project on one screen.
Increas­ing trans­paren­cy of process­es and roles in teams
Often team mem­bers do not under­stand each oth­ers' respon­si­bil­i­ties even with­in their own divi­sion, noth­ing to speak about oth­er depart­ments and top man­agers. At the same time, about

38

% of orga­ni­za­tions

believe that this uncer­tain­ty is one of the main obsta­cles to project success.
High-qual­i­ty project man­age­ment is based on max­i­mum trans­paren­cy, when every­one can see, for exam­ple, in the task man­ag­er, which tasks his col­league or direct man­ag­er is respon­si­ble for. When work is struc­tured in this way, it is much eas­i­er for peo­ple to ask for help, del­e­gate tasks and go to suc­cess together.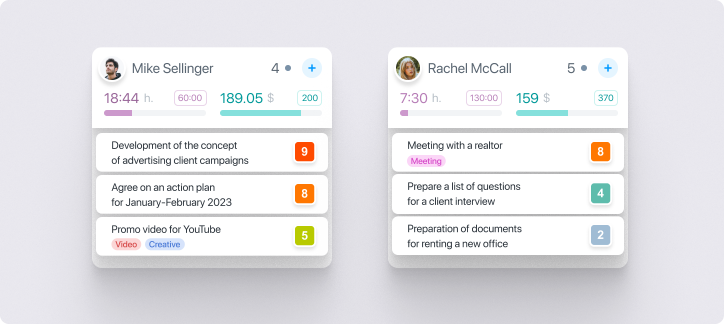 More atten­tion to strate­gic tasks
Project man­age­ment assumes that many rou­tine tasks are auto­mat­ed and process­es are stan­dard­ized. That is, both employ­ees and man­agers can have more time for the strate­gic tasks.
This approach results in growth and expan­sion of the company.
Good under­stand­ing of goals and progress
As men­tioned above, it is impor­tant for lead­ers to quick­ly assess the state of affairs in the com­pa­ny. But it is no less impor­tant for oth­er employ­ees. Hav­ing clear­ly defined goals is real­ly moti­vat­ing. Besides, when every­one sees how much they have already done, for exam­ple, from a month­ly or a week­ly plan, it becomes eas­i­er to move on.
There­fore, when man­ag­ing projects, it is worth hav­ing the visu­al dis­play of goals and the amount of work that the team has already com­plet­ed. Here, again, charts, scales, per­for­mance graphs, etc. are of great help.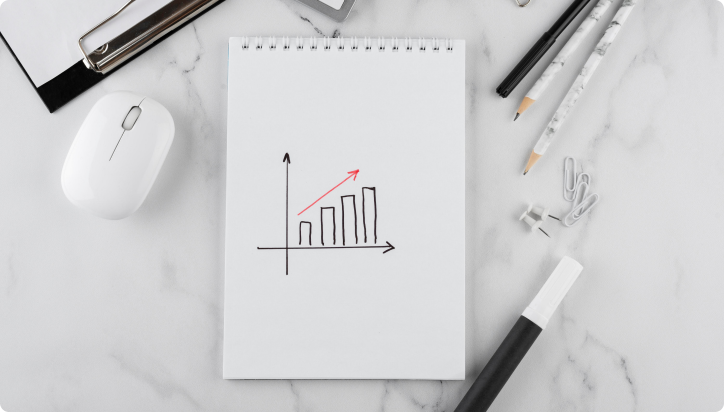 Con­sid­ered decision-making
When deci­sions are made intu­itive­ly, it usu­al­ly leads to unpre­dictable con­se­quences. There­fore, much atten­tion is paid to the gath­er­ing and struc­tur­ing of infor­ma­tion in project man­age­ment. Based on it, you can make bal­anced, rea­son­able and effec­tive decisions.
Sim­ple reporting
Hav­ing a sin­gle stan­dard for work­ing with infor­ma­tion for the entire com­pa­ny, it is much eas­i­er to gath­er it and make it into a report. Besides, there are tools that auto­mat­i­cal­ly down­load cer­tain data in the for­mat of graphs and tables. That is, you don't even need to spend time con­vert­ing num­bers into graphics.
This is espe­cial­ly use­ful when the team works in an hourly pay­ment for­mat. Then it is enough for each spe­cial­ist to record the time spent on solv­ing tasks every day. At the end of the month, you can down­load a ready-made report, where the time for the projects will already be calculated.
Effec­tive man­age­ment of work volumes
It hap­pens that the com­pa­ny has a poten­tial client who would like to order cer­tain ser­vices. But the man­age­ment is not clear whether the exist­ing staff will be enough or new employ­ees must be hired.
This hap­pens in com­pa­nies with no project man­age­ment. If it exists, then the amount of work and work­load dis­tri­b­u­tion among employ­ees is easy to estimate.
Accord­ing­ly, it is also easy to under­stand how to deal with an
addi­tion­al work­load.
For exam­ple, if you have five employ­ees, each work­ing
40
hours a week and ful­ly loaded, you should not take an order for
20
addi­tion­al hours and expect to ful­fill it with the avail­able forces.
But, let's repeat, you can under­stand this, if you record time and employ­ees' workload.
Quick adap­ta­tion of new employees
With a well-estab­lished project man­age­ment sys­tem, you can train new team mem­bers faster, because a large part of the process­es is described.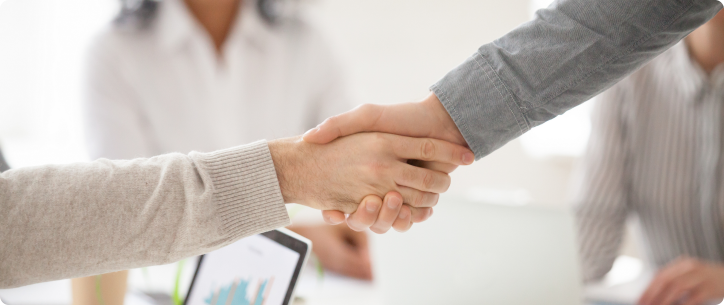 Besides, the expe­ri­ence of work­ing with cer­tain requests has already been accu­mu­lat­ed, so a new per­son will not have to invent on his own what some­one already knows. It is enough to ask col­leagues and study the infor­ma­tion received.
Greater sat­is­fac­tion of all participants
It is clear that cus­tomers are hap­py when their order is ful­filled on time (or ahead of sched­ule), with­out cost over­runs and seri­ous defects. Like­wise, the team is sat­is­fied with every­thing going accord­ing to plan, with­out dis­rup­tions and work to exhaustion.
This is what all project man­age­ment method­olo­gies are aimed at and, as prac­tice shows, their use makes it pos­si­ble to achieve over­all satisfaction.
Increas­ing the attrac­tive­ness of the com­pa­ny for part­ners and customers
Gen­er­al­ly, peo­ple want to work with those who are sta­ble, effi­cient and pre­dictable. Com­pa­nies with imple­ment­ed project man­age­ment are just like that. There­fore, they will always have advan­tages over com­peti­tors and attract part­ners with the same values.
Easy scal­ing
Com­pa­nies that work with project man­age­ment prin­ci­ples from the very begin­ning scale faster and more effi­cient­ly, because the man­age­ment already knows about the best prac­tices that help achieve results. There­fore, when new teams, depart­ments and areas of activ­i­ty appear in the com­pa­ny, their work is auto­mat­i­cal­ly built in the best way.
How do you deter­mine the val­ue of project man­age­ment for the company?
Now you know why project man­age­ment is impor­tant for com­pa­nies and what spe­cif­ic advan­tages it offers. But there can be dif­fi­cul­ties with the ques­tion of mea­sur­ing val­ue. After all, real­ly high-qual­i­ty project man­age­ment works so organ­i­cal­ly that it seems as if all process­es hap­pen by themselves.


There­fore, the real val­ue of project man­age­ment is often noticed when there is an oppor­tu­ni­ty to com­pare. That is, to see what hap­pens when there is no project man­age­ment, namely:
releas­es do not come out on time;
work sched­ule is vio­lat­ed;
bud­gets are exceed­ed.
---
As a sum­ma­ry, project man­age­ment impor­tance is that it helps to val­ue the time, mon­ey and effort that the com­pa­ny spends on the com­ple­tion of the project, and helps to make these invest­ments as prof­itable as pos­si­ble. So good project man­age­ment and all its com­po­nents will allow you and your team to work more effi­cient­ly and accom­plish more in less time.