Business management systems which
are worth using today
Process automatization, business tasks managing, employees and agents calculating, eliminating the effect of human errors where possible – business management systems contribute to all of this. 
The most important thing is to realize what you want to reach and choose the system for business organization taking into account the company's needs and possibilities.
We offer our own TOP 21 useful tools, which will help your team become more efficient.
What Is Business Management?
Business management is a process of creating and distribution of a company's business resources making its activity more efficient and business itself more competitive.
To aim this, the development strategy has to be combined with administrative activity and effective control. 
While you start up your business, it does not seem difficult to manage it. The tools like Google Docs and Google Sheets might be enough.
But as soon as it starts growing, a business owner has to choose between going into details or arranging things in such a way that the majority of tasks are digitized, automatized and standardized. Only this second approach will let the owner see the company as a whole and make the right decisions. That's what the business management systems are for.

Types Of Small Business Management Systems And More
Programs and services which facilitate teamwork are used by both managers and employees. All types of programs which are used for these purposes, can be divided into several groups.
Task managers for business
These services are used for task creation, prioritization, delegation and progress tracking.
Benefits:
visible overview of tasks and subtasks to be done for every team member;
effective planning of a working day;
notifications about new tasks and review of the current tasks, deadline reminders etc;
workload tracking for a team and any individual team member;
progress tracking for each task;
efficiency analysis.
It's not really worth mentioning the weak points of this program type as the problems mostly occur with a specific product or function. At the implementation stage it might take time to use a particular correctly, which makes some team members unsatisfied.
File managers for business administration
The employees spend much time searching for information. To make the process easier and use time more efficiently, such services are implemented.
These products and services offer to
organize storage of text documents, video and audio files, as well as other data in a way that a new team member could easily find them;
work with documents – create, change, edit, comment and convert in different formats;
data backuping and recovery;
send, archive and delete files.
One of the most important advantages of these programs for business is shared access to files. It is especially crucial when working remotely. As for the drawbacks, the most common one is lack of other functions.
Programs for Time management in business
The well-known phrase Time Is Money has long become an axiom. The popularity of time-trackers grows correspondingly.
They enable you to
track time, spent by the employees for different tasks and projects, both conventional and untypical. It helps further to plan the workflow and workload for every employee;
optimize your work, by tracking the most time-consuming activities to improve them or delegate, if reasonable;
automate a part of financial activities, for example, calculating hourly wages, considering the time spent. The data can also be used for invoicing the customers, which are calculated on the basis of the consumed time. 
At the early stage the employees might sabotage the implementation of innovations. Besides, not every person can easily get used to the necessity to start up and switch off the timer.
Progress trackers
The systems of this type track the fulfilled tasks according to both projects or employees and the team as a whole. The manager sees if the team can get within the scheduled time or lags behind.
What do these programs offer?
collecting data about the task status;
based on the collected data, make diagrams to image the general progress of the project.
It is difficult to find pure progress trackers, they are mostly in-built into project management services.
One of the weak points of such tools is no-easy setup. If this step has not been completed correctly, the progress trackers will show incorrect data. 
Programs for finance operating
Such business systems are used to monitor transactions and current status analysis.
These programs usually feature the following functions:
track expenses, income, assets accounting, account balances, as well as an overview of the financial status;
create reports, including tax reporting;
create invoices, display debts;
make time sheets and calculate wages;
carry out inventories.
Choosing a solution for finance operations you should consider your business activity. For example, for sales areas there are special programs which can be easily integrated with the sales recording systems. To spare yourself such problems you should test the products first and ask technical support if the system suits your company. You will have to describe your business activities in detail and list the programs that you already use and plan to synchronize with a new product.
CRM-systems
CRM (customer relationship management) is a software system which is used to track all communications and nurture relationships with leads and clients. 
What can they do?
collect and structure information about all clients, for example, their purchase records;
store contacts and records of communication with sales managers, assistants, technical support;
track the client from the first contact to purchase agreement;
inform a manager about the tasks, which have to be done in the short term, for example, call back in case of a missed call.
CRM is useful for both sales and marketing. The data collected by CRM systems might be used to analyze clients, segment them, track the efficiency of promotion actions and improve the sales funnel.
The price for a high-quality CRM is seldom low, so you have to consider if this innovation is a rational investment.
Collaboration tools
Such programs and solutions for business management can combine several tools:
time tracker;
task manager;
file exchange system;
service for financial operations;
CRM;
HR modules;
tools for communication within the team etc.
Usually
such multifunctional systems are more expensive
than simple programs, that is why you have to fairly estimate the financial capacities of the company before switching to such services.
How To Choose The Right Tool
Pure services are rather difficult to find. This is due to the fact that developers create products based on the market needs, the most common of which is now a multifunctional system for business management. 
It is obvious that one product incorporating many solutions is easier to use in comparison with dozens of programs requiring much time to implement each of them, synchronizing information from different sources, followed by analyzing and making conclusions.
Thus, programs for time management can feature chats for team communication, efficiency tools like Pomodoro or Forest, records of previous time periods. Task trackers offer not only the possibility to create tasks and subtasks, but also attach files, get deadline notifications and track time consumption for different types of tasks. 
For small businesses the most simple tools could be enough, but when growing they are also most likely to need more multifunctional options. 
Thus, this is how an optimal way looks like:
make a list of requirements for now;
think of development strategy and make a draft plan;
think of instrument you might need at different stages of your business development;
learn multifunctional options, that are are currently on the market, based on the basic  needs and perspectives of your business;
sign up for trial versions of the products you liked and choose the one which both the manager and the team find the most ultimate.
There is one thing you should keep in mind: if you start with a simple product, the time will come that this would be insufficient for your business any more. And the faster your business is growing, the sooner this time comes. You will then face the problem of data migration, which is not always easy.
Thus it makes more sense to buy a basic tariff of a multifunctional program, with a possibility to upgrade it when necessary. This helps you:
to save time to study new services and to implement the new product to your team, and
not to run a risk of data loss in case of transfer from one product to another.

TOP 21 Products For Your Business
Task managers
Trello
Platforms
Web, iOS, Android, Windows, Mac.
Features
Convenient tool for project management offering
Kanban boards to work with tasks;
team brainstorming tools;
integration with other services.
This is an optimal task management tool and communication channel for team members. You can use it to check the task progress, as a time tracker.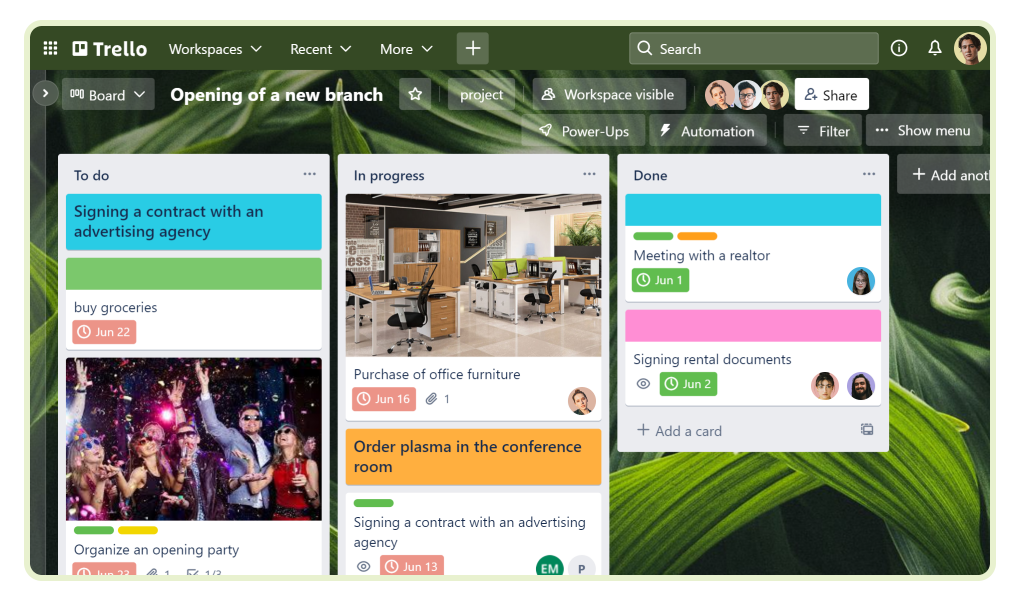 Disadvantages
In the opinion of some users, when the number of tasks is growing, it's getting difficult to use the boards. Besides, the user feedback contains requests for the developers to improve the accounting and time tracking functions. 
Pricing
A monthly fee starts at $6. If you pay for the whole year, Trello will cost you $5 to $17,5 per user/month. 
To understand which tariff you might need, it is worth getting a trial version. For a limited period you will get access to the premium version and an opportunity to check all functions and make your own decision.
A standard tariff offers very limited possibilities for analytics and reports. If you need them, you will have to choose the premium tariff, which offers joining boards in collections and team administration. 
There is also a free version of the product, it could fit small teams with minimum tasks. They don't have calendar or project chronology functions.
Rating at Capterra: 4,5 of 5.
Worksection
Platforms
Web, Windows, iOS та Android.
Features
Ukrainian service for project management offering the following functions:
assign tasks and track progress;
quickly analyze project progress due to Dashboard;
follow work results due to Gantt chart;
use Kanban boards;
switch on time tracker;
control project budgets;
communicate on tasks.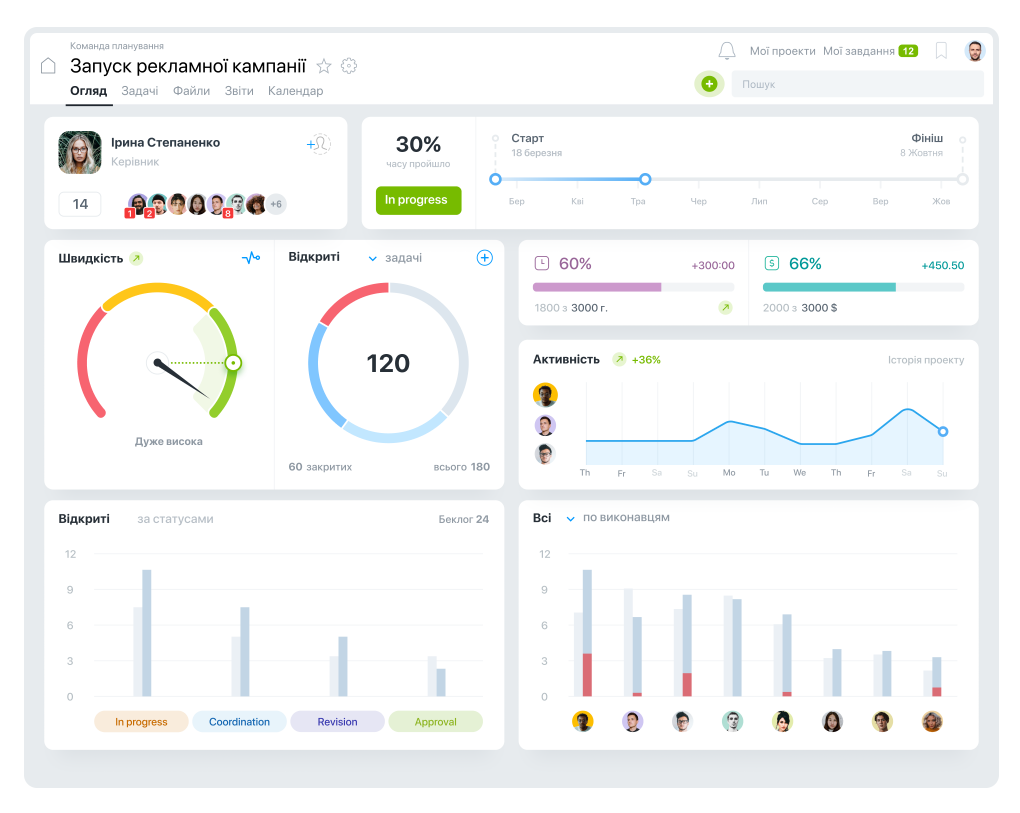 The service can be integrated with CRM-systems, GoogleDocs, Slack, Telegram. API for data exchange is also available. Due to this, Worksection allows you to cover a significant part of all business management tasks.
Drawbacks
Not all users find it ok that the product needs internet to operate. Also a mobile version has to be improved.
Pricing
The company offers a 14-day test period. For $29 per month you get access to this product for 10 users and 10 projects. Tariff plan for $49 per month offers access for 20 users and 20 projects. You can use a free version if you want, it offers 0,1 Gb for data storage and access to 5 users and 2 projects. Premium account for $199 per month offers 500 Gb data storage, unlimited project number and up to 50 users.
Rating at Capterra: 4,9 of 5.
Asana
Platforms
Web, iOS, Android, Windows, Mac.
Features
A simple service for project management for small teams. You can assign tasks, set deadlines, create project roadmaps and analyze results. The program is used as task manager, file exchange tool, as well as team administration and communication product.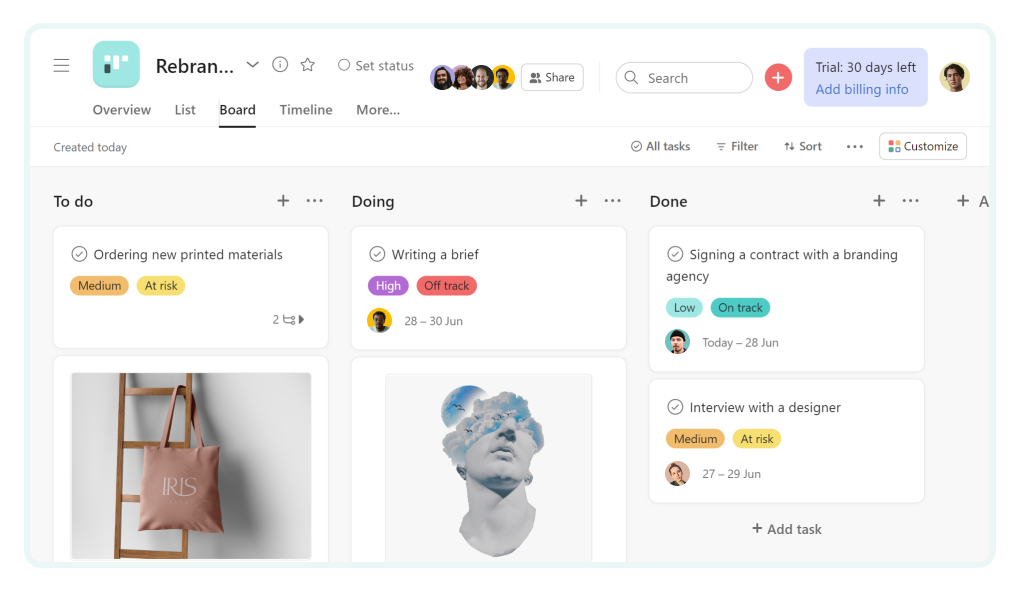 Disadvantages
Some users find this product unsuitable for big teams and complicated projects. Besides, the list of integrations, offered by the Asana developers, is not sufficient for some teams.
Pricing
A monthly fee ranges from $13,49 to $30,49. When you pay for the whole year at once, a program will cost you between $10,99 and $24,49 per user. To get acquainted with the functions you can use a 30-day free test version with functions of Premium tariff. 
There is an absolutely free version for teams with no more than 15 users. It does not offer such useful functions as task templates and workflow constructors. You won't be able to create groups and projects with limited access. These options are available for Premium users, while in a Business version multi-unit forms and integrations with other analytical services, graphic design tools and CRM systems are added.
Rating at Capterra:  4,5 of 5.
File Managers
OneHub
Platforms
Web, iOS, Android, Windows, Mac, Linux.
Features
The product offers a simple operation with files, which are loaded by dragging, and are stored in folders. Among other functions are the following:
full-text search, file exchange and data restore;
client portal to get a quick feedback about the project;
task lists and group discussions;
a possibility to share financial data with several parties, for example during trades.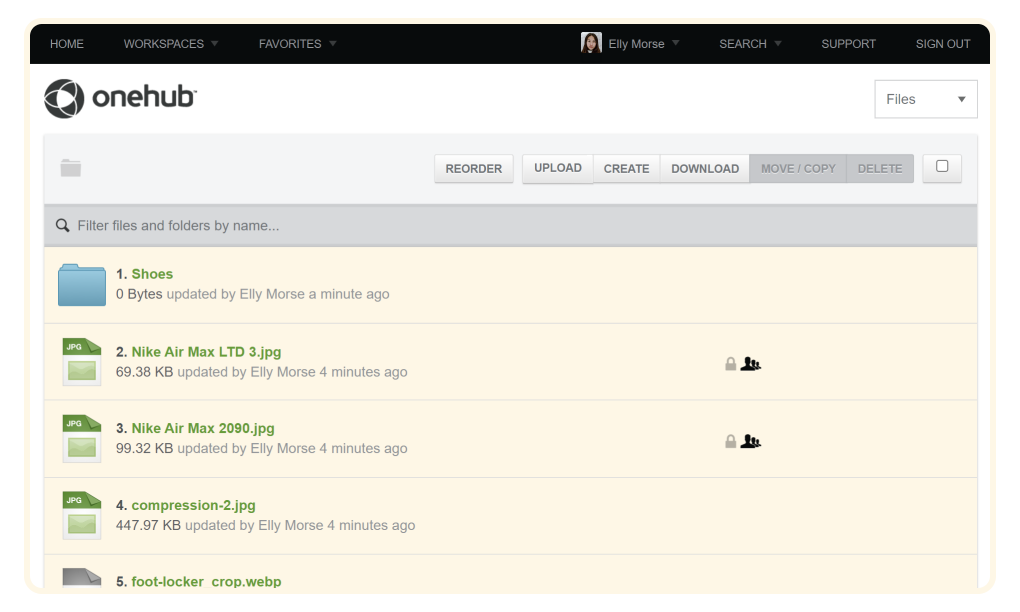 Product can be used as cloud storage, task manager, file exchange service and communication tool.
Disadvantages
Some users note that it is difficult to share an invitation link and sign in using the email. Sometimes the files processing takes too much time, and the peculiarities of FTP setup are not easily understood at once. 
Pricing
First 14 days of any tariff plan are free. Basic tariff costs $15, when paid monthly, and $12,50, when paid yearly. It allows access for 3 users, up to 50 working units and up to 1 Tb data storage. 
The most expensive tariff costs $575, when paid monthly, and $500, when paid yearly. It offers access for an unlimited number of users, unlimited number of working units and unlimited data storage. 
Rating at Capterra: 4,6 of 5.
Dropbox Business
Platforms
Web, iOS, Android, Windows, Mac, Linux.
Features
Cloud storage for file processing where the available storage volume depends on the chosen tariff plan. The product allows to
download and exchange data up to 100 Gb;
restore previous versions of documents and even deleted files;
remotely delete data from the lost or stolen gadgets;
create work groups and track activities and exchange of files by employees;
integrate services for additional team options.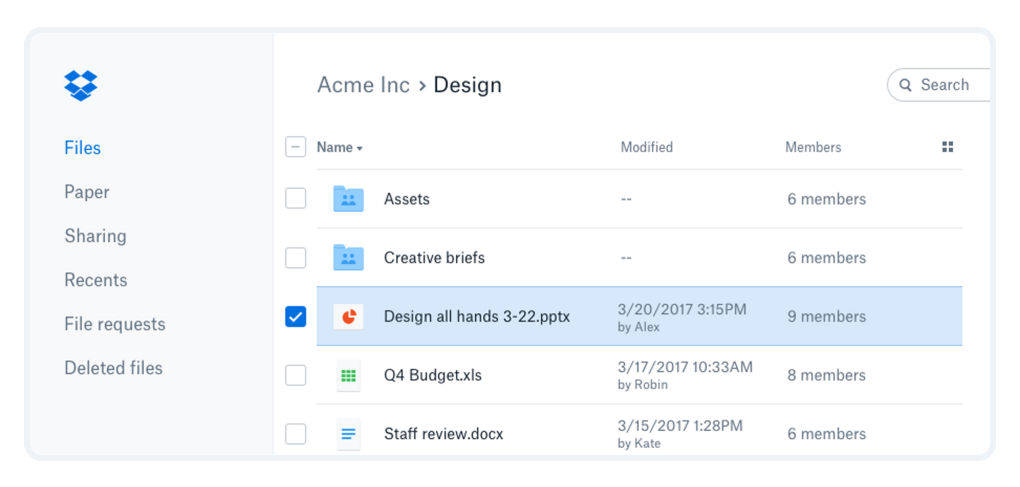 The product is good to use as file storage and exchange service, but due to integration with other services it can be used in combination with communication tools (Slack) and identification systems (Okta).
Disadvantage
Sometimes errors occur during file synchronization, as well as difficulties with the interface and navigation. Another user concern point is the price of the product.
Pricing
The free trial version is available. Paid versions for business start at $16,58, for yearly payments, and $19,99, when paid monthly. Professional tariff plan offers access for one user, storage up to 3000 Gb data, use watermarks and restore data, deleted within the previous 180. 
Buying a more expensive Professional + eSign, which will cost you $24,99 per month (yearly payment) and $31,99 (monthly payments), you get all functions of Professional tariff, as well as 5 templates for the most commonly used documents, and unlimited number of requests for getting electronic signatures having legal validity. It will enable you to sign documents within Dropbox.
Rating at Capterra: 4,5 of 5.
eFileCabinet
Platforms
Web, iOS, Android, Windows, Mac, Linux.
Features
This service for document processing and workflow automatization offers document management for HR, accounting, law office, as well as
automatization of routine processes (file distribution among the corresponding folders);
notifications about the document flow;
blocking access for editing and data deletion.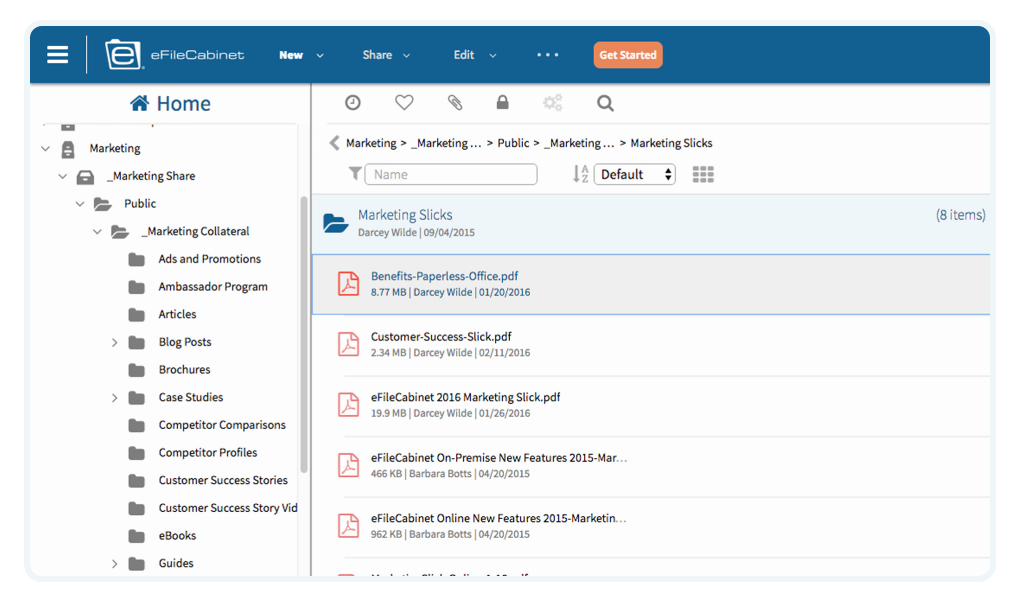 The program can be used as a tool to eliminate and automate paperwork.
Disadvantages
It's not easy to set up and use the program without previous training. Not all users are satisfied with the search function. Sometimes users experience problems downloading PDF-files.
Pricing
A free trial version is available. You will get the price for the program from the manager after filling an application form and personal conversation, but it usually costs about $1200 per year.
Rating at Capterra: 4,4 of 5.
Time Trackers
Timely
Platforms
Web, iOS, Android, Windows, Mac.
Features
The product offers accurate time tracking for every team member and team efficiency management.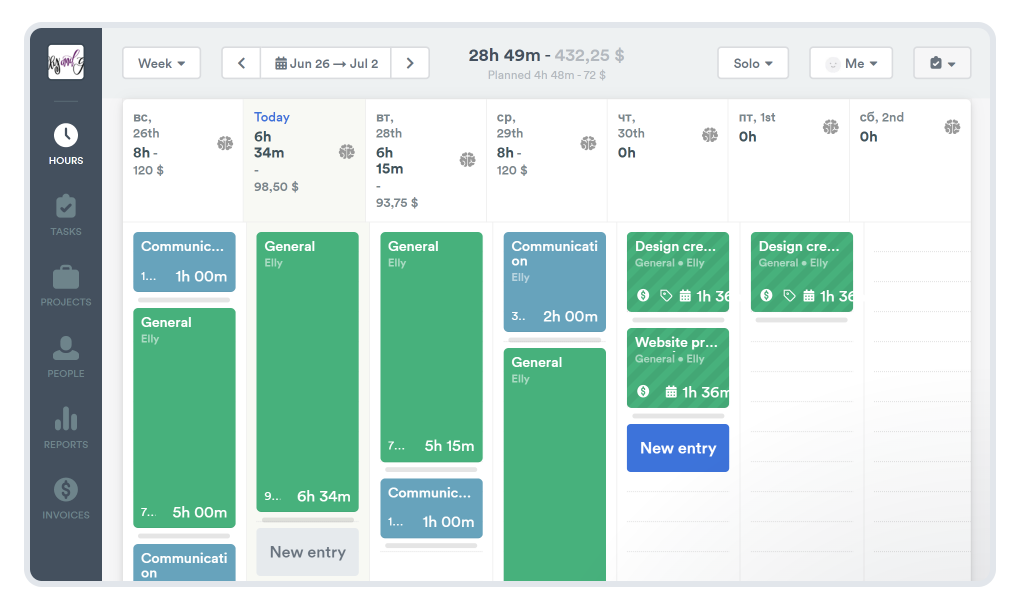 Clients appreciate integrations with Zapier, Google Calendar, GitHub, Gmail and Jira. They can significantly improve the functionality of this product and use it as a CRM, a tool for communication and planning.
Drawbacks
There are problems with report creation and program operation in general. Some users find the range of colors for project highlighting too limited.
Pricing
The service costs $20 to $35 per user/month, when paid on a yearly basis, and $10 to $26, when paid on a monthly basis. The free trial period is available, where a user can test functions of the Unlimited tariff plan. 
Basic tariff allows access for 3 teams and 50 projects, while a Premium version offers unlimited user and project number, as well as tools for budget operations.
Rating at Capterra: 4,7 of 5.
Harvest
Platforms
Web, iOS, Android, Windows, Mac.
Features
It's more than just a time tracker. The service can track project profitability and analyze factors that affect it, plan activities (considering if there are enough people in the team, or if more employees are needed), and manage payments for the projects.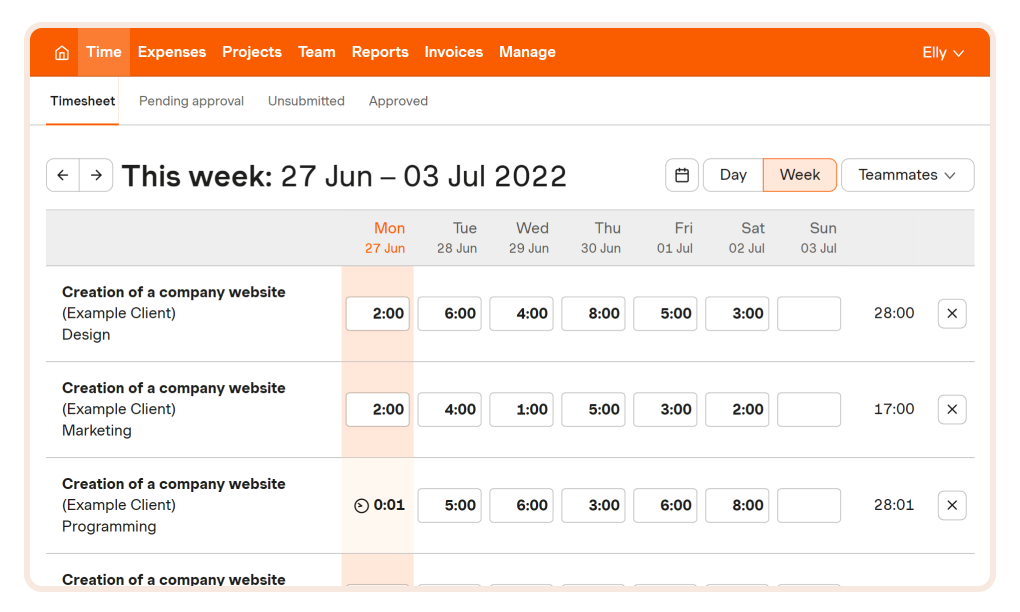 The users like  visual reports and flexibility of the product, as well as useful integrations, for example, Asana and Slack. PayPal Business Payments availability is another strong point for the service.
Drawbacks
Not all users find the interface easy, some of them miss notifications and prompts. Financial operations are also acceptable not for all users.
Pricing
The product costs $10,90 per month if you pay for the whole year, and $12 per month, if paid on a monthly basis.
There is a 30-day free test period. A free version for one user and two projects is also available. A paid service offers unlimited user and project number.
Rating at Capterra: 4,6 of 5.
Time Doctor
Platforms
Web, iOS, Android, Windows, Mac, Linux.
Features
This tool not only tracks time, but also offers a possibility to create reports about team efficiency and to operate budgets.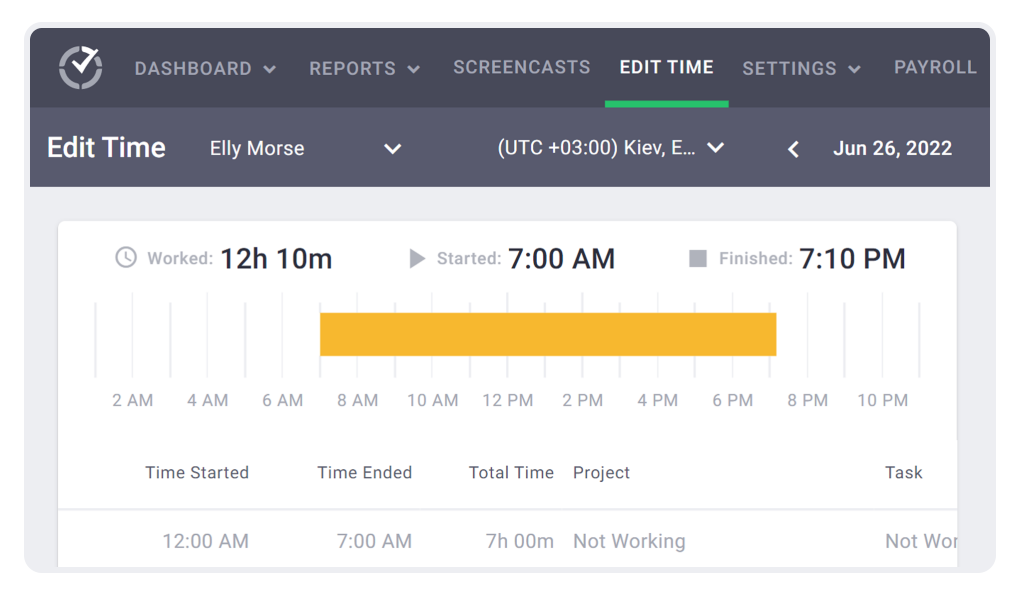 Information boards display time spent for the projects and clients, best employees as well as those who show low efficiency. This allows to show the
company's growing points
and weak points.
Drawbacks
Many users find activity boards irritating because they take up too much space on the monitor. Not all users are satisfied with the app, some errors occur after upgrading very often.
Pricing
When you pay a yearly fee for the product, it will cost you $70-200 per user, so you will get two months for free, in comparison with monthly payments, the charge for which is between $7 and $20.
The free trial version is available. Basic tariff plan offers time tracking, tasks and projects management and unlimited screenshots. Standard version additionally  features apps and URL tracking, which users use during their working hours, calculating wages and over 60 integrations.
Rating at Capterra: 4,5 of 5.
Progress Trackers
Gantter
Platforms
Web, cloud, SaaS.
Features
This product is developed for project management based on the Gantt chart. It will help teams to create and edit project drafts and integrate them with Google. 
It also offers recommendations of artificial intelligence on the operation and task automatisation.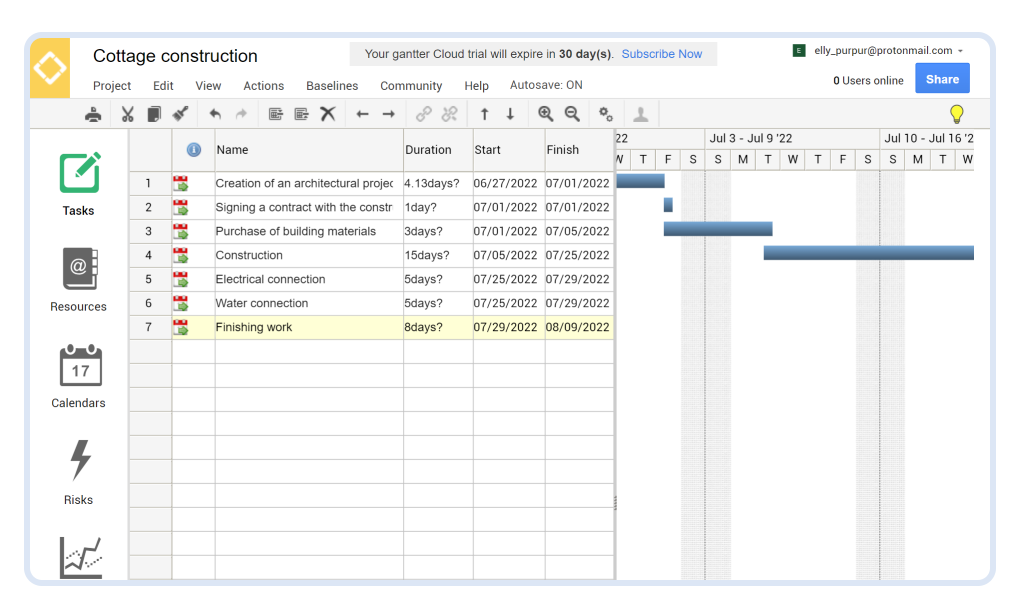 The service can be used for team work on the project. It has tools for planning, file storage and communication (scheduled team chat is available to prevent team members from missing important issues).
Drawbacks
Sometimes users experience difficulties with the program operation while the technical support team is not always quick enough to assist.
Pricing
A free trial version is available. Paid versions start at $5 per user/month. 
Rating at Capterra: 4,2 of 5.
TeamGantt
Platforms
Web, iOS, Android, Windows, Mac, Linux.
Features 
A convenient progress tracker, which allows to visualize project development with the help of the Gantt charts and as Kanban boards or a calendar.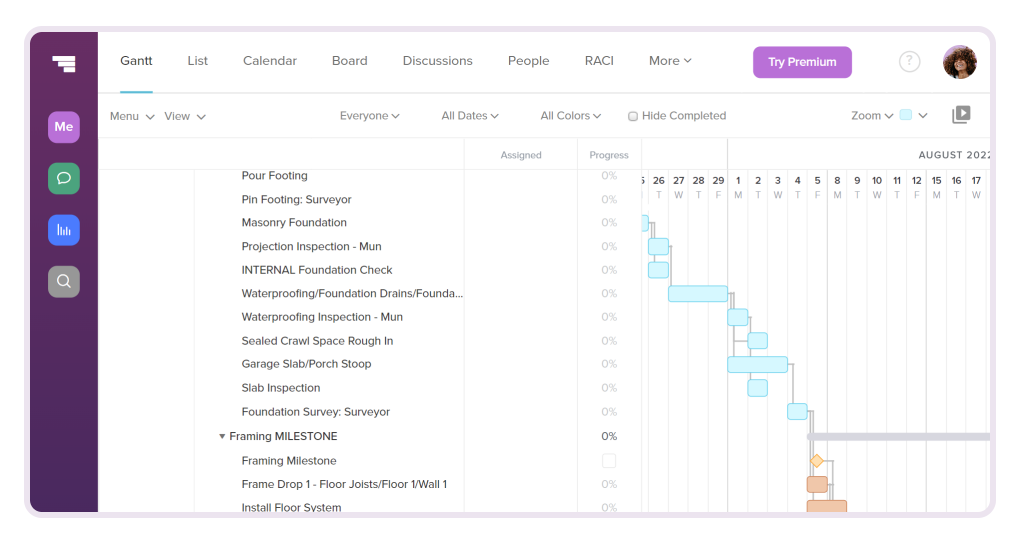 It offers convenient work planning, objective setting and progress tracking, KPI overview, team members communication and file storage.
Drawbacks
Not all users find it easy to edit charts and set up the functions. Many users note that app  functionality differs significantly Багато користувачів відзначають, що функціонал застосунку істотно поступається десктопній версії.
Pricing
There is a free version with an access for 3 users, limited to 1 project and up to 60 tasks. Paid versions cost $24,95-29,95 per user on a monthly basis and between $19,90 and $24,45 per user on a yearly basis, offering unlimited number of tasks, projects and invited users.
A 14-day free test version is available.
Rating at Capterra:
4,6 of 5.
GanttPRO
Platforms
Web, iOS, Android.
Features
Progress tracker which is used for task assignment and workload tracking  – the manager can identify the employees, working at the limit of their performance, and those who can handle more tasks. The service also offers working hours tracking function, reports and chat communication due to integration with Slack.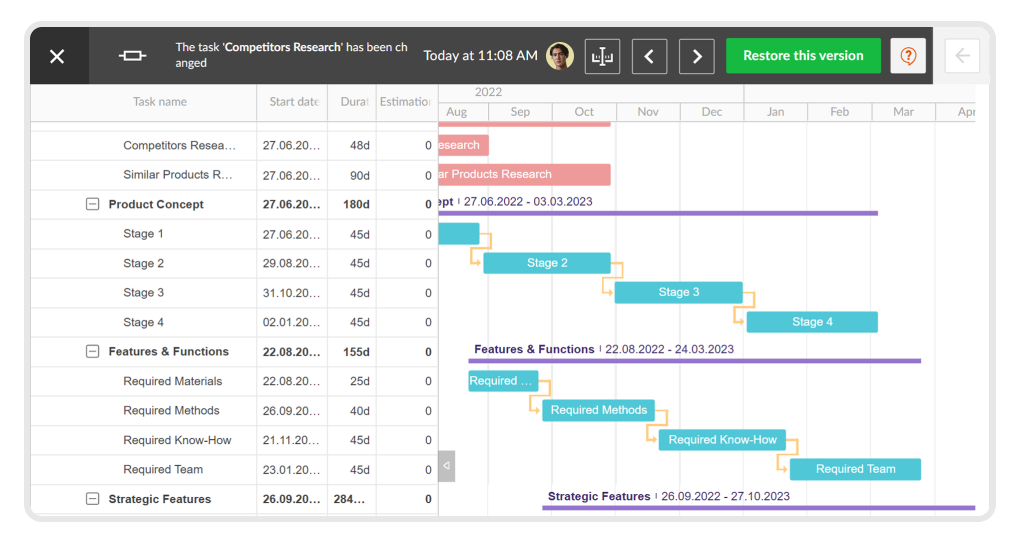 Drawbacks
Users note that it is merely impossible to edit Gantt charts in the app, so you have to use a desktop computer to operate this function.  
Pricing
A free trial version is available. The service costs between $7,99 and $19,99 per user/month. Basic version offers Gantt charts, automated planning and project calendars. A more expensive tariff plan additionally has project templates, customizable fields, overdue tasks, filter saving and mass changes.  
Rating at Capterra: 4,8 of 5.
Programs for finance operations
Spendesk
Platforms
Web, iOS, Android.
Features
This is a system for financial operations which not only facilitates the work of the accounting office or the manager, but also involves employees to financial planning for more efficient budget operating. The developers position the product as a «7-in-1 spend management platform», offering the following functions:
company's finance management;
approval of the financing requests of the employees;
budget planning;
real-time spend overview;
invoice management.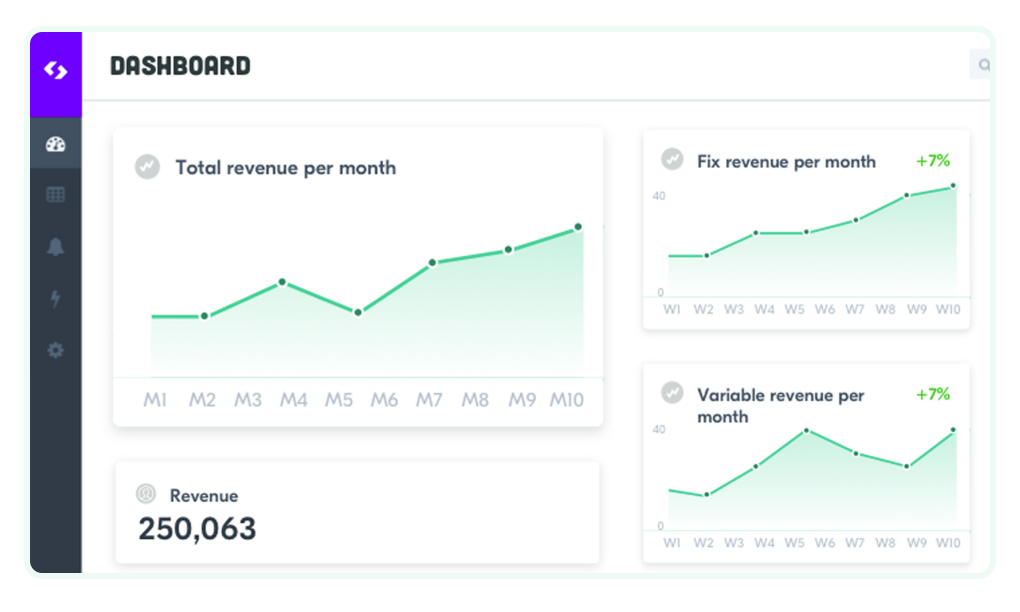 Drawbacks
The solution is not for all countries, for example, the users in Germany experience problems while using the service. Integration with ERP-systems is not always trouble-free. You have to take into account that the product is a cloud-based solution, thus you are much dependent on your internet performance.
Pricing
A free trial version is available. The fee for the service is calculated by the manager during your individual conversation after filling in the application form.
A Starter version offers unlimited virtual and physical cards, invoice tracking, expense tracking and reimbursement. Advanced plans additionally offer reporting, multi-step approval flows, support via live-chat, emails and onboarding webinars.
Rating at Capterra: 4,8 of 5.
Expensify
Platforms
Web, iOS, Android, Windows, Mac.
Features
This service helps to operate all expenses of your company. For example, you can control expenses by corporate cards, give information about business expenses for approval and reimbursement.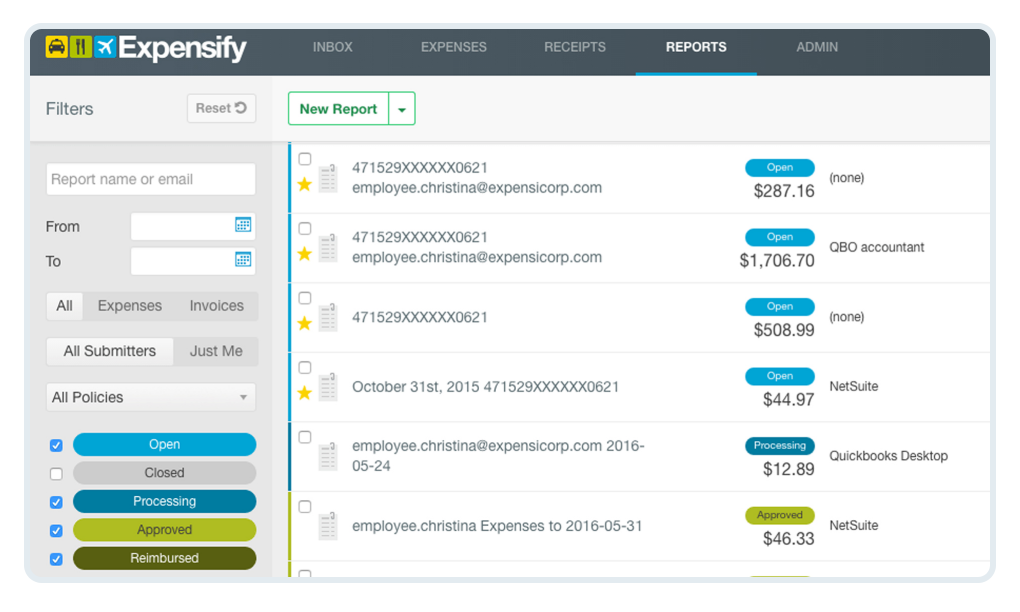 Drawbacks
Not all users find it easy to look for documents for the previous periods. Many users are also not satisfied by the technical support of the service.
Pricing
A free trial version is available. You can also use a free tariff plan, which lets you send and pay the invoices. Paying $5 per user/month you will additionally get smart limits, accounting synchronization and expense approval function, while the $9-tariff plan will provide expense analytics and individual reporting.
Rating at Capterra: 4,4 of 5.
CRM Systems
Quickbase
Platforms
Web, iOS, Android.
Features
This is a flexible CRM system, which enable you to
assign tasks and control progress;
client management;
invoice operations;
business process automatization.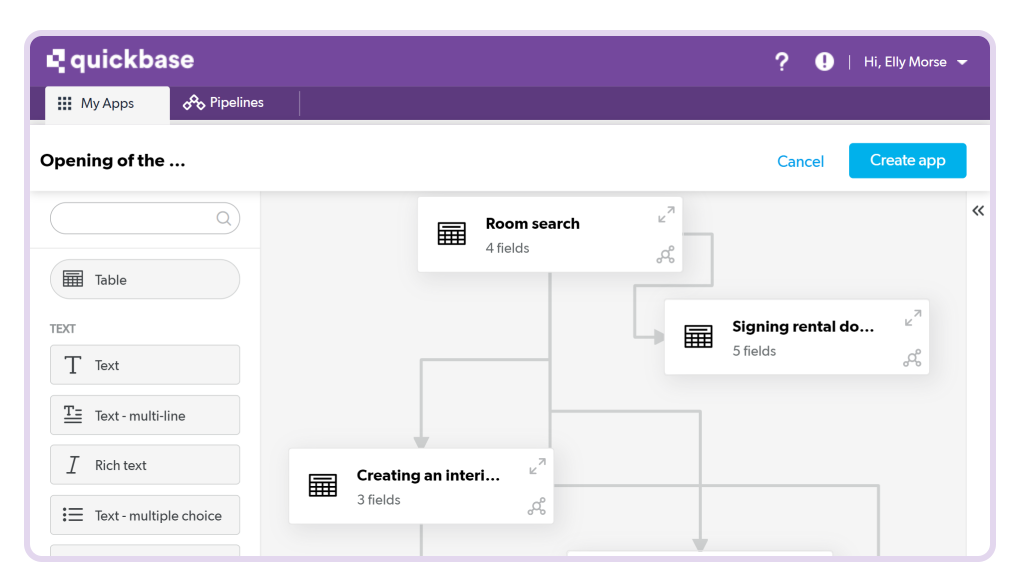 The service can also be used as a task manager, as well as a tool for document storage and a communication platform.
Drawbacks
Product interface is not understandable for some users, and there are also problems with technical support. Not all clients are satisfied with report formatting. Besides, users note that the price for the service is not low. 
Pricing
Access for up to 50 users will cost about $600 per month. За умовами цього тарифного плану доступні: автоматизація бізнес-процесів, три інтеграції, аналітика та зберігання даних аудиту протягом шести місяців. Вже за $2000 на місяць продуктом зможуть користуватися до 100 співробітників, серед додаткових функцій з'являються індивідуальне брендування, п'ять інтеграцій і зберігання даних аудиту протягом року.
A free trial version is available for 30 days.
Rating at Capterra:
4,5 of 5.
Zoho
Platforms
Web, iOS, Android.
Features
Popular CRM system with flexible set up, which can be useful for both marketing and sales. It offers the following options:
sales funnel management, as well as task and marketing campaigns management;
report and analytics overview, sales forecasts;
communication with colleagues and clients;
accounting;
contract operations.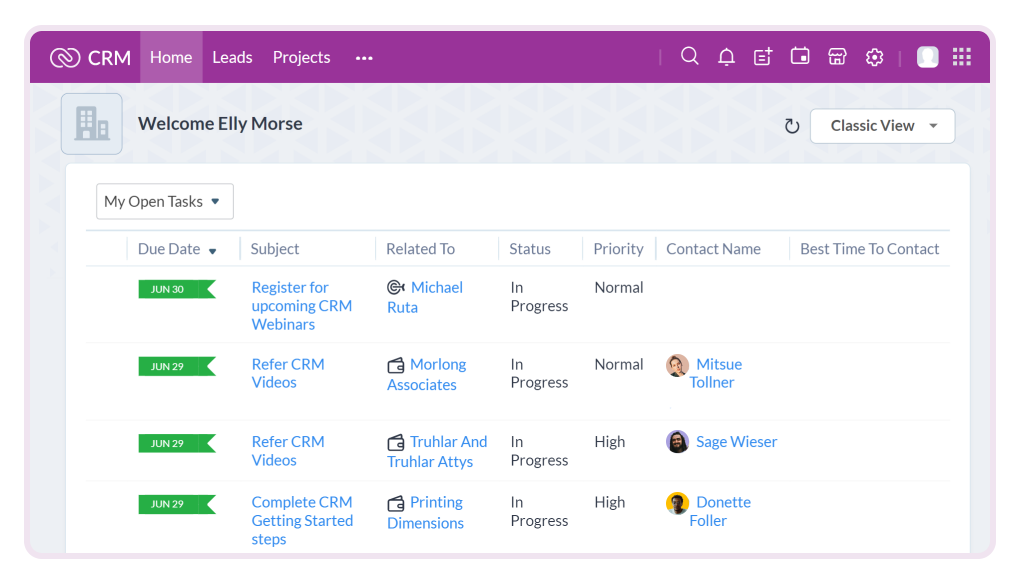 This multifunctional system covers almost all business needs. Especially taking into account the available integrations with 500 popular products and solutions of other developers.
Drawbacks
Not all users like the visual image of the product. Its interface can hardly be called intuitive. It's not always easy to cope with setup, while technical support often comes delayed.  
Pricing
You can learn the product functions during the free trial period. Further product use will cost you $20-$65 per user/month (on a monthly basis) or $14-$52 (on a yearly basis).
A free trial version is available, offering access to three users with a minimum function set: contacts, accounts, event log. In paid tariff plans clients get multi-currency, sales forecasts, notifications and reporting.
Rating at Capterra: 4,3 of 5.
Pipedrive
Platform
Web, iOS, Android, Windows, Mac, Linux.
Features 
CRM system with visual sales funnels, where you can manage contracts, track favorable promotion algorithms and automate workflow.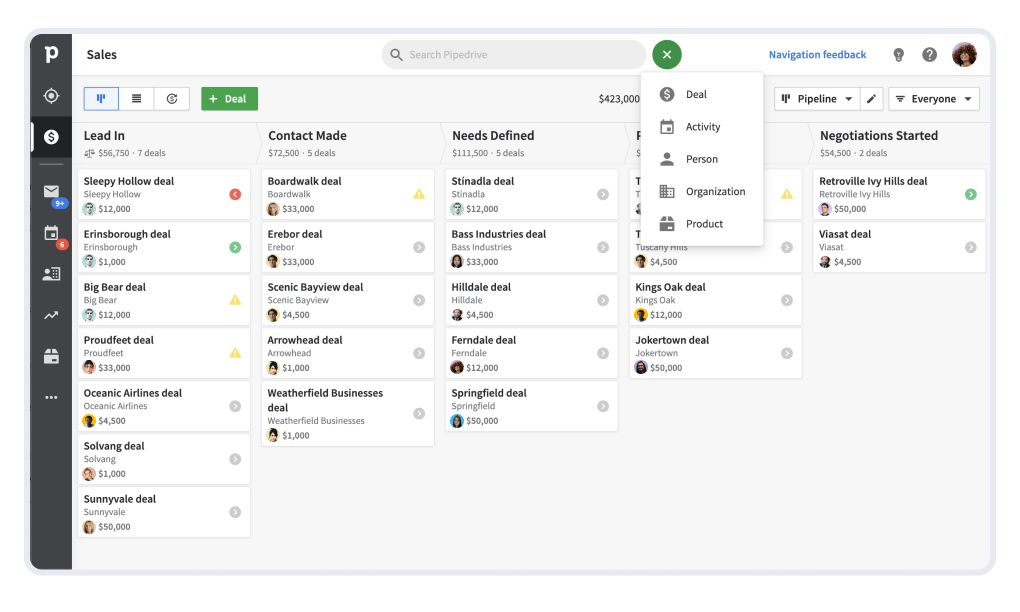 Due to
іntegrations
the system can be used for accounting, client communications, marketing and resource management.
Drawbacks
Users experience difficulties with emails and integrations. The design of the system is also a matter of taste.
Pricing
A 14-day free trial version is available, after that you can choose the most suitable tariff plan. If you pay on a  monthly basis, the tool will cost you $19,9-119 per user. When paid on a yearly basis, the price is $14,9-99.
The cheapest tariff plan offers 3000 open agreements, up to 30 fieldsполів, що налаштовуються. Вже в наступній версії можна відкрити до 10 000 угод, а ліміт полів, що налаштовуються, зросте до 100.
Rating at Capterra: 4,5 of 5.
Salesforce Sales Cloud
Platforms
Web, iOS, Android.
Features
CRM platform for managing communications with clients and partners. You can set up business processes here, analyze marketing and sales, manage tasks and budgets.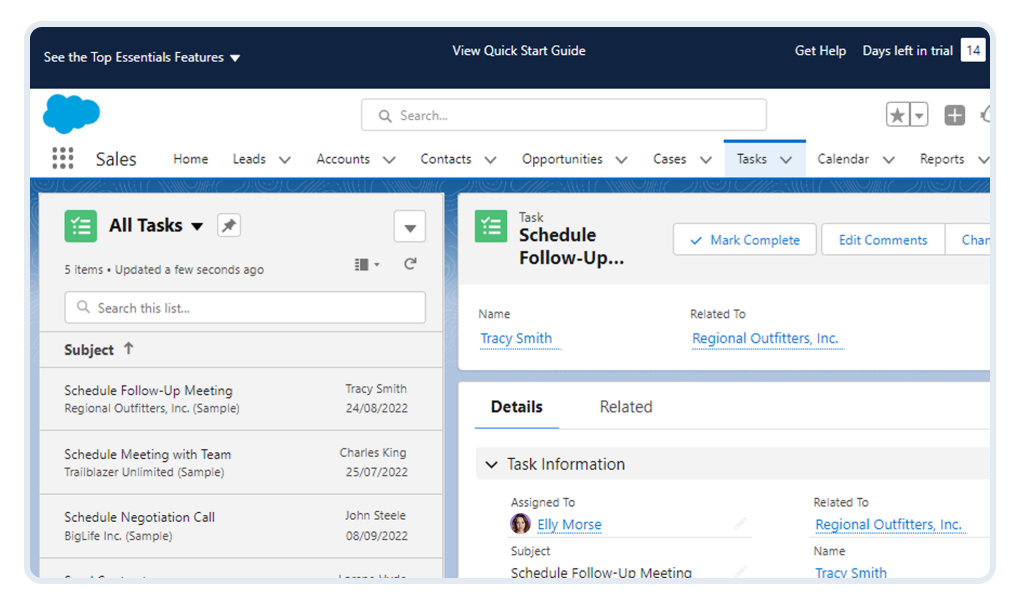 Drawbacks
Initial setup require thorough training and takes much time. Technical support is not really customer-focused. Not every company can afford this solution.
Pricing
You will be informed about the price per user after filling out an application form and talking to a manager personally.
Rating at Capterra: 4,4 of 5.
Collaboration tools
Paymo
Platforms
Web, iOS, Android, Windows, Mac, Linux.
Features
The service is meant for project management. It offers task assignment, Kanban boards, filters, work time tracking and scheduling and client billing. It can be used as a task manager, time tracker, progress tracking tool, as well as simple invoicing program.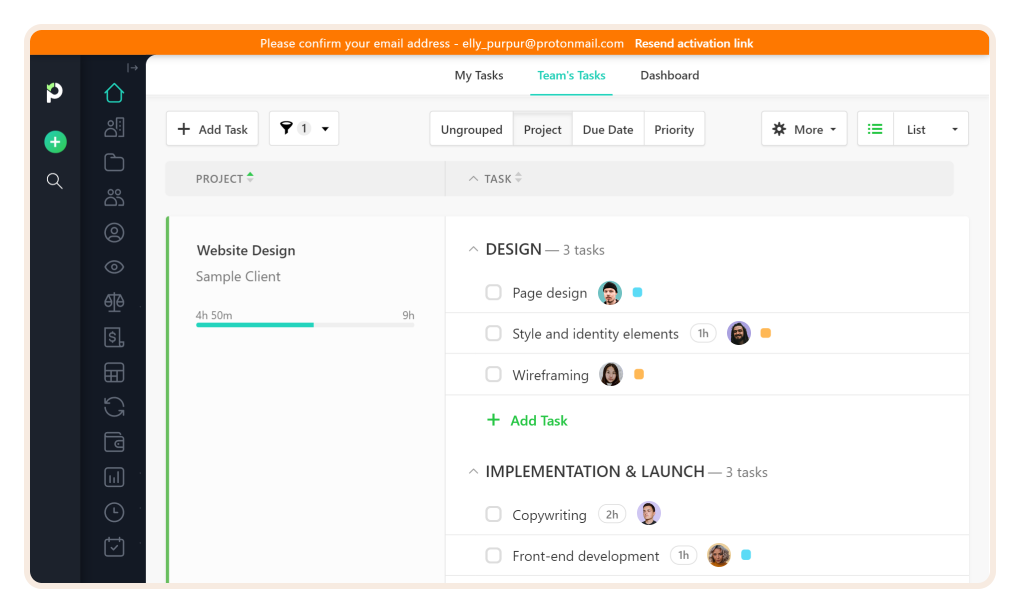 Drawbacks
Some users find the app operation pretty slow, with troublesome data export. You have to do much training before you can get the program set up based on your company's needs.
Pricing
A trial period is available, as well as a free version for one user, offering up to 50 tasks, time tracking and reporting functions. 
The program will cost you between $4,95 and $20,79 when you pay annually. When paid monthly, the costs range from $5,95 to $24,95. For $4,95 the user will have a possibility to grant a guest access to an unlimited number of clients, work up to 100 tasks, use project  templates and store up to 25 Gb. 
Rating at Capterra:
4,7 of 5.
Wrike
Platforms
Web, iOS, Android, Windows, Mac.
Features
The service positions itself as a team work tool. It is convenient for both Agile-fans and those who prefer cascading. It offers task creating, prioritizing, commenting and real-time reporting. 
The product can be used as task manager, time tracker, progress tracking tool and team communication platform.
Drawbacks
Not very flexible task planning in the calendar, complicated interface and navigation. One needs much time to understand how this product works.
Pricing
The service costs between $9,80 and $24,80 per user/month.
You can test this product free of charge for 2 weeks. Further free version is limited to up to 2 Gb data storage and minimum of active tasks. Choosing the Professional tariff plan, every user gets up to 2 Gb storage capacities and integration possibilities with such tools as Gantt charts, Excel, RSS.
Rating at Capterra:
 4,2 of 5.
Clockify
Platforms
Web, iOS, Android, Windows, Mac, Linux.
Features
The product is developed for work time tracking. It also offers team progress tracking and analysis, project progress tracking, budgets, performance charts, planning of employee vacations and workload redistribution. It can be used as a time manager and a time sheet.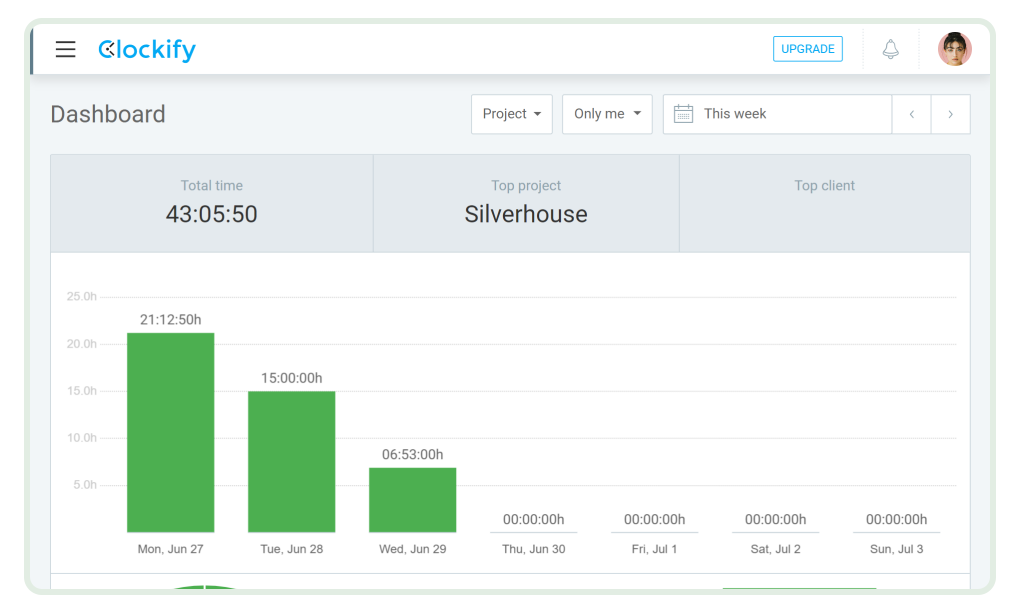 Drawbacks
It is complicated to edit the value of the spent time, if you have forgotten to set the tracker. Besides, some users think that report forms and mobile app are worth upgrading.
Pricing
A free trial period is available as well as a free version. It offers access to an unlimited user and project number, use API and team chat.
The price for other tariff plans start at $3,99 per user/month, when you pay yearly ($4,99, with monthly fees). In addition to the functions of the free version you get project templates, a possibility for simultaneous time tracking for several users etc.
Rating at Capterra:
4,2 of 5.
---
Business management products undoubtedly contribute to company's growing. Although it does not make much sense to follow the trends and implement the products, which are popular and well-known. First you have to find out the weak points of your business. And only after that you can choose the system which will help you to cope with the current challenges and contribute to the further efficient growth of your business.