5 Top Project Management Tools in
2022
Today, the world market offers many services for project management. Each of them has its own unique features and benefits, that help effectively track workflow and save resources.
What Should You Know About Project Management Tools?
Project management tools allow us to set tasks, plan budget, collaborate with teammates and stakeholders, provide quality and risk management, track time and resource allocation. Today there is a huge number of different project management tracking software, and each has its own list of characteristics.

Their main goal is to simplify, speed up and improve process-based management, make it more accessible and understandable for everyone.That is why many project management apps try to provide great list of features, user-friendly interface, and intuitive UI design. 
Why You Need Project Management Tools?
Using special tools for project management improves the tracking process. Here is some statistical data.


Due to poor project management nearly 11,4% of resources (time, money, etc.) are always wasted. 
Also 54% of users believe, that project management apps allow them to save several working hours per day.
By the way, 54% of project managers don't have appropriate access to workflow data, which makes it difficult for them to roll out the process. 
Only 22% of companies use special software to manage workflow.
77% of the high performing companies use project management services regularly. 
There is a thought, that project managing software market will be worth $9,81 billion, and will grow by 10,6% by 2026.
As you can see, companies that don't use project management tools have a higher risk of failure.
Special software saves time, money, human recourses and presents huge number of project management solutions.
What Is The Best Way To Choose Project Management Software?
It may seem a bit strange, but according to statistics only 35% of project managers are happy with their management tools. At the same time about 52% of users are very disappointed with the software they use. Interestingly, about 95% of project managers use more than one tool to administrate working processes. 
And here is a question, why in a world with more than 100 different project management services, users are still dissatisfied and use several tools at the time instead of one? The main problem is inappropriate software for inappropriate teams. It means that sometimes project managers choose too complex services that are not suitable for their workflow. In this way, many features are not used, and a heavy interface prevents users from interaction and effective workflow tracking.


When choosing a service for project monitoring, you should consider team size, project duration, tasks complexity, and methodology type (Agile or Traditional). In this way you can find a tool, which will fit your project the best.
5 Best Project Management Tools
There are a lot of project management software options. So, let's take a look at the most popular and interesting. 
Jira
The Atlassian's Jira is one of the most well-known project management services. All around the world nearly
20% of teams
use it. Jira is a cloud-based project management software, which provides a huge number of powerful tools for project management. It has
three main sections: project
(tasks, bugs, and requests),
issue
(issue collection), and
workflow
(the sequence of steps). Jira fits Agile's methodologies of project management well. It should be noted that Jira holds the largest part of project management market (42%).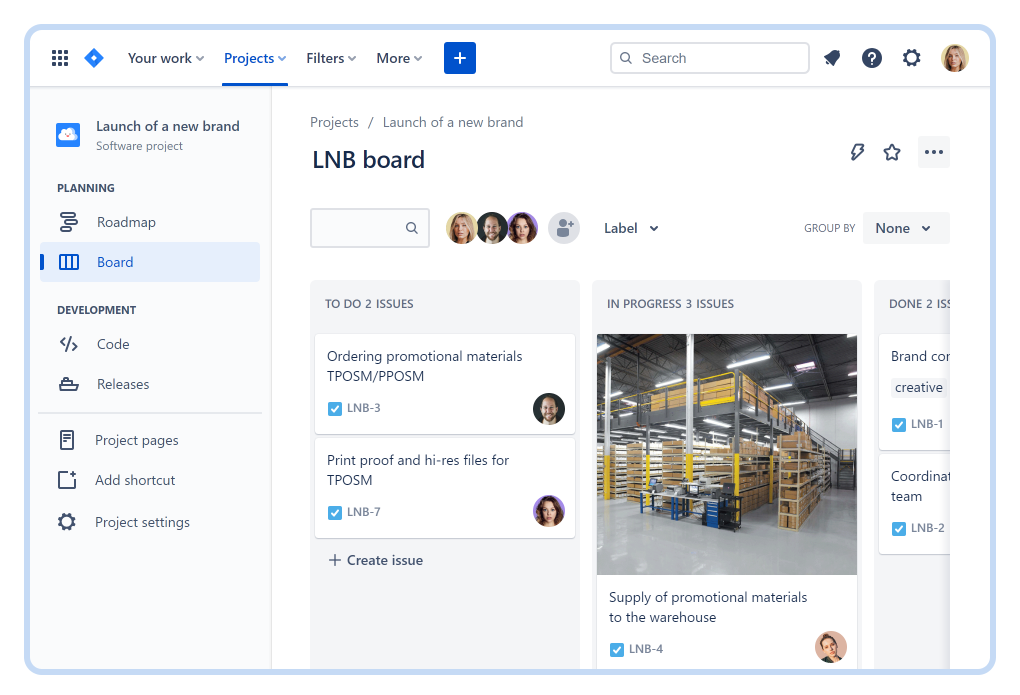 Jira's main features include:
Project planning;
Setting project milestones;
Workflow customization;
Roadmap visualization;
Tracking with Kanban board;
Permission control;
Dependency management;
Project insights and reporting.  


Pricing
Depending on the number of users and tools, Jira has several tariff plans, and standard begins from $7,50 per user for month. There is also free trial, but it has a lot of limitations.
Jira's pros and cons
Jira's advantages:
Jira is great for Agile approaches. It provides flexible project management by using Agile artifacts such as Sprints, Kanban board, user stories, and burndown charts. 
Jira has numerous integration possibilities. It means, that Jira can be integrated with messengers, such as Slack, which makes it easy to communicate and respond to notifications.
Jira is suitable for different user types. For example, not only project managers, but also, developers, engineers and non-tech business professionals can use it. 
Also, Jira has several drawbacks:
Some users find Jira's interface very confusing. It is very complex and includes many tools, which are sometimes difficult to find and use.
In comparison to a great browser version, Jira's mobile app is very hard to navigate and complete tasks there. 
Jira does not allow users to download high quality images and graphics.
Worksection
Worksection is a Ukrainian online project management service. It can be easily integrated with GoogleDocs, a CRM system, Slack, and Telegram. Nowadays, more than 1000 companies use Worksection to manage their projects. Worksection software is best suitable for digital agencies, web-studios, video-production companies, etc.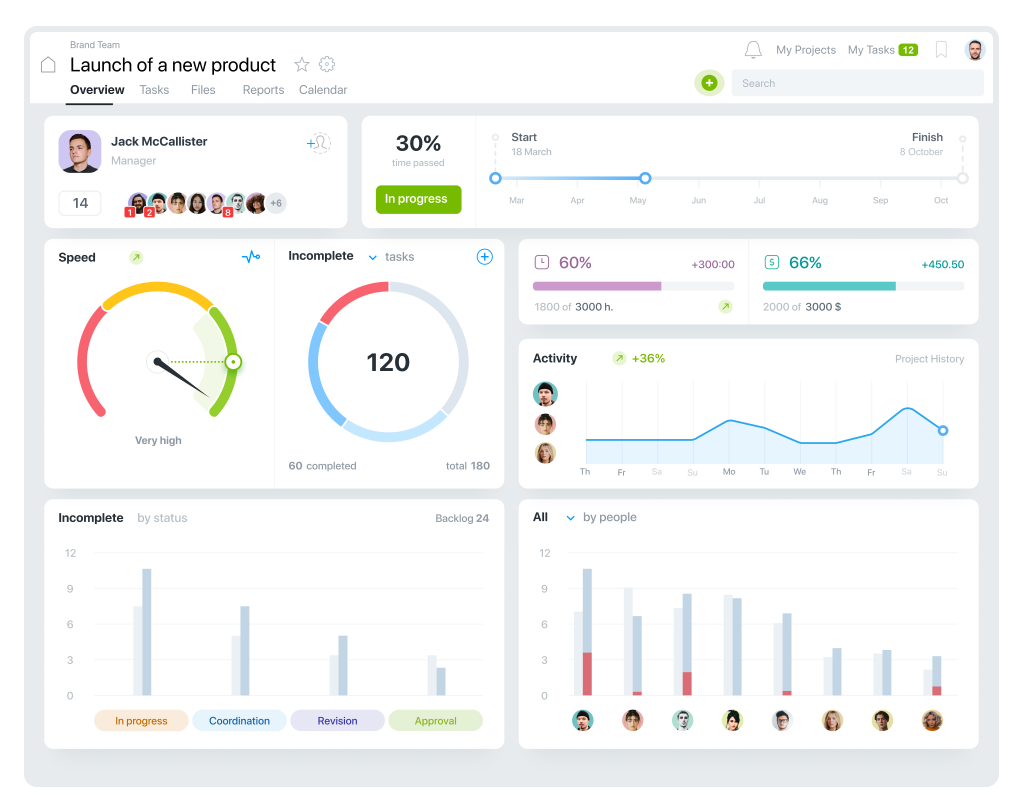 According to
capterra.com
, Worksection's 2022 rating is
4.9.

Worksection's main features:
Dashboard – key project indicators' overview;
Flexible interface;
Time tracking;
Easy communication;
Gantt chart;
Kanban board;
Project reports;
Technical support;
Data protection. 
Pricing
Worksection has several tariff plans. For example, a free version includes 5 users, 2 active projects, and 100Mb cloud storage. At the same time a basic subscription includes 20 users, 20 projects, 20 Gb cloud storage, integrated time and budget tracking, Gantt chart and many other features, only for $49 per month. Worksection tariffs allow you to pay not for an individual user, but for the whole team, which is cheaper.
Worksection pros and cons
Worksection's advantages:
Worksection has an integrated Gantt chart, which helps visualize workflows and task dependencies.
Worksection has a built-in timer to keep track of the time left to complete the task.
Worksection provides quick and effective technical support for its users. What's important, these are no bots, but only real people. An average response time of a tech support team takes 10 minutes.
Worksection has a dashboard, which is a visual tool for data analysis, which shows project progress in real time. With a dashboard you can also analyze team's engagement, quickly collect statistical data, and track a project budget. 
Worksection has some limitations:
Worksection doesn't have a separate chat, so communication between teammates is possible only in comments under tasks. 

There are many users who admit that while the web version is very user-friendly and intuitive, the mobile app could be better. 
Asana
Asana is a a work management software, which has web and mobile versions, and incorporates a lot of features for an effective workflow tracking. Asana can be used for Agile methodologies, and you also can manage work projects as your personal tasks.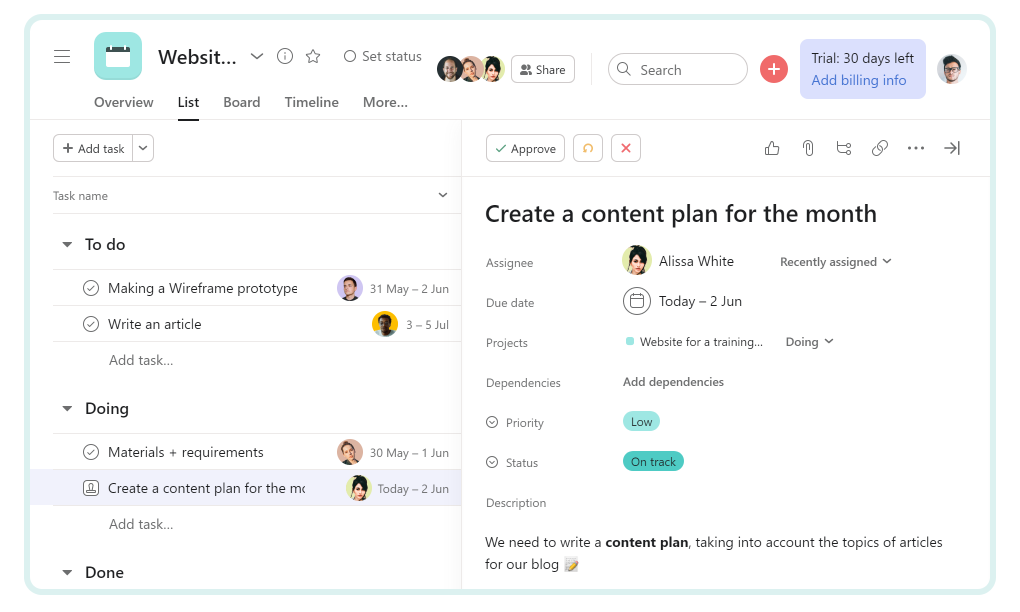 According to
capterra.com
, there Asana rating in 2022 is
4.5.

Asana's key features include: 
Workflow builder.
Gantt chart;
Kanban boards;
One shared calendar;
App integrations;
Milestones visualization;
Available attachments.
Pricing
Asana has several tariff plans. For example, a free version is available for teams up to 15 users. If you have a bigger team or want more available features, you may choose a premium version which costs $10,99 per user per month.
Asana's pros and cons
Asana's advantages:
Asana enables dynamic reporting through dashboards, graphs, and charts.
Asana is well-integrated with Slack, Gmail, Google Drive, Microsoft Teams, Dropbox, and Zoom.
Asana has a convenient mobile app. This allows you to manage workflows effectively even from a smartphone. 
At the same time, Asana has some disadvantages:
Because of a high number of features, it may be difficult for new users to onboard Asana.
Asana has limited assignment capability. It means, that only one user can be assigned to one task. This is a disadvantage because several people can work on one task at the same time.
Asana presents limited exporting functionality. It allows users to export data in JSON or CSV formats only.
Trello
Trello is a
cloud-based easy-to-use collaboration service
for project management. It is very good for small projects and teams. Trello allows to organize your work on Kanban boards, which are its main artifacts. Nowadays, there are more than 50 million of Trello users in the world.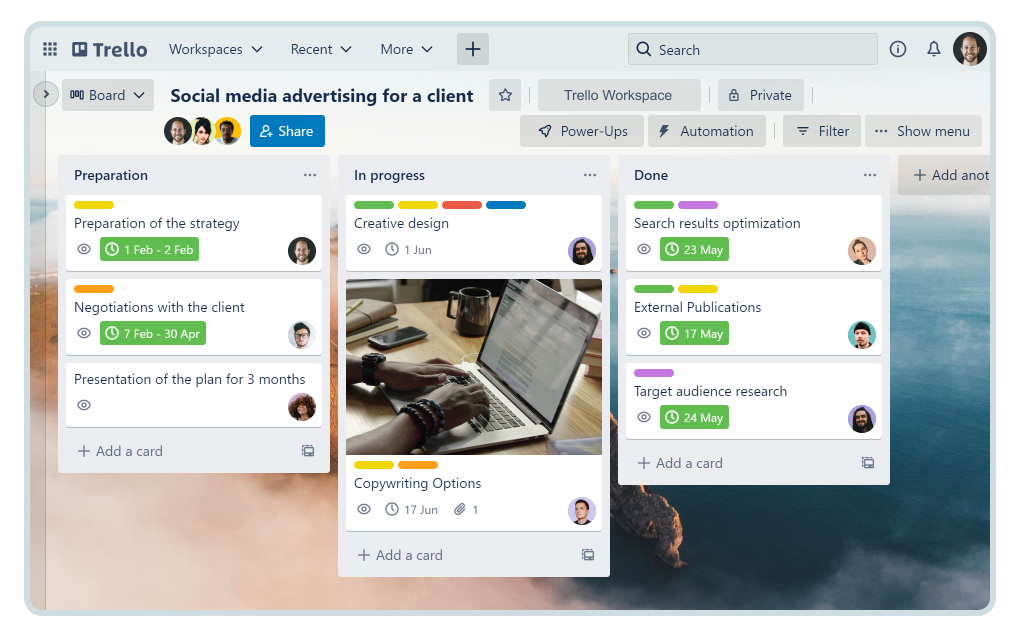 Main features of Trello include:
Deadline alerts and notifications;
Easy organization of labeling, tags, and comments organization;
Progress checklist;
Mobile optimization;
Kanban board;
User-friendly interface. 

Pricing
Trello allows you to choose among several tariff plans. In particular, there is a free version with limited functionality (up to 10 Kanban boards only). According to a standard plan, you need to pay $5 per user per month.
Trello's pros and cons
Trello's list of advantages:
Trello's interface is user-friendly and super easy to understand. This service can be easily used even by a beginner because it's very intuitive. That's why it can be rolled out immediately after you sign up.
Trello has a very simple mobile app, which you can use for managing projects and your own tasks.
The main Trello's artifact is a Kanban board. It is well presented, so it can be easily used and customized. In addition, Trello allows you to change the design of the working interface according to your preferences (board background, etc.).
Despite its simplicity, Trello also has its drawbacks:
In the first place, this service isa good fit for managing small teams and projects. However, with more users and more challenging tasks, Trello starts to look very overloaded and difficult to keep track of a workflow.
If you want more features, you must upgrade. Actually, a free trial version has a Kanban board only, and otherwise very limited functionality. For example, you can't use a Gantt chart until you upgrade.
Trello has a very limited cloud storage. It means, that you can upload files not larger that 10 Mb per attachment. At the same time the paid version allows you to upload up to 250 Mb per attachment.
Monday.com
Monday.com is a cloud project management software, which allows teams to manage their projects and track workflow. Sometimes users call it a good alternative for Microsoft Project Manager. Monday is suitable for Agile methodologies and fits well different teams and projects.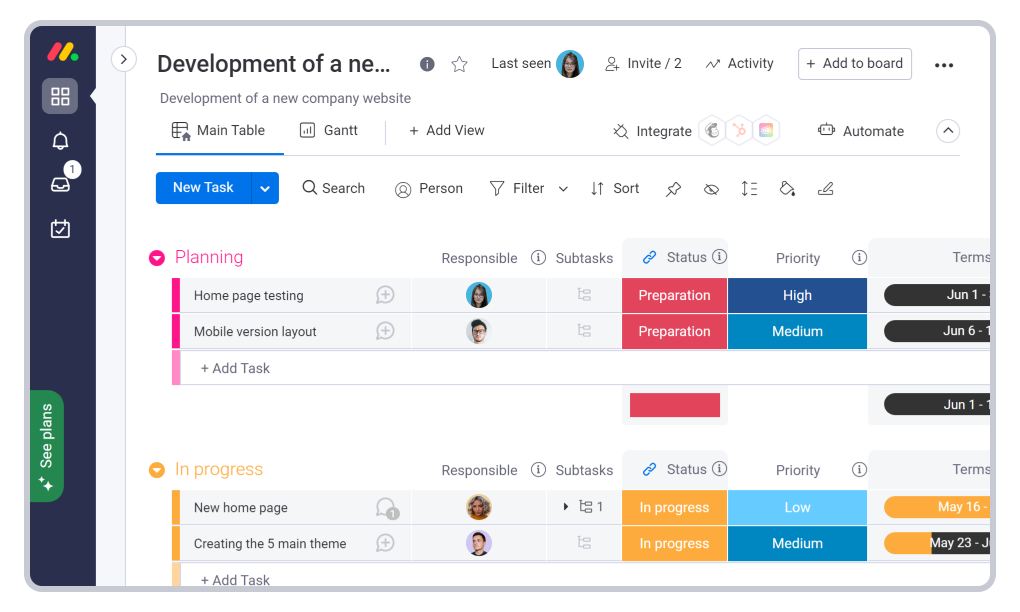 According to
capterra.com
, the rating of Monday.com in 2022 is
4.6.

Here are some of Monday.com features:
Workflow automation;
Email integration;
Budget and expenses management;
Gantt charts;
Resource management;
Documents administration;
Timesheet tracking.
Pricing
Al other systems, Monday.com has a free trial, which is limited in functionality. That's why if you want, for example, 5GB file storage or unlimited items, be ready to pay $8 per user per month. 
Monday.com pros and cons
Monday.com list of advantages:
It allows you to manage project through time tracking column at your board. It means, that you can track time separately for each task by using a special timer. Monday.com shows how much time you spend on each task, and it helps optimize your workflow in the future.
Monday.com makes communication and collaboration much easier. All documents, communications, meeting results, etc., are stored in one place, so you will not miss anything, and will always have access from the mobile app and a browser.
Monday.com provide a huge number of possibilities to visualize working process. You can use dashboards, graphs, diagrams, charts, widgets different label, colors, etc. It a nutshell, with Monday.com you have everything you need to make a workflow more understandable and transparent for each participant.
Monday.com list of disadvantages:
Many users admit that the web version is great, but the mobile app is heavily overloaded and inconvenient, which makes it difficult to use.
Because of a many features, Monday.com can be difficult to use, especially for new users who have no experience with such services. That's why sometimes it isn't easy to find things.
Some users are confused with UI interface. 
---
Which project management service to choose is up to you. However, remember that it's better to choose the one that is fits your project and team best, as well as provides timely technical support.