23 April 2020
•
5 min read
Bogdanova Bureau: How to Prevent
Mistakes through Time Tracking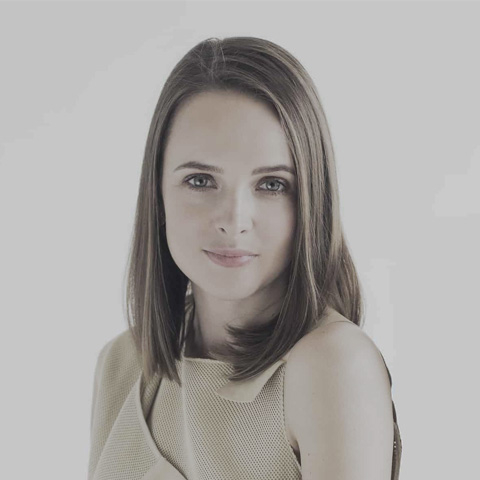 Olga Bogdanova
About us:
Together with Slava Balbek, in 2007, we founded 2B.group, a design bureau specialized in residential and commercial projects. Over the last years, the bureau has become one of the leading architectural and design companies in Ukraine, with a lot of awards and recognition obtained abroad.
Afterwards, 2B.group was reformed into a new conceptual framework consisting of two companies — Bogdanova Bureau and Balbek Bureau.
Bogdanova Bureau specializes in interior design, product design and creative management.
We are creating a new life story around our clients, and this is something more than just a design.

Systematizing business
The team of Bogdanova Bureau passed through all stages of manual work, when tasks and work completion reports were filed in the analog form: either verbally or in writing.
The company gained recognition in the international market, and we attracted of customers both in Ukraine and in Europe. We got work backlog, with lots of projects, we had to set many tasks, new people were joining our team. We absolutely needed a serious systematization to maintain project`s in good order, and to track the team's work.
Our first experiment
I introduced a checklist application in the team. It is a list in which the items done are marked. Plus it provided tables in which we kept details of tasks, deadlines and the team's workload.
Checklists are an excellent solution to split a task into items and to strictly follow the resulting list. We wrote affairs for a day into checklists, which was very clear and convenient.
The second experiment
I happened to visit a training session where I was offered an individual turnkey development for our architectural bureau. We did not reach out to this offer since we knew that such development could take too much time and overconsume resources to prepare and introduce it. It meant additional risks, since the solution might not be suitable for the team.
I was advised to introduce time tracking, and, for this purpose, a Ukrainian system was recommended. Thus, we discovered Worksection, a simple solution for project management with an embedded time tracker.
Swift adaptation is a key to success
We were ready to introduce the task tracker. For a long time, the company had been using various applications which enabled us to create checklists and to set tasks to each other.
When we started to introduce Worksection, the team took the novelty in good part.
What is more, now we can use a single system instead of tables, checklist applications and chats for correspondence.
We still use tables and chats, but for simple purposes — chats are for correspondence, to say something or to ask about something quickly, and tables serve for reports.
Not all employees know English, but most of solutions in the project management market are English-based. It leads to a deadlock even with the simplest tasks. Worksection natively operates in Russian and Ukrainian, being also translated into English, German, Polish, Spanish and even Chinese.
We can connect clients from all over the world to our projects and then work through Worksection.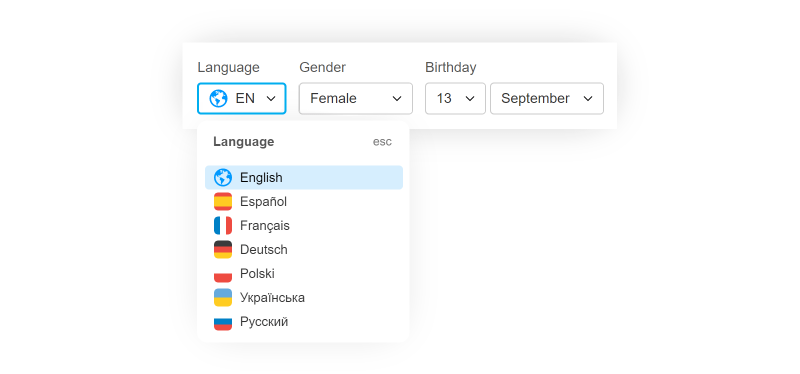 The way Worksection supported us at the first stages
The specific nature of our work includes continuous contact with the client and handling a large number of tasks. Since human perception of designs is subjective, the client should be kept informed on what we are doing and what has been done, with our swift responding to feedback. In Worksection, you can connect a client to the project to enable him to view the progress of tasks and to take part in discussions. The client can get in and watch the state of affairs. Afterwards, we adjusted the following things:
We always kept our work process in good order, even when we set tasks verbally or through checklists. But the only thing we remembered was the very existence of the task. In contrast, Worksection's task list immediately reveals everything we need: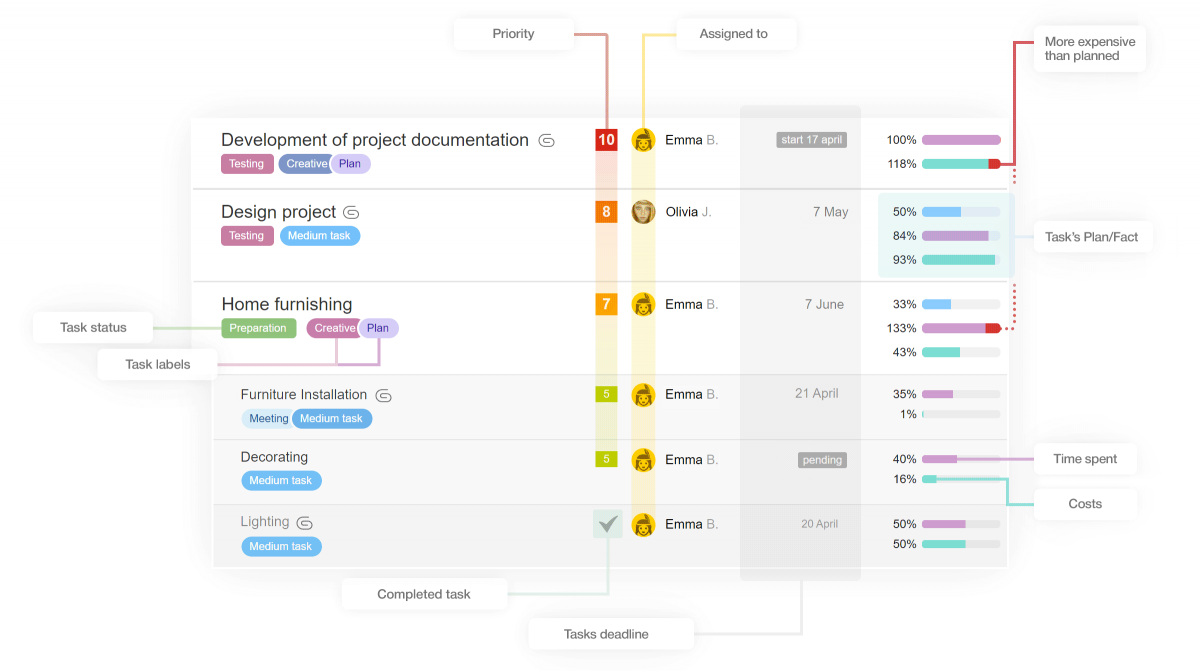 Now we use all advantages of the system in task setting. We always indicate deadlines, priorities, responsible executives and, when necessary, time consumption and financial costs.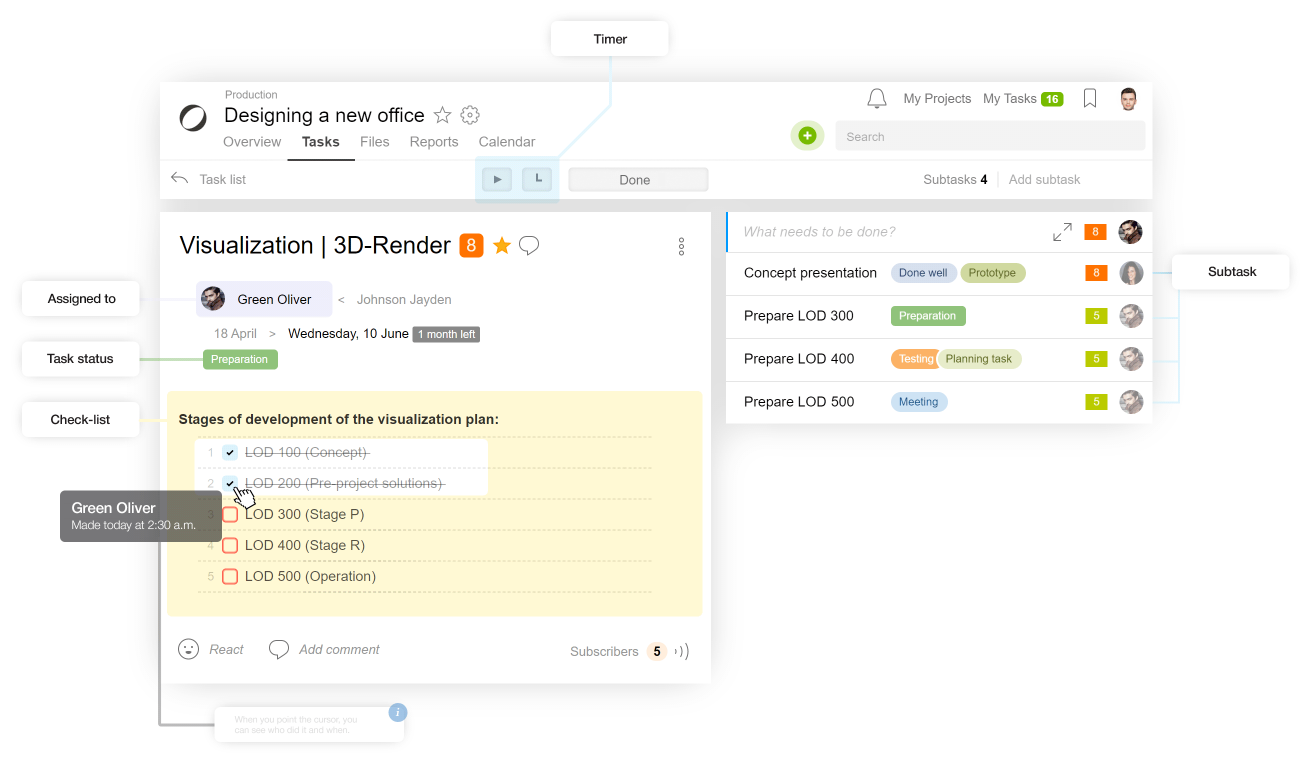 We have started to keep record of all processes in the company.
It is important to understand what your team is capable of. If your company has no system to measure efficiency, you may introduce the simplest one:
Work efficiency = the time divided by the number of tasks completed.
In other words, you should understand the amount of time a certain task will
take for your employee or team.
To count the average time in Worksection, there is a timer:

Now we are just introducing timer at our company. Having proceeded to a task, each employee starts the timer. We hope that in some time, using the timer will became a requirement in our company. Particularly convenient is a possibility to costs post factum. This is very handy in urgent situations: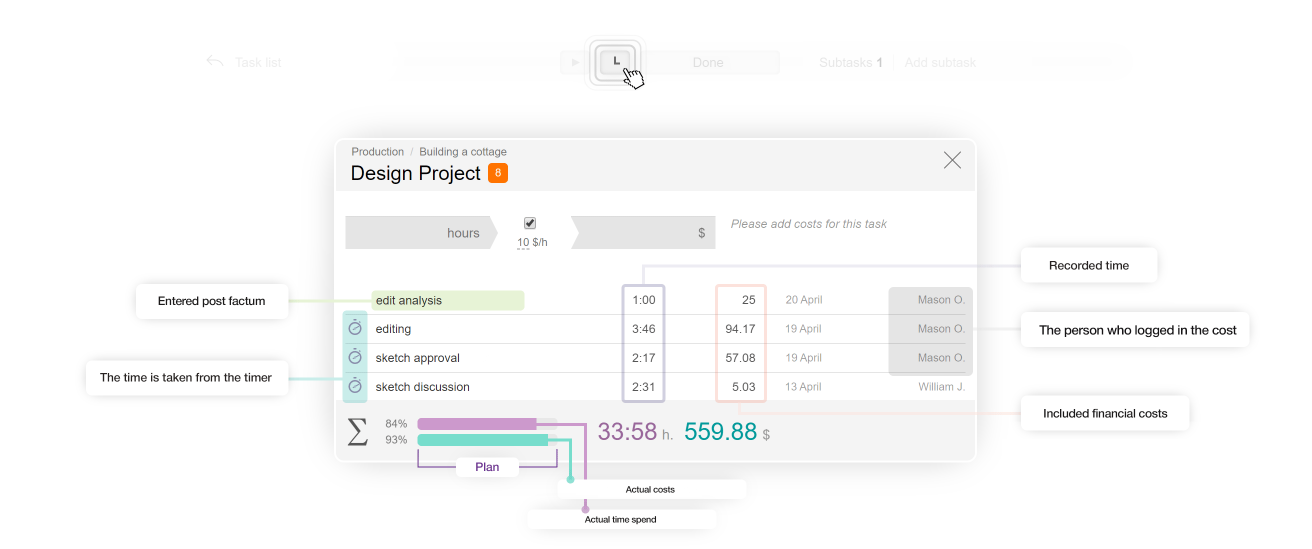 What do you need timekeeping for?
Perhaps there are no completely problem-free projects. In the field of design unpredictable moments occur from time to time. Worksection helps fix deviations from «plan A» and start saving «plan B».
The wfull tack record of actions and completed work helps understand on which side were the delays, and time traking helps understand at what stage the team faced difficulties.
Now we always know where to spend more time and discuss more details with the client, and where the team can work autonomously.
The timer helps us calculate the team's productivity and see the fact of overworking to set an additional cost for the client in case of unplanned corrections.
Flexible access for every person
Worksection has become a place where we manage not only client projects, but also company`s administrative tasks and keep important documents. We had to hide internal tasks from clients and restrict access to administrative documents for ordinary employees.
We also connect people remotely, so it is important that they only see the tasks that they are involved in.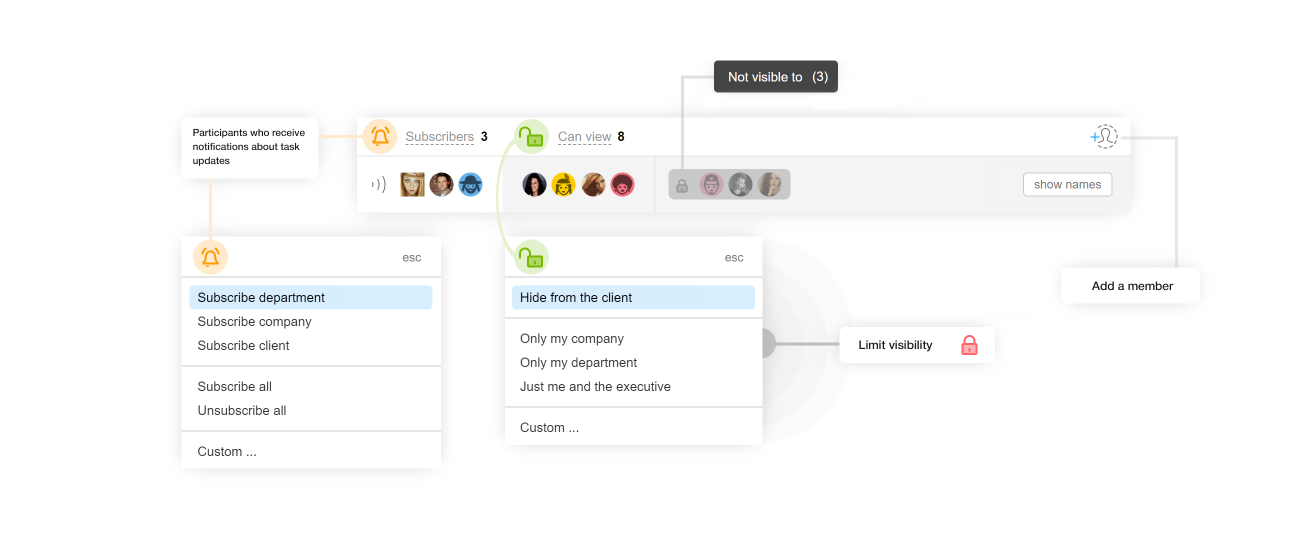 In Worksection, visibility is easy to set up. For each project or individual task, you can configure visibility for a department, team, client, or individually selected people.
Working correspondence in chats and messengers makes noise.
Live communication remains in the messengers, but most work chats become flooded with non-working discussions. Most people are too lazy to switch to private messages, so correspondence about irons wich habe been forgotten to be switched off and pet food sometimes leaks into work chats.
Worksection eliminates the information noise in chats and allows you to message directly in the system. The track record of events and thoughts of people always remains under a specific task.
Working through Worksection the team gets rid of unnecessary stress, and manager can set up a transparent work for all employees and for the client.
Bogdanova Bureau recommends Worksection for all companies that follow the deadlines and manage project activities. It woks both for a small team of 3 people or large company with many projects.