18 September 2019
•
Алексей Бондаренко
•
4 min read
Mono Architects:
Team and Project Management in an
Architectural Bureau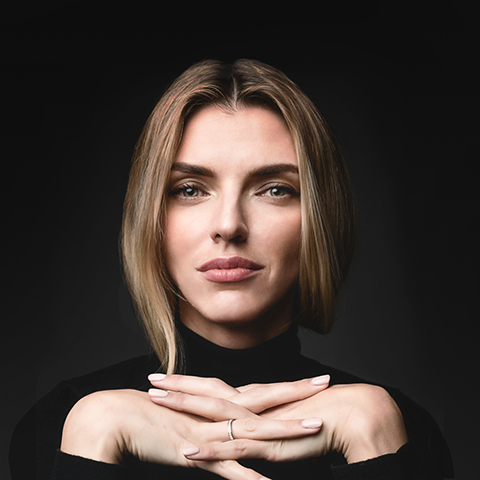 Victoria Oskilko
About the company:
Architectural bureau;
More than 10 years in the market;
More than 70 completed projects and 22 awards;
17 persons in the team;
Customers: LUN SkyWind Group, Kan etc.
Since 2009, the
Mono Architects team
have been developing architectural designs for individuals and international companies. Mono designs private residential spaces, showrooms for major brands and lobbies of business centers.
The main work objective of
Mono Architects
is to make premises functional. Layouts are designed from «cubic units» in three-dimensional spaces. Premises are divided into areas with different intended purposes. As a result, we provide the customer with an integral, monochrome and useful interior.
«Usefulness, strength and beauty» form the unique secret of project success in Mono Architects.
How was Worksection introduced?
Planning the work and managing the team with a single tool
Before Worksection was introduced, project stages were tracked manually, by means of
messengers, mail or telephone.
At the stage of team development when the number of projects and people increased, we realized that we needed a program for project management in construction. Worksection meets all criteria. Being simple, it pacifies chaos in communication and provides all functions necessary to manage major projects.
In Mono, all projects are divided into 4 stages with tasks and subtasks having various degrees of complexity and importance. Every task, even the smallest one, has a deadline, responsible person and priority. It is impossible to hold such structure in mind if the team includes more than 2 active projects.
Worksection assists in building logics and sequence when you work on 10 or more projects simultaneously.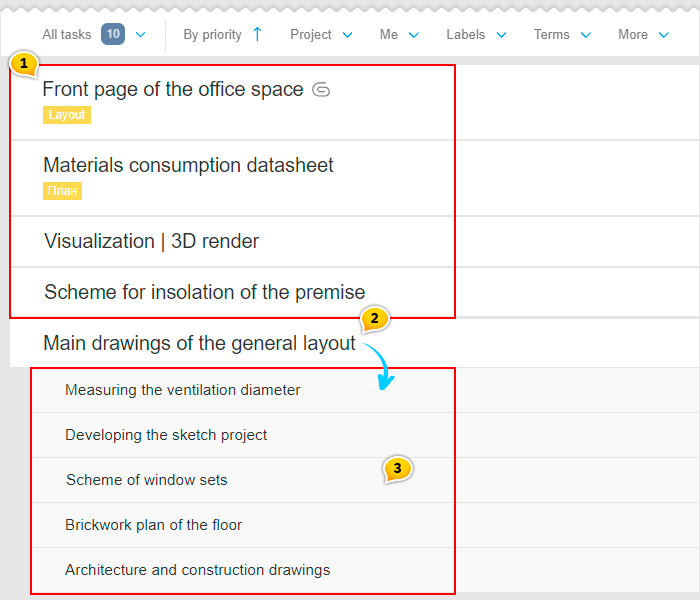 List of project tasks
Ordinary tasks;
Task with enclosed subtasks;
Subtasks.
If tasks are not fixed in a task tracker, important project details are overlooked.
How WS is useful for architects?
Checklists constitute a simple tool in the form of lists with subtasks. It is convenient to break down one large task into small items. Completed items are crossed out.

To determine priorities, we hold weekly team planning meetings. Then the results of discussions are easily transferred to Worksection. Priorities from 1 to 10 may be assigned to each task.

For instance, tasks for developing a functional model of a facility are included in our every architectural design project. There are many tasks repeated by stages.
If only task contents change, we use templates. It is convenient if stages are repeated in each new project. We simply create a new project for a new customer, but similar tasks are set through the templates.
If it is necessary that the customer should not see details in development stages, we create a separate directory in Worksection, which is available to the customer, where we transfer all files to the customer and conduct discussions.

Time tracker in designing
Delays are normal for large projects. The company always knows who causes such delays if it counts its time. At the end of a business day, employees indicate in Worksection the amount of time consumed for work on certain tasks.
WHY TIME SHOULD BE COUNTED?
Time count is necessary for business. It makes it possible to determine tasks problematic for the team and resulting delays. To do so, we conduct hourly-rate for tasks to understand the amount of time consumed, give or take.
Time tracking is useful to maintain discipline and to analyze the team efficiency.
Handling projects with customers:
What is the procedure of customer communication?
On average, we handle 12-15 projects simultaneously. Private customers may use only chat messengers, and, at the same time, they do not want even to read emails. Most often, customers themselves suggest using management applications. It concerns large projects involving many teams.
We handle all our active projects, whether with or without customers, in Worksection.
If the customer is ready to use a project management system, we add such customer in a new project as a customer company.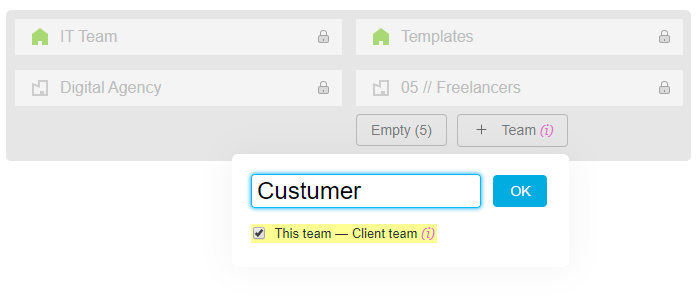 By adding a customer, we restrict access to the company's confidential information. The customer's team views only tasks in the project assigned to it. At the same time, they have no access to the «Reports» section of our company.
The customer may monitor the status of work, receive notices, set tasks, participate in discussions and share information.
---
Worksection — is an excellent task manager to supervise project teams. Worksection is useful for any company involving team activities. If tasks are not fixed in a common interface, the probability to overlook something is very high.