New Contacts
as a Simple CRM System
Hello Friends!
Worksection's post-lockdown update is already in your accounts. In a series of posts, we will introduce you the updated system of roles, extended contacts, the Reader role, project folders and a new employee list.
This blog post outlines innovations which will help you to configure a simple CRM system directly in Worksection, as well as contacts and the ways you can use them.
Let's get started!
Contacts

section

We have completely changed the Contact Base to enable you to use Worksection as a simple CRM system for your sales department. It has obtained a new intended purpose and design, but its familiar functions have been presenved.

We have added contact folders for you to be able to group them by the client type or by any criterion of interest.




Having mentioned a contact directly in a task or comment text, your employees will not lose any telephone numbers or client details. You can create a contact from a lead on the go while creating a task or writing a comment. Now we will introduce you all contact operations in further details...
The list has become simpler and more pleasant, and more contacts can be accommodated in a single screen. They may be grouped by categories.
the way it WAS and the way it IS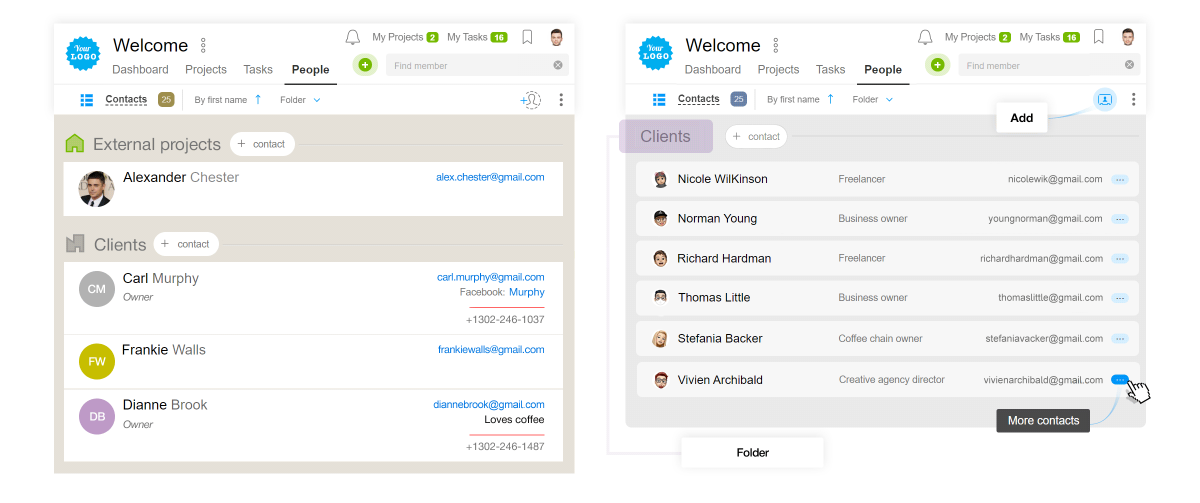 Contact folders
In your accounts, the following categories are preset:
Without folder — all new contacts get into it by default. You can transfer them later.
Administrative — this folder is available only to the owner and to the «account administrators».
Your team's folder — this folder is visible only for your team. It is hidden from other teams.
Former members — employees who are no longer account members are included in it. Probably, you will want to get them return to work.
You can add as many new folders as you can to group contacts by areas, companies and clients.
Who can view the contacts?
People with the User and higher roles can view and add contacts.
Members of client companies cannot view contacts, except those mentioned in the text.
Who can add, edit and remove categories?
Account/team Owners and Administrators with the right to «authorise to edit all».
Creating a new contact
To create a contact, click on the plus next to the search and select the «Contact»
1
, then a card will open for you to indicate the person's details. Create the contact, and it will get into the system.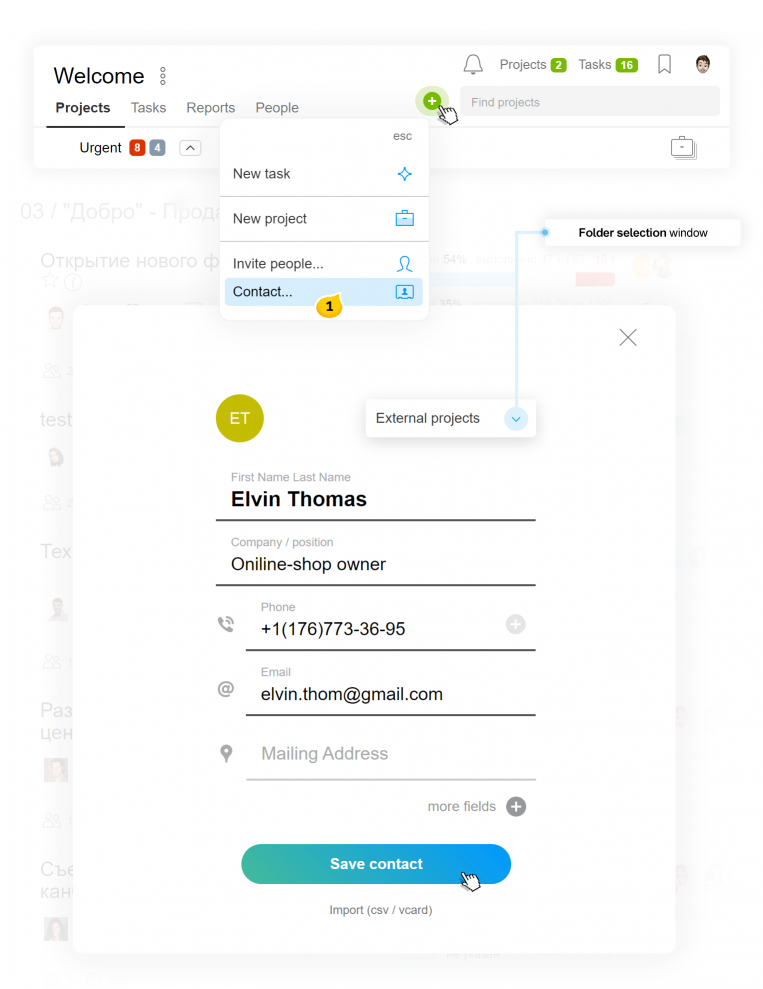 At the data entry stage, Worksection will prompt you if there is a contact with the same name, telephone number or email. It will help you to avoid duplicates.
Prompt
contact duplicates are not forbidden.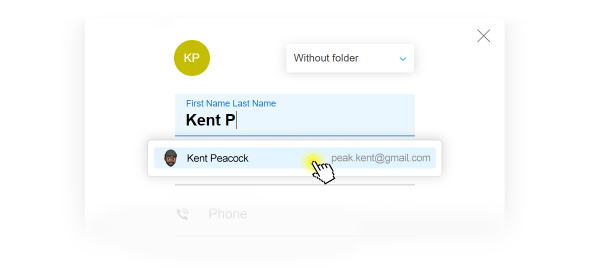 You can give social media links directly in the card. Any important contact-related information may be left in the «other contacts» box as on the screen below: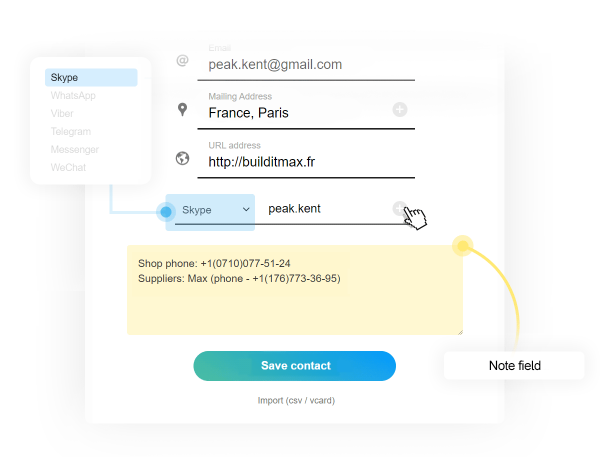 new

Linking contacts with tasks

This is the very point to review the key CRM capability — the way to link a task with contacts.

To do so, you need to mention it in the text of a task or comment.

You will get rid of loads of numbers in messengers, lost business cards, and you will not get copy and paste of contact details any more. It is much simpler and more convenient to create a contact once in Worksection and mention it in a task just by selecting it from the list with a convenient search function.
For instance, if your manager has attracted a new client, the manager will attach his contact directly in the task description. And later on, once the deal is done, he will send the client's details to the finance department for communication.
To
mention a contact
in a task or comment, write the
@
symbol in the text or click
@
(Mention) in the menu of the text editor, and select the «contact»
1
item.The contact selected by you will be highlighted in color with an icon. If you click on it, the contact card will open to display all data available.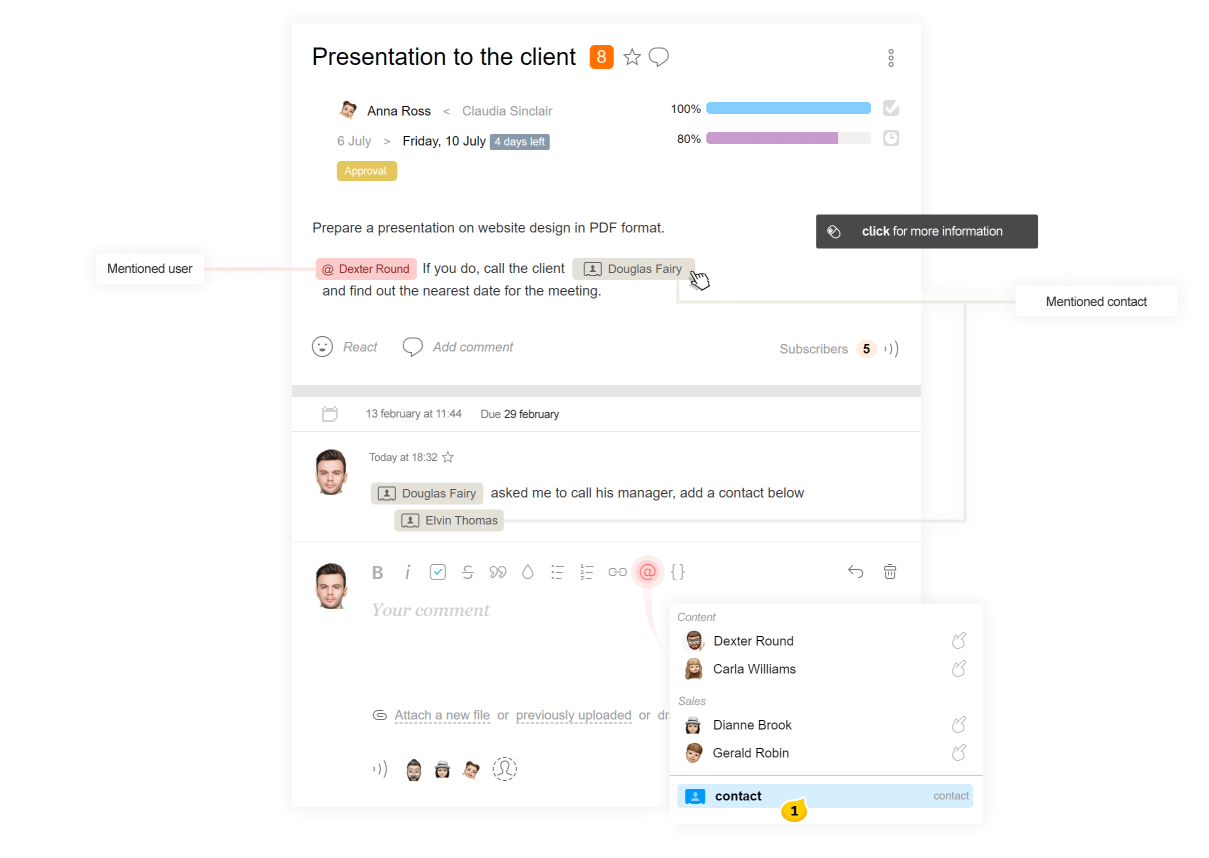 We will show you 5 contacts added recently, and the search line will enable you to look for any contacts by name, telephone or e-mail. You can
Add a contact
2
at once if you are sure that it is absent in Worksection so far.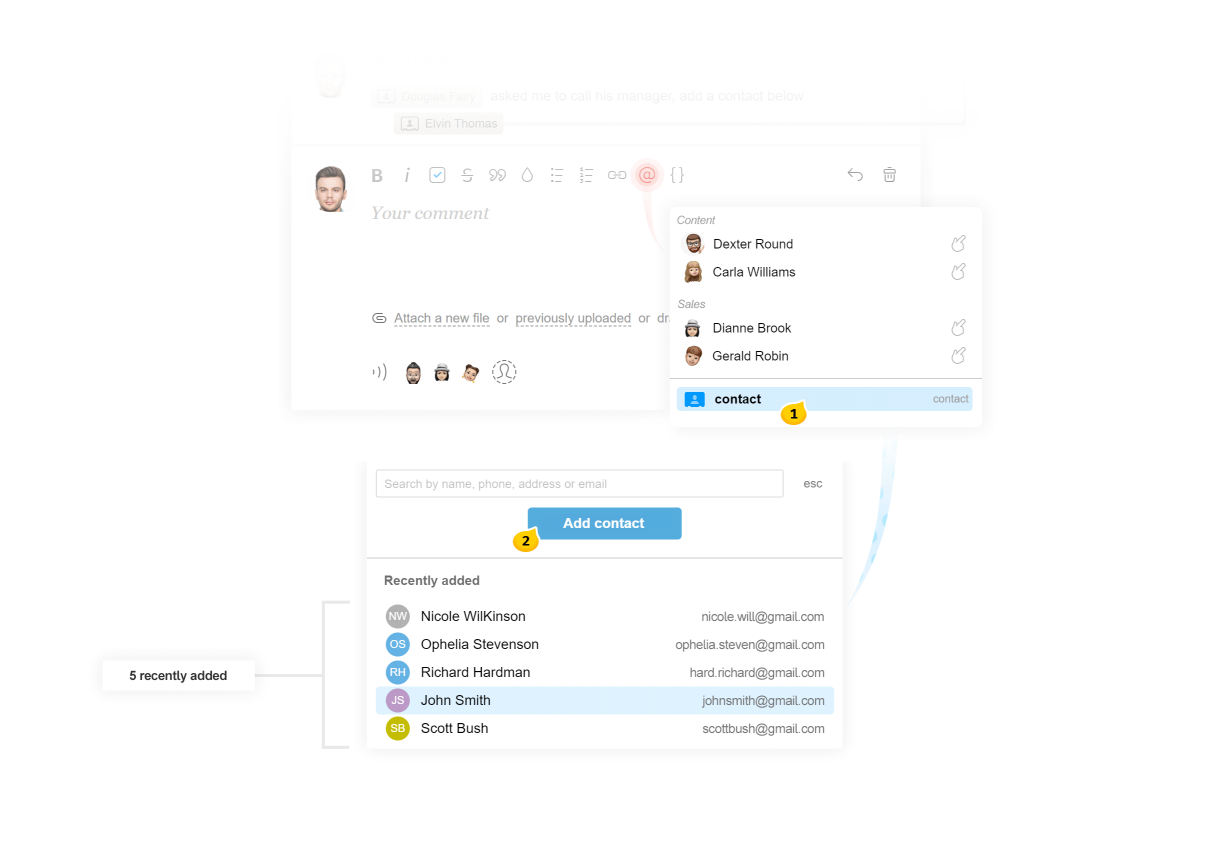 Attention
Your client will be able to view the contact you have indicated in a task available to him.
New task filters:
You can get to the contact details of interest directly from the task list. For this end, we have added the respective icon.
To enable you to find tasks with contacts on the Task pages, we have added new filters:
tasks in which any contact

1

is mentioned;
tasks in which a definite contact

2

is mentioned.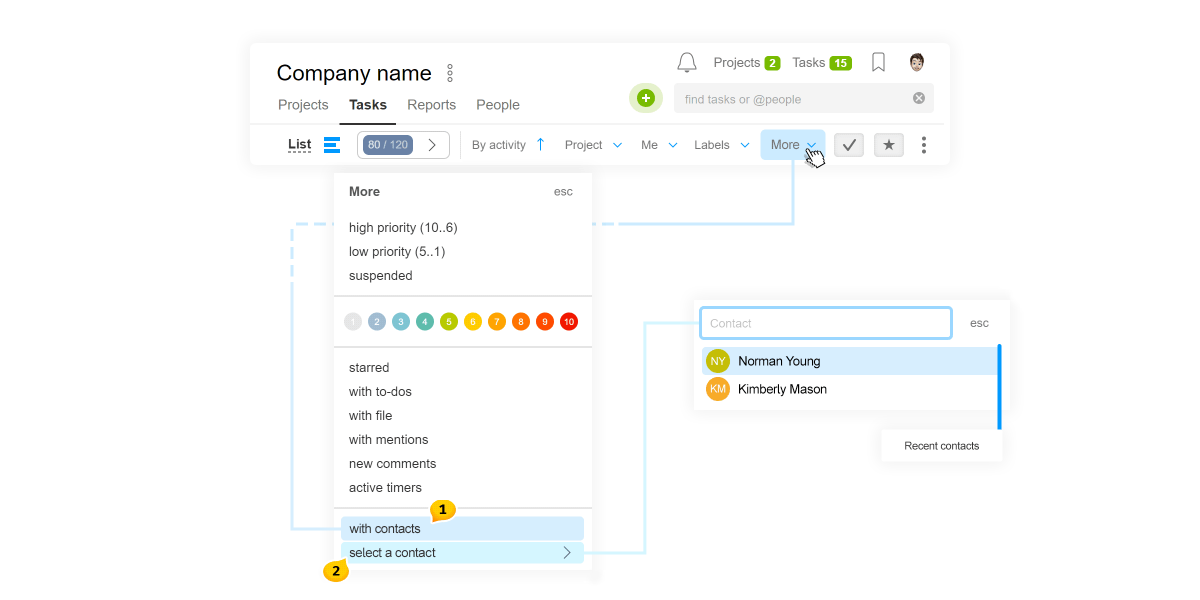 New employee list
What is more, we have updated the
People
section! It has become more compact and convenient, and, most significantly, it displays all important information in a familiar form.
The list is divided by teams
1
— nothing has changed here. And the card shows the following: position
2
, email
3
, projects
4
, activity
5
and additional contacts
6
.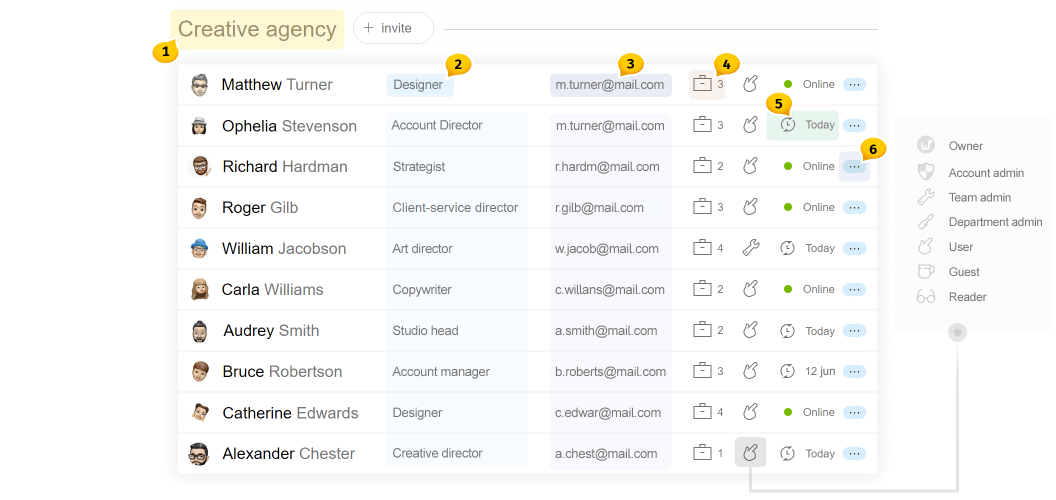 New
The Client's team is marked with a label next to the team name.

At this point, we complete our review of the new system of contacts. This is an important update which will assist in creating a simple CRM system, speed up the communication with clients and subcontractors and facilitate dealing with leads.
Thank you for using the product, succeed in your work!
Worksection Team