1 October 2019
•
Алексей Бондаренко
•
5 min read
Tebin:
Digitalization of Engineering
Solutions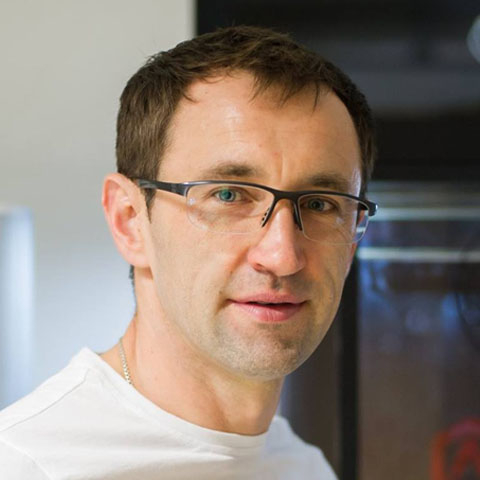 Alexander Nikitin
About the company:
Engineering and consulting company;
More than 40 employees;
Wide range of activities in the markets: from industry to commercial real estate and infrastructure;
10 years of experience in designing, consulting and project management;
Visualization of projects in virtual reality.
TEBIN
— is an international engineering company of enthusiast and professionals with 10 years of experience. The company provides the customers with a complex of services in design and development of engineering solutions.
We have 3 offices. The main engineering center in Ukraine is based in Kyiv, and two design offices are in Poland and Russia. The Ukrainian team consists of 35 persons and is based in Kyiv, the teams in Poland and in Russia consist of project managers.
Our customers are international companies in Europe and CIS. The most active ones are in Germany and Poland.
Digitalization of Engineering
About Building Information Modeling ( BIM )
BIM designing is digital visualization with transformation of engineering data into a model flexible to handle. BIM is utilized to design buildings, and it facilitates further construction and operation processes.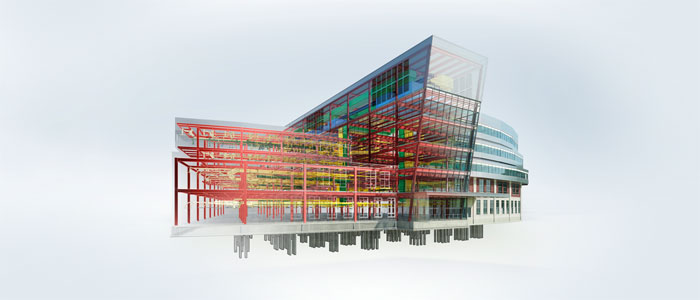 3D representation of BIM designing
In other words, BIM provides the following:
Complex 3D modeling (3D display of projects with data);
Project management and coordination at the construction/operation stages;
Analysis of project solutions and detection of errors;
Engineering analysis of building structures, lighting, energy supply, water supply and ventilation;
Virtual reality for analysis of project solutions;
Model-based specifications of volumes (BoQ).
We habituate our customers to virtual reality. Who benefits from it?
Engineering and construction currently employ outdated project visualization methods — plan- and scheme-based. The TEBIN team attempts to foster the development of industry and engineering designs. For this purpose, we accustom the company's clients to the virtual reality technology.

Data exchange, conferences, meetings and discussions occupy half of working hours of a contemporary specialist. TEBIN avoids such expenditure. Projects are demonstrated to customers in live representation in the format of VR-conferences. It enables the customer to review the facility while staying in his/her office, having just put on the virtual reality glasses.
How it looks like:
In the outcome of such conferences, it takes much less time for investors, contractors and designers to figure out expectations and requirements. The main advantage for a designer company is that the VR technology makes it possible to view design errors in advance.
The world's leading construction companies use the BIM model for digital visualization of prototypes and layouts. It provides real representation of the facility.
Workplace communication inside the company and correspondence with customers are held in Worksection. Every task is followed by comments below, where we discuss details of work, share media content and documents. We do not use email actively any more. In Worksection, the communication is fast, the correspondence and files are always stored under the task.
Customers are ready to change, and we introduce tools and technologies gradually and reasonably. Dealing with customers in TEBIN is transparent due to the fact that the company's projects are handled in parallel with handling customers through Worksection. More and more Western customers are looking in the direction of industry digitalization and understand the values of engineering technologies for management in engineering and construction.
Why Worksection
We were looking for a tool which we would integrate in a couple of months, with a pleasant interface comprehensive for the team. All our team tried various task trackers, and after some time we came across Worksection on the Internet. We viewed the video clips, created our account, uploaded a couple of projects and got amazed that it was so convenient for our company.
Worksection started functioning as a mechanism as early as in one month. The TEBIN team quickly got accustomed to the mode of completing reports, creating tasks, responding to comments — and this is not only due to the simplicity.
Worksection
lets us know about the direction of project development, what should be done further and how well we cope with it.
Advancement in projects is updated very quickly. To avoid confusion, all data are uploaded to Worksection and downloaded from the head. This saves our nerves and enhances the employees' productivity.
We are keen on realizing the Agile approach when outlining sprints, and we want to follow their execution.
Adaptation to Worksection
The adaptation process was simple. The first thing done by us was dividing tasks into subtasks.
For example, a 3D plan of a customer's facility is created in several phases. A separate task is created for visualization. In this task, we create subtasks for various visualization operations. In the subtask, we have created the checklist. It features the digitalization phases for our 3D structure. We cross out each completed stage.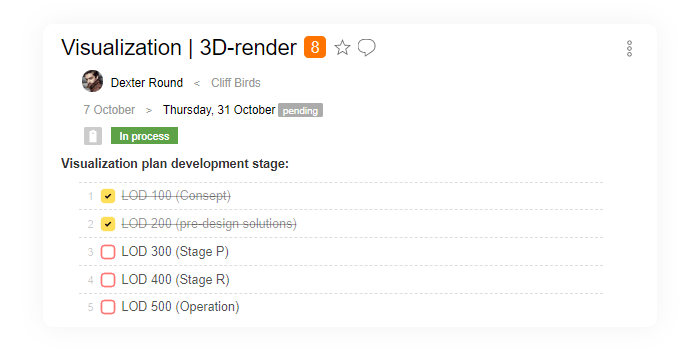 In the second phase, we grouped teams in Worksection by the departments. Now we create the company's projects for a particular team. It is easy to hide projects from teams and customers not involved in them. For instance, accounting documents will not be viewed by the IT department or by the customer's staff.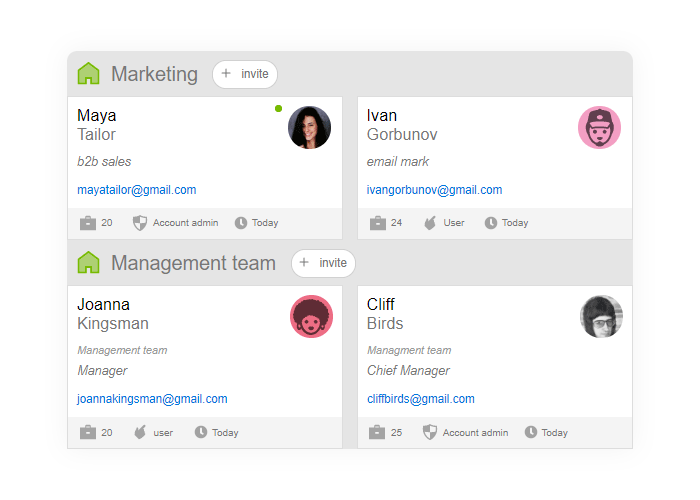 It is essential that the task list in the task tracker is ultimately simple and informative at the same time. The task list in Worksection instantly shows the project to which the task belongs, as well as its priority, labels and deadline to complete it.
We liked
the ability to use
filters
provided in Worksection. We can see the workload of employees and figure out who is overloaded and who idles time in the office under air conditioning in a summer day.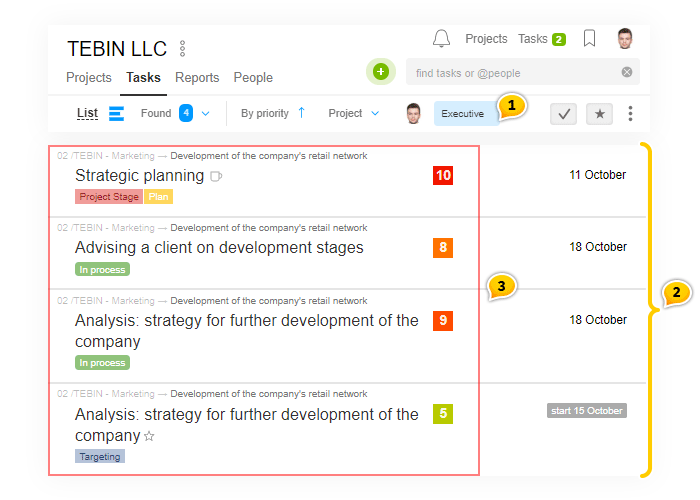 Filter menu by employees;
Task timeframe.
Tasks, priorities and labels.
Discipline prevailed — the outcome of Worksection integration in TEBIN.
The team got promptly accustomed to Worksection-based work procedures. Now, once a specialist arrives at his/her workplace, he or she immediately opens WS and knows what he needs to do and the sequence in which tasks should be closed. All questions and answers have been relocated to be found in comments to tasks.
Mobile application
Mobile application was a key factor in selecting a project management system. It is very convenient when the whole task list is always with you in your pocket. You needn't carry your laptop or paper sheets in your hands all round the office.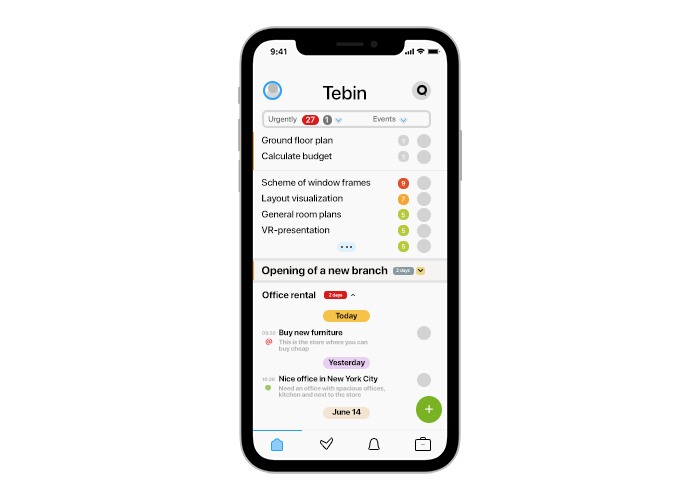 Many of our specialists answer from their smartphones. The functions are almost the same as in the PC version, except for the kanban board. You may create new subtasks, add comments, upload files, receive push notifications and track the time by using the time tracker.
The last updated data are available
offline
. They include lists of projects and tasks, personal contacts and the personal notebook. It is so nice that the application is updated and improved so often.
---
Many thanks to the Worksection team for such excellent product. TEBIN wishes you success in your development. Let's digitalize the world together!