Tasks and Gantt chart
Hello, WS friends!
We are continuing to talk about the new features...
Tasks and communication
Earlier on the following pages — Tasks / By people — you could see a complete list of tasks (open + closed) or only the list of the open tasks (without the closed ones). And if you needed the information on what was closed on a certain day, week, or month, then you could only check it in the Reports section or with the help of the advanced filter ...
Now not only can you switch to viewing all Open, but also to all the Closed1 ones, as well as indicate the period of time that interests you2.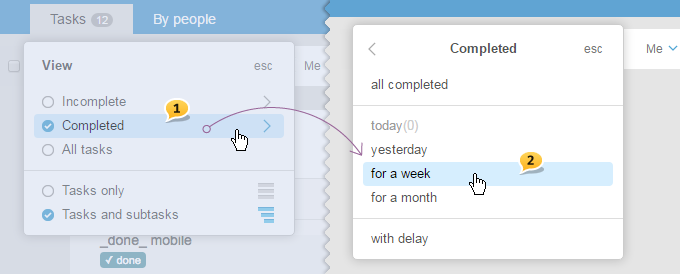 For example, in the tasks By People, you can choose only Closed > by week, and see who did what right away as well as check whether a certain employee managed to stay within the estimates limit and whether he or she exceeded the budget and to which degree...

Tasks
At first glance, nothing changed, but this is far from the truth...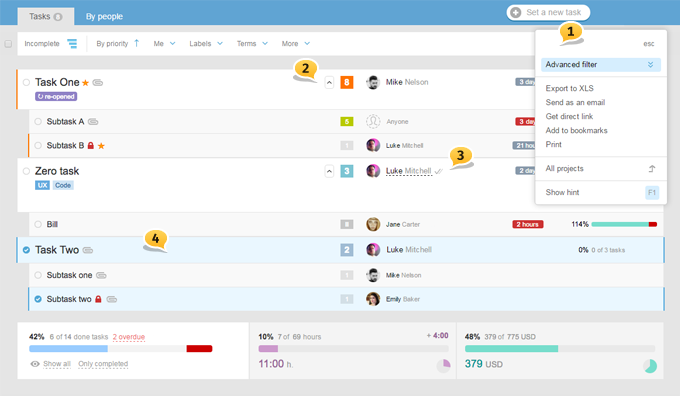 1 — Updated filters panel with enabled Hint F1
2 — In the «tasks and subtasks» section, now there is an option of expanding/ collapsing a task. The tick remembers its state, which is common with the Gantt chart
3 — Added icon-status «Seen by Executive»
4 — Now in any view, «Tasks Only» or «Tasks and Subtasks», there is an option where you can simultaneously choose both tasks and subtasks for the following bulk operations
Lower statistics block
NEW Now the costs statistics is automatically recalculated when searching or applying filters.

1 — Progress bar now has a number for the burning tasks with the transition to the filtered list.
2 — Overall pie chart of project costs is added
This is the progress from the project's card that can be seen on the View page. Now the data of the estimates versus actual costs by a project is always available here.
Tasks by People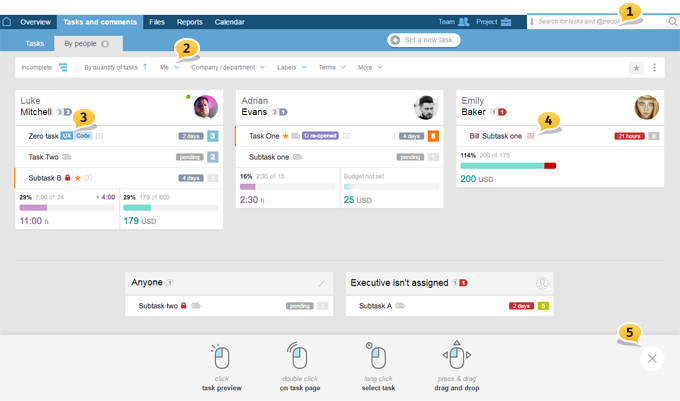 1 — Contextual search is now looking for tasks by default, and if you need to find an executive, then use @ and first letters of the name or last name
2 — On the filters panel, there is a filter Me added that should have been familiar to you by now.
3 — Now you can edit labels and time frames on the fly without leaving the page. Now you can see all the labels and statuses in their full size. However, if you have too many labels which interferes with the view — you can hide them and leave only statuses View > Only statuses
4 — Indicator of costs availability is added — square time clock next to the task's name. When exceeded, it becomes red. Also, there is now an option of filtering lists of tasks by costs.
5 — Now there's Hint added, which can be closed and opened again by clicking F1
And now is the most exciting part!
Transferring tasks in between projects participants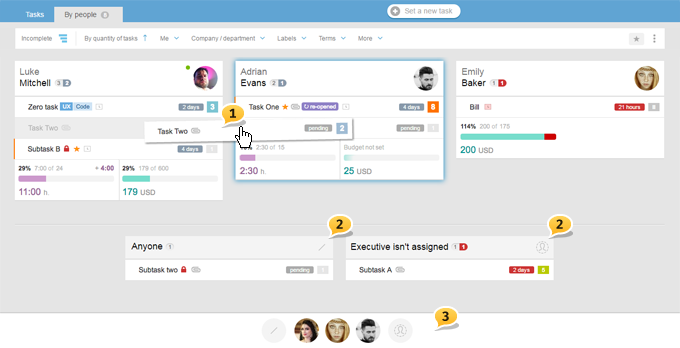 You can grab a «line» and drag it to the card of another project participant — thus reassigning the task1.
There are two «technical cards» on the page — Any employee and Without an Executive2.
This allows to take up on tasks that have not been assigned to anyone yet and assign executives to them. Or, on the contrary, unassign executives from a project and transfer those projects to these cards.
When there are many tasks and participants, the whole page can take up several screens, which is, in our humble opinion, not quite convenient. That is why now when you grab a task, there pops up a «dock» with the employees' avatars to whom a certain task can be assigned3.
For example, if you grabbed an open task, then avatars only of those people who can see it can be assigned as a new executive.
If you do not really like to drag anything, then you can always mark several tasks at the bottom and, as earlier, use bulk operations that are not limited just to reassigning.
All the changes in the executives dragging/ reassigning need to be SAVED!
On pages with 1000 and more tasks, dragging is automatically deactivated.
Please, take a look at the updated VIEW menu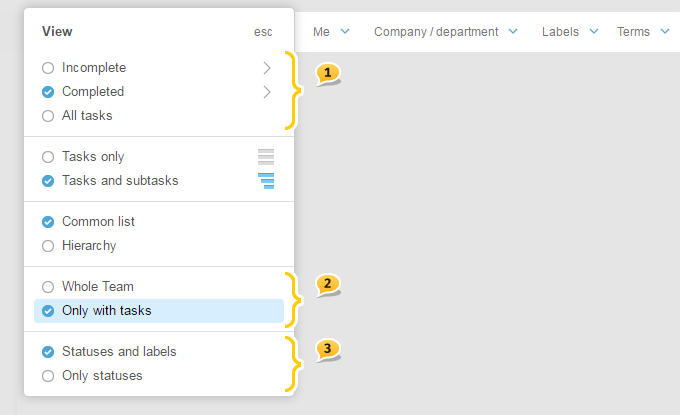 new

Open / Closed / All

1

new

Show / Hide participants' cards who do not have tasks

2

new

Show / Hide labels

3
Important! Only open tasks can be dragged! Backdating change of an executive and the date of completion of the finished tasks can only be done in the Reports section.
Copying and Task transferring
new Now any user can copy a task provided that this user can set tasks. And transferring the tasks can be done not only by an administrator but also by an author.
Transferring is combined with the change of hierarchy
There is no longer the need to do one thing (change hierarchy), and then another one (copying). Now, right when copying and transferring you can turn subtasks into tasks and vice versa. The task being copied will become a Task or Subtask depending on the level of the hierarchy you put it in.
1

— can make a Task when transferring

2

— can be included in a subtask and turned into a sub-subtask

3

— or you can choose another project and do the very same thing in there

4

— when there are many tasks, it is helpful to use search
Please, note: with a shortage of nesting levels, subtasks are carried to a higher level with the prefix of its former parent.
And now meet the long-awaited option
Option to copy connections and restore the length of tasks!
For this, during the second step, turn on Copying with all the «Time frames and connections»1 set a new date of start2. The starting point is the start of the earliest task in the group to be copied.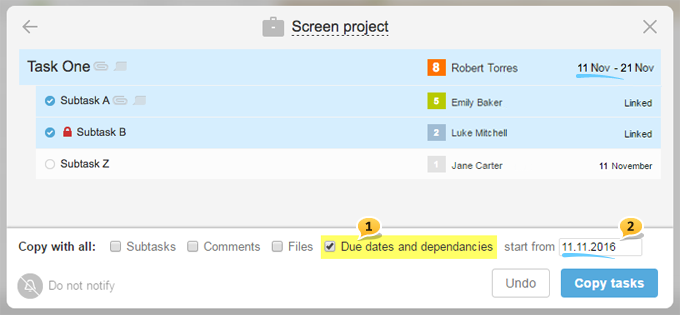 All this allows you to accurately restore the structure and duration of communications tasks, but with the new date specified by you.

Even with accounting for or omitting the weekends and holidays option
(when they are tuned off and a five-day week is used).
Detailed view of a task
Change the name of a task on the spot
Now there is a long-awaited option to quickly change the name of the task. This can be done directly in the detailed view. Just click on the title.

(provided that you have enough permissions for editing the task)

1 Reassigning, change of time frames and labels on the fly. All the existing symbols are clickable.
Tip If you want to hide Labels in this column and leave only Statuses, do it on the Tasks by People page View > Only statuses, and it will be inherited in here.
2 Drag-n-drop of open tasks is possible anywhere in the task's block — there is no longer a need to look for a special area that can be grabbed and dragged. Please, note! Dragging function is unlimited only with manual sorting. In other sorting options, drag-n-drop works only for the change of hierarchy.
3 Costs indicator is added. Hint will show the numbers, and click will open a window with details.
New Changing or setting the estimates is now possible right from the window for costs entering.
Gantt chart
Now there are no margins on the right, left, and at the bottom. Thanks to that, the chart has more space now. It is always bad when there are two scroll bars. We got rid of the horizontal one having changed it to «press and drag» one. Simply hold down the left mouse button on the chart grid and slide it in any direction. Legend is now combined with a Hint and is accessed by pressing F1 or through the menu.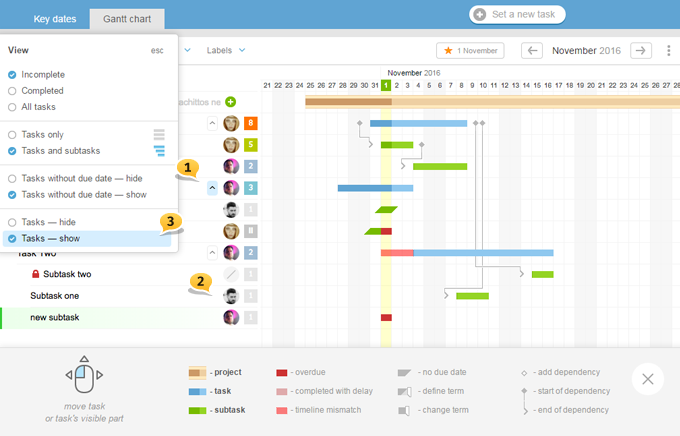 1 — An option is added to collapse a task that remembers its state now! Its state (expanded/ collapsed) is common with the task's page.
2 — Avatars without the names leave more space for the task's name.
3 — View Now you can Show tasks outside of the screen new, which means that when shifting the grid to the left and to the right, there will be no jumps, and all the tasks will remain at their spots.
Gantt by People *
On the Gantt Chart by All Projects, now there is also an option By People. It allows for planning the resources of bigger teams and build inter-project connections. By clicking on an avatar, you can reassign tasks in between the employees, and then change their timeframe taking into account the workload of the executive.
*
available only in the PRO level plans.

Calendar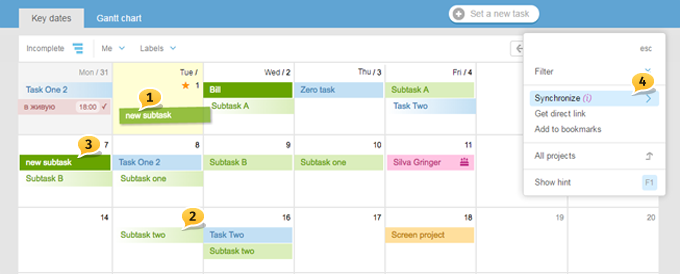 1 — No need to look for that special area that can be grabbed
2 — Now there is a gradient highlighting of the Start events
3 — Transferred events stay dark till they are saved
4 — Syncing of the calendar and Hint with the Legend are now available from the menu
Other
An option to Set a task right from the user's card1. When you know for whom to set a task, it is enough to find and click that person's picture in the comments feed, in the participants block or subscribers. Here is also an option to Subscribe / Unsubscribe2.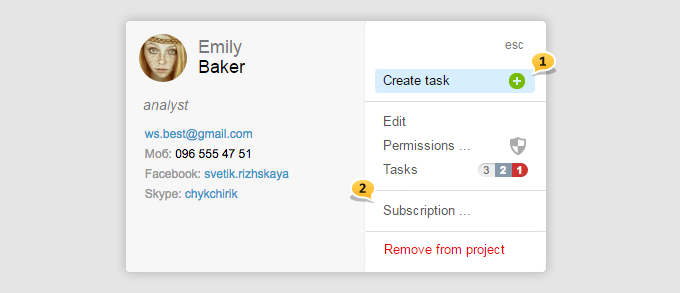 And the last but not the least ;-) An option to URGENTLY limit the block and the feeds events to events from your correspondence. It is accessible both for the Main Page and for the View.

Dear friends, that is all. As always, we are looking forward
to your feedback and new suggestions.
Have a productive worktime!
Worksection team