23 August 2023
•
Дмитрий Худенко
•
4 min read
Updated Worksection Partner
Program
Work­sec­tion team is excit­ed to announce an update to our Part­ner Pro­gram. These new con­di­tions will enable our part­ners to grow even faster, increase their rev­enue, and help oth­er com­pa­nies man­age teams efficiently.
Our Part­ner Pro­gram is now divid­ed into two streams: Refer­ral Part­ner and Inte­gra­tor, each with mul­ti­ple tiers. This allows both indi­vid­ual part­ners and large enter­pris­es to work with us in the most effec­tive way.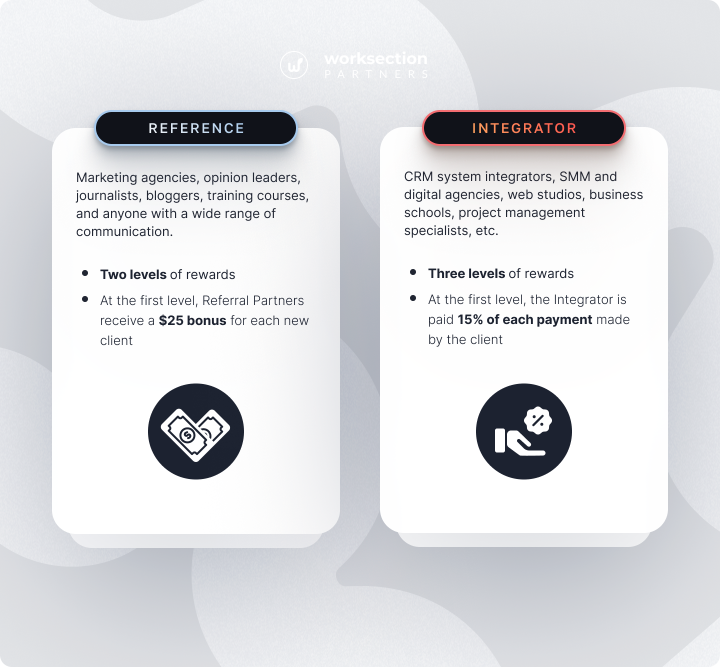 Below is a brief overview of the program
Designed for part­ners look­ing to boost their income.
Flex­i­ble terms allow you to earn from $

25

to

35

% of the pay­ments of referred clients.
Con­sists of two streams: Refer­ral Part­ner and Integrator.
Allows to earn pas­sive and active income by pro­mot­ing the service.
Offers var­i­ous reward lev­els based on partner's efforts.
Enables easy track­ing of rewards in the part­ner dashboard.
Let's explore the Part­ner Pro­gram streams, fea­tures and benefits.
Refer­ral Partner
This is the most pop­u­lar way to start a part­ner­ship with Work­sec­tion. It con­sists of two tiers that dif­fer in the amount of rewards. It's ide­al for mar­ket­ing agen­cies, opin­ion lead­ers, jour­nal­ists, blog­gers, train­ing cours­es, and any­one with a wide network.
At the first tier, part­ners

receive a one-time $

25

bonus

when the referred cus­tomer pays for the cho­sen plan. In addi­tion, the referred client will receive a $

25

bonus cred­it­ed to their Work­sec­tion account.
Refer­ral part­ners don't nec­es­sar­i­ly have to sell the ser­vice. It is pos­si­ble to pub­lish arti­cles, reviews, or com­par­isons of the ser­vice with sim­i­lar solu­tions, send email newslet­ters, or direct­ly rec­om­mend the ser­vice to clients and friends with a unique refer­ral link to Worksection.
Our sales depart­ment will con­tact the prospects reg­is­tered through the refer­ral link. We'll con­duct a ser­vice pre­sen­ta­tion and assist with setup.
Inte­gra­tor
This stream is for those who are ready to active­ly seek new cus­tomers and sell the sys­tem. Inte­gra­tors play a crit­i­cal role in the intro­duc­tion and con­fig­u­ra­tion of Worksection.
The main dif­fer­ence from Refer­ral Part­ners is that Inte­gra­tor Part­ners inde­pen­dent­ly lead cus­tomers to sign con­tracts. The Inte­gra­tor stream con­sists of three lev­els, with pay­out per­cent­ages vary­ing based on the num­ber of signed-up cus­tomers. For exam­ple, at the first lev­el, Inte­gra­tors receive
15
% of each pay­ment made by a cus­tomer while they are using the ser­vice. There are no addi­tion­al con­di­tions, cus­tomer plans, or time limits.
For more details on oth­er lev­els, please refer to our Part­ner Guide, avail­able in the Part­ner Account.
Exam­ples of inte­gra­tor part­ners include
CRM
sys­tem inte­gra­tors,
SMM
and dig­i­tal agen­cies, web stu­dios, busi­ness schools, project man­age­ment experts, and more.
How to Join
To join the part­ner team, fol­low these steps:
Cre­ate an account at Worksection
Choose your part­ner type: Refer­ral Part­ner or Inte­gra­tor;
Accept the pro­gram's Terms and Conditions;
Start rec­om­mend­ing, pro­mot­ing, and sell­ing Worksection.
Refer­ral part­ners can imme­di­ate­ly start shar­ing their links and attract­ing new clients. Inte­gra­tors need to sub­mit an appli­ca­tion in the part­ner account. Our team will review and approve it with­in three days.
Reward Pay­ment
Regard­less of the type of part­ner pro­gram, you'll have access to the Part­ner Dash­board with infor­ma­tion on pay­ments from referred cus­tomers, accrued bonus­es, and payouts.
Bonus­es are cred­it­ed
31
days after the cus­tomer pays. After that, you can with­draw them from your account. Pay­ments to affil­i­ates are made exclu­sive­ly through the Pay­Pal pay­ment sys­tem or under sep­a­rate arrangements.
Restric­tions
The Work­sec­tion team strives to make the part­ner pro­gram as ben­e­fi­cial as pos­si­ble for all par­ties. While we expect hon­esty and integri­ty from our affil­i­ates, we reserve the right to review terms and con­di­tions or ter­mi­nate part­ner rela­tion­ships with affil­i­ates whose actions are sus­pi­cious, manip­u­la­tive, or fraudulent.
There are sev­er­al impor­tant rules that, if vio­lat­ed, may result in non-pay­ment of com­mis­sions and even sus­pen­sion of your part­ner account.
In par­tic­u­lar, we prohibit:
Plac­ing any type of paid adver­tis­ing using a refer­ral link for brand­ed search­es, such as ​

"

Work­sec­tion" or sim­i­lar, etc.
Reg­is­tra­tion of domains and social media pages with names sim­i­lar to Work­sec­tion, in any vari­a­tions, and so on.
The updat­ed Work­sec­tion Part­ner Pro­gram is a great oppor­tu­ni­ty to increase your income and grow your busi­ness. We wel­come new part­ners and invite you to join our team.
Sign up now and become part of the Work­sec­tion suc­cess story!