Multiple task connections and
comment feed optimization
Hello, friends! Yet again, we have some great updates for you: this time — we worked hard to meet requests of the big companies. Welcome the possibility of building multiple connections in the Gannt chart as well as the optimization of the lengthy comment feeds.
Multiple Gantt connections
As you already know, there are two basic and the most used connection types in Worksection that determine the starting date of tasks: Start-Start and Finish-Start. However, it had some limitations:
any number of tasks and subtasks can depend on the task. However, the task itself can only depend on one task.
Now, we are pleased to announce that these limitations No Longer exists! And a task may depend on an unlimited number of tasks (with the same type of connection).
Besides that, you no longer be wasting your time setting up the connections for tasks and the subtasks, because we've implemented automatic link between them.

Now, wherever a task is moved, all its subtasks would
automatically
follow it without losing its full length.
Mass change of dates
Changing a task's Start and Finish in bulk can be done in Tasks or Tasks & Communications with the help of Date tab.


Thanks to the automatic connection of subtasks with the parent task, the setting of a new Start for a task with subtasks became so much easier. All you need to do is to set new Start for your task, and all of its subtasks will follow it automatically. All the relations and dates will not change1. We remind you that the date not only can be changed in this window but you also can move it forward or backward for X days. It also can be cleared. The access to these features is in the header2.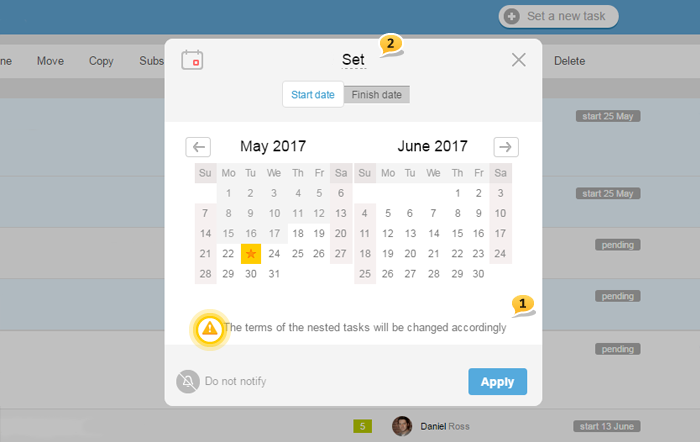 In case, when there is no need to change dates for the entire task but only a change in date for a particular task is required, you can just mark only that task on the list and set the desired date.
new

Links for the relations in the standard Date window

Now, when you open a standard window of the date change of a connected task or a subtask, you can see all the information about incoming connections (if there are some).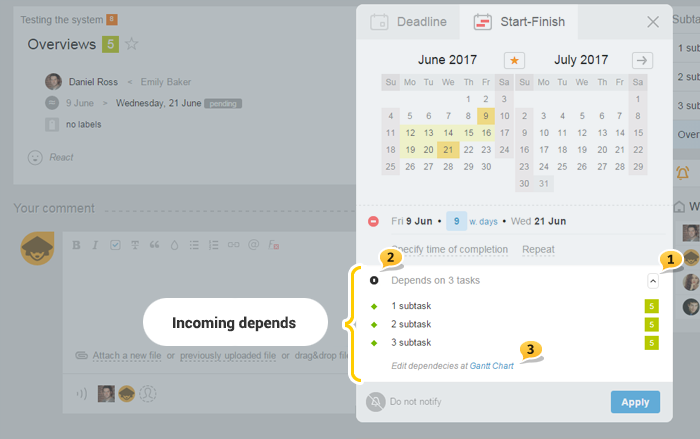 Expand/ hide information about connections
Break all connections
Go to the view of the visual structure of connections in the Gantt chart
That is all with the connections. Now let's touch upon a topic that is way simpler and relevant to everyone.
---
Comment feed
You've probably already noticed, but still...
In the header of the Comments feed, there have appeared anchor buttons on today's and yesterday's comments (if there are any). This allows to find out if there is any updated information with just one click move to the beginning of today's or yesterday's discussion.
There were added month indicators that can help navigate the chronology of events.
Bright time comments dividers are for

Yesterday

and

Today

. The feed will be scrolled to them once one of the buttons is clicked

1

.


new

Older comments are automatically minimized in lengthy feeds

There are tasks in which discussions happen so actively and for such a long time that comment feed becomes too lengthy for working comfortably.

We solved this problem. Now, when there are more than 100 comments in a feed, the algorithm begins to hide older comments.

You see avatars of everyone who ever left a comment in the feed

1

as well as the time period of when comments were minimized

2

(May 2012 ... April 2016)

. In order to expand all the comments, just click on the time period.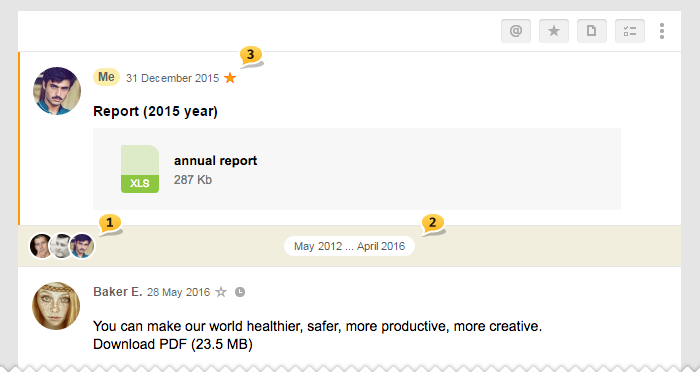 Please note Comments with open checklists and comments marked with a star3, will never «be hidden». They remain visible at all times above the minimized fold. When expanded, they stay in their corresponding chronological places.

Please note: when there are less than 100 comments, no minimization occurs.
new

Indicators — New, Today, Yesterday

As earlier, all unread messages are marked with a green icon
Yellow icon will notify that latest comment is from today
Purple icon indicates that the latest comment was yesterday
This way, you can see when and where correspondence occured without clicking on the task itself as well as see in which tasks you've read all the comments and in which you haven't done so yet.
Please note! Indicators of unread, today's, or yesterday's comments will appear only if you are subscribed to the task!
---
Huge thanks to the companies that share with us their user experience, report fails, and offer their solutions. Thanks to you we are constantly improving!
That is all for now, dear friends. As always, we are looking forward to your feedback and suggestions.
Have a productive work time!
Worksection Team