Integration with Slack,
Desktop notifications, API
Hello, dear friends!
We would like to introduce you to some cool new features for this hot summer.
Desktop notifications
If you are using Chrome, then starting today you can be notified of new Worksection-events on the desktop of your computer.
For this, accept the «subscribe» offer when signing in to your account or simply activate function1 in your profile ⌘ alt + M. Here you can customize the types of notifications that you wish to receive on your computer and telephone2.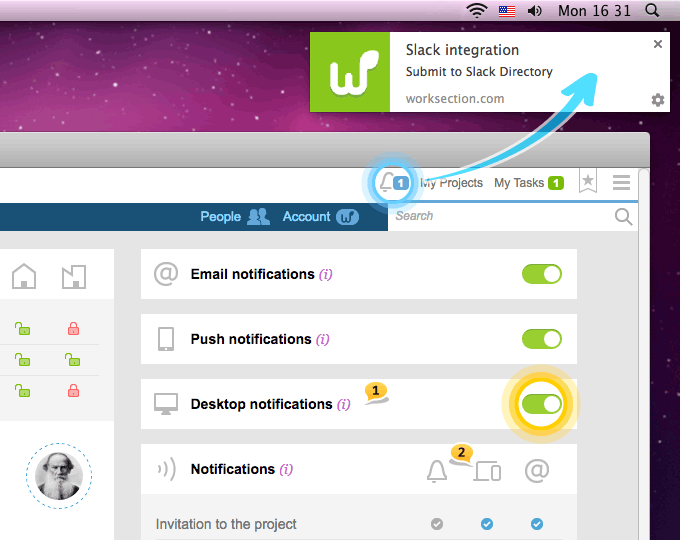 Please, note! Notifications come even if your browser is closed. If you are using Worksection on multiple computers, you can receive notifications on each of them.
For Firefox users, this feature is also available, but notifications are displayed only when browser is open.
Integration with Slack
Many of our clients have been curious from time to time whether we have integration with the popular messenger «Slack». Well, we are happy to present you with some good news. We have created a flexible, intuitively understandable two-way integration. Not only can you transmit the desired notifications from Worksection into Slack but also assign tasks directly from the Slack in Worksection.
Here's how it works. By connecting integration with Slack, you get a user-bot in your company. If you need this user-bot to transmit events from a project to the Slack channel, just include the bot to the project team and subscribe it to all the tasks. If you wish to stop such transmission — then exclude the bot from the project. If you need the bot to transmit only certain types of notifications — edit the notification settings in its profile as if it were a normal user.

Simultaneously with the appearance of Slack user in Worksection, there appears a bot-team /worksection или /ws (same but shorter) in Slack.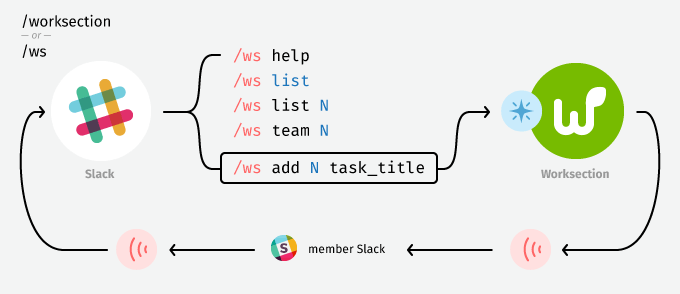 Using worksection-bot through /ws (or /worksection) in combination with one of the four commands opens up a number of possibilities.
Right from Slack, you can:
see the list of Worksection projects integrated with Slack (those where Slack-bot is a project's participant)
show the list of open tasks in any of the integrated projects
show the list of participants
add a new task into any integrated project with the option to indicate all the necessary parameters, such as priority, executive, timeframe and even description...
We won't go into too many details about this since there is a whole section with all the necessary information about integration of WS and Slack. If this is of interest to you, then please proceed here https://worksection.com/en/slack-app.html
API Worksection
If you need other integrations with Worksection, you can contact us with your suggestions or implement them yourself with the help of our API.
API works at the account's owner rights and allows obtaining lists of tasks, projects, users and setting new tasks, subtasks, and writing comments. Enabling API and obtaining the key for its use can be done by the Owner of an account on the Account /Security page

Dear friends, this is all for now.
Have a productive worktime!
Worksection team