Production and Project Management:
– How to Meet Deadlines?
A study conducted in 2011 by PM Solutions, a consulting company, showed that one third of IT projects with a value of up to $75 mln are risky and may be completed beyond deadlines with budgets overspent. According to companies previously surveyed, 12% of projects end up failing, and 25% finally get rescued. Respondents represented the industrial field, banking business, financial accounting and insurance, healthcare facilities, governmental agencies, educational institutions etc.
In the study, 19% of projects were named as complex, 25% — as simple. 31% of projects were classified as complex, and 26% — as rather complex.
Companies employing project management methodologies failed to fulfill their projects in 9% of cases, and companies which, in contrast, ignored the established practices collapsed in 21% of cases. Facilities abstaining from project management methodologies are obviously disfavored, and respectively, the percentage of successful projects is 43% as opposed to 61%.
So let us analyze ways to manage projects and to succeed, to keep up-to-date with tasks up to the production phase, and to plan smartly.
10 Key Factors for Projects to Succeed
Competence of Project Manager (PM).

The project leader's capacities and skills are essential. According to the findings of the study conducted by PM Solutions, 65% of respondents noted it.
Using a proven methodology or being able to improvise. A wide range of practices and methodologies have been created for project management. They provide special principles assisting in managing most of situations arising during project life cycle. Agile methodologies encourage PMs to improvise, and they evolve as modern projects require.
Secure business plan or project justification. This is the source of project emergence initially endorsed by the management or customer. Your business plan should list and explain all benefits the project is to yield.
Project success criteria should be measured. Set specific and realistic goals for your project team (PT), such as sales increase by 10% over a quarter, creating software to fulfill certain tasks etc.
Detailed plan. Set up feasible schedules, assign precise requirements for resources, outline audit events, take risks into account.
Team motivation. Support it at a high level by monitoring executives' engagement in the process, resolve conflicts and problems.
Ability to say «no». Not all PMs and PT members are able to say «no» when it is necessary. Never promise what cannot be fulfilled. Say «no» firmly and be ready to justify it.
Preventing project sprawl. You should approve the project plan definitively with your customer or management to curtail the amount of extra work.
Risk management. We have described the event modeling methodology to analyze complex relationships between risks.
Project completion. It should be completed as soon as project success criteria are met. Otherwise, the project will continue spending resources or getting changed to meet new requirements.
Criteria for Completed Projects in Production
Production is a project phase encompassing product release with preparing products to be distributed or delivered to the customer.
An advertising clip filmed and edited, ready for TV broadcasting or YouTube posting, developed
software delivered for sale to users and followed-up through the technical support service, a
commissioned new building will all utilities and furniture — these are specific examples of
production.
Let us analyze it through the example of creating an advertizing clip — how the project has to be
organized to obtain an integral and finished product meeting the success criteria.
Project phases:
Project initiation.
Planning of film shoot.
Conducting film shoot.
Editing.
Distributing the filmed material.
The initiation phase includes video clip conceptualization — articulating targets to be hit and success criteria to be met. As soon as the goals are set, the Project Manager may select or develop a certain approach for creating a video and distributing it, he may also draw up a budget.
The PM should take account of a great variety of executives to be involved during this phase:
scriptwriters, actors, film directors, cameramen;
team in charge of editing the video;
investors, representatives of broadcasting companies;
marketing experts, promoters.
The PM does not have to be an expert in each field involved in video clip production. However he should extensively know the process in general to be able to manage the project in progress.
When the project is initialized, the PM should question himself about the following:
What goals are to be achieved?
How to measure the success criteria?
What distribution channels are most suitable for the future video clip given its format andduration?
It is necessary to involve a film crew or actors? If yes, what will be their particularfunctions?
What equipment is needed for video filming, sound recording and lighting?
Where to shoot the video clip? Are special permissions and licenses needed — e.g. to usedrones or to film in public venues?
Will it be necessary to secure the team against rough weather while shooting in openareas?
It is necessary to film a complete video clip, or perhaps stock records and animation areworth including?
Is it necessary to draw up a detailed list of episodes?
Having answered these questions, the PM proceeds to the phase of planning the filming process. He should set a clear plan for process participants, and prepare technical facilities.
Questions for planning before video filming:
Is all necessary equipment available? Is it ready for use?
Are all process participants strongly aware of their duties?
Are you duly prepared for the weather to occur on the shooting day?
Are all necessary licenses, permissions and contracts ready?
Does your budget provide for costs other than filming expenses, e.g. meals, drinks etc.?
Have all filming sceneries been packed and made ready for use?
What garments will the actors wear? Do they need to be assisted by makeup artists orhairdressers?
In the filming process, make sure that each detail complies with the plan. Correctly adjusted lighting will eliminate rough shadows, unexpected flashes and silhouettes. The shot sequence should be free of unwanted elements, and any sound interference in microphones should be detected in advance.
For filming in one location, lighting sequence has to be provided. Otherwise, any light changes resulting from weather or time of day will be noticed by viewers.
Record the filming process: techniques whish have worked out and failed, what is missing in the shot, what equipment would be needed or otherwise, has proven to be unneeded.
Shoot more than deemed necessary at the outset. Turn on cameras before working basically on the plot, and do not turn them off after the main filming has been completed. In video editing, you will need what is off screen.
Essential episodes should be filmed in several ways.
Questions to Conduct Video Filming:
If video is filmed in one location, is every take provided with the same lighting and filming view?
Have you realized all ideas in video filming? If no, how the unused ideas may be used afterwards?
Have you obtained enough materials from off-screen filming?
Has everything been packed by the end of the filming day?
Have you made notes of the filming process?
After analyzing all your notes made during the filming process, you will be able to quickly determine video clips (or fragments) to be used in editing. Associations and names for fragments will save your time which could be spent on search for moments containing particularly effective shots or the most persuasive verbal cue.
If you have outsourced video editing, do not forget to transfer your recordings, and to communicate the purpose of the video by indicating platforms on which it will be distributed. Determine the frequency and time for viewing rough versions of the video clip, and set deadlines for each phase.
Questions for editing:
Will you be able to remember the content of video clips by their titles in six months?
Will the edited video suit the selected distribution platform?
Have you optimized the video clip's export settings for sharing in social media?
Have you obtained the result which was planned?
With positive answers to these questions, you may forward the completed video for production. Effective project management in this example consists in PM's continuous selfcheck during each phase, in analyzing details and in work within deadlines and budgets.
Project Planning
Managing Project Deadlines
Managing project deadlines, or time management, are processes aimed at completing a project
before its deadline in compliance with given readiness criteria.
Namely, 6 processes are outlined:
1. Identifying the scope of operations
Necessary tasks are identified by using the Work Breakdown Structure (WBS). For this purpose, the breakdown method is used: the lowest layer in WBS is found, which can be further divided into work packages and operations.
Work package is a complex of operations with common purposes and functions. Operations in WBS are works yielding definite results in project implementation.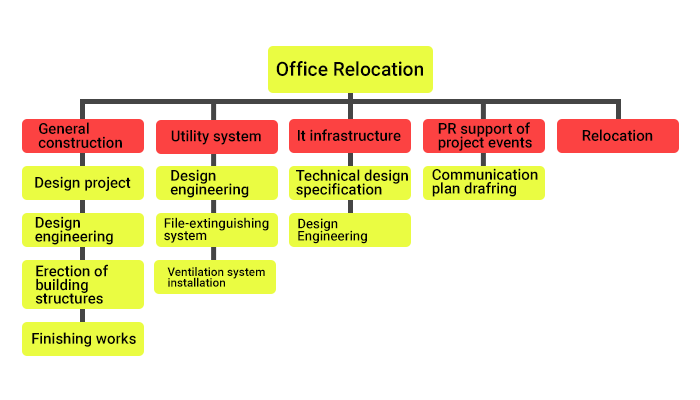 If your project is major in scope, or if it is long-term, use the ingoing wave method to identify the scope of operations. Work packages to be fulfilled towards project completion are planned in general features. Work packages intended for closer phases are set up in detail. In drawing up the list of operations, determine their parameters, as well as audit events — project milestones.
Such parameters include operation codes, execution time,
executive, list of operations done before or to be done afterwards.
Milestones are events which signify project transition into another phase. They are used to monitor the course of project implementation. In contrast to operations, audit events have no fixed duration.
2. Finding logical interconnections between operations.
For this purpose, the PT should take advantage of the following methods and tools:
Precedence diagramming method or operations in nodes. Rectangular-shape dependent operations, or nodes, are linked by arches on Gantt Chart. Links where the start of an operation or its completion depends on the start or completion of another one are typical.
Arrow diagram method. It has its second name — arched operations. The dependence diagram shows nodes resulting from clustered arches.
Project schedule templates. You may use them to speed up schedule preparation.
Determining the sequence of operations. The implementation sequence is not subject toany change if the operations are strictly interdependent. The sequence is also affected by external dependence: equipment supplies, climate, competition etc.
Using leads and lags. On the diagram, they are signified with minuses and pluses respectively. The start of operation in three days after the previous one is completed will be shown as +3 above the arch linking them. Leads are used where one of the departments can proceed to an operation handled in parallel by another department.
3. Operation resource evaluation
Specialists are assigned and equipment is allocated for the project.
For this purpose, such tools are used:
expert evaluation
software for project management
bottom-up estimating — appraisals of minor project elements are summarized by each resource involved in the operations planned.
Based on evaluation results, the PT displays operation parameters — types and amounts of resources required for the operation to be executed. A hierarchical structure of necessary resources is drawn up with a breakdown by their types and categories. A calendar of active and inactive dates is created for the resource concerned. New operations may also be added to the list in the course of evaluation, and expired ones may be deleted.
4. Operation resource evaluation
Operation duration is the number of days required by or for the executive (-s) to complete the operation. Such evaluation is made by using WBS and may be clarified during the project. For this purpose, the PT analyzes the list and parameters of operations, requirements for resources and their calendar, as well as the project plan indicating data on risks and cost of operations.
To evaluate the duration of operations, the following tools are used:
Parametric evaluation: the total number of resources is multiplied by the operation period efficiency or by the operation time amount. The result is divided by the number of resources involved.
R(total)*P(efficien.)/R(involved)=Evaluation
Evaluation by comparison with analogues: the duration of a previous operation similar to the planned one by parameters is taken as model.
Evaluation by three points: the PM draws up the most probable, optimistic and pessimistic scenarios. The medium evaluation of these three ones will serve to appraise the operation duration.
Reserve analysis: the PM may add a reserve to the project schedule for risk recording.When data are clarified, this analysis may be modified or totally removed.
5. Schedule development
It is a continuous process within a project. Sometimes resources and durations require new
evaluations.
The PM may use the critical way method: computing approximate dates for early and late start, as well as for early and late finish of operations.
The interval between early and late dates is signified with a time reserve. If it is equal to 0, i.e. the dates coincide, such operations are entitled as critical way. Lags in their execution will delay the completion of the whole project.
In situations where the project completion date in the schedule does not correspond to the date approved by the customer, the crashing (schedule compaction) method is used. Such method preserves the content, project purposes and timeframe limits.
The method consists in finding compromises to minimize the duration of execution with a maximum increase in value. Inherently consecutive operations may be tried in parallel. However this poses the risk of further rework with emergence of new risks possible.
Before schedule development, the PM may take advantage of the analysis of possible scenarios by taking both internal and external risks into account, with resources being balanced.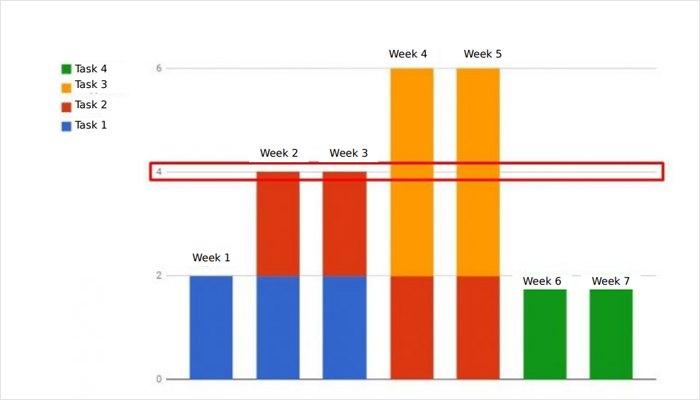 The first histogram shows that in the 1st scheduled week not all resources are involved to execute 4 tasks, whereas in the 4th and 5th weeks resources are overspent — employees have to work overtime. To redistribute resources and to balance the load, the execution of the 3rd task is unloaded into the 6th week, and the 4th task is fully transferred to the 7th week.
6. Managing schedule alterations
The following tools are used:
project tracking systems and alteration authorization levels
measuring efficiency by using the schedule performance index
analysis of deviations
Quality Management
It takes place throughout the project cycle. It consists of the following phases:
Concept. Articulating quality assurance principles to satisfy the demands of consumers.
Planning. Determining quality standards — international, national or corporate — to meet expectations of project participants.
Arrangement. Creating necessary technical, managerial and financial conditions to fulfill project quality requirements.
Control. Checking the degree of conformity of the current project performance figures to quality standards specified.
Regulation and analysis. Analysis of quality alterations throughout the project, compiling a list of digressions followed by corrective actions carried out and documented.
Completion. The project quality is evaluated. A list of claims is drawn up if certain standards are not complied with. The obtained quality management experience is also analyzed.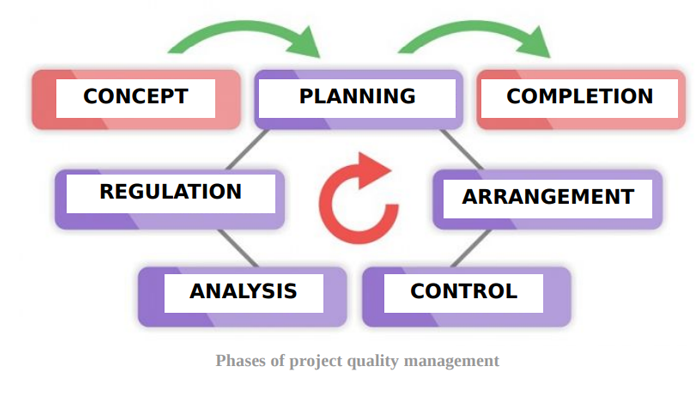 For quality planning, the following tools are used:
Profit and loss analysis. It is aimed at ensuring the necessary ratio between revenues and costs in the project.
Cost of quality. The cumulative cost of all processes targeted at improving the quality of a product or service is calculated.
Planning of experiments. This is a statistical method which studies factors affecting the project.
Benchmarking. The project is compared with similar ones.
To ensure quality standards for a project, independent audit may be conducted. The number and
duration of such expert evaluations depend on passing the project milestones. The customer or a manager of the company's subdivision may request an unscheduled audit.
The following tools are used for quality control:
Control charts
Dependence diagrams
Pareto chart
Cause and effect charts
Inspection and testing of standards
Statistical samplings
Defect repair checkup
Managing human resources in projects
Successful project management depends on correct selection of PT participants. Their roles should be specified, teams should be formed for execution and management of the project, and an organizational structure should be created.
List of participants. The project management team consists of the following members:
Supervisor or sponsor
Manager
System architect
Administrator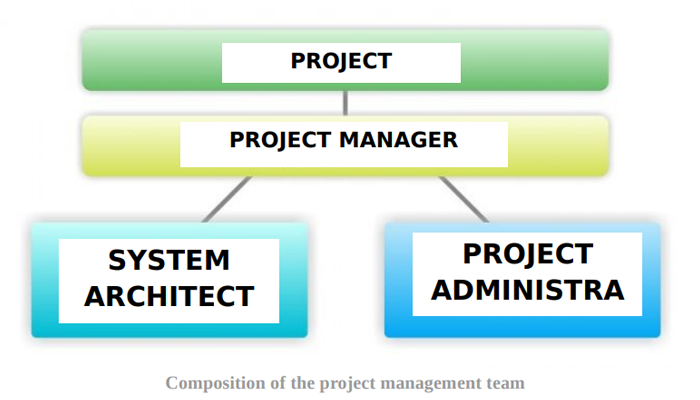 Its composition should be sufficient to manage resources, execution deadlines, quality, risks and
problems in the course of a project. To distribute functions and duties in the management team, different role instructions are created. They outline purposes, functions, authorities and subordination of participants.
Project supervisor or sponsor
He effects general management, allocates necessary resources and funding. He considers and approves regulatory documents, analyzes reports about the course of execution. The supervisor also solves problems beyond the manager's remit.
Project manager
He forms the composition of the execution team and that of the management team. He is in charge of planning, arrangement and control of operations. The project manager redistributes resources, keeps records of costs. The manager also interacts with the customer and reports to the supervisor.
System architect
He is subordinate to the project manager. He selects or develops a methodology for project
management depending on deadlines and purposes of the project. The system architect determines the WBS, resources and qualification requirements for executives. He prepares technical documents for the project management methodology selected, analyzes its introduction and submits reports to the manager.
Project administrator
He provides the manager with data necessary to control project execution. He keeps minutes of
discussions and provides smooth course for documentation. The administrator also makes sure that the team fulfills requirements specified in project documents.
If we take IT projects as an example, execution and management teams usually include the developer, administrator, functional architect, tester, functional advisor, system analyst and quality manager. Some team members may combine other roles. The project manager is able to administer a project, the functional architect may also become a functional advisor. This enables economizing costs on project execution.
However not all roles are combinable. The project manager cannot be directly involved in development, and the same is about the quality manager and tester.
Team formation
The initial team composition is formed based on the general WBS. It may be further altered after a detailed schedule is developed. However altering the qualification level of team participants may both reduce and increase project risks and affect the duration of operations.
The PT passes through 4 phases. When it is formed, prescriptive management is needed for participants to realize their roles promptly. Then they pass through the stage of getting used to each other during which conflicts are most likely to happen. Thus the manager should combine both the prescriptive style and persuasion.
Ways to settle conflicts:
Coercion against one of the opponent.
Smoothing controversies.
Compromise which is recorded in a document.
Detailed study of controversies and adopting a balanced decision.
Evasion — postponing a conflict for an indefinite term.
Afterwards the PT passes through the stage of normalization — participants start working as an integral organism and improve their interaction by boosting confidence in their colleagues. They need motivational management. In the phase of functioning, the team becomes an integral unit, and the manager delegates powers.
General management skills
The project manager should be able to empathize, encourage creativity and make influence on subordinates. His objective is to create a friendly atmosphere in the team in order to improve interaction and reduce the number of problems.
If PT participants do not have all professional skills necessary to execute operations and work packages, a training process should be planned as part of the project.
For team consolidation, trainings are conducted to discuss both operational points and activities beyond the project.
Established principles ensure workflow clarity and make conflicts less likely. The option of flexible hours, as well as either obligatory or voluntary nature of overtime work, the procedure of business trips and bonus awards should be explained at the outset.
Verdict
Successful project management is a combination of skillful planning, diligent control and smart team management.
To meet deadlines, the PM determines audit events, finds interconnections between operations, correctly evaluates resources and durations of processes.
For successful project release in the production phase, the manager will do everything to ensure
timely creation of a completed product with optimal quality and by taking into account specific
features of the company's activity