Personal Notifications
Hello friends! You surely have noticed a little bell in the top right-hand corner of your accounts. It is
the part of our new, more flexible and customizable notification system. If before you could only
receive notifications on your email, now you have other options.
Notifications options
Within the account

/

All the notifications without exception appear in the bell

on the pages of your account and remain there after they have been

viewed.

Email notifications

/

As earlier, these notifications keep coming to your email,

however, now you have an option of setting their frequency yourself or turning them off

completely without falling out of the work process.

Push notifications

/

After installing the app, you will start receiving Push-

notifications on your phone (app for Android and iOS are being currently beta tested and

will soon be announced).
The bell and notification feed
All the events that relate to your tasks or to which you are subscribed or responsible for, go to the list
of notifications. You will also be notified about the new tasks or closing of the tasks that have been
assigned a person responsible for it. Each new event is accompanied by a sound, thus, you are
notified about an event even if your browser is minimized (sound can be turned off).

All new (unread) events are marked by a number. When opening a detailed view of the list, the
number goes away but new events are still marked as unread (time on blue background). All the
events that relate personally to you are also marked by a yellow badge and heading in bold.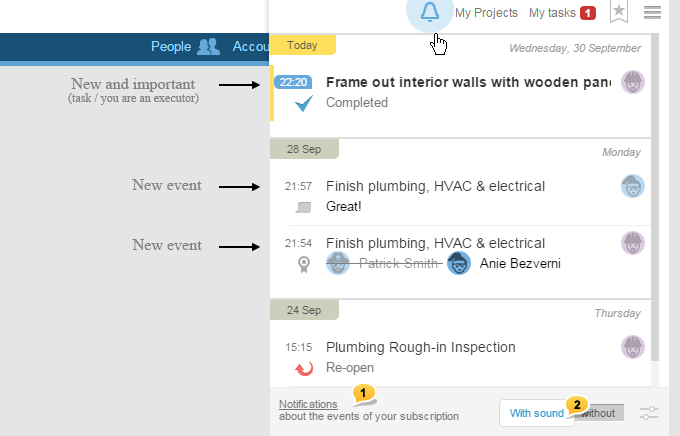 1
— fast transition to your profile with personal notifications
Personal settings of notifications in your profile
Since all the new events are always seen in the bell, there is no need to receive all the notifications
by email. Having accessed your profile, you can reduce the number of sent notifications or turn them
off completely.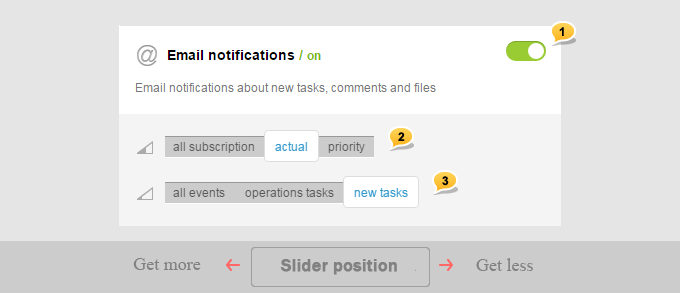 1
— Turn off email notifications completely
2
— Notifications from your subscription. All subscriptions / Current (only those where you are the
author, responsible for the project or the director of the project) / Priority (only related to the tasks of
high priority, 5 and above)
3
— Event notifications. All events / Tasks changes (notifications only about creation or change of
the tasks: change of dates, people in charge etc.) / New tasks (Notify me only about the new tasks)
Note!
Complete turn off of the email notifications won't affect the morning newsletter
Morning
digest
1
, that is now set and/or turned off separately. Also, after the app installation,
Push
notifications
2
will appear on the profile's page. Its setting will be identical to the email notifications.
Other

On the filter panel in Files section now there is an option of turning off file display from the completed
tasks
1
. This will allow for much faster download of section into the «veteran project» with a big
number of old files.
Now when viewing the images, you can move enlarged image with the help of a mouse to see it
better, and go through images with the touch of a finger on a mobile version of an app.
There is also now an option of highlighting all the elements with just one click
2
. Functionality is
available on Tasks and Files pages. This will allow you to free up some space in the cloud much
faster whenever needed.
Good luck!
Worksection team