App for iOS and Android
(release)
Hello friends! Many of you have been waiting for this, and we can finally announce that it has happened — Worksection 1.0 app for your iOS and Android! You can download our new app for free in the
App Store
or on
Google Play
.
Application's interface
After installing and logging in to the right account, screen of your phone will look approximately like this: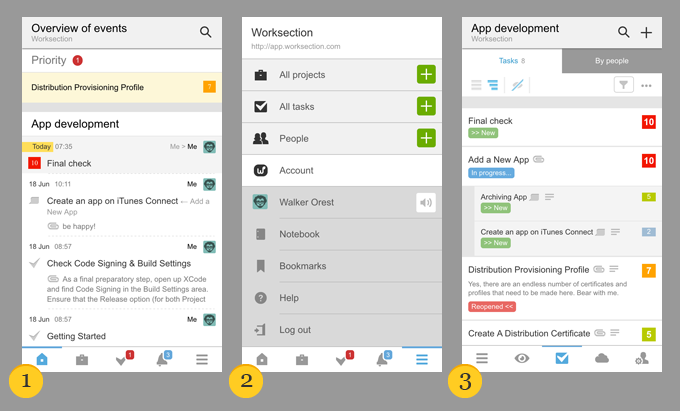 1
Home page
Besides the Home page of your account, there are also main features of your personal menu (top-right-hand corner on your desktop). Your projects, your tasks, and your notifications. All the rest is hidden in the so called «hamburger-menu»


2
Hamburger menu
All the sections are seen on the picture above. Besides these, you can also easily and quickly move to adding a new Project, Task, and invitations (green plus). Here, as well, you can find an option of turning off sounds like «click», if it bothers you (icon is opposite of your picture).


3
Project's tasks
When you are going to the pages of a certain project, bottom menu changes as well. You can see here Activity review, Project's tasks, Files, and Project Settings. You can return to general account's sections by pressing the «hamburger-menu».


Let's take a closer look at the Toolbar



What the app can currently do
Show list of projects and tasks (available offline)

Keep contacts of your team members (available offline)

Show last events in the account and your personal feed

Send push-notifications of new events to your phone; in your profile settings you can turn off notifications or set types of feed you wish to receive

Let you set timer right from the list of your tasks

Keeps your notebook and bookmarks for important tasks (available offline)

Let you create new tasks and projects, invite new members, lead work on tasks at full capacity within the project, comment, change and download files

Classic authorization by email + password through your Google or Facebook account
Reminder!
Worksection accounts have adaptive design, which allows for comfortable work through standard browser of your smartphone without the need of installing an app.
As always, we will be more than happy to hear your feedback, comments, and suggestions.
Worksection team