9 new reactions and bulk
operations with comments
Dear friends, we are happy to present you with quite an emotional update ;-)
Now there are reactions (likes), new options for working with comments feed, and a few more useful improvements! Let's take a look at this in more detail.



Reactions
Quite often there have been situations when there is no need to write a long comment in response to a post. It is quite enough to say— «I like it », «Yeah, I saw it » or simply — «Ready». However, we still had to write it...

Now, this is no longer necessary. We have added 9 different reactions, which we hope will help you communicate in a more quick and efficient manner. They do not have names, so you can come up with your own meanings for them. For example, eyes can mean «look», watch — «hurry», double tick — «I did it, ready for verification».



You can react both to a task and each individual comment. The window with different reactions will pop up when you click on the blank smiley face at the end of a task
1
or in the corner of a comment
2
.
Please note, now there is also an option of writing a comment here
3
.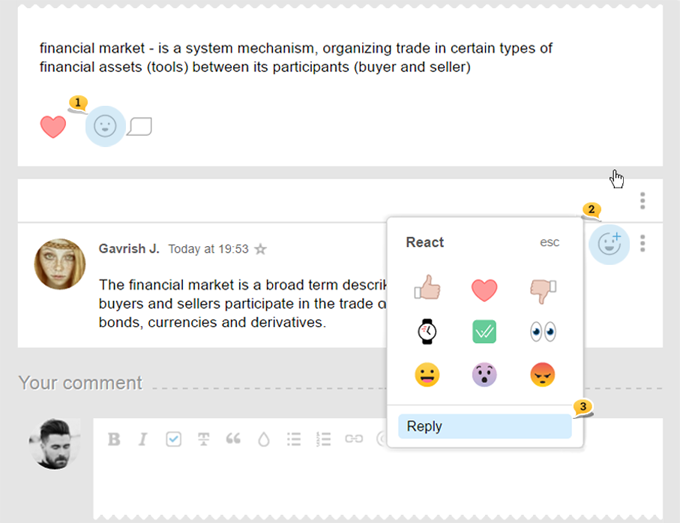 After the first reaction is there, its icon appears in the comment feed next to a particular comment, and all other members of the team can maintain this reaction, adding their own or any other of the 9 possible reactions.
Holding your mouse over a particular reaction, you will be able to see exactly who has put it. You can add or «withdraw» your reaction at any time.

Notification that your task or comment received a reaction is sent to the bell on your account pages and can be duplicated in a smartphone app (if you enable it in the settings of your notifications
⌘
alt
+
М
).
Notifications of reactions are never sent to your email.
Advice:
when using the «thumbs up or down» reaction, it is possible to arrange surveys and conduct a poll among members of the team.
Easy work with comment feed
When the main work on the task is actively conducted in the comments feed, there is quite often a need to structure it. Something needs to be combined, or moved, or minimized.
Now, there is a great tool for all of it.
Every comment has a checkbox.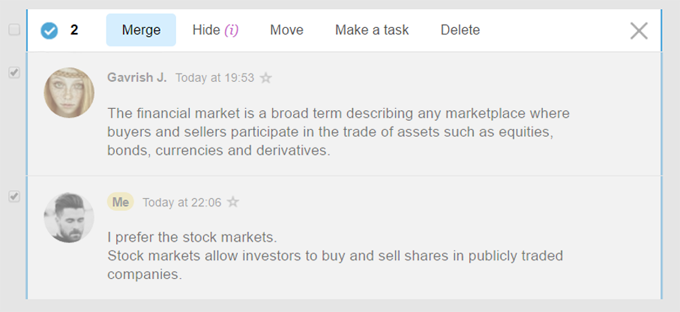 By checking one or several comments, you can perform the following actions:
Combine new
Hide
Move new
Create a task new
Delete
Advice:
you can mark the whole group of comments by clicking shift
new
By combining the comments, you can specify what kind of comment will be used to collect the rest of the comments. Or you can use another option — select «Merge into new.» After combining, the information about the author and publication date of each of its parts will be contained in the text.
new
Transferring a comment is possible to any task of any project. If you transfer several comments at once, they will be arranged in the chronological order in the new feed.
new
Comments can become a task of any project. Comments can become a task of any project. You can also just make it a subtask of an existing task (or sub-tasks of the first level). By creating a task from several comments, you will get a consolidated text.
Advice:
If you select multiple comments, you will need to precisely hit the checkbox only once. After at least one comment is marked, mark the other ones by simply clicking in the comment.
New items in the editor
In the text editor, «To do list» creation button has updated its icon and moved to the beginning.



Option of background highlighting has become compact and very easy to use.

new
You no longer need to enter @ in the text to mention an employees. Now you can simply do it in the editor.

An option of @mention is now also available in the mobile version and in the app
Other new things!
Hot keys can be turned off if needed. In order to do that, simply open the window of the hot keys
⌘ /
and
ctrl /
and shift the switch.

In the quick comment field, now there is an option of entering many lines of texts as well as an option of manually transferring
Shift
+
Enter
line. If you are used to producing a lot of text, you will definitely appreciate this option.
Sending a quick comment as previously is done by clicking
Enter
.
This is all for now, dear friends! We are looking forward to your reactions in the comments ;)


Have a productive worktime!
Worksection team