Worksection account on your
domain
We have two good domain news for you. Firstly, these are alternative domain names, at option. Secondly, the ability is given to permanent customers to reverse the current Worksection account to the company's own domain.

How does this work? We will tell you...
Alternative domains
Your favorite name for your account is already used — there is no reason to be upset. From now on you have more names available! In addition to the usual one, worksection.com, such names as worksection.org, worksection.net, worksection.com.ua and worksection.net.ua have been added.
For the accounts which have already been created, transition to any of the alternative domains will be allowed within one month. You may do it on the Settings page.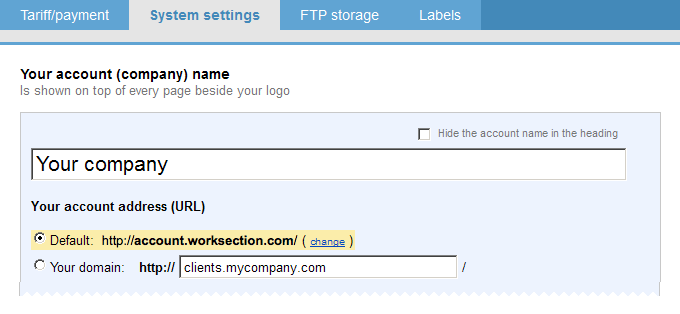 Please note
—
SSL encryption may be exploited only on the worksection.com domain.<\/span>



Account on your personal domain
Alternative domains are not enough? Do you want to ultimately personify your account? Now this is also practicable!

All customers of the Studio tariff plan and those above can receive the account address on their company's domain (e.g. work.My_Company.com)

To do this, you should change the DNS records of the required domain: transfer the A record of your domain to the IP address of our server 89.184.65.182<\/span>. You may do this either via the recorder's profile or via the Hosting Panel (if the domain is registered there).





Then indicate your domain name on the Settings page.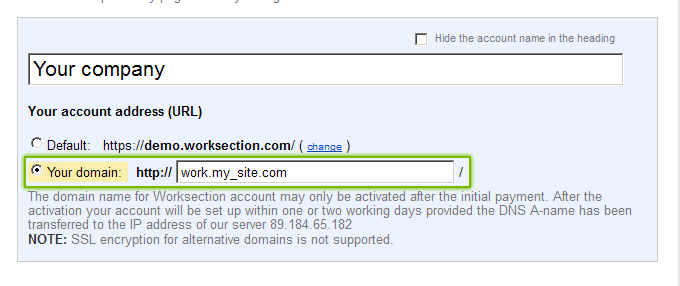 Within 1-2 work days the account will be configured and transferred to your domain. All references to the past account address will be automatically redirected to the new domain.



Please note

— using your personal domain excludes the ability of SSL encryption of the Worksection account.<\/span>


We wish nice work for you<\/span> (as much as it is possible in this unbearable heat).
Best regards,
Worksection team