Copying tasks and something
else…
Dear friends,
I am glad to inform you about several updates.
Firstly, it has become possible to
copy tasks from one project to another<\/span>.
This is how to do it:

Screenshot «Copy task. Step 1»<\/span>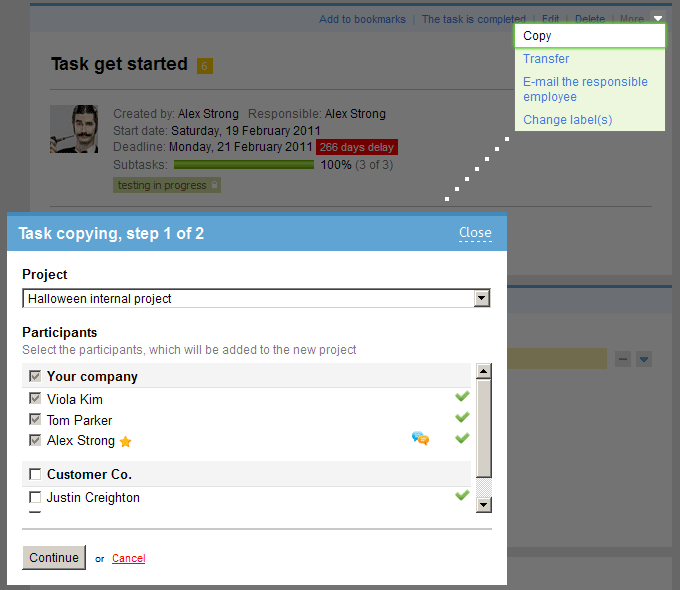 Select «Copy» in the menu of the task required.
In the drop-down window, select the project to which the task is to be transferred.
we see participants having been involved in the task (manager, analysts). Mark the participants to add in your new project along with the task. (Screenshot «Step 1»<\/span>)
Then you should select subtasks to copy in your new project. Here you may as well specify the terms, replace managers or names of task and subtasks. If the Executive is not involved in the new project — the system will highlight it in red, which means that you should either replace it now or return one step back and add this participant in a new project. (Screenshot «Step 2»<\/span>)
Confirm the copying and send out notifications.
Screenshot «Copy task. Step 2»<\/span>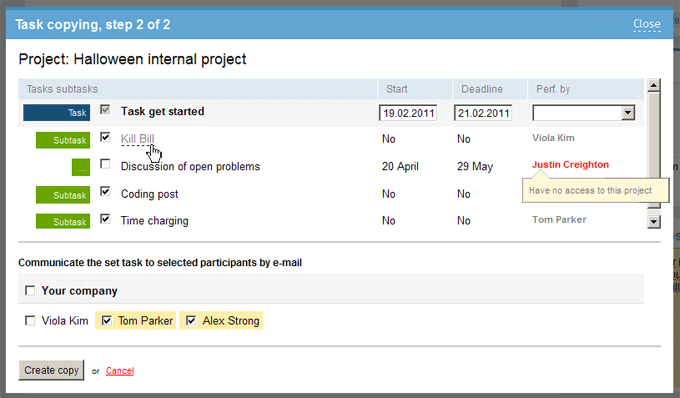 Secondly, detailed notifications on task updates can now be communicated by e-mail.
Now, if any participant changes labels, dates or priority — you will receive a letter with such updates indicated.

Screenshot «Update notifications»<\/span>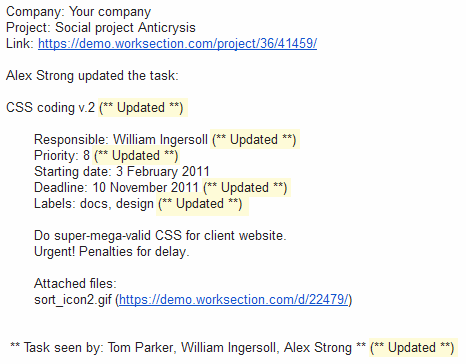 Thirdly, by our users' requests, we have added the possibility to view subtasks on the «Tasks Priorities» page.
To do this, you need to tick Subtasks in the «More parameters» section of the «Priorities» page. As you requested, the system will either display all subtasks or select only the required ones according to your filter's parameters. If you want to print this list (including subtasks) or communicate it to all the participants by E-mail — you still have such possibility.

Screenshot «Tasks Priorities»<\/span>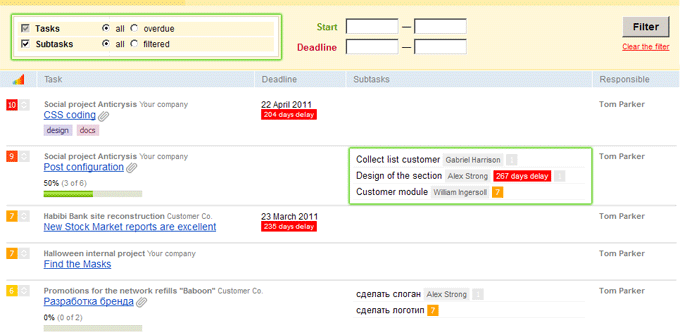 Thank you, our dear users, for sending your requests and advice — they are very interesting to read and even more interesting to do.
We welcome your letters to the address: [email protected]