Comments to subtasks! And
something else…
Dear friends, we introduce you the next Worksection improvement. The main subject is commenting subtasks, but there are another couple of pleasant details of which you can read below.
1. Comments to subtasks
Now you may actively comment not only tasks, but also subtasks.<\/span> In the right unit, opposite each subtask, an icon has appeared, opening the way to discussion. Green color of pictogram will prompt you about the location of new records, and white color will point the places where they are absent yet. By clicking the comment's icon, you will get to the detailed page of a particular subtask. In the header we see the mother task and the reset button. The subtask commented in the right column is highlighted in yellow. It is impossible to get confused.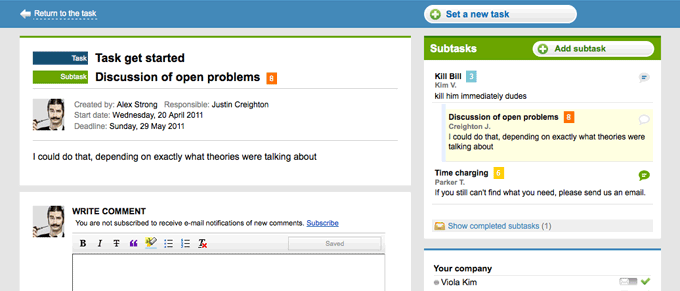 The process of working with comments of subtasks is exactly the same as that for tasks. You can also restrict visibility and make attachments. All messages on new comments to subtasks appear both in event tapes and are sent by email as notifications to all participants subscribed to the task.



Remember!

You can restrict visibility of the content at any of the levels

Task / Subtask / Comment

.


2. Marking unread comments
The already known green pictogram will be present in the entire system. It notifies about one or several unread comments that have appeared in this task or subtask.



3. Time at closing tasks and subtasks
We have made a nice pop-up window, which, while closing tasks and subtasks, will offer you at once to record the time you have spent. You may always correct the entered values on the Time page (available in the Studio package and above).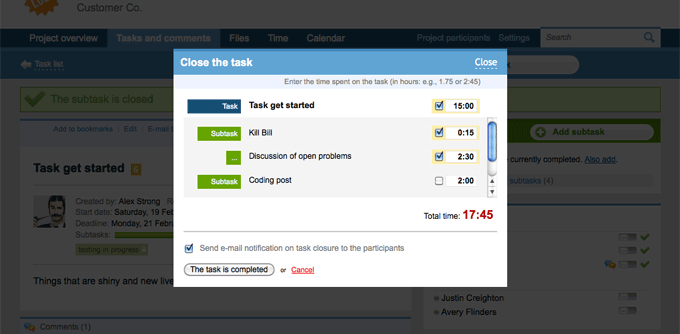 4. Improved viewing
And finally, a couple of useful details.<\/span>
Task viewing has become more convenient. Now the system administrators can promptly find out the tasks of which a particular person is an executor and author.





You can see the comment content directly from the account's main page. To do this, draw the mouse to the event record.



Thank you for your attention, we hope that for you it will become more pleasant and simple to work.
Best regards,
Worksection team<\/span>