Tasks, subtasks, comments
How do I set a new task?
That's simple; go to Project Overview or Tasks and Communication pages in a project and press Set New Task button.
Here you will have to enter the name of task and the officer in charge of it and formulate the task itself. You can fill in other options like priority level, completion date and estimated duration of work when and if necessary. Beside that, you will be able to attach necessary files to the task or to limit the task visibility for the whole company or some its employees.
Remember: if willing to have the set task known to project members ASAP, do not forget to subscribe them to e-mail notifications. As soon as you've clicked on Create Task button, all the subscribed members will receive e-mail message with the description of task and links to the task page in the Worksection account. Also, all the subscribed members will receive e-mail notifications every time someone adds a comment or subtask to the task in question.
Where can I see all project tasks?
All project tasks, whether completed or not, can be accessed on Tasks and Communication page. Each task sits in a block of its own where the tasks itself, the last comment to the latter and the list of all pending subtasks are mentioned. The completed tasks will be on the bottom of the page – that way it will be easier for you to tell these from those pending.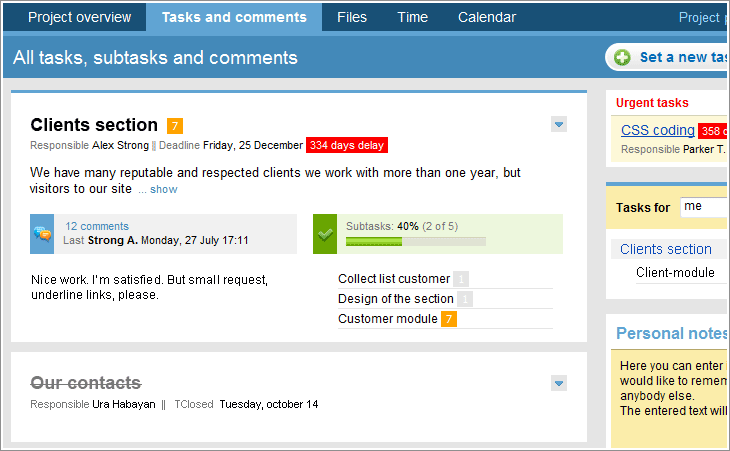 How do I leave comments?
There is a comment field at the end of the page with a detailed view of any your task. Simply enter your considerations and click Add Comment button. That way all the members subscribed to notifications will get your comment by e-mail.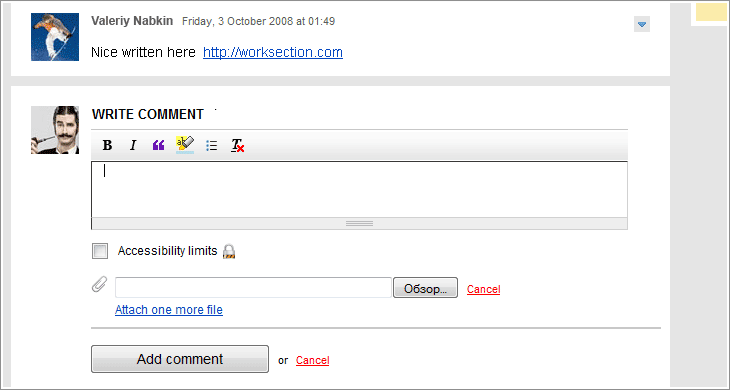 Remember: if you do not want your comment to be seen by all project members just limit its visibility. Files attached to such a comment, these will have the same visibility status as the comment itself.
Can I check the list of pending tasks for all projects at once?
Yes. If you have account administrator rights, you can access Task Priorities page to see tasks presented in the reverse priority order, completion dates and officers in charge. E.g., you will be able to select tasks in all of the projects of which a certain employee has been made in charge, set priority levels and send the resulting list to that employee's e-mail address.
What is a subtask? How is it different from a task?
Each project comprises a set of tasks which, in their turn, can hierarchically have a number of comments and subtasks. In Worksection system, subtasks are lists of minor assignments, like your average to-do list. A subtask may only be created as part and parcel of a task and, unlike the latter, can not have either file or comment attachment.
How do I know what tasks I've been assigned and what do I have to do?
There are several ways of doing it. The simplest – and quickest – one is to use the drop-down list in the upper My Tasks menu. Open it to see a list of all tasks/subtasks you've been made in charge of. My Tasks list accumulates all of your tasks and subtasks from all the projects, the numbers reflect the total of your assignments and those overdue.
Remember: If you've been appointed the one in charge of a subtask, My Tasks list will show the project and the task to which your subtask refers. This will facilitate your finding of your bearings within the project and remind you that by leaving your subtask uncompleted you will prevent the one in charge of the task from completing it on time.
How do I close a completed task?
If you think the work over a task is over, click on Task Completed button. Remember however that this can only be done if all subtasks of that task have been completed.

After a task has been assigned the Completed attribute, it will sink to the bottom of the task list on Tasks and Communication page. Its completion date will not be shown on the calendar and it will disappear from all lists of tasks pending; however it will be still possible to leave comments to it. You can always reopen the task whenever necessary and it will regain its Pending status.
Remember: In the case of a new subtask created within the already completed task by you or your customers, the whole task will automatically change its status to Pending.
Can I archive a project with some uncompleted tasks pending?
Sure. It may come handy when a project has been temporarily withheld for some reason. When you decide to resume your work over the project, simply re-activate it and it will be restored exactly the way it looked before the archiving.
Are there any templates to facilitate work with tasks, subtasks and comments?
The Task/Subtask/Comment association is extremely flexible to allow a variety of possible models of its usage. Every company can opt for what fits it best. Here is a couple of examples.
Classic model.
You create a common task and develop a set of subtasks for your employees. If any questions arise, the employees can put them in comments for you or your customer to answer. If there is something your customer shouldn't see, you simply limit visibility of that component. When an employee is through with his/her subtask he/she can either close it as completed or write a comment visible only for you; you check his/her performance and either okay the subtask closure or make a comment with observations visible to just the performer…
Simple discussion.
There can be situations when you'll have to have regular work discussions with your colleagues. If this is the case, create a task with no preset deadline and invite project members to have their say. They can come up with ideas of sorts, comment on ideas of others, discuss these or upload files. You can comment on your behalf or edit or delete comments of others. In this model you might not really need subtasks.
List of minor tasks for various employees.
Say, you don't need any discussions, have a rather specific who-does-what list and simply want to complete everything and roll it out by a certain deadline. Then create an umbrella name and create a respective task setting the deadline and a time cost estimate. Within that task create subtasks for each employee (you may also wish to provide each of the subtasks with a description, deadline included). You can also split all the subtasks in groups using the nesting method. At closing his/her subtask, your employee will be able to enter the number of hours he/she has spent on it. You will then see the overall time cost in Time section to check it against your time cost estimate.

In need of absolutely meeting deadlines? Enter due dates. Want to have control over performance time? Enter your time cost estimate. Want to show a task/comment/subtask but only to select project members? Limit its visibility. Try different options, be creative, feel free to combine different modes of operation to find the one best fitting to the needs of your company, its employees and your customers.
How do I add a subtask?
On the detailed task view page, click Add Subtask button, add necessary data in the opened block and confirm. All the members subscribed to receive e-mail notifications will get a message on the subtask recently added.

Can I sort subtasks and make them nested?
Yes. If you are an administrator or project manager, you can sort subtasks by simply dragging and dropping them. The same drag-and-drop routine can be used to make them nested (only one nesting level possible).
How to comment subtasks?
The process of working with comments of subtasks is the same as the one with comments of tasks. You can limit visibility and attach files. All notifications about new comments to subtasks appear in events feed, as well as come in emails as notifications to all participants, subscribed to the task.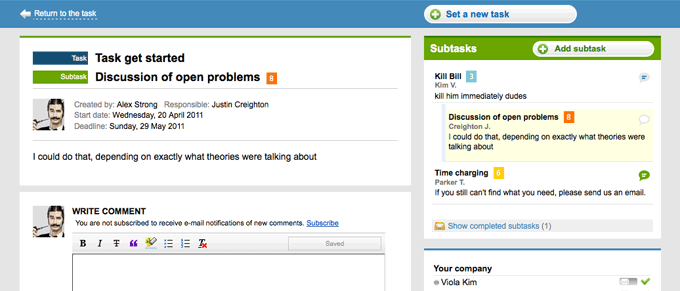 How to print a task?
There's a possibility to get a convenient print version for pages All tasks and Task with comments. To get it, just press Print button in your browser.
I've completed my subtask. Now what?
Done with? Perfect. Now close the subtask by opening the drop-down subtask menu and selecting Subtask Completed option. The subtask will sink to the bottom of the list and remain there minimised.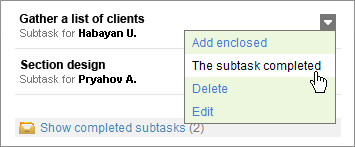 How to see if there are any comments to a subtask?
In the right block opposite every subtask there is an icon, opening a way to discussion. Green color tells that new records appeared, and the white one tells about no new records. Click an icon of a comment, and you'll be redirected to a detailed page of a certain subtask. In the title there's a name of parent task and return button. And commented subtask in the right column is highlighted with yellow.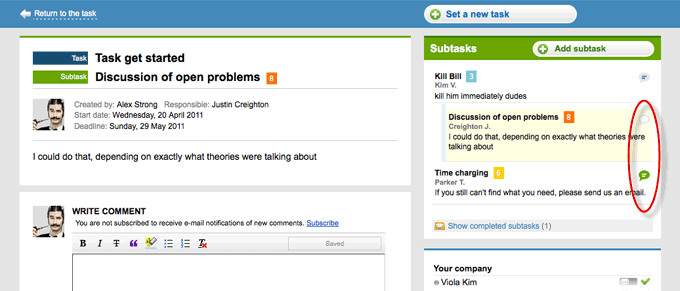 How to set notifications about task completion and coming deadline?
In Worksection there is a convenient feature of daily notification about tasks, starting/ending "today". Notifications were updated with two additional options:
— a list of overdue tasks;
— notifications about tasks coming to deadline;
You can enable these options in Profile -> My settings
How to copy/transfer tasks from one project to another?
Task copying.
For users' convenience there's a possibility to copy tasks from one project to another.
How to do this:
Screenshot "Task copying. Step 1"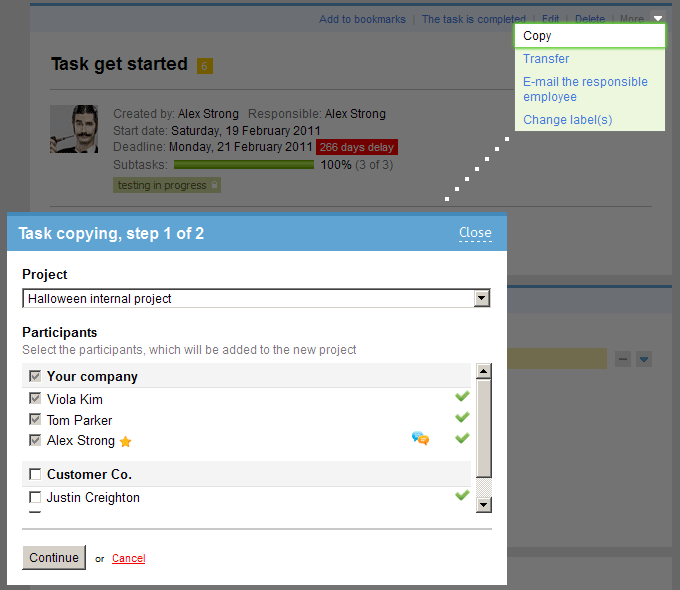 In the menu of every task choose "Copy".
In the drop-down window choose a project, to which the task should be copied.
Then we can see participants, participating in the task (responsible, commentators). Mark those participants, which should be added to a new project together with the task. (Screenshot "Step 1")
Then we have to choose what subtask should be copied to the new project. Here you can easily set terms, change responsible persons or names of the task and subtasks. If Executor does not participate in the new project — the system will highlight him/her in red. You have to change him/her at once or step back to add this participant to the new project. (Screenshot "Step 2")
Confirm copying and send notifications.
Screenshot "Task copying. Step 2"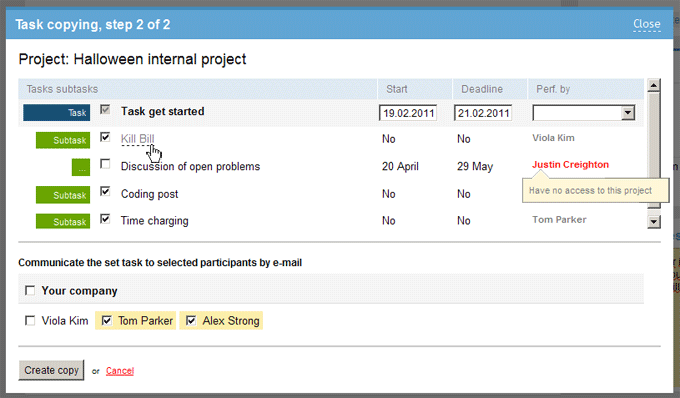 Task transferring.
Admins have a possibility to transfer tasks from one project to another. Reason: clients or your employees created a task in the wrong project or a task within the current project doesn't make sense, but it should be continued in another one. You have different participants in these projects? No problem — the system will let you know what participants should be added to the new project and will remind you about roles of each one. Project files are already in FTP? Worksection will find them there and put them to the new project. All of them are available.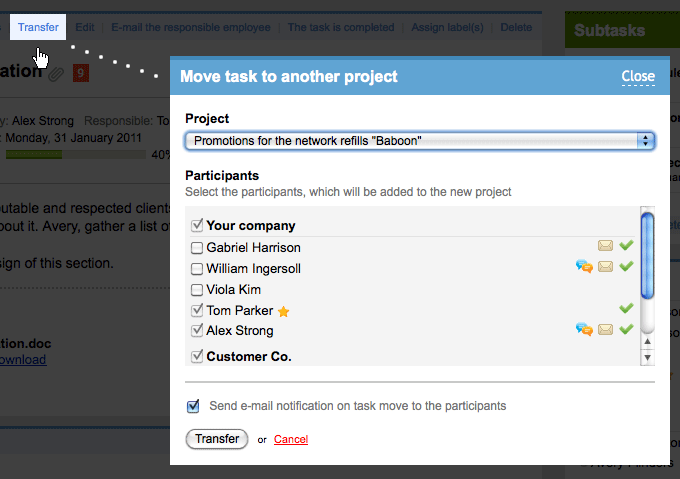 After transfer, all subscribed participants will receive notifications about transfer.
Who can close tasks?
Account's owner, administrator, and responsible person for task execution can close it.
At the same time this feature is optional — closing of the task can be allowed only to a person, having set it.
Settings of closing see in Project settings section -> option Allow responsible persons to close their tasks.
Can I adjust a view of comments?
Yes, you have to go through few easy steps.
Click "eye", choose the way you want to see comments —
"new comments on top" or "new comments on bottom".
Also, there you can set the view, where a form of writing
comments and their quantity per page will appear.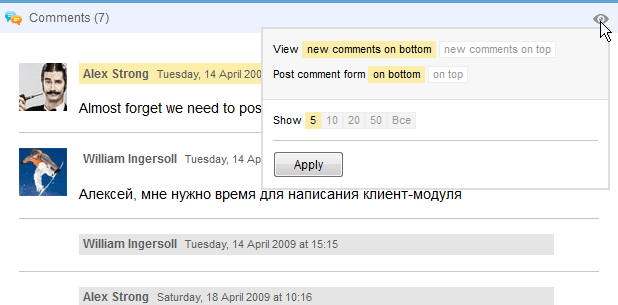 How to create recurring tasks?
In order to make any task or subtask a recurring one, choose the option "Repeat" in the dropdown menu of the task.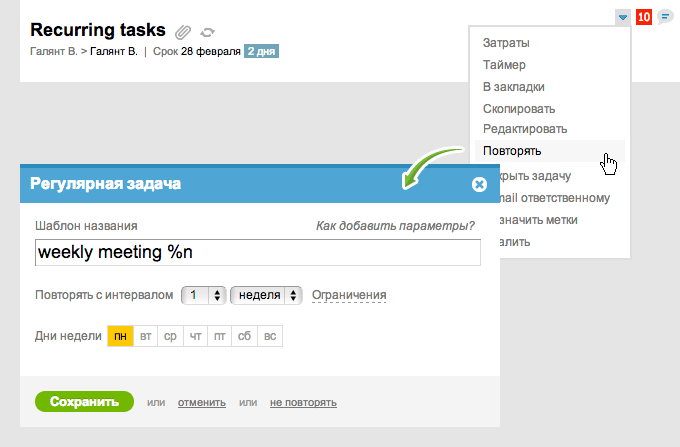 Enter a name of the task (you can add date and a serial number to the name, but we will get to that a little later)
Select the repetition period: every X days, every X week on selected days of the week or every X month on selected days of the month. If necessary, set limits on the number of repetitions or date range.
After saving the system will show you when the next task will be created based on the given template and what it will be called. If you need to repeat the task today - the system will create a copy right away.
The next task will get its name from the template, the main text of the task, its tags and subscribers as well as time and financial constraints. If the main task had the scheduled term specified, then the same number of days will be applied to the new task.
Notifications are sent at the time of repetition.
Note: System remembers the date and the name of the task when "Repeat" option is activated. If you made adjustments that should have affected all future issues, then go to the repetition settings again and save it.
Recurring tasks are marked with a special icon

You can find more details about repetition in the task itself



When the planned tasks are created?
The next task is created after the main task is closed. If the task is not closed and the date of the next repetition has not come yet, then this task will be created on the scheduled day at 8 a.m. of main company's indicated time zone and before daily notifications are sent. If you need to create a task  earlier - use "create now" function on the task page.
Can I delete a recurring task?
A recurring task is a last task from the list of all created tasks. You can delete all the previous tasks and that will not affect the cycle of repetition. If you delete the last task marked with an icon, then there will be no more repetitions.
What are the templates of the name and how to set them?
Templates allow to add date and/ an index number to the name of the created tasks.
In order to add an index number, choose %n template. If it is necessary for the number to contain numbers 2 or 3, indicate %nn and %nnn respectively. Numeration starts with 1, but you can shift it adding a number to the template, for example %n+10.
In order to add date, month, year or quarter to the template - write text in one word %dmy with any combination of letters d, D, m, M, q, Q, y, Y, where:
d- day of the month 1-31
D- day of the month including zero 01-31
m — number of a month with a zero 01-12
M — name of the month (depends on the basic language of the account)
q — year's quarter (I, II, III, IV)
Q — years quarter with the word "quarter" included
y — year in 2 digits
Y — year in 4 digits
Thus, if today is February, 25 - then text "25.02.13" corresponds to the template %dmy, where %dM — February, 25, %MY — February 2013 (for monthly tax payments), %QY — I quarter 2013 (for instance, to deliver reports to the tax institution once in 3 months)
Besides that, you can indicate the previous or the future date in the template. Thus, template %dmy-1 corresponds to the yesterday's date, %M+1 — to the name of the following month, а %QY-2 — to the quarter before the last one.
For example, create a quarterly task for the 10th day of every 3rd month concerning the tax payment for the previous quarter using the template "Pay tax %dM for %QY-1» and the system will create tasks "Pay tax on April, 10 for I quarter", "Pay tax on July, 10 for II quarter" etc.